OPOLJA | Shutterstock
Want to learn new ways to make
extra money

?

Join 1,000,000+ monthly readers in getting updates and cool freebies:
Our number one goal at DollarSprout is to help readers improve their financial lives, and we regularly partner with companies that share that same vision. Some of the links in this post may be from our partners. Here's how we make money.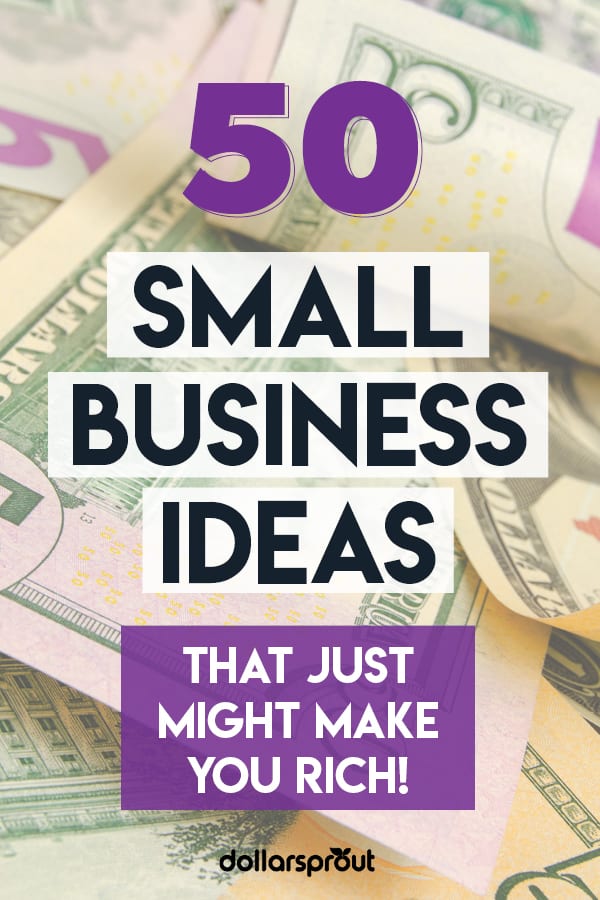 Don't be fooled by their size — small scale business ideas have big potential.
Small businesses are the backbone of our economy. According to the Small Business Administration (SBA), they make up 99.7% of U.S. employers and 97.7% of U.S. exporters. Those numbers are no joke.
In addition to supporting the economy, small business owners have the opportunity to work for themselves and create something truly unique and meaningful to them. Better yet, Inc. reports that 81% of small business owners feel happier — and 60% report being healthier — than when they worked for their previous employer.
So how can you leverage this potential into starting your own small business?
By starting your entrepreneurial journey in a niche that actually has profit potential, and revolves around something you can never get enough of.
But before we get to the nuts and bolts, let's make sure we're on the same page about what starting a small business actually entails.
What are some small scale business ideas?
When we say "small scale business ideas" we're talking about enterprises with a small number of employees with relatively low sales volume and usually privately owned.
There are a variety of these small scale businesses you can use to increase your personal income. Some examples include:
Resume editing for your neighbor's cousin's boss (they heard through the grapevine you have mad skills)
Hosting with Airbnb
Creating and running a personal blog
House or plant sitting (orchids are high maintenance)
Lawn care (turn that new zero-turn mower into a tax-deductible business expense!)
And pretty much any service others will pay for
As you can imagine, there are a lot of options, both local and online businesses. With that in mind, here's how you can navigate through the maze and choose a small scale business idea that suits you.
Step 1: Define the Goals for Your Small Scale Business
It's one thing to take paid online surveys in your free time or get cash back with apps like Ibotta. But it's a whole other ball game to set a goal and put time on your calendar to make some micro-business magic happen.
Our list features small scale business ideas which can differ considerably in what they require to be successful. For example, from one idea to the next, you might find there are very different:
Levels of effort required
Types of skills needed
Start-up costs
Potentials for scalability, if desired
Competitive landscapes
Your move:
Get a pen and piece of paper.
Define your goals for starting your own business. What's your budget for an initial investment? Are you willing to take on more risk for a potentially greater return?
Answer these questions and get clear about what you want from this experience. To work and make money from home? Quit your job and spend more time with your family? Build the next Fortune 500 company?
Related:  9 Money Management Tips to Help Business Owners Thrive 
Step 2: Find the Right Small Scale Business Ideas for You
Not all small scale business ideas are created equally. If you're running a business on the side of your full-time job that you hate, you might want to choose something you enjoy and find fulfilling.
Small Scale Business Ideas For Housewives
We haven't separated this list of 50 small business ideas into a category for housewives because almost all of them naturally fit the bill. Husbands, wives, singles, college students and others can start any one of these, granted you have the specific skill set and interest.
Though every business has some type of startup requirements, many in this list are considered as small scale business ideas without investment. That means that some of these businesses can be started without significant upfront fees or expenses. As you review the full list, understand that reasonably investing in your business is a good thing.
The small scale business home can flourish when initial investment and diligent effort is made. Never underestimate the power and income potential of a small scale business that starts at home.
Here are 50 small scale business ideas to get you started
---
Business Ideas for People Persons & Pet Whisperers
1. Social media manager
2. Remote customer service representative
3. Virtual assistant
4. Mystery shopper
5. Pet sitter/walker
6. Airbnb host
7. Part-time nanny
Related:  7 Creative Ways Dog Lovers Can Make Money With Their K9 Pals
---
Data & Tech Lovers
8. SEO consultant
9. Project manager for technology implementations
10. Computer repair/security expert
11. Insurance billing specialist
12. Medical transcription jobs
13. Freelance coder
---
Best Small Scale Business Ideas for Creatives
14. Holiday visual merchandiser to local retailers
15. Vacation planner
16. Stationary and business card designer
17. Drop-ship designer
18. Etsy store owner/curator
19. Custom gift crafter
20. Graphic artist to engaged couples
21. Pageant competition wardrobe consultant
22. Food, lifestyle, or pet photographer
23. Audiobook narrator
---
Business Ideas for Writers
24. Email marketing automation copywriter and strategist
25. Blog writer
26. Resume consultant, designer, editor
27. Transcript Proofreader
28. Freelance writer
Related: 25 More Legit Online Jobs
---
Drivers
29. Ride-sharing driver
30. Amazon Flex
31. Car detailer
32. Event valet
33. Bike messenger
34. Car dealership courier
35. Errand runner
---
Business Ideas for Health Enthusiasts
36. Yoga instructor
37. Registered Labor Doula
38. Baby Boot Camp for moms franchise owner
39. One-on-one wellness accountability partner
40. Family meal planner & prepper
Related:  How You Can Get Paid to Lose Weight (Up to $10,000)
---
Coaches & Inspirers
41. Wedding Officiant
42. Voice coach or private music instructor
43. Sports team coach or referee
44. Online tutor
45. Interview preparation coach
46. Private language tutor for young children
---
Small Business Ideas for Handymen
47. Holiday light installer
48. Consignment retail flipper
49. Lawn care and landscape design
50. Tailor/clothing alterations expert
---
Step 3: Follow the money
When deciding what small-scale business is a good fit for you, there are two major questions to rule them all. Ask yourself:
Who is the target customer?
This can be a business. For example, many freelance writing or editing gigs online are for businesses seeking to promote their content as a part of a digital marketing strategy.
Alternatively, you may target consumers (an individual or family, for example). An especially adorable example of a consumer-focused offering is pet photography.
How does your business make money?
The answer will directly follow from who your customer is — and what problem they have which you can solve! The conventional wisdom is that selling to businesses can be more profitable (the trade-off: it can also come with a steeper learning curve).
You may bill for your time via services delivered (consulting, coaching, being a bike messenger). Or maybe your business is product-focused. An example of this is selling artwork.
By understanding these variables, you can more easily assess how much competition you may face, where to find clients, what rate you can charge, and more. All that means you'll be ready to earn higher rates.
Your move:
Set a timer for 5 minutes and list the first 10-20 prospective clients that come to mind. What made you think of them? What problem can solve for them and how?
Keep it simple. Aim for a 20-second answer. The exercise may feel incredibly awkward (I once had to do this in front of a class of peers with a time limit).
But here's a secret I'll let you in on: an astounding majority of your competition usually cannot answer that question reflexively and with confidence.
That's all a "pitch" to ask for business really is! You don't need to be ready for Shark Tank. A solid (not perfect) elevator pitch and a few solid work samples go a long way, friends.
Related: 40 Creative Ways to Make Money Fast
Step 4: Finishing touches
Speaking of selling, don't forget the fun part: ordering business cards!
But before doing that, consider the honestly-pretty-painless formality of setting up a legal entity such as an LLC.
While many small business owners choose to not to do this, small-scale businesses like yours commonly use legal structures for a variety of reasons. Tax purposes, tracking expenses separately, reducing personal liability, and more.
Small-scale businesses are commonly one of three types:
Sole Proprietor (sometimes referred to as solopreneurship or mompreneurship; you, in business for yourself without a separate legal entity)
Limited Liability Company — LLC (legal entity set up to limit personal liability; this can have one or more people)
Partnership (this is at least a two-man band where partners are personally liable for any business debts)
Your move:
Check out Legal Rocket or LegalZoom to research what may be appropriate in your state for registering an LLC or partnership. They also offer services for filing the associated paperwork required to start a business.
For business cards, we adore the professional and modern look of Moo products. And, for launching your website, HostGator is a no-brainer!
Have you tried any of these small scale business ideas? Tell us about your experience in the comments!
You May Also Like