pefostudio5 | Shutterstock
Want to learn new ways to make
extra money

?

Join 1,000,000+ monthly readers in getting updates and cool freebies:
Our number one goal at DollarSprout is to help readers improve their financial lives, and we regularly partner with companies that share that same vision. Some of the links in this post may be from our partners. Here's how we make money.
Many people volunteer to give blood, but did you know that selling plasma at CSL Plasma (or a local plasma center) is a growing side gig for people who want to make extra money?
Selling plasma is a great way to help others and make money too.
Read on to find out more about how to donate plasma for money (near me), how to prepare for your donation, and learn how much plasma is worth.
How Much is Plasma Worth?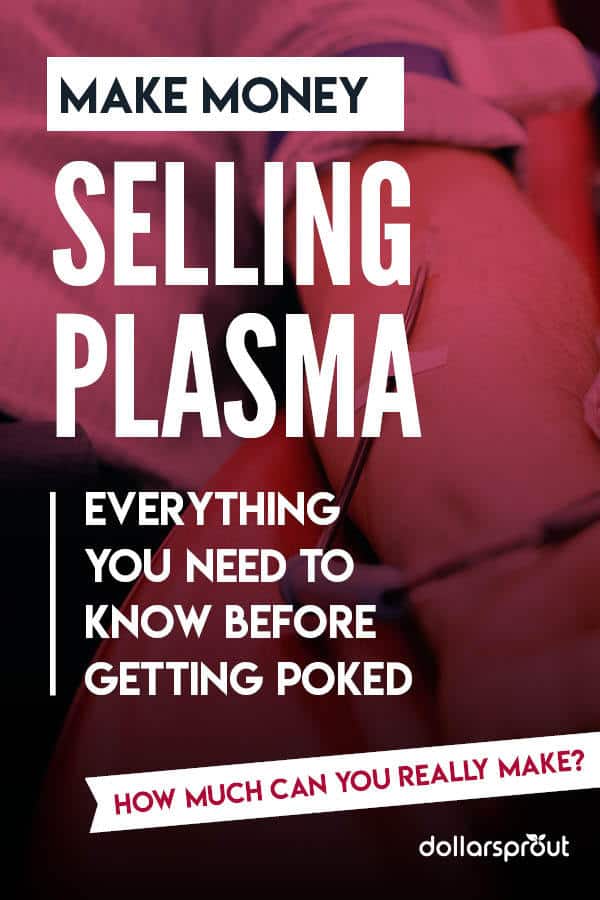 To the recipient, there is no price tag on plasma. It's essential to saving so many lives!
For the donors, however, donating plasma can be an excellent source of extra cash.
Every facility has a different fee structure, however, most places offer somewhere between $20 and $50 per donation (depending on how much you donate). Some donation centers even have referral bonuses as an incentive to recruit more donors.
Keep in mind that, even by donating as often as possible (usually 2-3 times per week), you won't be able to make a full-time income from donating plasma.
Plasma Donation Requirements: How Can You Qualify To Sell Plasma?
You must meet specific qualifications to sell plasma. Each company has its own set of plasma donation requirements, but they are quite similar.
Plasma donations are different than whole blood donations. You can donate plasma more frequently if you qualify.
Age Requirements
To donate plasma for money, you must be at least 18 years old and be in good health. Most collection centers allow people in their late 60s to donate. Upper age limits do vary by plasma collection company.
Items to Bring
To sell your plasma, you must bring:
Valid identification (driver's license, passport, military I.D., or school I.D.)
Proof of your Social Security number (Social Security card, W-2, paycheck)
Proof of address (driver's license, a copy of the current lease, W-2 or pay stub, utility bill)
Related: The Inside Scoop on the Company that Pays You to Lose Weight
Body Type Requirements
You can't sell plasma if you are ill, and you need to be able to do normal, everyday activities. You must weigh at least 110 pounds and have a healthy vein in your arm for the blood draw.
If you have received any piercings, tattoos, or permanent makeup in the last year, you are most likely not eligible to donate or sell your plasma.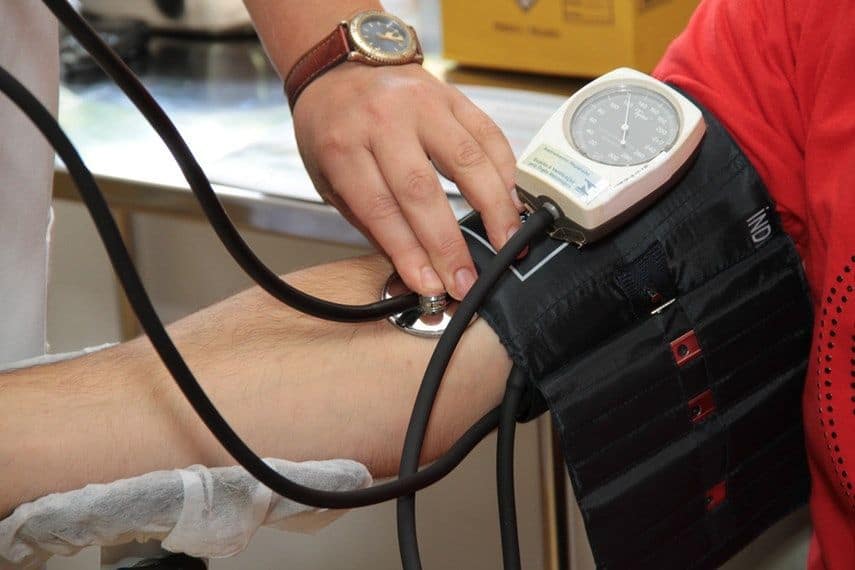 A pre-donation physical is required, including checks on your protein and hemoglobin levels.
If this is your first time, or it has been a while, expect a trained medical specialist to test your blood.
They'll look for viruses such as HIV and hepatitis. They'll also perform a medical history evaluation.
Any Surgical Operations Recently?
If you've had any recent surgery, you may not be able to sell your plasma. It will all depend on the type and date of the surgery. They'll also require that you've been released from your doctor's care.
How Should You Prepare Your Diet?
It's important you are very well hydrated before and after any blood plasma donation. The minimum recommended amount is eight cups of water the day prior and the day you donate. It is important that you avoid alcohol the day before you donate and for at least four hours after donating.
You should also avoid fatty foods that might cloud your plasma. Focus on protein and iron-rich foods if you plan to be a frequent donor. Eating meat, fish, dairy, eggs, beans, and seeds will give you the protein you need. Many of those same foods will boost iron levels too.
You can also add iron-enriched breakfast cereals. Fruits like raisins and watermelon will give more iron to your diet.
Daily Protein Intake
You may be turned away without donating if you have inadequate plasma protein levels. Testing will occur each time you plan to donate. Eat a protein-rich meal no more than 3 hours before your donation appointment.
If you are going to be a frequent donor, it's essential to keep your protein levels up to maintain good health. A recommended daily protein allowance will ensure acceptable plasma protein levels. Shoot for 46 grams for women and 56 grams for men.
Make sure you include the foods listed above in your diet and stay hydrated. This won't only make you a better candidate for donating plasma for money. It will give you more energy and help you recover from the donation.
Related: 25 Foolproof Ways to Get Free Money
What to Do the Night Before Selling Plasma
Skipping the burger, fries, and beer is definitely the first step. Beyond that, you'll want to do a few other key things to have your best chance at selling blood plasma.
Get A Restful Night's Sleep
You should try to sleep 7-9 hours every night. It is especially important when you plan to donate plasma. It is generally a safe process, but fatigue can be a side effect.
It's better to be proactive and make sure you are well-rested before your plasma donation time.
Drink Extra Water Before the Appointment
Another side effect of donating plasma is dehydration. To avoid this, you should ensure you drink plenty of water the day before and the day of your appointment.
Adequate hydration will help ensure your veins are in good condition for donation. Drink extra water before your appointment. After that, supplement with more water throughout the day.
This is especially important in the summer, or if you are physically active on the day of your donation.
Eat a Well-Balanced Meal First
Don't ever head to your plasma donation without eating a well-balanced meal. If you do, you may fail the pre-screening test.
It is necessary to understand the importance of nutritional requirements. Those who understand this will pass the screening test with each donation.
Is It Painful to Donate Plasma?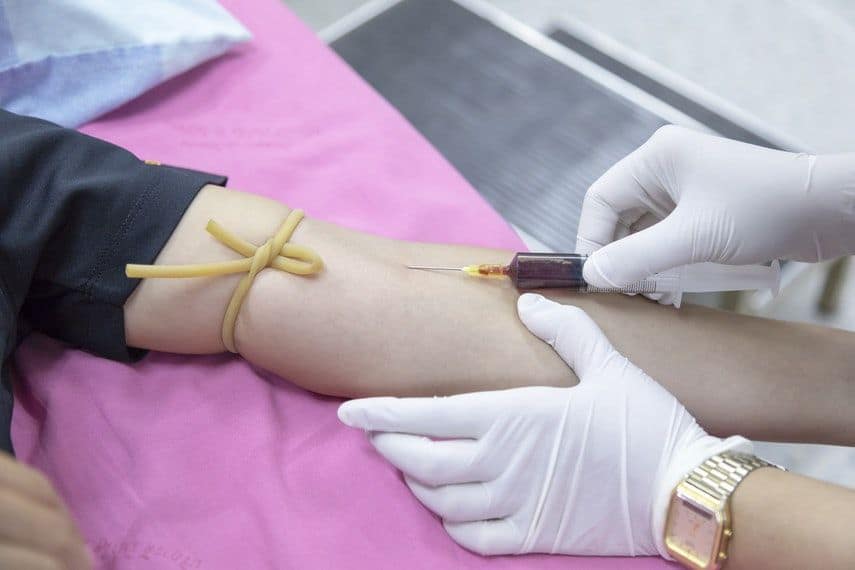 Needle injection will cause some pain, so donating plasma is not really pain-free.
The needle remains in place for the duration of the donation which can be between 40 and 100 minutes.
Some donors describe plasma donation as slightly more painful than giving whole blood. Others agree that there is not much difference when donating plasma for money. You may expect slight bruising or tenderness at the injection site. There is always a small chance of infection.
Side Effects of Donating Plasma
The main side effects of plasma donation include:
Pain associated with the actual blood draw
A small and inevitable chance of infection
The possibility of dehydration and fatigue
There are other adverse effects to consider, although these are rare.
Allergic Reactions
During blood plasma donation, the liquid part of your blood is removed. Other blood components return to you in a sterile saline solution. There is a chance of an allergic reaction to substances used in the donation process. One such substance is citrate.
Trained medical staff are ready to treat allergic reactions. You should discuss any concerns during the pre-screening process before donating your plasma.
Citrate Reactions
Citrate is necessary as it prevents your blood from clotting, but it will cause a reaction in some people. Individual responses range from tingling in extremities to a temporary loss of sensation.
Severe allergic reaction symptoms include changes in pulse, shortness of breath, and seizures. Treatment is critical to prevent shock or possible death. Discuss concerns about citrate with the on-site staff before donating your plasma.
How to Find a Plasma Donation Center
You may already get mail from plasma donation centers or drive past billboards advertising how to sell plasma at local sites.
Aren't sure where to find a place to sell your plasma for money? A simple online search for "plasma donation centers near me" will probably do the trick. There are hundreds of centers nationwide with more opening up every year.
Keep in mind, some of these donation centers may go by a different name in your state. It's worth checking out the website to see if there is a location near you.
Plasma Donation Centers Near Me
Consider some of the leading plasma donation centers and visit their websites to see if they have a location in your area.
1. Octapharma Plasma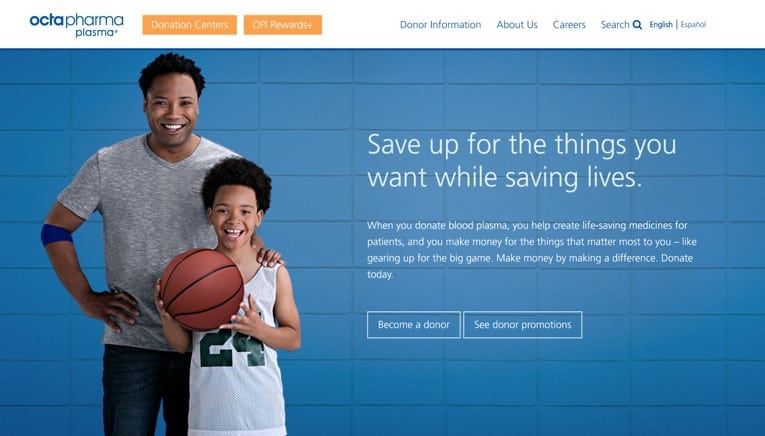 You can donate plasma for money (near me) with Octapharma Plasma's 80+ donation centers across 26 states. Their website includes information about plasma donation. Here you can also learn how the plasma is used to make life-saving medications.
They include a section on patient and donor stories, along with health and nutrition tips. You'll also find information for first-time donors and a plasma donation "FAQ" page.
You will receive a prepaid debit card upon successful donation, as outlined on the payments and rewards page. First-time donors can earn hundreds of dollars after a series of donations. The compensation varies by location.
Throughout the year donors can earn frequency incentives, prizes, and bonuses. Octapharma Plasma stresses "making money by making a difference" and how you can "save up for the things you want while saving lives."
Donors are their most important customers. This makes you their number one priority. Not only that, but they regularly meet or exceed industry and safety standards.
2. DonatingPlasma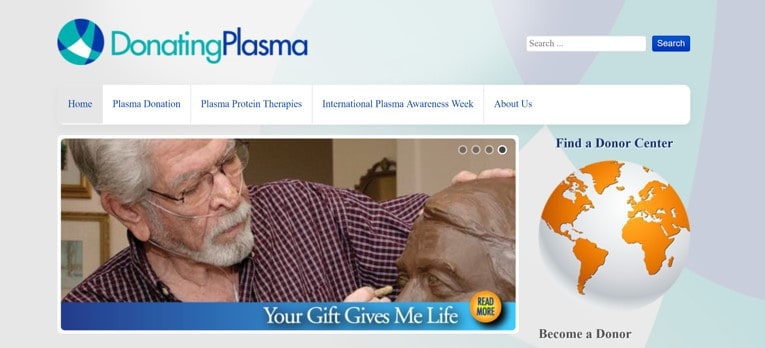 DonatingPlasma is an educational website sponsored by the Plasma Proteins Therapeutic Association.
The site provides donors education on the biology of blood and the steps in plasma donation. You will also learn how plasma is used to treat life-threatening conditions. You can search for more than 600 licensed and certified collection centers in the United States and Europe.
The DonatingPlasma website has a global focus. They've dedicated a full page to International Plasma Awareness Week, occurring annually in early October.
3. CSL Plasma

CSL Plasma of Boca Raton, Florida, recently opened its 200th plasma collection center.
They operate plasma centers in 36 states. CSL Plasma protein therapies treat hemophilia, immune deficiencies, and neurological disorders. Their website shares stories of how CSL Plasma is an integral part of their communities. It also shows how their employees and donors fundraise for a variety of important causes.
Individual collection centers determine rates and add money to reloadable debit cards. Funds are available for immediate use following a successful donation.
4. Grifols Plasma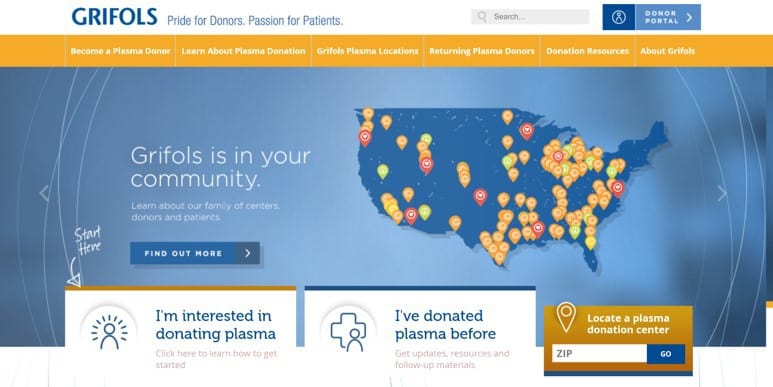 Grifols Plasma is a plasma center that has the tagline "Pride for Donors. Passion for Patients." Their efforts reflect this standard.
Grifols is part of a global healthcare company with a US network of 150 plasma donation centers. They develop plasma-derived medicines and distribute them to people with life-threatening illnesses worldwide.
On their website, donors can learn why and how to donate plasma. They also provide the requirements and compensation for becoming a successful plasma donor. Selling plasma earns a Visa Debit card loaded with payments upon successful donation.
They also offer incentives like the Buddy Bonus Program. This bonus encourages donors to recruit friends who want to donate plasma for money.
Plasma Donation Pay: How Much Can You Really Make Selling Plasma?
You may still be asking yourself, "How much is plasma worth?"
Perhaps a better question to ask is, "What is my time worth?"
Advertisements about selling blood plasma suggest that you can make a few hundred dollars a month. This is true for some because many plasma centers offer a bonus after a series of successful donations. After that, you may find specials to boost your plasma donation pay. You may earn incentives for finding new donors for the collection site.
Related: 24 Ways to Make Money From Home
Without bonuses, you can expect your plasma donation pay to be between $20 and $50 per donation. This depends on the amount of plasma they can take.
The time spent at the collection site will vary but generally is between 90 minutes and 3 hours.
If you meet the plasma donation requirements, have a collection location near you, and if you have blocks of free time – selling plasma can be a great option for you.

You May Also Like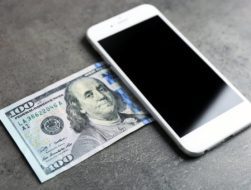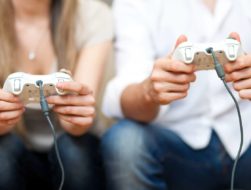 14 Best Places to Sell Video Games
Do you have an old copy of Street Fighter II or Sonic the Hedgehog lying around collecting dust? If you're thinking of tossing those games, you should reconsider. Instead, you can sell your games online or trade them in locally.