Photo Credit © Shutterstock Images
Want to learn new ways to make
extra money

?

Join 1,000,000+ monthly readers in getting updates and cool freebies:
Our number one goal at DollarSprout is to help readers improve their financial lives, and we regularly partner with companies that share that same vision. Some of the links in this post may be from our partners. Here's how we make money.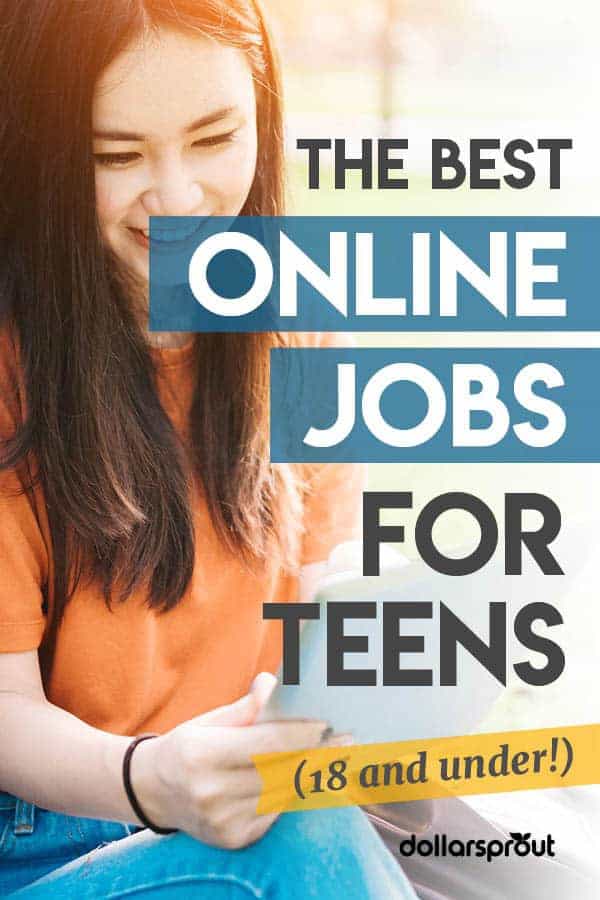 There's no shortage of online jobs for teens to choose from.
And that's a good thing since being a teen these days seems to be getting more and more expensive. Places to go, people to see! It's a time of your life when so much is happening and changing, doing things with your friends is so important.
Keeping up with peers in terms of fashion, the latest technology, etc. while maintaining an active social life — is it any surprise that teens are looking to earn extra cash?
Not to mention the sooner teens start saving money and managing it wisely, the better off they'll be as adults. With college fees looming and the safety net of living at home soon to be removed, earning extra money is the best thing that many teens can do.
Luckily, we live in an age where there are good paying jobs for teens all over the internet.
If you don't have the time or flexibility consider an in-person job traditionally held by teens, then one of the items on the list below may be more suitable for you.
Online Survey Sites For Teens
Companies are constantly trying to improve their products for the next generation of buyers. And they're willing to pay for valuable opinions to help them do so. That's what makes paid online surveys one of the best online jobs for teens today.
Some people are put off by survey sites because they see the small amount that you get from them. However, they're a super easy way to make extra money from home online while binge-watching the latest Netflix series, and they are real online jobs for teenagers that pay.
Swagbucks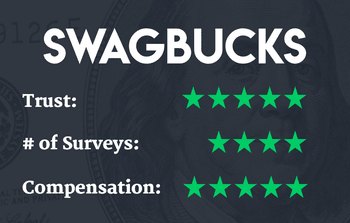 Swagbucks is one of the most popular survey sites around. The fact that they offer a free $10 sign-up bonus probably helps. According to their website, they've paid out over $288 million to users to date and give away over 7,000 gift cards every single day.
Getting started is simple: take surveys, earn points (called "Swagbucks" or SBs), and cash out for gift cards or PayPal credit. Better yet, Swagbucks offers more ways to earn than just paid surveys.
You can also earn cash by watching videos, shopping online, searching the web, playing games, buying gift cards, and more.
It's free to join, and the surveys range in point value from 1 to 1000 SBs. The number of points you need depends on which prize you choose. Most of the surveys pay at least 60 Swagbucks, and 500 Swagbucks will get you a $5 Amazon gift card.
If you want to find out more ways that you can earn money with Swagbucks, check out our full-length Swagbucks review.
Survey Junkie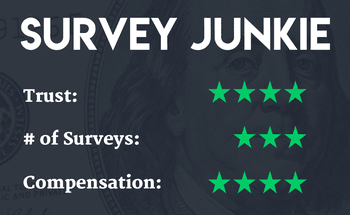 Survey Junkie is another online survey site where you answer questions and give your opinions. Companies use this market research data to improve their products for their target audience.
For each survey you complete, you receive points. In Survey Junkie terms, 100 points equal $1. Once you get 1,000 points ($10), you can redeem them for PayPal cash or free gift cards.
Surveys take anywhere from 1 to 20 minutes to complete. Typically, the longer the survey, the more points you can earn.
To learn more, check out our complete Survey Junkie review.
Opinion Outpost
Opinion Outpost is a well-established site that offers paid market research opportunities. This site, like many of the others on this list, operates on a point system. You can earn points by completing online surveys, shopping online, playing games, and doing various other online tasks.
Your points can then be redeemed for gift cards to your favorite retailers (Amazon, Walmart, etc.).
Our favorite thing about Opinion Outpost is that it's very user-friendly. All you do is create an account and choose the types of activities you're interested in. Then turn on Netflix and start making some extra cash.
MyPoints
MyPoints is owned by Swagbucks, so the two are very similar.
Right now MyPoints is offering a bonus — earn $5 when you take your first five surveys.
A great thing about this site is that if you take the pre-qualification questions and don't qualify for a survey, you still receive 5 points. You can earn up to 25 disqualification points per day.
MyPoints gives you the option to redeem points for gift cards, PayPal cash, or get travel miles if you have a United MileagePlus account.
CashCrate
CashCrate is another survey site pays cash for your opinions. In addition to online surveys, CashCrate also rewards you for shopping online, playing games, and referring new members. For every person you refer, you get 20% of their future earnings.
New surveys are available daily. CashCrate will also send you surveys specifically curated based on the demographic information you fill out in your profile. So in order to get the best-paying surveys, make sure your profile is complete.
Tutoring Jobs For Teens
Tutoring jobs are a great way for teens to make extra money. Here are the best tutoring sites that hire teenagers.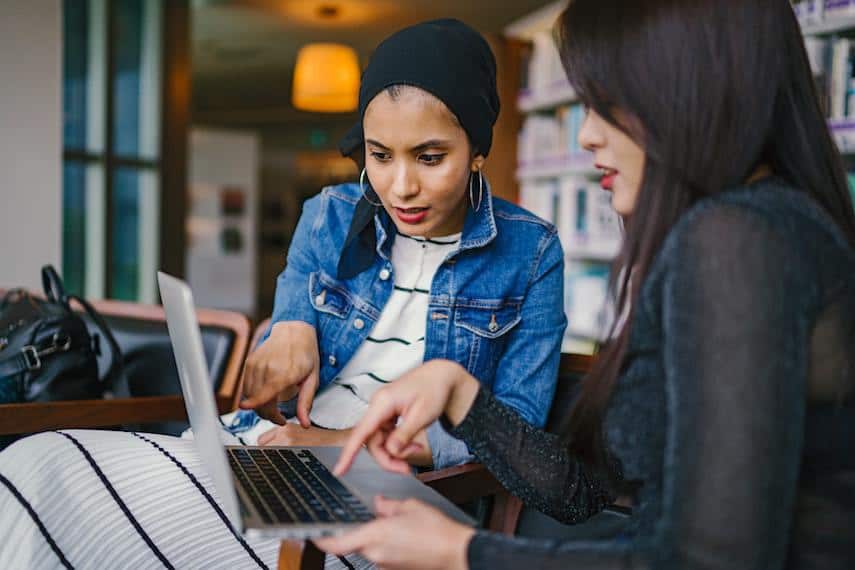 SameSpeak
SameSpeak pays you to teach students from other countries how to speak natural English. The students also have formal English lessons, but they learn faster by conversing with a natural English speaker (that's you).
To participate in SameSpeak, you must be at least 16 years old. You will also need a computer with high-speed broadband access, a headset with a microphone, and a Skype account.
The coaching sessions last 30 minutes, and the payout is $10 per half hour that you complete. Once you have $100 in your account, you can withdraw your earnings via PayPal.
SkimaTalk
This site is similar to SameSpeak. With SkimaTalk, you conduct 25-minute sessions with students via Skype.
After you sign up for an account and complete your profile, you'll need to complete a few simple tests. Once you're approved, you can set your availability and rates and begin teaching.
In order to teach with SkimaTalk, you must be 18 years or older. You'll also need the same equipment as with SameSpeak — high-speed Internet, headset, microphone, and a Skype account.
SkimaTalk teachers are paid once per month via PayPal.
Writing Jobs For Teenagers
Freelance writing can be a perfect online job for teens because you can fit it around your schedule. You are probably used to writing assignments at school, so why not get paid for it?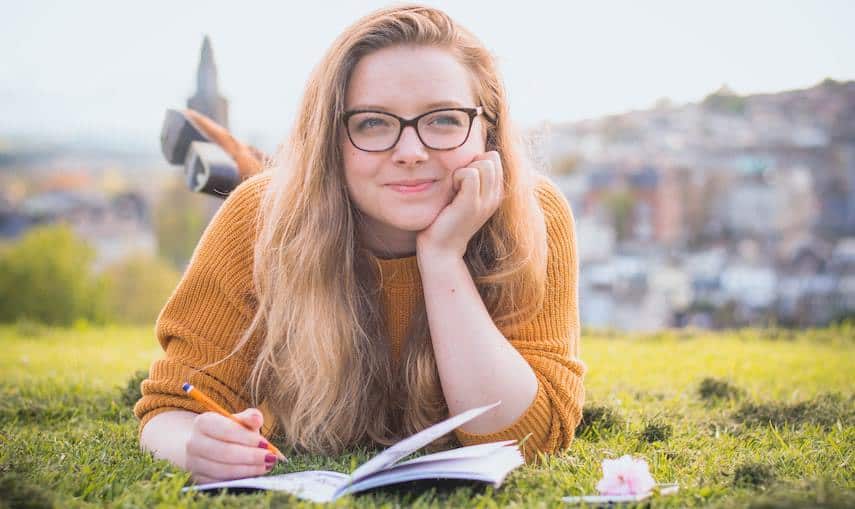 Upwork
On Upwork, businesses post jobs and freelancers submit pitches to apply.
The fees on this site will range from job to job, but there are many freelancers out there who have started on Upwork and gained repeat clients from it.
The fee structure is based on your lifetime billings with each client:
20% for the first $500 billed
10% for total billings of $500.01 to $10,000
5% for total billings above $10,000
Upwork isn't just for writers. Other categories include marketing, web development, customer service, and design to name a few. Bid on projects across several categories to find what most interests you.
Fiverr
Fiverr is another digital freelancer marketplace. As the name suggests, you can buy or sell for as little as $5.
Jobs on this site are referred to as 'gigs.' Typical gigs include graphic design, digital marketing, writing and translation, video and animation, programming and tech — basically anything that you can do online. This is a perfect site for website owners to come and get services on an ad-hoc basis.
You can price your gigs however you want. If you take a look at the gigs that are available on there, there aren't actually that many for only $5. You can also tier your offering with additional services at a premium price.
If you're handy with design, technology, words, or a host of other online skills, you could easily make good money from offering your services on Fiverr.
Textbroker
Textbroker doesn't pay quite as much as other freelance platforms, but it's still a good way for teens to make some extra money. One of the benefits of writing on a site like this is that you'll get a lot of good practice (the more you write, the better you tend to get).
You'll also build a portfolio you can use to pitch higher-paid writing jobs.
Your fee depends on whether the job is an OpenOrder, DirectOrder, or TeamOrder:
OpenOrders pay per word and depend on your quality rating level. You can choose from thousands of orders at your preferred quality level.
A DirectOrder is an order that is sent directly to you. This could either be because a client has worked with you previously and wants to work with you again, or because they have seen your profile and are impressed enough to reach out and work with you. If you have a Direct Order, you set your own rate per word.
TeamOrders are for working with the same clients consistently. These projects are open to any author on your team on a first come, first serve basis. The client sets the rate per word for the whole team, and there is no limit to how many teams you can join.
Other Legit Ways for Teens to Make Cash Online
Tutoring gigs and paid surveys aren't the only ways for teens to make money online. Here are some more ideas for inspiration.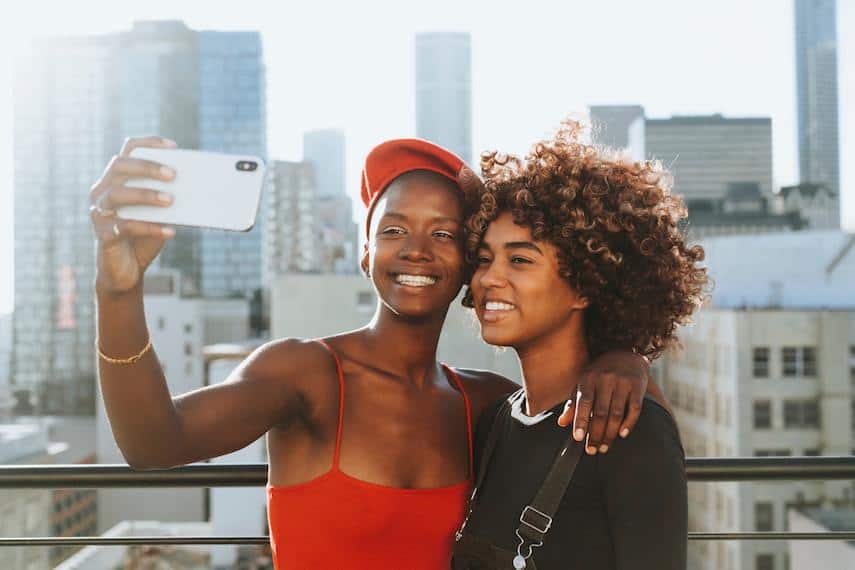 Cafepress
Cafepress is an online gift shop or, as they claim, the world's best online gift shop. You create items to sell, and they do the marketing for you. Popular categories include:
Men's clothing
Women's clothing
Accessories
Baby clothing
Home and decor
Drinkware
Stationary
Stickers and signs
You can design your own products on there by heading to the 'Design Your Own' section on the website. Select the product that you want to design and use a Cafepress designer to produce the item.
The amount of money that you make depends on how much markup you put on your items. You get to choose how much to charge, so it's entirely up to you.
In the Cafepress marketplace, you will earn 5-10% of the sale price for whatever you sell.
Instagram
Instagram isn't just a place to share photos of your food or your furry companion. It's also a platform that you can use to earn some serious cash.
Just look at some of the biggest Instagram influencers out there who earn thousands per post. Yes, you read that correctly. Thousands!
The amount of money that you are able to make depends on how many followers you have, how engaged they are, and the size of your influence.
You can make money from sponsored posts, affiliate marketing, or selling your own products or services. There are other ways to make money on Instagram, but these are the main ones.
Care.com
When you create a free account with Care.com, you'll be matched with people in your area who are willing to pay for your services. Care.com offers various opportunities to make money, such as childcare, pet care, housekeeping, and more.
You set your own rate. However, Care.com provides a handy calculator to help you determine the best fee to charge. Input your location, years of experience, and availability, and they'll give you suggestions for how to set your rate. You can also see what other people in your area are charging.
Sitter City
Similar to Care.com, Sitter City offers services for a babysitter, nanny, pet sitter, housekeeper, or elderly companion.
Again, creating a profile is free and easy, and you choose your own rate. Results for each site may vary depending on your location. If you want to make money by providing any of these services, you'll get the most options for potential matches by signing up for both.
Etsy
Etsy is a site where you can sell (and buy) unique, handmade, and vintage items. If you're a crafty person, this is a great site to sell and make money on.
Most people think you have to know how to knit or create elaborate jewelry to make money on Etsy, but that's not necessarily the case. I know several people who sell printables on the website (usually things like inspirational quotes) that do really well.
Take Julie from
Gold City Ventures
for example:
Julie makes thousands of dollars per year selling bachelorette-themed printables on Etsy.
It's a super niche product, but it's one you can scale limitlessly, especially if you're the creative type (i.e. expand beyond just bachelorette-themed printables and sell items in several different niches).
She even offers a course that teaches you exactly how to get started selling printables on Etsy.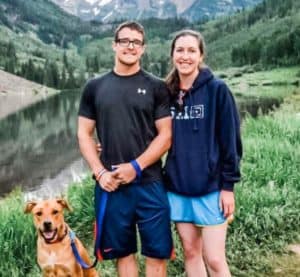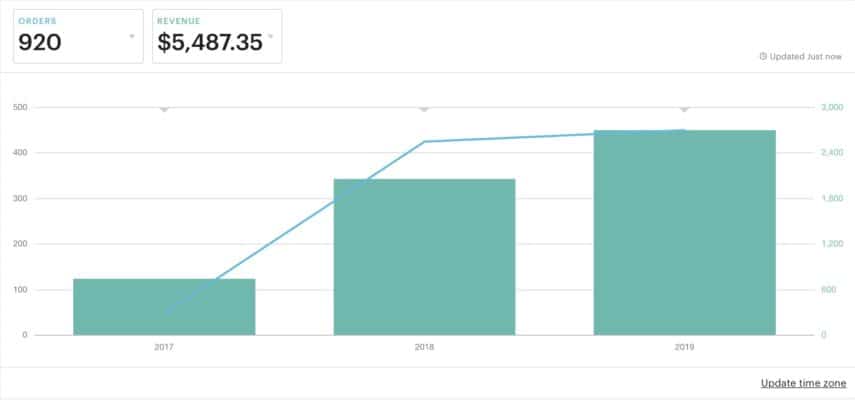 At a couple hundred dollars, the course isn't free, but if you're selling on Etsy or interested in a new side hustle, a small investment to generate thousands per year in revenue might be something worth considering.
The amount of money you make depends on what you sell, the margins you can create on the materials, and how much people are willing to pay for your items.
Slice The Pie
Slice The Pie is a website that pays people for reviews. You can review songs, clothes, commercials, and more before they go live. Your feedback helps artists, record labels, and brands make important decisions about their products.
Some reviews will pay you more, which you'll see on the Category page. You will also get paid more depending on the quality of your review and your star rating on the site. For example, a 1-star reviewer earns $0.03 per track review, while a 5-star reviewer makes $0.15 for each track reviewed.
Cash out via PayPal once your account hits $10. You also get bonus points for referring your friends.
Teen Jobs: Tips For Getting Started
Keep these tips in mind when searching for the best ways to make money online as a teen.
Get a PayPal Account
As you may have noticed from reading through this list of online jobs for teens, most sites pay via PayPal. Therefore, in order to accept payments, you'll need to sign up for an account of your own.
Setting up a PayPal account is easy. In order to complete your account, PayPal will send a couple small deposits to your bank account and have you verify the amounts. That means you need to set up your account ahead of time. If you wait until you're ready to transfer your earnings, you'll have to hold off a few extra days.
Keep Your Parents In The Loop
I know it's tempting to keep things to yourself, but if you're suddenly earning extra money and not explaining where it's coming from, your parents are going to be worried.
For your own safety and benefit, let them know what you're doing. Tell them how you've been researching all kinds of online jobs for students to earn money. A strong work ethic, particularly from a young age, is very impressive and they will appreciate your initiative!
Which of these online jobs for teens have you tried? Let us know in the comments!
You May Also Like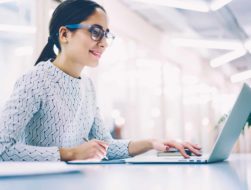 25 Online Jobs That are Legitimate, Easy, and Flexible
Online jobs are amazing. They allow you to work from anywhere at any time while earning a livable wage (from $10 to $100+/hr). Here are 25 online jobs that are flexible and pay more per hour than your average 9-to-5 office job.