Photo Credit © Shutterstock Images
Want to learn new ways to make
extra money

?

Join the family to get updates from us and tons of cool freebies:
Our number one goal at DollarSprout is to help readers improve their financial lives, and we regularly partner with companies that share that same vision. Some of the links in this post may be from our partners. Here's how we make money.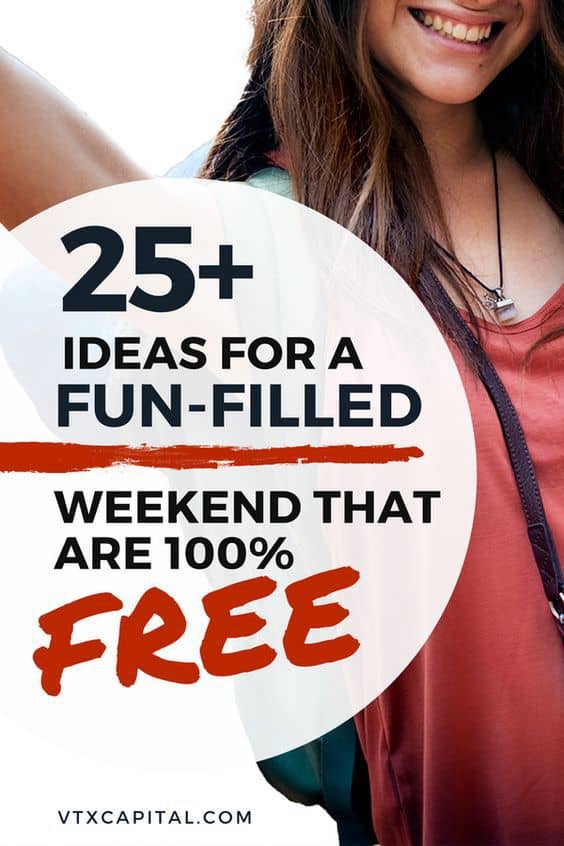 Let's talk about all of the possible fun things to do with no money for a no spend weekend to remember!
Is your bank account begging you to take a time-out?
Have you splurged one too many times recently, and need to get it together again?
It may be time to take a "no spend weekend."
The idea behind a no-spend weekend is pretty simple:
For just a few days, you need to occupy yourself with fun things to do with no money.
It can be a great way to save money and kick-start a more frugal lifestyle change.
Note: no-spend weekends do not mean no-FUN weekends. Far from it, actually.
I've found that some of the weekends where I spend no money at all are some of my best weekends (and most productive).
If you are looking to try your first ever no-spend weekend, here is a list of 25 ideas of fun things to do with no money.
Many of these are fun things to do with friends at home while others can be done while alone during your quiet time at night (if that exists). But no matter the situation, you can do all of these without spending any money at all.
25 Fun Things to Do with No Money
1. Take paid surveys
You'll hear us harp on paid surveys a lot on this blog, but for good reason. If you have nothing else to do and want an opportunity to make some of the easiest money ever, signing up for surveys on paid survey sites is a great idea. If you are diligent about consistently doing the surveys, you can easily rack up a few hundred extra dollars each month.
Here are the top survey sites we recommend checking out:
Related: 10 Amazing Ways You Can Make Money from Home Today
2. Set some new goals for yourself
Goal setting is free, and we could all probably benefit from doing it more often. Make an event out of it! You can do this with your boyfriend, husband, parents, kids, friends etc.
Making new goals for yourself is definitely one of those fun things to do with no money that sets you up for success.
3. Start running
I can't be the only one that constantly tells myself I'm "going to start running again" and then never does, right? Use your no-spend weekend as the excuse you need to lace up those running shoes.
4. Write a blog post
I happen to be one of the slowest writers on planet Earth, so writing a blog post ends up actually being a great way for me to not spend money on the weekends (luckily I have a Starbucks Gold card so at least my coffee refills are free).
One of the reasons I don't mind spending so much time on my blog is because it's making us pretty substantial passive income (around $10,000 per month at the time of this writing). If you are curious to learn how we are able to accomplish that, you can sign up for our free 5 day email course where I break down the exact steps Ben and I have taken to get to that level (you can also view our quick blogging setup tutorial here).
5. Organize and plan your money future
I know. I just ruined this article.
Nobody wants to think about being old and gray, but it's going to happen to all of us (at least hopefully). The last thing we want is to be old and not have any money. By taking some simple steps today in terms of planning and investing, you can have a much higher quality of life in your later years.
Recommendation: I recently signed up for Personal Capital's free investment planner, which I love so far. I'm able to look at all of my investments, banks accounts, loans, etc and plan out how things will look years down the road. I definitely recommend checking it out.
6. Volunteer your time
A lot of times we just spend money because we are bored. Or we want to buy stuff that we think will make us happy (hey, I speak from experience).
Focusing time and energy on volunteering, even if just a small amount, can actually do wonders for your wallet. And your community (which is way more important, when it's all said and done).
My two main volunteer gigs over the past few years have been platelet donation with the American Red Cross, and volunteering one night a week at my local suicide and crisis hotline.
I have a Red Cross app on my phone that tracks how many lives I have "impacted" with my donations. At the time of this writing, the app tells me the total impact from my donations is 240 lives  (I have no idea how accurate that number actually is). And from my hotline experience, I'd like to think I've helped a decent handful of people, too.
Bottom line: Try to help the world if you can. It doesn't have to cost you any money.
7. Watch movies
One of the most fun things to do with no money is watch movies at home. It's not exactly the most productive use of your time, but watching movies isn't all that bad. Even still, there are some clever hacks out there you can use to make money while watching Netflix.
You can also plow through a few surveys while you have your movies or shows running.
8. Host a family game night
My mom used to organize these when I was a kid. We would get together with my aunt and uncle and cousins one day a month and just play boardgames and/or watch football on Sundays.
If your local family members only get together for holidays or birthdays, this is an easy way to bring everyone closer together without a special occasion (which is the whole reason why my mom started planning family game nights).
9. Make a Goodwill run
Get rid of all the extra stuff you don't need that's just taking up space in your closet or garage.
10. Plan our your meals for the week
This gives you a chance to be healthier AND reduce the number of times you end up eating out. Meal planning and prepping definitely has its advantages. It just takes time to do it right, which is what makes it a perfect idea for your no-spend weekend.
11. Paint
Do something artistic. Most of us don't exercise our creativity muscles enough.
If you have kids, get them going on a project too. You may be surprised to see what they come up with.
12. Go to the library
Another one of my favorite fun things to do with no money is visit my local library. When was the last time you went to the library? Go find some awesome books and learn something new.
If you don't want something quite so "academic", go to Barnes and Noble instead and just hang out there for a while. I've done this before and it's actually really nice to just sit in one of their comfy chairs and listen to the jazz music while you flip through a book off the shelf.
13. Make a budget
Need to get a better grip on where all your money goes each month? You need a budget.
There are tons of amazing resources out there on making a budget. In our budgeting guide, you can take a peek at the most common budgeting methods and decide which one is right for you.
14. Create an Airbnb listing for an extra room in your house
A perfect way to spend a no-spend weekend is to set up something that can make you hundreds of extra dollars per month.
Enter Airbnb.
This is something that not nearly enough people are taking advantage of. If you own a home, consider putting a room (or the whole place) on Airbnb.
Here's how it works:
Create a listing by filling out a description, taking  and uploading photos, and setting a price. Your listing helps guests get a sense of what your place is like.
Then, you set the availability and house rules for your listing. Once your listing is live, guests can book their stay at your home, and you start earning money.
To up the "trust" factor for both the host and the guests, Airbnb does require some verification information, including phone numbers. After a visit, everyone gets the chance to write a review. Reviews keep guest accountable for treating hosts and their homes with respect, and helps ensure hosts make their space as welcoming as possible.
Learn more about how you can make money as an Airbnb host here.
15. Walk your dog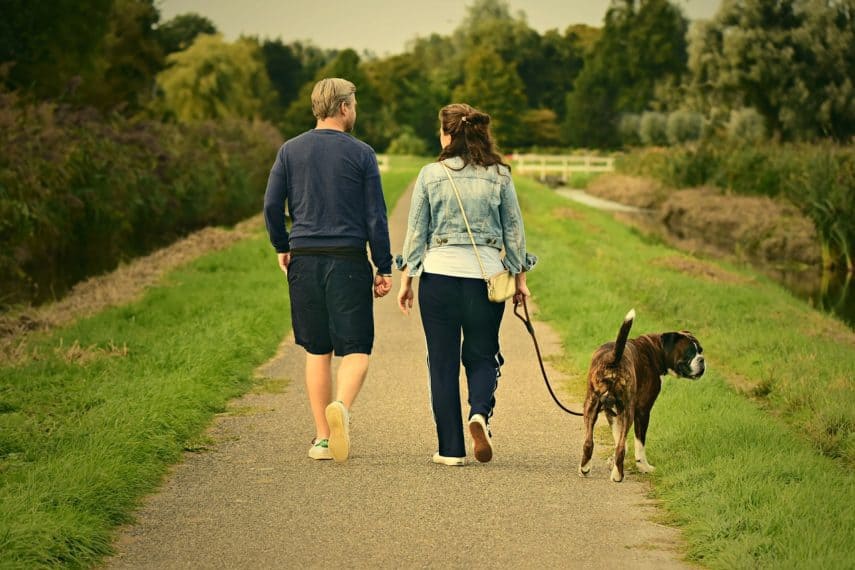 I hate to admit it, but I'm terrible about doing this. The good news about walking though is that it's one of those fun things to do with no money. And both you and your pup could probably benefit from some fresh air every now and again.
10 More No Spend Weekend Activities
16. Find a new hobby
17. Clean your car
19. Do a good deed for someone else (that doesn't cost money)
20. Help your kids (or other kids) with homework
21. Find coupons for groceries you typically buy
22. Redesign a room in your house with what you have on hand
23. Look for free stuff on Craigslist
25. Plan a new home improvement project
Can you think of any other fun things to do with no money? Let us know in the comments!