Photo Credit © Shutterstock Images
Want to learn new ways to make
extra money

?

Join 1,000,000+ monthly readers in getting updates and cool freebies:
Our number one goal at DollarSprout is to help readers improve their financial lives, and we regularly partner with companies that share that same vision. Some of the links in this post may be from our partners. Here's how we make money.
---
Today, we've got a really great interview to share with you that will show you how you can make money proofreading by becoming a freelance proofreader. I recently had the chance to interview Caitlin Pyle, the owner of Proofread Anywhere, who explains how this may be a possibility for you if you are looking to make an extra income.
---
Caitlin Pyle: Proofreading Freelancer
In 2014, Caitlin made over $43,000 by working as a part-time proofreading freelancer.
When she wasn't working, she even had time to go on several fun vacations.
If you're considering a starting an online business or maybe just want to make a little extra cash, this might be something worth looking into.
Check out our interview below for more information on how to make money proofreading by becoming a court transcript proofreader or a freelance proofreader.
Caitlin also does regular free webinars just for people who want to get serious and start making more money with their proofreading skills.
I definitely recommend checking out her free course.
How to Make Money Proofreading with Caitlin Pyle
A lot of our readers haven't heard of transcript proofreading as a way to make extra money. In a nutshell, what is it?
Most people have seen court reporters or stenographers on television – either on a procedural drama or watching something like the State of the Union address.
Those reporters are creating a verbatim transcript of the proceedings. Proofreaders go over each word of these transcripts to correct punctuation, formatting errors, mistranslated words, and other errors unique to steno writing.
Proofreading as a Job
How did you figure out that there was real money to be made in transcript proofreading?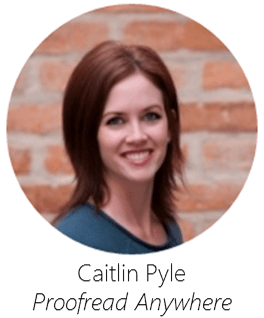 I began proofreading transcripts when I was working for a court reporting office as a receptionist back in 2009. I started picking up side jobs from reporters as I moved up the ranks in that office, eventually parting ways in 2011 to pursue other things.
It took me a while, but I eventually realized I had the skill and the beginnings of a clientele I could use to build my own freelance proofreading business. By the fall of 2012, I'd built up a full-time income with proofreading — more than I was earning at my old job. Proofreading as a job was my primary source of income for close to three years until I made the switch to full-time teaching and blogging in the spring of 2015.
Transcript Proofreading
Why is transcript proofreading in such high demand?
There are a couple of reasons that transcript proofreading is popular. Court reporters are in high demand (there's actually a projected shortage of these skilled professionals), and proofreaders enable reporters to focus on what makes them money: going to jobs and producing more pages.
A court reporter makes more money working at a deposition or a trial than spending hours perfecting the last deposition they did. They don't get paid to nitpick!
A skilled proofreader not only helps the court reporter turn in a great product, but he or she also allows the court reporter to actually earn more money by giving him/her the time to write and produce more transcripts.
If someone puts in the work to get good at this, what kind of earnings can they expect as a proofreader for court reporters?
You're right to qualify the need to put in the work to get good at it — because this is absolutely a skill that takes time to learn and become proficient in.
It really depends on how much time you are able to put into it, but in 2014, I earned just over $43,000 working about 20 to 30 hours a week. Occasionally I'd hit 40 hours.
We've had a grad who blogged recently about earning $30,000 in her first ten months. You won't become a millionaire proofreading, but you can make a solid income without incurring thousands of dollars of debt or spending four years on a degree program.
How steep is the learning curve? Can anyone make money proofreading?
Proofreading is absolutely not for everyone.
You have to have an eye for detail and the ability to focus for pages and pages of sometimes very dry reading. You must have a basic understanding of punctuation and grammar and a big enough vocabulary that you can spot misused words and phrases.
For legal transcript proofreading, you also have to adapt to the rules of transcripts, which aren't the same as other proofreading or copy editing. You can't change the grammar, ever — no matter how awful it is. Punctuation is more important than grammar in transcripts, and you have to know how to apply those rules to some really tricky constructions. Lawyers and witnesses often don't speak in clear — or complete! — sentences. This can be hard to swallow for people who are used to proofreading "planned" texts like books, essays, etc., but with practice and time, it will become easier and more natural.
It seems like marketing yourself and getting clients is just as important as mastering your proofreading skills. Is that true?
Marketing is obviously important for any freelancer, but one of the great things about transcript proofreading is that you have repeat customers built into the model.
If you proofread a book or a resume one time, that client may never need you again. On the other hand, a court reporter will have another deposition that needs to be proofed in just a few days. So while marketing is important, proofreading legal transcripts doesn't require nearly the same effort as other types of proofreading. And, side note — and this may surprise you — finding clients is actually the easy part. Many people fear finding clients who have no idea just what kind of work they'll need to do for said clients.
So I often remind prospective students to focus on learning first before the "getting clients" aspect.
Proofreading at Home assignments
What's the best plan of action for someone looking to make money proofreading?
I've written a couple of blog posts about platforms like Fiverr and Upwork where people can find jobs online that require proofreading work. But, honestly, it's exceedingly difficult to make real money on those platforms (although there are people who do it!).
Proofreading at home assignments that are independent jobs offer better opportunity for growth and ongoing clientele.
The niche market of transcript proofreading offers more opportunity and higher earnings for less marketing effort. But whatever market you want to work in, the best way to succeed is to be really good at what you do.
Excellence is truly the bedrock of success, no matter what field you're in.
You have a training program that teaches people specifically how to break into this field and start making money. Tell me more about that.
Sure. My course, Transcript Proofreading: Theory and Practice™, is an intensive course that teaches all of the nuts and bolts of legal transcript proofreading as well as how to set up your business, how to get clients, and how to keep those clients.
The practice is extensive; students complete more than 3,000 transcript pages, and there are three graded exams they must pass to proceed to the next level or graduate. At the end of the self-paced course — which usually takes between two and four months to complete — graduates are well equipped to start their own business.
I also have a General Proofreading Course, which has been really popular with students that don't want to be restricted to just transcript proofreading.

Rough guess- how long until the training pays for itself?
That really varies on how much time and effort the graduate can put into their business, but we've had many reports of graduates earning their investment back in a month or two. Some folks will take a little longer to get their business up and running, especially if they have a full-time job and are adding in proofreading as a side hustle to pay down debt.
Folks who don't want or need to earn more than $500 or so a month will take a little longer, and we also encourage all newbies to start out slowly with their first 1-2 clients in order to earn referrals. If you go too fast and get too many clients just because you want to make a lot of money fast, it can come back to bite you!
What's your favorite part about being a proofreader? Any big lifestyle changes you enjoy as a freelancer?
It's so hard to choose!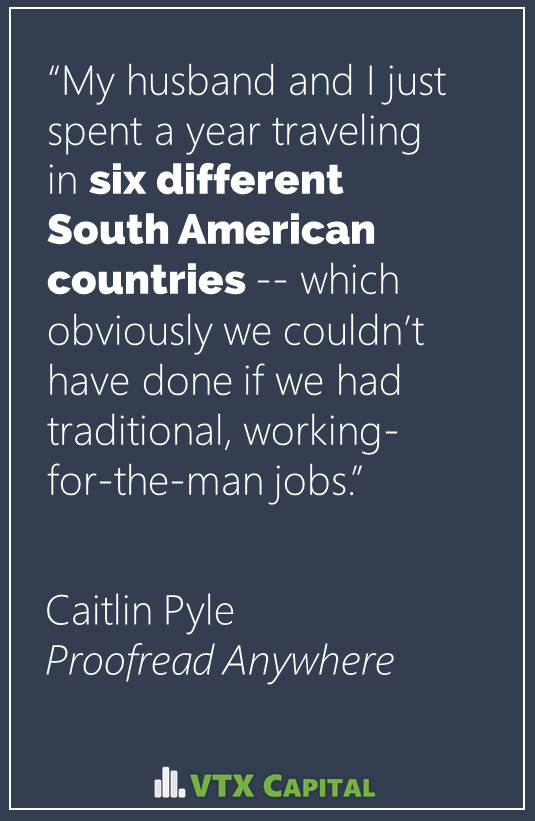 I love being able to make my own decisions about my life.
I love the freedom to build my own success and knowing I'm the one responsible for creating my income and livelihood. I don't need to depend on anyone else.
If I don't have enough work, I know what to do to drum up some new business.
And I obviously love the freedom to do the job anywhere I want, which is why I named my blog Proofread Anywhere!
My husband and I just spent a year traveling in six different South American countries — which obviously we couldn't have done if we had traditional, working-for-the-man jobs.
Do you have any resources for someone who just wants to get their feet wet and learn more about pursuing their opportunities as a proofreader (but aren't sure if it's right for them)?
I offer a free workshop that's designed to introduce people to the field of proofreading. It's packed with great advice and business-building tips for any type of freelancer as well. By the end of the workshop, it'll be easy to decide if this field is a good fit for you.
It may be a perfect fit, and if so, that's great. But if it's clear you're not a fit to make money proofreading, I will let you know and give you some alternatives that could be better for you.
You May Also Like