Fizkes | Shutterstock
Want to learn new ways to make
extra money

?

Join the family to get updates from us and tons of cool freebies:
This post may contain affiliate links. Policy Page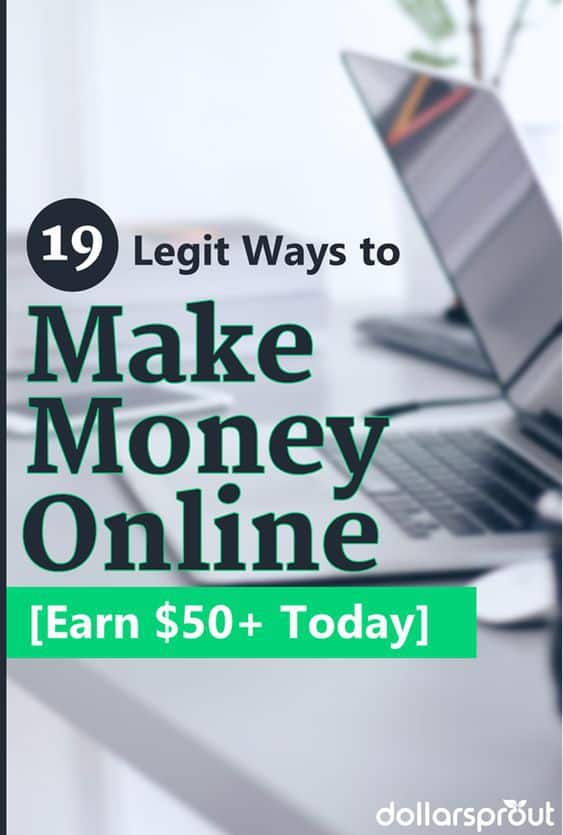 As long as you have an internet connection, you can legitimately make money online from anywhere in the world.
Instead of using the internet to browse Facebook, google the best coffee shop in town, or discover what type of bread we are via a Buzzfeed quiz, you can also use the web to cushion your pockets.
Whether you're a stay at home mom, a college student, or merely working part-time, you can leverage even the smallest window of opportunity to earn money online.
Our team scoured the web, wracked our brains, and consulted other side hustle experts to put together this genius list of ideas so you can make money online starting today.

Low effort and low commitment. The ideas in this section are all about making money online fast without too much work!

1. Take paid online surveys ($100 or more each month)
Survey companies like to collect data on consumer interests, and spending habits, so brands can learn how to better market their products.
If you've ever spent time taking paid online surveys, you know that you can make some easy extra cash every month while sitting at home in your PJs. DollarSprout recommends Survey Junkie if you're looking to try paid surveys for the first time.
---
2. Get free signup bonuses from cashback sites
Want $15 for a few minutes of your time? Of course you do! Lucky for you, there are sites like Ebates and DOSH that are offering cash incentives for people like you to join their sites.
Since they're free, we recommend signing up for both.
---
3. Switch to a better bank
Do you have money sitting in a savings account that's paying .05% interest?
If so (or if you don't have a savings account at all), it's worth your time to spend a few minutes opening an online savings account.
Here's why:
Online savings accounts usually come with crazy good interest rates to help you grow your money faster (regular in-person banks can't offer rates as high). We're fans of CIT Bank because their interest rate is often over 25 times the national average. That means the money in your savings account will grow 25 times faster than the pace it's most likely growing at now.
This is one of the most legitimate ways to make money online that I can think of! Open a new account, make your first deposit, and let your money grow while you sit back and relax!
---
4. Make money by watching videos on your phone
I mentioned Swagbucks earlier as a reputable survey site, but it turns out that's not the only thing they'll pay you for.
You can also earn money online with Swagbucks by watching short videos in whatever category you choose, like entertainment, news, or fitness.
---
5. Download the Nielsen app and collect $50 per year
Have you heard of Nielsen, the company that tracks TV ratings? Turns out they collect data on a lot more than just TV. One area they're really into is internet usage research.
What does that mean for you? It means Nielsen will pay you $50 a year to keep their app on your favorite internet browsing device. The app itself collects statistics on your internet usage anonymously, so you never have to worry about any data being linked to you. And the best part is, the app takes up barely any space and doesn't slow down your phone or tablet at all!
---
6. Earn money online by surfing the web
InboxDollars is another market research company that pays you to use their search engine instead of some of the more prominent ones like Google and Bing. The idea here is that they will learn more about people search habits and uncover patterns that may be valuable to companies trying to better understand consumers.
InboxDollars isn't a get-rich-quick scheme, but if you're wondering how to make money online for free, you may as well make a few extra bucks for searching the web like you normally would.
---
7. Make money from home by getting paid to test websites
Website testers give their opinions on websites, including the design, quality, and ease of use of a site. This allows companies to make changes to their websites in order to provide a better experience for their users (and hopefully increase sales).
Of course, they are willing to pay for your feedback which makes this one of the easiest ways to make money from home!
---
UserTesting: $10 for every 10-15 minute test completed. No webcam needed.
WhatUsersDo: $8+ for 15-20 minute tests. You'll need a microphone.
UserTest: $10.50 per study. Get started in as little as 5 minutes.
Ways to Make Money Online as a Freelancer
We're picking up the pace now. These side hustles require a bit more effort, but your income potential is also higher.

8. Become a freelance writer
The term "starving artist" definitely does not apply here. There are many successful freelance writers out there who've used their business to replace their full-time job.
You don't need a background in English or writing to make it as a successful freelance writer. For instance, Holly Johnson from Club Thrifty started doing freelance writing on the side with no real background, and now makes over $200,000 per year from her writing!
She recently put together a free workshop where she teaches others how to get started making money online with writing. See below.
---
9. Become a freelance proofreader
Put your eagle eyes to good use by earning money as a proofreader.
Caitlin Pyle of Proofread Anywhere made $43,000 in her first year proofreading while working part time studying abroad. Impressive, right?
Once she realized the demand was so high for proofreaders – far too high for one proofreader to fill – she created an online course to help others start their own proofreading business, allowing them to also make money from home.
She has free workshops almost every day — definitely check them out if this is something you want to learn more about, especially if you're interested in getting to work from home.
---
10. Become a virtual assistant
Writing and proofreading aren't for everyone. Some people prefer more administrative or data-oriented tasks, which is exactly the role of a virtual assistant.
Businesses use virtual assistants for things like booking travel, answering emails, social media management, email management, and more.
As a virtual assistant, you can choose which services to offer clients and at what rates. The more value you can provide, the more you can charge.
---
11. Teach English on the internet with VIPKID
Have you heard of VIPKID? Here's a snippet from their site:
For just 90 minutes a day, you can easily make over $500 per month. All you need is a Bachelor's degree and English classroom experience.
---
12. Get paid to design websites
If you have a knack for computers and an eye for design, you can easily make $1,000 or more a month by building websites for businesses.
Want proof? We paid a designer over $6,000 to custom design our theme! There is serious money to be made in freelance web design work.
If you aren't quite sure where to start, check out Christine Maisel's course on Skillshare.
Here's what's covered in the course:
---
If you are looking to make serious money online, you might want to consider going all out and starting your own online business.
In most cases, owning an online business won't help you get rich overnight —  it'll require real skills as well as a significant time investment (and probably some cash investment, too).
Here are a few options that can eventually lead to a full time income online.

13. Launch a blog
Do you feel like you have a message to the world, but you don't have a platform to deliver it? Maybe it's time for you to start a blog.
DollarSprout started out just as two college buddies who liked to talk about money. A couple years later, and now we have a growing team of entrepreneurial money-nerds on board to help spread our message. What started as an online side hustle has turned into a full-blown business!
Here are some ways that bloggers make money online:
Selling advertising space on their blog
Promoting affiliate products and earning commissions
Selling their own products and courses
and more!
Starting a blog is easy, but turning your blog into a successful business – that's hard! If blogging is the side hustle OR full-time business of your dreams, we've put together a killer guide to help you get started.
Every blog needs hosting. Our recommendation for new bloggers:
---
14. Start a drop shipping website
The drop shipping business model is taking the internet by storm right now, and for good reason. It's a legitimate way to make money online, and requires very little startup cost.
What is drop shipping?
In the words of Shopify,
If blogging isn't your thing but you still want to start an online business, starting an e-commerce site might be your best bet.
As with any new business, there is a lot to learn. That's why we recommend getting started with this free webinar by Shopify:
---
15. Create and sell how-to courses
If you've got expertise in a certain area, package up your knowledge into an online course and sell it.
This has become a popular business model for online entrepreneurs over the past several years, and will probably just continue to grow in popularity. The best thing about selling online courses is that once you do the up-front work in creating the course and setting up your marketing strategy, you can get paid over and over again for work you do once.
---
Discover Ways to Generate Passive Income
The items in this section all require an up-front cash investment, but offer the opportunity for your money to make you even more money — all online. If you are financially able to, building up passive streams of income is a key part of accumulating wealth.

16. Make extra cash with online peer-to-peer lending
If you've got some cash on hand and are looking for a high interest rate investment, consider putting some money into peer-to-peer lending (aka P2P Lending).
What is peer-to-peer lending?
It's a financial system that matches prospective borrowers with investors that are willing to fund their loans. It's like traditional lending, but without a bank as the middle man. As an investor, essentially you are acting as the bank (and collecting interest payments in the process).
How much money can you make?
It depends on what types of loans you invest in and how much money you invest with. If you play it safe, you can expect to make 2-5% per year, whereas riskier loans can pay as high as 12% or more.
Lending Club is one of the largest online P2P Lending marketplaces: 
---
17. Invest in crowdfunded real estate
Many people consider real estate investing as one of the best ways to accumulate wealth. The problem is, it usually takes a lot of money to get started, which puts it out of reach for many people.
Luckily, there's a way to invest in real estate without buying entire properties yourself.
Introducing: Real Estate Investment Trusts (REITS)
A REIT is a pool of money, managed by financial professionals, that goes towards investing in real estate. Investors put money into the REIT, the REIT buys properties, and the returns are disbursed back to investors. The best part? You don't have to worry about handling the landlord duties.
Most REITS still require a hefty investment to get in, but we found a place that has just a $500 minimum investment:
---
18. Make money as an Airbnb host
If you want to get your feet wet in the renting business, Airbnb is a great website to get started. If you own your home or your landlord permits it, you can make money online by sharing your home with others.
---
19. Earn passive income with dividend paying stocks
It's been said that the average millionaire has seven streams of income. Dividend stocks are usually one of them.
What are dividend stocks? 
Usually when you buy stocks, you do it with the intent to buy low and sell high. Dividend stocks work the same way, but with one other benefit: just for owning the stock, you are paid a small portion of the company's earnings. So with dividend stocks, you get paid when the stock goes up in value, and when dividends are paid out.
If you are looking to get started with dividend investing, check out Ally Invest. Their site is beginner-friendly, while still giving you plenty of ways to get started.
---
It's a new age, and there's never been more opportunities to work from home and make money online. But you can't just leave your laptop in the corner of your room and expect your bank account to explode. Unless you have money to invest, you're going to have to put in some old-fashioned hard work.
One last thing to keep in mind: If you are trying to make extra cash on the internet, chances are you won't get it right on your first try. That's okay.
Keep experimenting, keep learning, keep putting yourself out there, and eventually you will find the right online money making opportunity for you.
Like this article? Pin it!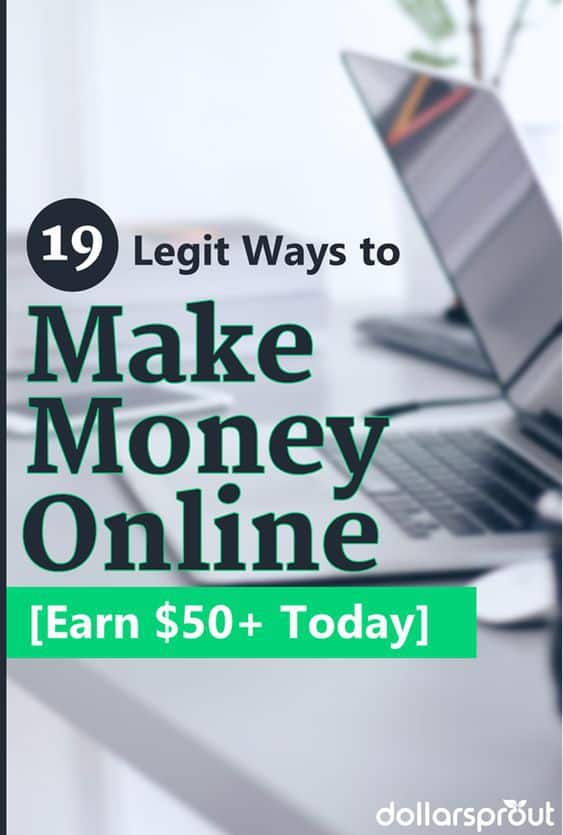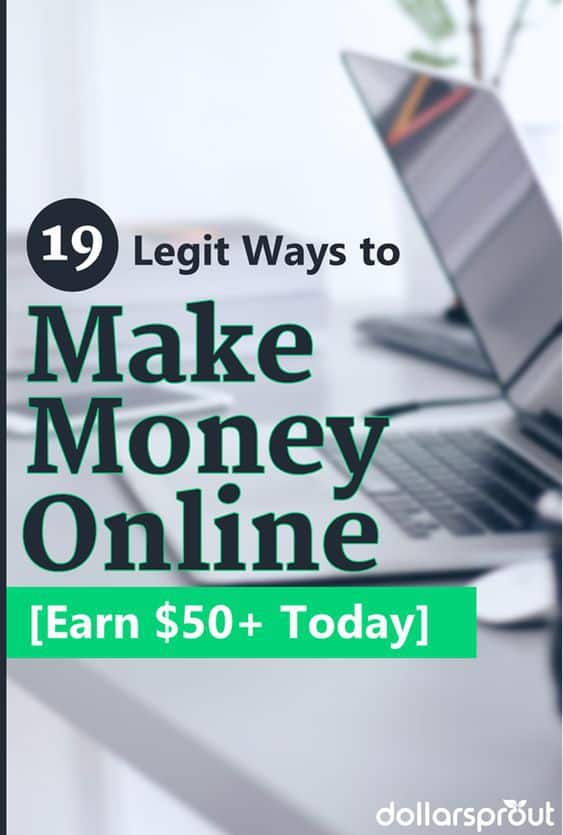 You May Also Like