diy13 | Shutterstock
Want to learn new ways to make
extra money

?

Join 1,000,000+ monthly readers in getting updates and cool freebies:
Our number one goal at DollarSprout is to help readers improve their financial lives, and we regularly partner with companies that share that same vision. Some of the links in this post may be from our partners. Here's how we make money.
Do you want (or need) to make $500 fast?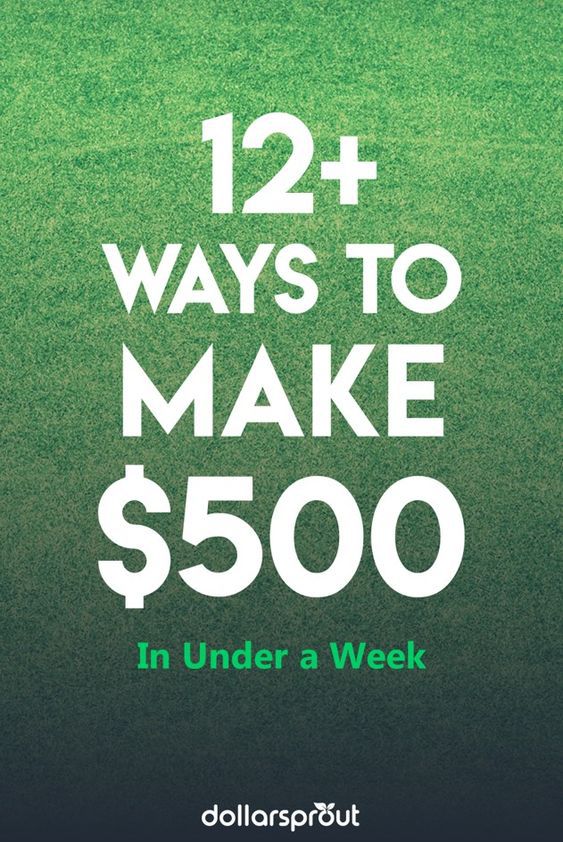 You're not alone! We've all been there.
Whether payday is still a week away and you need rent money ASAP, or you're simply feeling inspired to give your bank account a much needed boost, we've got you covered.
If you want to make a quick 500 dollars — no matter the reason — it's definitely possible. Especially if you are willing to put in some good old fashioned hustle!
According to a BLS.gov report, over 16.5 million people in the U.S. are working in "contingent" or "alternative work arrangements" — aka gig economy jobs.
Why? Two words:  quick money.
If you're smart with your time and resources, you can make $500 in one day with some of these gigs.
12 Realistic Ways to Make $500 Fast (in a Week or Less)
From walking dogs to driving people to working from your laptop, there's money out there waiting to be made. All you have to do is choose your gig and start putting in the work!
Sell Your Stuff
You may not be fond of selling (who is, really?) but there's one thing you can't deny — selling things is an easy, painless way to make $500 fast. Fortunately for you, there are many online work opportunities available, so you don't have to go around hassling people on the street to make a sale.
1. Sell CDs, DVDs, Tech, and LEGO® with Decluttr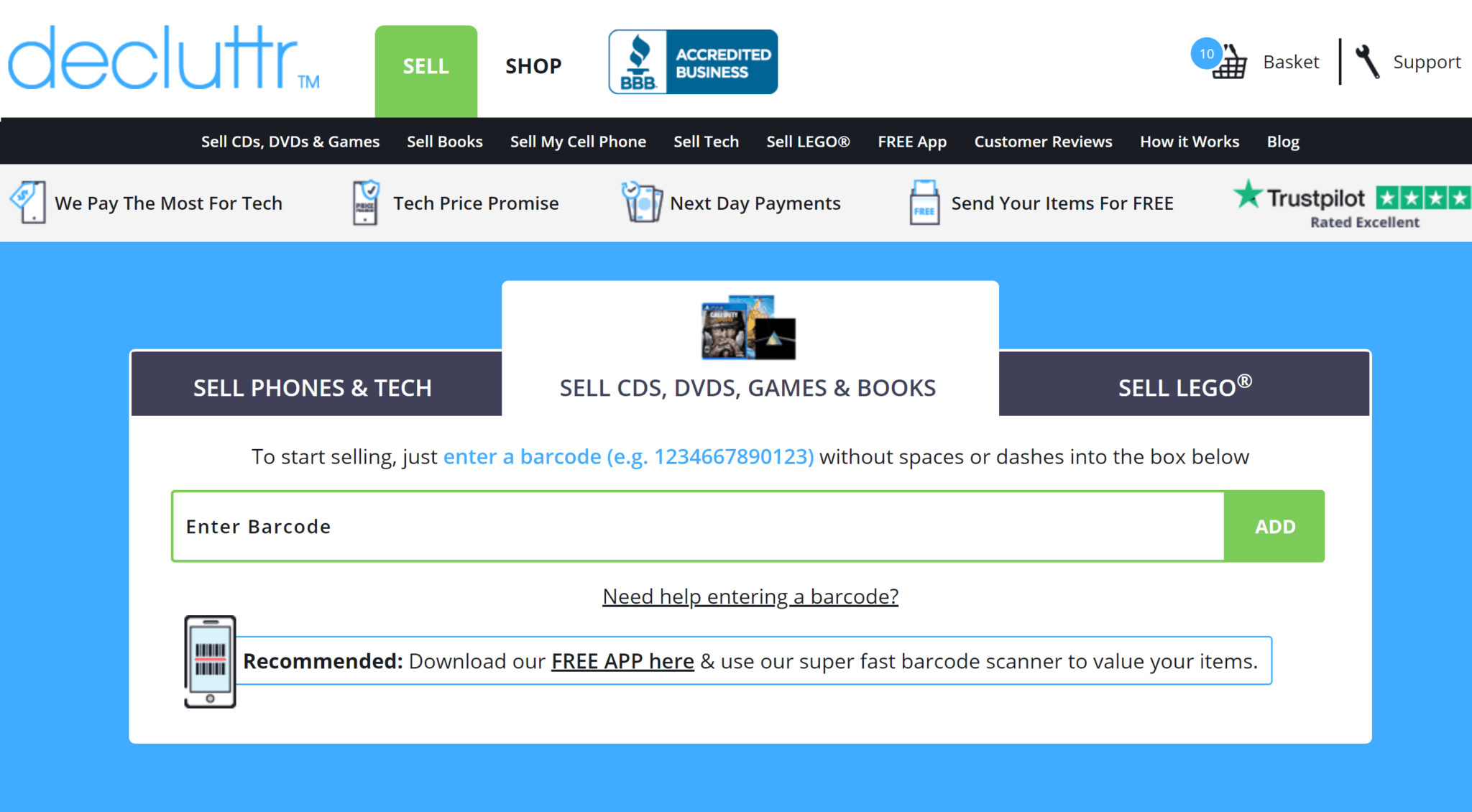 Decluttr is an easy way to make money simply by selling all your unwanted tech and gadgets. Enter the barcode on each item to get an instant offer for your stuff. You can either manually enter the code, or download the Decluttr app to scan it.
Once you scan all your items and accept the order, Decluttr sends you a free shipping label. All that's left to do is pack up and ship it off.
Decluttr sends your payment the day after your order arrives. You can choose to receive payment via direct deposit, PayPal, or a check in the mail.
This is a great way to make some quick cash if you have a bunch of CDs, DVDs, and other tech you no longer use.
How fast can you make $500?
This method might not get you to your $500 goal all on its own unless you have a massive LEGO® collection or tons of old DVDs. However, combined with some of the other items on this list, Decluttr can help you get there faster.
2. Sell Clothes on Poshmark
Poshmark is an online marketplace where people buy and sell clothing and accessories from one another. Everything is shipped, so you don't have to worry about coordinating meetups with strangers.
Poshmark is the perfect place to sell the shoes, clothes, and jewelry that you no longer need or use. The process is super simple: create an account and download the app, snap a picture of whatever you want to sell, add a description and price — you're done!
How fast can you make $500?
Assuming you have a few decent items to sell and you get started today, you could make $500 with Poshmark in about a week. If you can sell 10 items for $50 or 20 items for $25, that's all you need to net $500.
3. Sell on Craigslist
Though your reach probably won't be as far as with other sites, Craigslist is another great option to sell your old stuff. Depending on where you live and what you have to sell, it may be a little slower moving.
However, you can sell just about anything on Craigslist. That includes your services.
If you have a particular skillset or know of a service in your area that's in demand then offer it on Craigslist! For example, I have friends who are constantly saying how difficult it is to find a good house cleaning service.
But you could also offer services like babysitting, pet sitting, or various projects around the house.
Another option is to browse the "Free" section of Craigslist for good finds, then flip them for some cash. Hey, one man's trash is another man's treasure, right?
How fast can you make $500?
Depending on how valuable the things you're selling are, you could rake in some quick cash in under a week. Children's' clothes, old furniture, electronics, and appliances are all great items to sell on Craigslist.
4. Facebook Sales Pages
Facebook is another popular way to sell online these days. There are specific sales groups created every day for this very purpose.
Since your Facebook friends already know you, they're more likely to buy what you have to sell because they trust the person selling it. It's also easy and quick to sell on Facebook — all you need to do is make an engaging post and wait. You can also use Facebook's new "Marketplace" feature.
How fast can you make $500?
It obviously depends on what you're selling and if the person who buys lives close by. However, you could make an extra $500 as soon as today if you're able to coordinate a meeting to make the exchange.
Pick up a Gig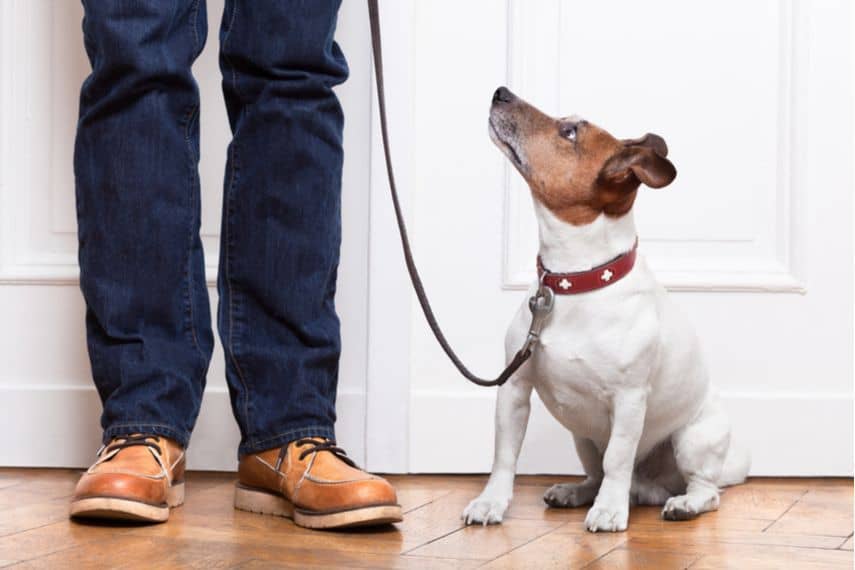 Next to selling your things, short gigs and side hustles are one of the best ways to make money fast. Apps can get you connected to people in your area looking for what you have to offer.
5. Walk Dogs and Pet Sit on Rover
Animal sitting is one of the best side hustles an animal lover could imagine.
If you live in a densely populated area, you could easily pick up several dog walking customers or cat sitting gigs per week. Even in smaller cities, people travel during the summer months and on holidays and need someone to watch Fido and Sassy.
Earnings for Rover pet sitters and walkers are set up as flat fees for specific services rather than hourly rates. That means you get to set your rate and charge what your services are worth. Check out the competition in your neighborhood to see how much you could make working with Rover.
For example, to hire a Rover dog walker in my area to come to my house and take my dogs for a walk would range from $8 to $28 per dog. For overnight pet boarding, I often see rates in the $25-$90 per night range.
How fast can you make $500?
At an average rate of $20 per visit, you'd need to make 25 visits to earn $500. If you offered pet boarding and charged $50 per night and watched one dog, you could make $500 fast — in 10 nights to be exact.
6. Repair Broken Screens
Raise your hand if you have dropped your phone in the toilet, broken the screen on your tablet, or scratched the heck out of the face on your Fitbit. *slowly raises hand*
Since I know I'm not the only klutz around, it's a safe bet that people you know also need to have things fixed. One of the most lucrative DIY replacement skills you can learn is fixing iPhone, Android, and tablet screens.
To have my iPhone screen replaced a few years ago, I paid over $100 (just for the labor) at a local battery sales store.
These types of repairs are not especially difficult to learn how to do. However, they are intimidating, and most consumers would rather not attempt self-repair. Check out this repair resource guide to get started.
How fast can you make $500?
If you charged friends or coworkers $50 per repair, you would need to do 10 repairs to earn $500. Put an ad on Craigslist or Facebook Marketplace and you could make $500 in a week easy.
7. Drive for Lyft
Right now, Lyft is offering a $300 bonus for new drivers who sign up and complete 100 rides. If you enjoy spending time in your car and meeting new people, driving for Lyft could be a great fit for you!
Drivers earn by receiving a portion of the fee charged to customers, plus tips.
According to some analyses, the average driver reportedly earning $18 to 34 per hour before expenses and $13 to $29 per hour after expenses. To give you the full and fair picture, independent surveys of drivers have found ride-sharing drivers in Denver, Detroit, and Houston earned closer to $10 an hour after expenses.
The good news? Many of those expenses are tax deductible.
It pays to be savvy about tracking and taking advantage of those before starting. Deductible expenses include things like gas, vehicle maintenance, car payment, oil changes, car washes, car detailing, and so on.
There's a lot of variability from one city to the next and from one person's expenses to another. We recommend doing some research on your area before you start driving. TurboTax has super helpful content for Lyft drivers to learn about this.
If driving people around isn't for you but are still interesting in making money from driving, check out Uber Eats, which will pay you to deliver food.
Pro Tip: While many drivers pick up driving shifts on the weekends and evenings, in larger markets, there is a major demand for shuttling business travelers from one office to another and back and forth from airports to offices. These riders usually tip better than the average Saturday night bar goer, too. If you have a flexible schedule and can swing it, this is a great time to drive.
How fast can you make $500?
At an average rate of $21 per hour, it would take roughly 25 hours to earn $500. Thus, if you drove for 6 hours per week, you could earn about $500 per month. If you doubled that rate, driving 12 hours per week, you could earn $500 every two weeks.
If you did this as a dedicated part-time job, driving 25 hours per week, you could make $500 in just a week.
8. Rent Out Your Car
Driving for Uber and Lyft is great, but what about the times when you're busy – at work, with your family, doing another side hustle, etc. – and can't slip away?
You only have so many hours in a day. How can you best use it to make $500 fast?
Getaround can help you make quick money by renting your car to others when you're not using it.
It only takes a few clicks to put your car to work with Getaround. Just register for a free account, name your car, set the location and availability, and enter a description.
Getaround automatically connects you to people in your area who need a ride. Renters can access and book your car straight from the app, so you don't have to mess around with scheduling and exchanging keys.
As a Getaround car owner, you get access to premium parking as well as a $50 monthly rental credit. And with $1 million insurance coverage, you can rest assured your property will be taken care of.
Rental earnings accrue on a monthly basis and are paid on the 15th of the following month.
Click here to try Getaround free for 30 days.
How fast can you make $500?
Getaround estimates that that most cars in the U.S. sit idle for about 22 hours each day. That's 154 every week.
Let's say you rent out your car for 40 hours each week while you're at work, sleeping, or just hanging out at home. If you offer the lowest rate of $5 per hour, you would make $200 a week.
Since you keep 60% of your earnings, that comes out to a $120 take-home pay.
At that rate, you could bring in an extra $500 in a little over four weeks.
9. Start a Bounce House Rental Company
This idea is my favorite thing on this list, partially because it's quirky, but also because this is as close to passive income as it gets.
Just buy a bounce house and rent it out! Your initial investment would be a few hundred dollars.
Now, you'll definitely want to research legal liability issues and consider using a liability waiver (in case someone breaks an arm you won't be financially responsible).
This is a shockingly lucrative option. You can rent your bounce house for parties at $60-100 an hour.
How fast can you make $500?
At an average daily rental rate of $640, you can make $500 fast — in one day to be precise. Considering the investment you'd need another half day to recoup your startup costs. If you booked every weekend in the summer, you could hypothetically earn around $4,000!
10. Teach Kids English on VIPKID
VIPKID is an international education site that helps children in China learn English using a private instruction model. If you've taught in the past, you may be a strong candidate for VIPKID.
This gig is legitimate, and VIPKID carefully vets their teachers. In order to be considered, you'll need a Bachelor's degree in any subject and you'll need to pass the demo class interview.
Depending on your experience and how you do in the demo interview, you could make $14 to $22 in one hour teaching English online with VIPKID. It's not going to make you $500 in one day, but you can realistically make $500 in one week or less.
Another major benefit is there are way fewer expenses involved than a traditional classroom setting. Since everything is online, you'll need a reliable computer, headset, and Internet access. Apart from that, you may want a few props and toys to entertain your students, but that's pretty much it!
How fast can you make $500?
Due to time difference, you won't make $500 a day with this one starting out, but you can still make some quick money. Teaching sessions are 30 minutes each. At an average rate of $18 per hour, that comes to about $9 per class. So you would need to teach about 28 classes (56 hours) in order to make $500.
Do Errands and Odd Jobs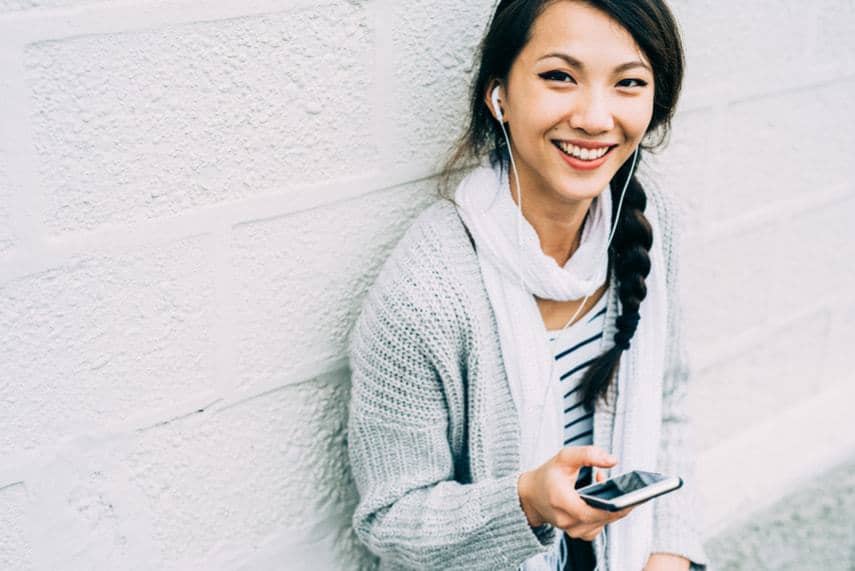 There's more than one way to piece together an extra $500. These micro-jobs may not pay much each, but when stacked together they're a great way to earn some quick cash.
11. Become a Gigwalker
Gigwalk is an app that connects their customers (businesses) with "Gigwalkers" (that's you) to perform short tasks.
Businesses post tasks or "Gigs" for Gigwalkers to complete, things like taking pictures of a product at a store or answering some short survey questions. You can choose the gigs in your area that are a good fit for you, do the task, and get paid. Gigs take anywhere from 5 minutes to a few hours to complete and pay $3 to $100 each.
This app is best if you live in a more metropolitan area and can quickly go from gig to gig (hence the name Gigwalk). Otherwise, driving time may eat up your profit.
How fast can you make $500?
If you live in a more rural area or someplace that's not easily navigable on foot, then it could take a while to rack up $500 on Gigwalk, and it might not be worth the time driving from place to place. However, if you do happen to live in a metropolitan area, you'll have more gigs to choose from and be able to complete them in a shorter time frame.
Worst case scenario, at $3 a gig, that's 167 gigs. If each gig is five minutes that's a little under 14 hours. Definitely doable in a week if you hustle.
12. Freelance on Fiverr
Fiverr is another site where you could potentially make hundreds of dollars fast. Since it's a digital freelancer marketplace, all your tasks can be done from anywhere you have an Internet connection.
Some of the most common services offered on Fiverr include graphic design, digital marketing, writing and proofreading, virtual assistant/admin work, and web development. There's also high demand for various video and audio services, like creating branded videos and voice over work.
If you're skilled in any of these areas, you can make $500 fast freelancing on Fiverr.
How fast can you make $500?
In order to make money on Fiverr without wasting your time, you have to choose your tasks carefully. The best way to approach freelancing on this site is to take on fewer projects at a higher payout. If you have one of the high-demand skillsets mentioned above, you should be able to land five projects at $100 each in under a week.
13. Perform Small Tasks with TaskRabbit
Unlike Fiverr, which is all online, TaskRabbit connects you with people in your area who need an extra set of hands.
On TaskRabbit, you get to choose the rate you work for. Just browse through the tasks in your area, send in your offer, and wait to see if you're chosen. The types of tasks you can expect to do include:
Handyman work
Helping people move
Interior painting
Cleaning
Yard work
Grocery shopping
There are many more, but these are a few of the most popular. Since you're actually doing the work in person, you may even score a few tips from extra generous clients!
How fast can you make $500?
Since you set your own rates, how fast you reach your $500 goal depends on what you're willing to work for. If you can find 10 tasks at $50 each and do two in the evenings after work Monday through Friday, you'll be set.
Now, if you're looking to make 500 a day in 20 minutes of work, the bad news is it's probably not going to happen.
That being said, here are some other good ideas to help you start earning today:
Other Ways to Make $500 Fast (Without a Job)
Survey Junkie: Make a $2-50 in your spare time each day by taking surveys, participating in focus groups, and testing new products. Join Survey Junkie here.
Swagbucks: Similar to Survey Junkie, but with a few more ways to earn (such as watching videos and using their search engine). Get a $10 signup bonus for joining.
Ebates and Dosh: Two cash back apps that essentially pay you whenever you shop; Ebates offers a $10 signup bonus and Dosh offers a $5 signup bonus.
Getting Started
As you can see, there are tons of ways to make $500 fast.
The best place to start is by choosing one (or a few) of the methods from this list that best suits your lifestyle and schedule.
Once you find a gig that's the right fit, you'll make the money you need in no time.
Did we miss any ways to make $500 fast? Let us know in the comments!
You May Also Like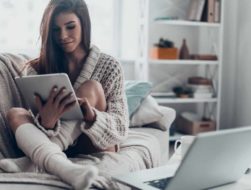 24 Real Ways to Make Money from Home
In a pinch and need a little extra cash? Looking for ways to make money from home? You are not alone. Google logs nearly 250,000,000 (that's 250 million) searches each year by people just like you.