Photo Credit © Shutterstock Images
Want to learn new ways to make
extra money

?

Join 1,000,000+ monthly readers in getting updates and cool freebies:
Our number one goal at DollarSprout is to help readers improve their financial lives, and we regularly partner with companies that share that same vision. Some of the links in this post may be from our partners. Here's how we make money.
In this Ibotta review, we'll cover the pros and cons of the cash-back shopping app Ibotta, how it works, and who it's best suited for.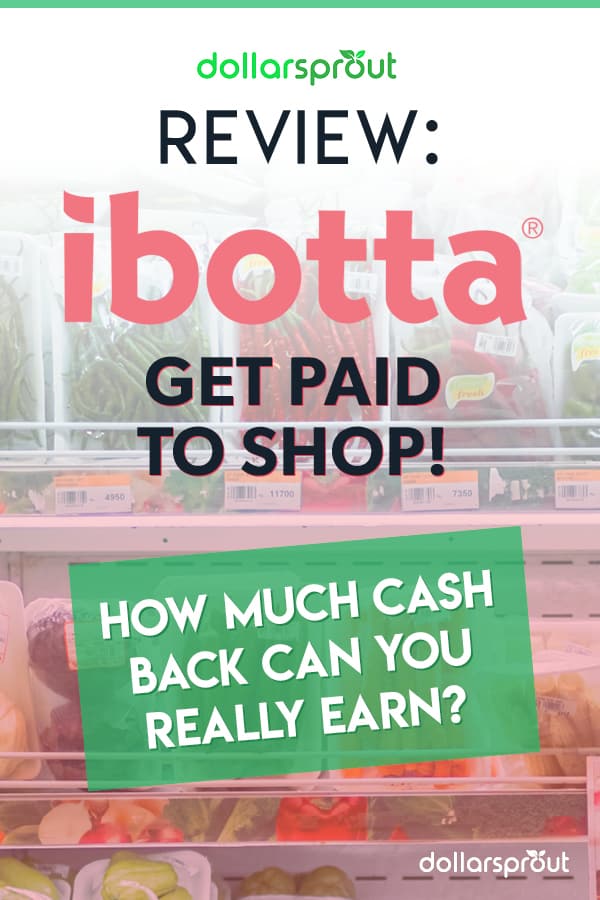 Everyone needs to go shopping sometimes. Whether you're buying groceries, looking for a new pair of shoes, or picking up one of the latest electronic gadgets, you need to shop for that product somewhere.
But wouldn't it be great if you could spend money on what you need but get some of it back at the same time?
Turns out you can do just that thanks to Ibotta.
Ibotta is a cash-back shopping app that gives you rebates on purchases you already make at a wide variety of stores. You can earn money while you shop and use that money to pay for future shopping trips.
What is Ibotta?
Ibotta is a cash-back app that pays you to shop. The company touts itself as "transforming the shopping experience by making it easy for consumers to earn cash back on everyday purchases through a single smartphone app." The company has paid out more than $200 million to its users since it launched in 2012 and has been accredited by the Better Business Bureau since 2016.
For consumers, Ibotta is exactly what it claims to be. When you make purchases at stores Ibotta has partnered with, or purchase products that Ibotta has offers for, they will give you a cash rebate. Earn enough of these rebates and you can cash out your Ibotta balance to your bank account or a gift card from one of a number of retailers.
For companies, Ibotta is a way to advertise products to consumers. Companies partner with Ibotta to try to increase sales. For example, a company might offer Ibotta $20 for every person that Ibotta can convince to buy a new TV. Ibotta lists the TV in its app and each customer who purchases that TV gets a $10 rebate. Ibotta gets to keep $10 and the user effectively gets a $10 discount on the TV.
Related: 22 Best Money Making Apps to Use in 2020
How Does Ibotta Work?
Setting up an Ibotta account and collecting your cash back is a straightforward process. Here's what you need to know about how Ibotta works.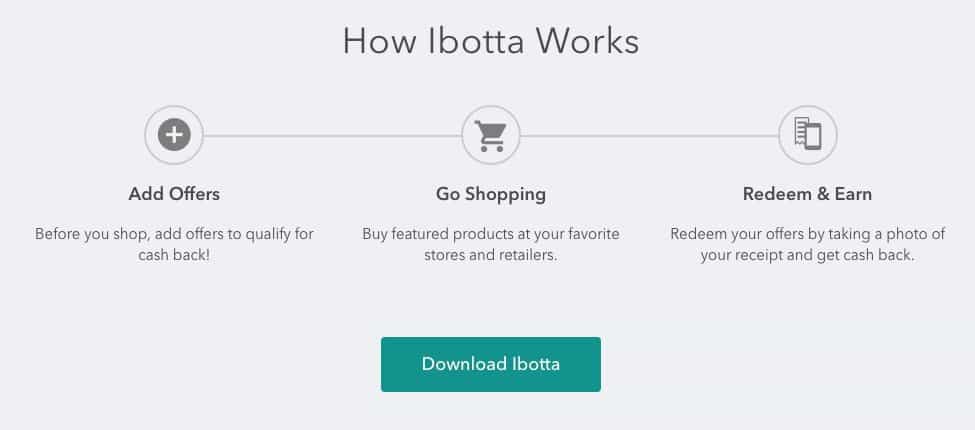 Getting Started
Getting started with Ibotta is very simple. Simply visit the Apple App Store or the Google Play Store and download the Ibotta app. Once the app is installed, open it and go through the account creation process. All you have to do is enter your email address, create a password, and provide some other basic information.
Once you've created your account, you can view offers in the app and decide which ones you want to take advantage of.
Taking Advantage of Offers
When you open the Ibotta app, you'll see a list of available offers. These offers are broken down by store, so you can easily choose to see all the offers from the stores you visit regularly.
For example, Ibotta works as a grocery saving app. If you're about to do the food shopping, you can pull up all the offers from your local grocery store.
These offers will come in a couple of formats. One of the most common formats is a rebate for buying a specific product. For example, you might see an offer of $1 in cash back if you purchase a jug of Gold Peak Sweet Tea. You need to purchase the exact product to get the cash back.
Sometimes, more general offers, like $4 cash back on any tri-tip steak, will be listed. You can buy any brand of the product to get cash back.
When you see an offer you like, you can tap on it to activate and add it to your account. You'll see there's no shortage of discounts on groceries through Ibotta.
Redeeming Offers
Ibotta offers three ways to redeem deals that you've activated.
One option is to scan your receipt into the app. After you make a purchase, open the Ibotta app and select the "Scan a Receipt" option. Take a picture of your receipt and the app will automatically read it to see which offers you've fulfilled.
It will list the offers you fulfilled and the cash value of each and credit your account for the money.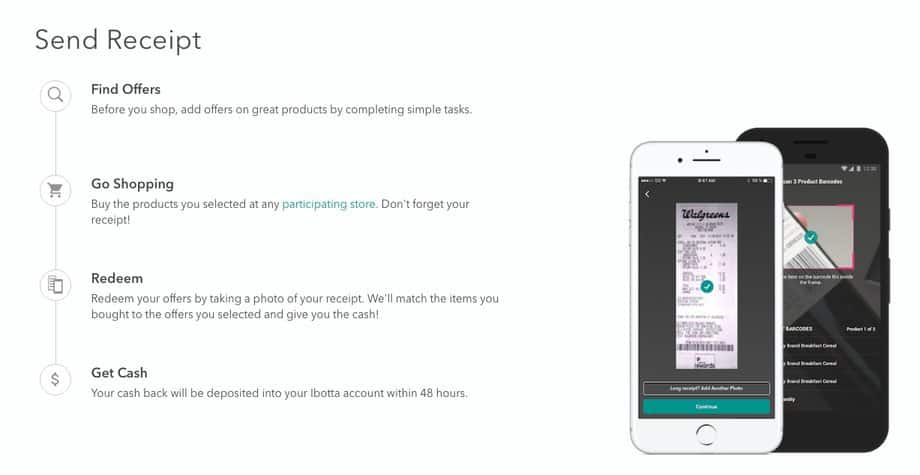 You can also link your store loyalty card to Ibotta. Before you shop, enter your loyalty card number or phone number in the app. If you use your loyalty card when you shop, Ibotta will automatically see what you purchased and credit you for any applicable offers.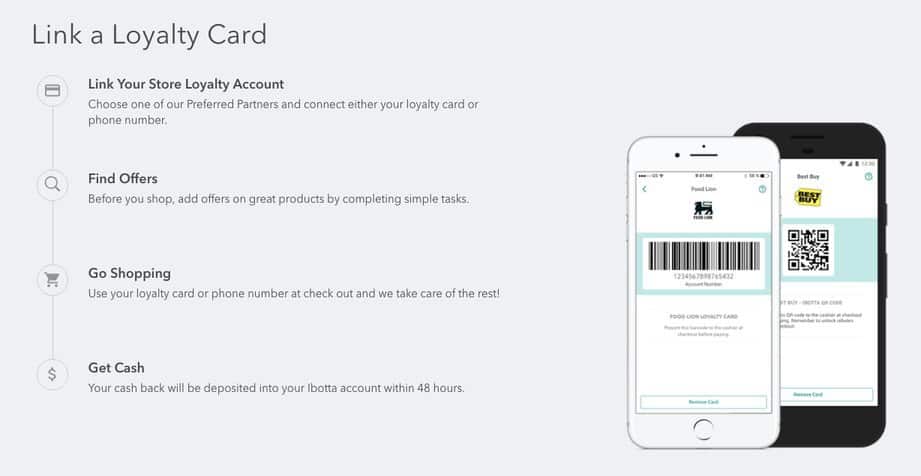 Finally, Ibotta often offers cash back from online stores. To take advantage of these offers, you can make purchases directly through the Ibotta app. Open the store website through the app and complete your purchase as normal. Ibotta will automatically track the purchase and credit you for any rebates you've earned.
Cashing Out
Many of Ibotta's offers are for small amounts of cash back — $0.50 here and $2 there. But over time, these small rebates can add up to a lot of money.
Ibotta has a cash-out minimum of $20. Your account will be credited for whatever cash back you earn, but you won't be able to turn your credit into real money until you have at least $20 in your Ibotta account.
Ibotta offers a couple of options for cashing out your earnings. If you just want cash, you can have Ibotta send your credit to your Venmo or PayPal account. You can then transfer the money to your bank.
You can also use your credit to purchase gift cards to a variety of stores. Some gift cards have a $25 redemption minimum, so keep that in mind.
How to Earn More
Ibotta offers a few ways to earn extra money beyond just shopping.
One option is to sign up for a team. You and your friends can create a team. Your team can work toward milestones, such as redeeming a specific number of offers or earning a certain amount of cash back. As your team completes milestones, you earn bonus cash back.
You can also refer your friends to the Ibotta app. When you refer a friend, you'll be entered into a monthly drawing to win a $100 bonus.
Ibotta FAQ
The idea behind Ibotta is pretty simple: go shopping and earn rebates. However, there are a few nuances to using this cash back app. Here are some of the most common questions people have about Ibotta.
How does Ibotta make money?
Ibotta earns money by referring consumers to specific products. Once Ibotta receives your receipt, they earn credit for referring you to that store. In turn they are able to share a portion of the profit back with Ibotta users.
How old can a receipt be when I redeem it?
Ibotta accepts receipts that are less than a week old. If you wait until eight days after you make the purchase to scan the receipt, Ibotta will reject your request for a reward.
Do Ibotta offers expire?
Yes, each offer on Ibotta has a time limit and it will expire on a set date. If you try to redeem an offer after it expires, you will not receive cash back.
Sometimes, very popular offers are closed before the expiration date, so make sure you redeem offers as quickly as possible. They are constantly adding new offers, so keep an eye out for Ibotta deals you can use.
How long does it take to receive credit for a purchase?
The amount of time it takes to receive credit varies based on how you verified and where you made your purchase. Some stores and loyalty cards can process transactions very quickly, giving you credit within hours or a day. Other stores and offers redeemed with a scanned receipt can take a few days to pay out.
Can you use coupons with Ibotta?
Yes, you can stack coupon discounts with Ibotta's rebates, allowing you to save even more money when you make a purchase.
What is my Ibotta referral code and where can I find it?
Your Ibotta referral code is a unique code you can share with friends and family. When someone signs up through your Ibotta referral code, you'll get a $5 bonus.
In order to get your bonus, make sure people you share the app with use your seven-digit referral code or sign up through your direct referral link.
You can find your Ibotta referral code by going to Account > Invite Friends. Scroll down to find your code and link.
Who Should use Ibotta?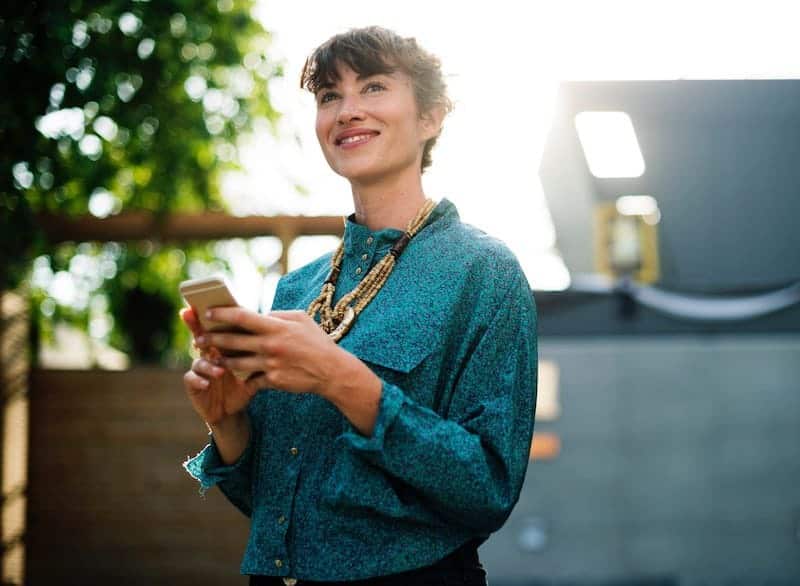 Ibotta is a great app for pretty much everyone. Unless you never go shopping, you'll be able to take advantage of at least one Ibotta offer on occasion. Even if it takes time to build up an account balance, you can cash out eventually, and who doesn't like to make extra money every now and then?
Frequent shoppers, of course, will get the most out of Ibotta. The best way to use Ibotta is to earn rebates on purchases you were already planning to make. That means you'll get the best use out of it if you do most of the shopping for your household and can resist buying things just because they appear in the app.
Ibotta Review at a Glance
Ibotta Pros:
Earn money by shopping at stores you already shop at
Easy to use
Don't have to link your bank accounts or credit cards
Offers a $10 welcome bonus for new users
Ibotta Cons:
Have to purchase specific products to earn cash back
$20 cash out minimum
Best for: Ibotta is designed to help people who shop regularly earn some money back on their purchases. If you're the grocery shopper for your household, or simply enjoy shopping, make sure you're using Ibotta to get cash back on the shopping you're already doing.
Free
Price
Earn rewards for things you already buy.
DollarSprout Rating
Easy to use and 300+ gift card options.
Ibotta at a Glance:
Ibotta is a cash back shopping app. Earn rewards when you shop at Target, Amazon, Kroger, and more. Visit stores in person or online, scan your receipt or link a store loyalty card, and Ibotta will credit your account within 24 hours. Exchange your earnings for free gift cards or have cash sent straight to your Venmo or PayPal account.
Show

Hide

more
Pros
Earn rewards for shopping you already do
Easy to use
Don't have to link your bank or credit cards
Cons
Have to claim deals ahead of time
Cash back only available on certain products
$20 minimum to redeem your rewards
Ibotta Review Summary
Ibotta is a shopping reward app that gives people cash for shopping. The app advertises specific stores and products and offers cash back to people who purchase those products or shop at those stores.
You can claim your cash back with a quick picture of your receipt, by linking your store loyalty card, or in-app purchases, making the app easy to use. The huge variety of offers available make Ibotta a great cash back app for almost anyone.
And if you like shopping with Ibotta, there are other apps like Ibotta you can choose from to save even more.
You May Also Like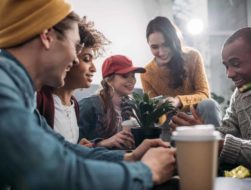 9 Cash-Back Apps You Need to Have on Your Phone
If you're looking for the best cash back apps to save more money every month, look no further. Here are the free apps our team actually uses to save money on everyday purchases — from food to clothing and more.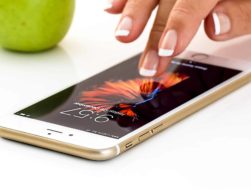 10 Best Shopping Apps for Epic Savings in 2020
Raise your hand if you love having the convenience of shopping on your mobile device? If that's you, these shopping apps are the perfect addition to your smartphone. Easily shop on the go while snagging the best price with every purchase.