Marian Weyo | Shutterstock
Want to learn new ways to make
extra money

?

Join the family to get updates from us and tons of cool freebies:
If you've found yourself down on your luck and you need money now, you've come to the right place.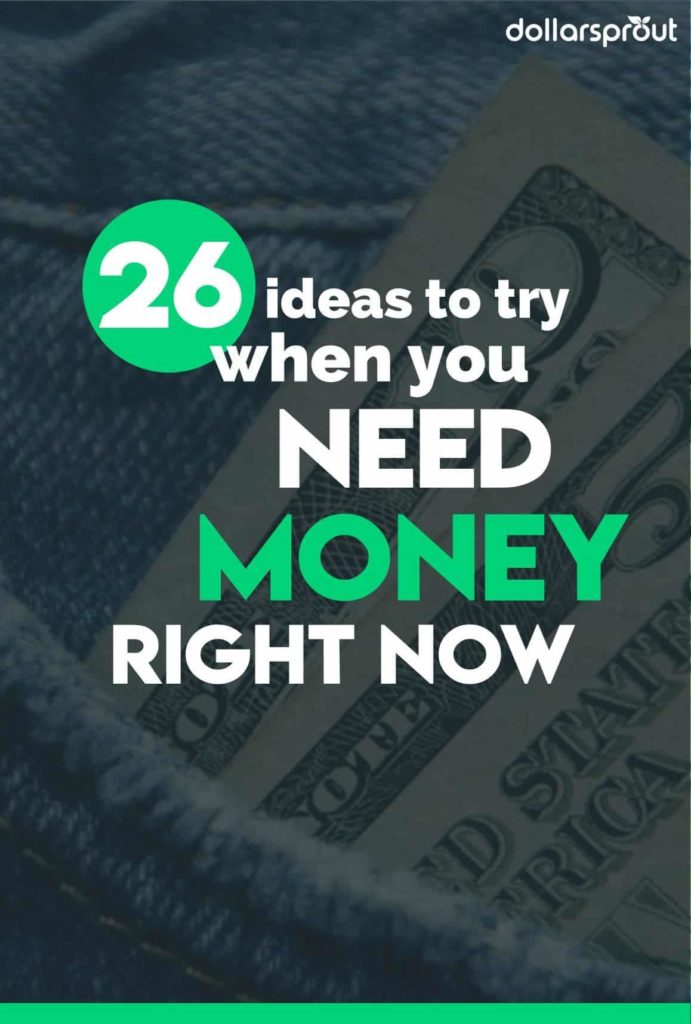 Life has a funny way of throwing curve balls at us when we lease expect it. Things like flat tires, speeding tickets, and emergency vet bills seem to come at the absolute worst times. Or maybe your friends are planning a trip to Cabo in a few weeks, and you really want to go but haven't set any funds aside for a vacation.
Before you pull out a credit card or ask a family member for a loan to cover an unexpected expense, we've compiled a list of 26 ways to get quick cash now (and in most cases, you can even get money today).
Remember, you're smart and independent. With a little bit of creativity and follow through, you can get the cash you need almost instantly.
And who knows? You might even decide to turn one of these ideas into a permanent side hustle.
Related: 25 Online Jobs That are Legitimate, Easy, and Flexible
I Need Money Now: 26 Easy Ways to Get Quick Cash
2. Get $5 from Acorns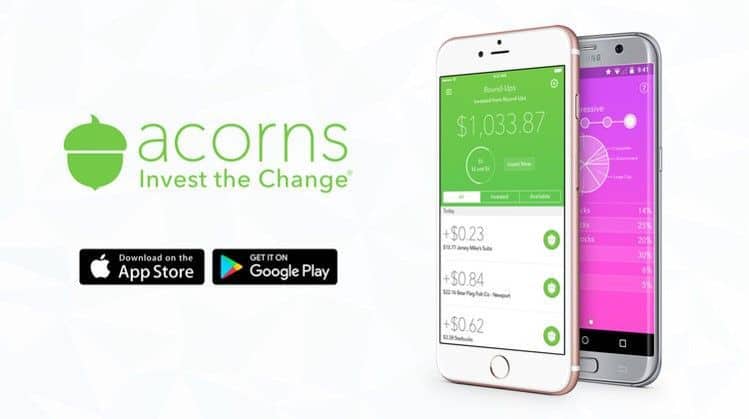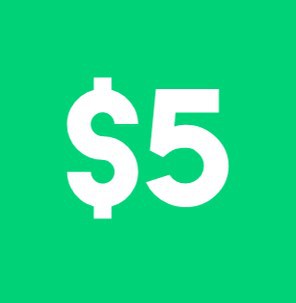 Acorns is an app that helps you get started with investing — even if you only have a little bit of money to start with. The whole idea behind the app is that it's better to start small than to never start at all.
To encourage new folks to get started, they are currently offering a free $5 signup bonus to anyone who opens a new account and starts investing! You can read our in-depth Acorns Review here.
13. Sell Old DVDs, CDs, and Video Games
If you need money today and you've got books, CDs, and DVDs taking up space in your home, turn them into cash with Decluttr. In fact, you can even sell your old cell phones and game consoles using this app, too!
Getting started is easy — just scan or enter the barcode for whatever you want to sell and Decluttr will give you a price. Print your free shipping label, send it off, and you'll get paid the day after they receive your stuff.
15. Turn Your Pockets Inside Out
Go through all your purses, wallets, pockets, and also search in between couch cushions and in your car for coins and cash. I discovered this trick by accident when one day I was folding my husband's laundry and he had $80 in his pocket.
And yes, I did give it back to him if you're wondering, but I still think about whether I should have!
18. Run Errands and Complete Small Tasks
If you're exceptionally talented at assembling Ikea furniture, there are hundreds of people in your city who will pay you to do it. But TaskRabbit goes beyond assembling furniture.
By joining TaskRabbit, you can see and complete tasks in your community for handyman work, cleaning, moving, personal assistant jobs, and more. They'll let you know when tasks pop up nearby. You decide which ones to take, confirm the details with your client, do the job and submit the invoice.
Just like with Rover, many Taskers have built a full-time business using this platform. The pay is good and the flexibility is even better. You choose what you do and when you do it. Whether it's running errands or lifting heavy items, you make the rules and collect the check.
19. Other Small Online Tasks – Mechanical Turk
If you'd rather not run around the city or go to strangers' homes, you can get paid to complete tasks on the Internet instead.
Mechanical Turk is an Amazon-owned company that pays you to do things like taking surveys, moderating content, editing transcriptions, and other miscellaneous tasks. Some Turkers earn anywhere from $500 to $2,000 per month!
21. Purge Your Wardrobe
If you've got stuff hanging in your closet that's brand new or items you've already worn but still look new, you can get a decent amount of cash for them. My first choice for selling clothes is eBay. They've got the largest audience so you can get the highest prices in the shortest amount of time.
I also like Poshmark and Tradesy, although it may take longer to sell your items on those platforms, so make sure you consider that.
If you need money today and you can't wait, take your haul over to a store like Buffalo Exchange or Plato's Closet and get paid the same day. Both of these stores buy clothes every day, and you don't even have to make an appointment.
23. Rent Out Your Closet
If you're opposed to people you don't know staying at your house, you can still make a fair amount of money by renting out part of your house for storage.
I discovered this tip when one of my friends decided to travel the world and needed a place to store her stuff. She was on a budget and didn't know how long she'd be gone. Plus, some of the places she was going would be remote and she didn't want to chance having her stuff auctioned off because she couldn't get to a computer with an Internet connection to pay her bill.
Anyway, long story short, I offered up the loft space above my bed for a reasonable fee. I only had a few boxes up there and the space was completely unused (and it's way too hot to hang out up there).
24. Rent Out Your Stuff
Whether it's a karaoke machine, a paddleboard, a drone, or a tux, chances are you've got stuff around the house that you use, but not that often. You definitely don't want to get rid of it, but it'd be nice if it could bring in some cash when you don't need it. Check out Fat Llama to get started.
You'd be amazed at how many different kinds of online courses there are out there. Everything from email marketing to parenting to cat training. Everyone has something to teach. Think about it — what's one thing you do pretty well, or at least better than the average person?
Now imagine getting paid to share your knowledge with others!
By signing up as an instructor at Udemy, that's exactly what you can do. Udemy is an online learning platform that allows normal people, just like you and me, to create passive income through online courses.  And the best part? No advertising! All you have to do is create the content — Udemy does the marketing for you!
If You Need Money Now, Go Get It!
There are ways to make money fast that don't involve loan sharks or dragging family and friends into your financial business. With a little savvy and some upfront effort, you can kiss your money troubles goodbye.
You may even stumble upon a gig that turns into a business you can appreciate for years to come.
What tricks have you used to get money now? Let us know in the comments.
Like this article? Pin it!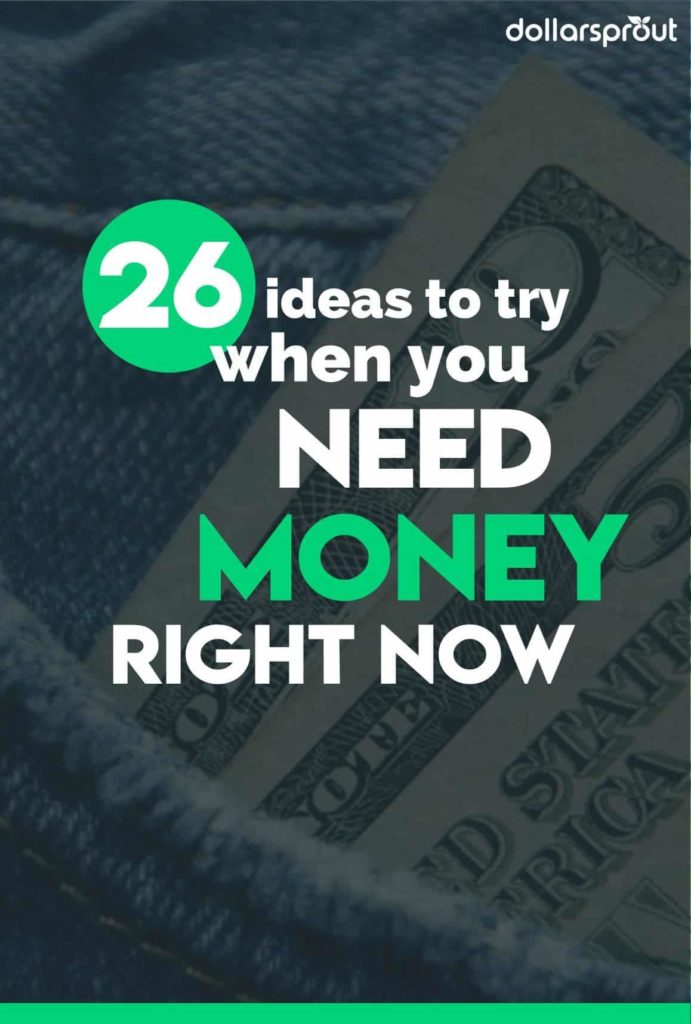 More Cool Stuff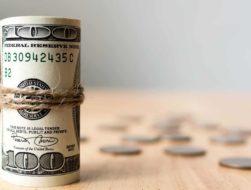 17 Easy Ways to Make $1000 Fast Legally
A 2017 GOBankingRates survey found that over half of Americans have less than $1,000 in savings. If you're in a bind for cash or trying to save money, here are 10+ simple ways you can make $1,000 in a week or less.