Photo Credit © Shutterstock Images
Want to learn new ways to make
extra money

?

Join the family to get updates from us and tons of cool freebies:
Our number one goal at DollarSprout is to help readers improve their financial lives, and we regularly partner with companies that share that same vision. Some of the links in this post may be from our partners. Here's how we make money.
Christmas is a time to be merry and giving, but many people think if they do Christmas on a budget, they won't be able to enjoy their holiday.
This can lead to overspending and then regret once the Christmas trees come down and the credit card bills arrive.
See Also: How to Find Cheap Christmas Gifts and Save Money This Holiday Season
Average Christmas Budget
It's no surprise that the average American spends a lot on Christmas. The American economy is currently strong, and holiday spending exceeded expectations last year in 2017.
the Washington Post reported that holiday spending hit a record $691.9 billion during the last two months of the year in 2017. This was the most consumers spent in well over a decade according to data from The National Retail Federation.
When it seems like everyone else is shopping to excess and so many people expect a gift, it can be challenging not to succumb to societal pressure. However, you can absolutely plan Christmas on a budget, and you can have an amazing holiday season while you do it. Here's how.
See Also: How to Make a Budget (with Wiggle Room): A Step-by-Step Guide
Budgeting for Christmas: Make a List of Christmas Expenses
When budgeting for Christmas, this might seem like an obvious first step, but it's worth mentioning. Before you even begin planning your holiday, you have to know how much it will cost.
Expense categories to consider when creating a Christmas budget:
Christmas cards
Stamps to mail Christmas cards
Grocery bills for Christmas dinner or side dishes for a potluck
Extra supplies for Christmas cookie baking or gingerbread house making
Elf on the Shelf
Indoor and outdoor decorations
Extra energy costs for lighting your Christmas tree or outside lights
Packing and shipping Christmas gifts to out of state friends and family
Wrapping paper, tape, and other wrapping supplies
Housekeeping/babysitting as needed for hosting or attending Christmas parties
Costs associated with hosting a Christmas party yourself
Donations for those who request them this time of year
Extra tips for your favorite waitress or hairdresser
Hostess gifts for attending a holiday party
Professional holiday pictures for your family
Clothes/holiday outfits for photos or parties
Not to mention Christmas gifts on a budget for:
Your spouse
Your kids
Extended family members
In-laws
Nieces, nephews, goddaughters, and godsons (if applicable)
Neighbors
Bosses, coworkers, secretaries, etc.
Clients, employees, and people who refer you business (if applicable)
As you can see, Christmas costs can add up quickly. That's not to say you have to pay for everything on the list above, but it gives a few examples of costs you might not remember or consider.
If you think you'll be responsible for some of the costs listed above as you're budgeting for Christmas, it's time to go to the next step.
See Also: 18 Genius Hacks to Help You Travel for Less This Holiday Season
Create a Frugal Christmas Budget
Having a list of Christmas expenses is only one part of the equation. Now, it's time to assign a dollar amount to each expense.
Once you have a dollar amount for each expense on your list, you then have a completed frugal Christmas budget that will show you an overall picture of your projected costs for this holiday season.
Keep in mind that it might take a little bit of time to complete this step. For example, you might look up the cost of a professional photographer, but then realize you have the perfect selfie to put on your Christmas card instead.
Or, you might think you want to buy new Christmas decorations for your front lawn, but change your mind once you see the cost.
So, spend some time doing a little research about the items on your list, and try to come up with a total projected number of expenses for the season. If you're not comfortable with this total number, move on to the next step.
See Also: How to Make a Travel Budget for a Stress Free Vacation
Ways to Lower the Costs on Your Christmas Budget
So, now you might be looking at your Christmas budget with fresh eyes and seeing a number you simply can't afford. I get it.
Christmas might seem expensive, but it doesn't have to be. Furthermore, you don't have to go into credit card debt to make it a memorable and fun holiday season.
Here are some ways to have an enjoyable Christmas on a budget.
Have a potluck. Even if you love hosting Christmas dinner, you don't have to pay for the entire meal. Ask your guests to bring a dish. You can even ask them to bring extra plates and glasses so you don't have to purchase more than you have.
Play a gift game. Many families now play games like a white elephant gift exchange or hot gift potato which means they only have to buy one gift for the adults in their family. Suggesting this can save hundreds of dollars a year. Plus, it's a fun way to spend time as a family.
Consider thoughtful Christmas gifts on a budget. When it comes to teachers, co-workers, and neighbors, thoughtful Christmas gifts on a budget are best. Not everyone loves handmade gifts, but you can definitely try. Sometimes, a nice letter and a $5 Starbucks gift card can go a long way. Teachers love gifts that are from the heart. If your kids are old enough, a thank you note from them would go much further than another coffee mug or candle.
Stick to the four gift rule for your kids. Kids have so many toys these days. It can get overwhelming, which is why I'm currently avoiding cleaning my kids' playroom. The four gift rule says that you can buy your kids something they want, something they need, something to wear, and something to read. This should be more than enough for them to enjoy their holiday season.
Use coupons and shop at discount stores. I love shopping at stores like T.J. Maxx and Marshalls for gifts. They have amazing name brands at affordable prices. I also like using coupons when shopping online. I have the Ebates browser extension on my computer, which automatically applies coupons and gives me cash back on dozens of websites.
Ways to Earn More Money for Christmas
Of course, you can only cut your budget so much. If you've done everything you can to lower the cost of your Christmas expenses, but you're still coming up short, it's time to hustle. Here are a few ways to earn more money for Christmas.
Deliver food. Join a service like UberEATS to get paid to make deliveries on your own schedule. People don't like going shopping when it's cold and snowy outside, so this is a great time to start that hustle.
Drive for Lyft. The great thing about driving for a ride share company is you can work as much or as little as you'd like. Lyft is currently offering new drivers a $300 sign-up bonus when you complete your first 100 rides in 30 days.
Shovel snow. If you live in a cold climate, there are lots of people who will pay you to shovel their driveway when it snows. Start with your neighbors and friends first.
Work retail. Many stores hire extra employees during the holiday season. It's a short period of time, but you can earn extra money and score discounts at your favorite stores.
Here is a list of more legitimate ways to make money on the side if you need more inspiration.
Along with earning more money, you can also find ways to earn gift cards for free. You can use them to buy your Christmas presents or give them away as gifts.
How to Land Gift Cards for Free This Christmas
I recently won a $100 Amazon gift card at a conference, which was super exciting. Of course, I knew as soon as I got it that I would use it to buy my kids' Christmas presents. But it turns out there are many ways you can earn free Amazon gift cards. Here are a few:
Collect Swagbucks. New members get a $10 sign-up bonus. When you build up your supply of Swagbucks by taking surveys, watching videos, playing games, and more, you can redeem them for gift cards to your favorite retailers.
Take online surveys with Survey Junkie. When you cash out, you can get paid in Amazon (or other) gift cards.
Sign up for Ibotta. When you sign up, you get a $10 bonus, which you can get in the form of an Amazon gift card.
Sell your used electronics with Gazelle. When Gazelle pays you for your old iPhone or computer, you can get paid via PayPal or with an Amazon gift card.
See Also: 24 Ways to Score Free Amazon Gift Cards
Remember, Fun is Free
Even though Christmas can get expensive, and you might feel pressure to buy many people gifts, remember that fun is free.
There's no law that says you have to spend money you don't have this holiday season. Christmas is about spending time with family and friends. There are so many frugal and free activities you can do that will bring you closer together.
You can volunteer at a soup kitchen and help the needy. Spend an afternoon baking bread and cookies with your children. Take a drive and look at Christmas lights. Surprise your grandmother and her friends at the nursing home. Create a silly Christmas dance choreography and teach it to your nieces and nephews.
There really are so many ways to have a memorable Christmas on a budget.
Plus, the good news is that once Christmas is over, you can start setting aside money every month for the holiday throughout the year. That way, next year for Christmas, you won't have to stress or worry about money at all because the money will already be there.
More Cool Stuff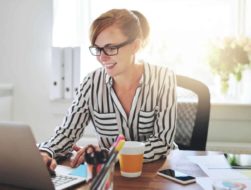 How to Make a Budget in 7 Easy Steps
This guide walks you through, step by step, how to make a budget that you can actually stick to. Creating a budget doesn't have to be scary or overly restrictive. In fact, a good budget is flexible!