Photo Credit | DepositPhotos.com
Want to learn new ways to make
extra money

?

Join 1,000,000+ monthly readers in getting updates and cool freebies:
Our number one goal at DollarSprout is to help readers improve their financial lives, and we regularly partner with companies that share that same vision. Some of the links in this post may be from our partners. Here's how we make money.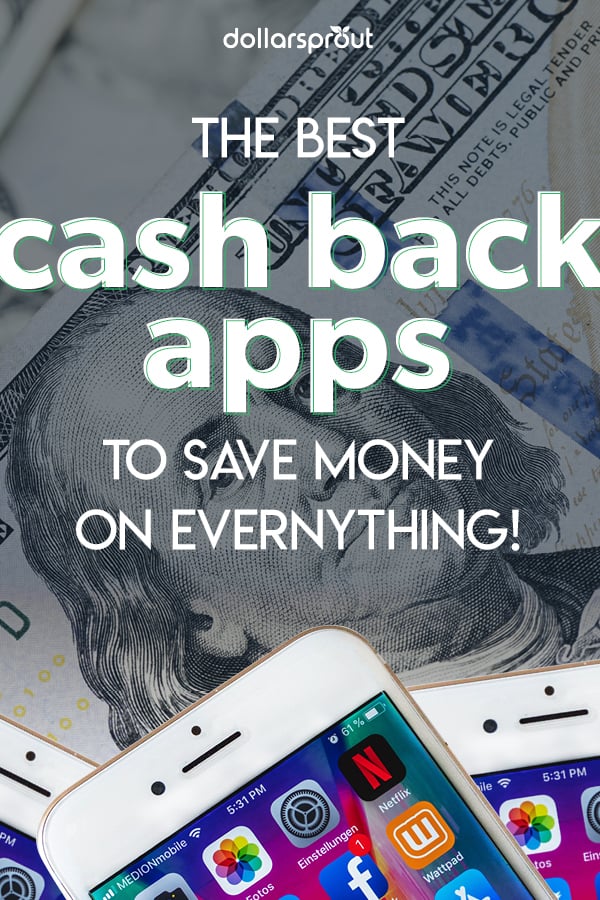 If you're looking for the best cash back apps for shopping to save more money, look no further.
We hear about new personal finance tools all the time — from top cash back apps like Ibotta to tools that automate your savings so you don't have to think about it. That being said, we're well aware that there's no shortage of cash back apps on the market right now.
In fact, over the last several years, dozens of new cash back apps for shopping have popped up, making it difficult to determine the best cash back apps from the ones that aren't worth a second glance.
Lucky for you, here at DollarSprout we live for this stuff. That's why for this list, I recruited other members of the team to bring you this little roundup of the top cash back apps.
See Also: Top 10 Best Shopping Apps for Epic Savings in 2019
The Top 9 Best Cash Back Apps We Actually Use to Save Money
From the DollarSprout team members themselves, here are the free apps we love and use every day to save money on groceries, clothes, and everything in between.
1. Rakuten
DollarSprout co-founder and money-saving guru Jeff Proctor has been a fan of Rakuten (formerly Ebates) since he started using it a couple years ago.
The reason I love it so much is because of its simplicity — you don't have to do anything different, just shop and earn cash back. The shear number of merchants available through Rakuten means I'm almost guaranteed to find a good deal each time I shop.
With over 2,000 stores to choose from, that doesn't come as much of a surprise. To date, Rakuten has paid its members over $1 billion in cash back. Savvy Rakuten shoppers get paid via check or PayPal.
You can shop directly through Rakuten by visiting the website and choosing your store.
Or, if you're like Jeff, you'll want to install the Rakuten Cash Back Button for your browser and download the app (available for iOS and Android). "I can be forgetful, but the Rakuten extension always reminds me to activate my cash back before checking out. That way I never miss out," he says.

In addition to shopping online, you can also earn money with Rakuten by referring new members. I've recruited most of my close friends and family members at this point, but whenever I meet someone who has no clue what they're missing out on by not using Rakuten, I always send them my referral link.
I mean, earning cash for helping someone else save money? That's like getting paid just for being a good person. I'll take it.
See Also: Rakuten Review 2018: How Does the Cash Back App Work? Is it Legit?
2. Ibotta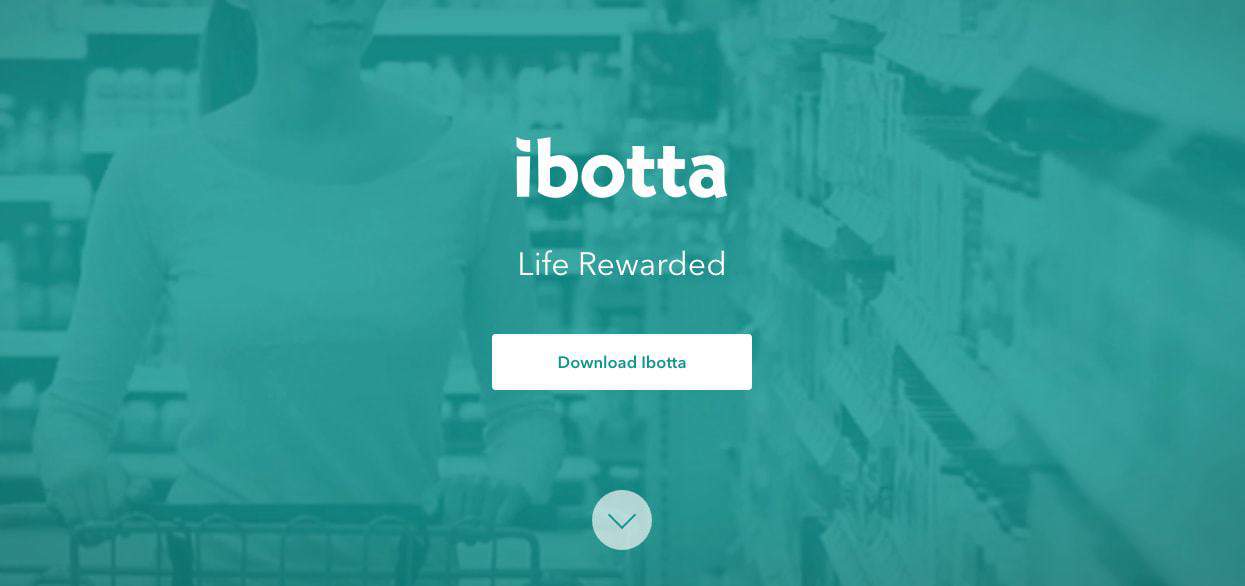 One of the best cash back apps for groceries on the market today is Ibotta. This app has gained some traction in recent years, and for good reason — since its launch in 2012, Ibotta has had nearly 22 million downloads and paid over $200 million dollars in cash back to its users.
Co-founder of DollarSprout, Ben Huber, says Ibotta is his "#1 resource for saving money on groceries."
I haven't talked to a lot of guys who use Ibotta, and I have no idea why. I spend five minutes searching for deals on my phone before heading to the grocery store and regularly save $20-50 a month just shopping for myself.
There are three ways to earn cash back with Ibotta:
Scan your receipts after shopping
Link your store loyalty card and let them do the rest
Shop through one of their mobile partners' apps
Each method requires you to choose your deals before you go shopping. This one got me the first time I used the app. I didn't read the "How It Works" and was under the assumption that I could buy what I needed first and then redeem deals later. Don't make the same rookie mistake I did.
Once you earn $20, you can cash out via PayPal, Venmo, or a gift card to your favorite store. And just like Rakuten, you can earn additional cash rewards by referring friends and family who also think saving money is awesome. You can read our full Ibotta review here.
3. BerryCart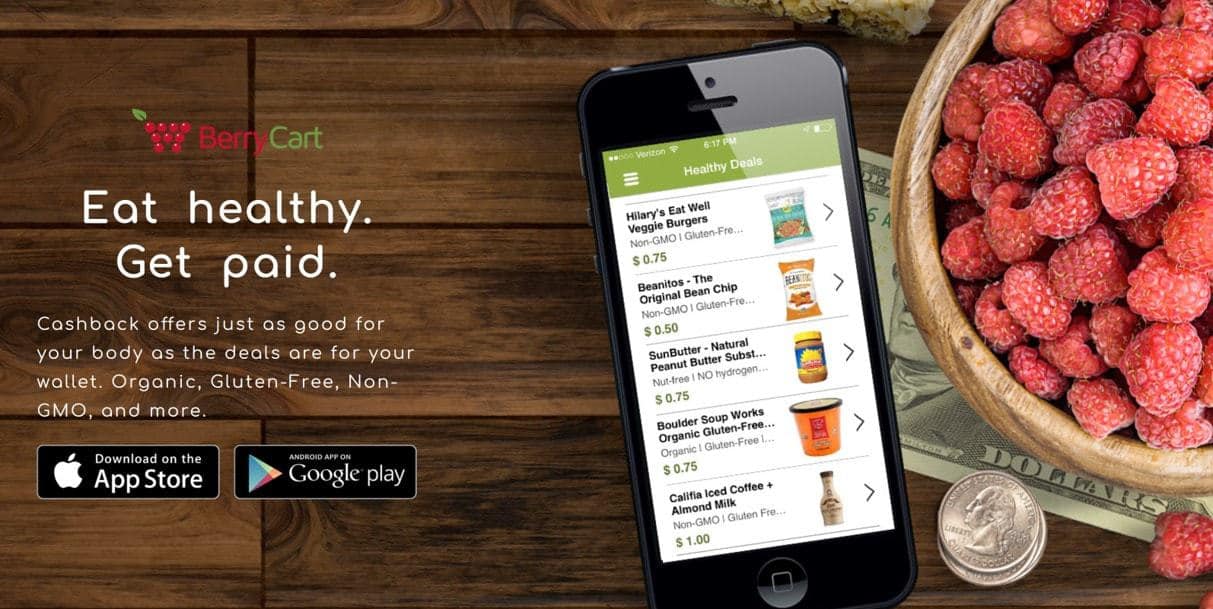 I'll take this one. Ben and Jeff love to poke fun at me because I'm a bit of a picky eater (except when it comes to dessert; I don't discriminate against anything chocolate).
Call me a hipster (or hippie or trendster or whatever) but I'm all about that organic, non-GMO life. That's why I love BerryCart — healthy is kind of their thing.
Unlike Ibotta, I don't have to sift through all the non-organic items to find what I'm looking for because almost everything in their database is within my self-imposed dietary restrictions.
Although it's a similar concept to Ibotta, BerryCart works a little differently. In order to unlock your deals, you first get to learn a little tidbit about the product you're purchasing.
While it might sound like an inconvenience, I actually love this about BerryCart! It only takes a few seconds, and it's a cool and efficient way to educate people about food health.
Once you unlock your deal, the rest is pretty standard: snap a picture of your receipt and cash out via PayPal or gift cards. BerryCart is conveniently offered at over 100,000 locations, including Target, Kroger, Whole Foods, and Walmart.
More Cash Back and Rewards Apps
Now you know some of our personal favorites when it comes to cash back apps. However, there are so many more to choose from.
The best cashback apps for you depend on your specific needs and preferences. Here are some more cashback apps our team has personally used. Try them for yourself and see which ones you love!
4. Dosh
Since its release in late 2017, Dosh has been making a big move in the world of cash back apps. It's also quickly climbing the rankings as a DollarSprout favorite.
There's minimal effort involved to earn rewards with Dosh. Just download the app and link your credit card. You'll automatically earn up to 10% cash back when you shop with participating merchants, including WalMart, Target, Nike, Walgreens, Bed, Bath & Beyond, and hundreds more.
Most other cashback apps require at least a little work — scanning receipts, choosing deals, etc. But with Dosh, all you do is sign up and shop.
They even offer a $5 bonus when you link your credit card to the app for the first time. Don't worry, it's secure.
You can earn cash by shopping online, in stores, or referring friends and family. For the full rundown on this cashback app, check out our complete Dosh review.
5. Swagbucks
Swagbucks is the OG of cash back apps. They have an A-rating with the Better Business Bureau, 13 years worth of happy member testimonials, and have paid members over $297 million in rewards to date.
We cover all the details of how the platform works in our full Swagbucks review, but the premise is simple: complete easy tasks, earn rewards.
You can earn points (aka Swagbucks) by watching videos, taking surveys, shopping online, playing games, buying gift cards, and using their search engine to browse the web.
Once you earn $5 worth of Swagbucks, you can cash out via PayPal or redeem your points for gift cards to your favorite retailers. Sign up for Swagbucks to earn your first $10 today.
6. Drop
Drop is a free app that rewards you for your everyday spending. The way it works is simple.
To get started, you'll need to download the app and create an account. From there, link a debit or credit card to start earning rewards. Whenever you shop with one of Drop's hundreds of partner brands, you'll earn points.
In addition to the points you earn for shopping, you can earn more rewards for referring friends (worth 1,000 points each), integrating other apps, completing Linked or Mobile offers, and more.
Every 1,000 points is worth $1. Once you reach 5,000 points, you can redeem them for gift cards to your favorite retailers, including Amazon, Starbucks, and Target just to name a few.
For more details on how Drop works and the pros and cons of this cash back app, check out our complete Drop App review.
7. Checkout 51
If you've ever used Ibotta, then Checkout 51 will be a breeze. The two apps work in a similar fashion: download the free app, browse offers and shop, then scan your receipts to get cash back.
The biggest difference is that with Checkout 51, you don't have to claim offers at a specific store. You can shop wherever you want and still get rewarded for it.
Checkout 51 updates their offers once a week on Thursday mornings. Although you may not find as many options as with other apps, they do offer deals on produce, which is pretty uncommon.
Once you scan your receipt, you'll receive cash back credit to your account. Rack up $20 in cash back and you can request your savings via check.
8. Shopkick
If you want to earn rewards but don't want to spend your money to do it, then Shopkick (via iOS or Android) is the app for you. Shopkick points are called kicks. You can earn kicks by:
Walking into stores
Scanning barcodes of specific products
Shopping with a linked card
Submitting your purchase receipts
Visiting online stores
Viewing products online
Shopping online
Watching videos
Redeem your kicks for free gift cards to your favorite stores, like Target, Starbucks, Sephora, and Amazon. Download the Shopkick app (via iOS or Android) to get your first 250 kicks.
9. MyPoints
MyPoints is similar to Swagbucks. They've been around since 1996 and have paid out over $236 million in gift cards and PayPal cash to happy members.
You can earn rewards by shopping online, watching videos, taking surveys, playing games, and reading the MyPoints emails. Cash out for gift cards to Amazon or 75+ additional retailers.
MyPoints offers a $10 sign-up bonus to new members. However, it's not a completely free $10. You still have to make a purchase of $20 or more through the MyPoints site or email offers within 30 days of signing up in order to qualify.
How to Find the Best Cash Back Apps for You
Rakuten, Ibotta, and Berrycart are top cash back apps and team favorites here at DollarSprout. However, our team has used and loves all the cash back apps on this list.
The best cash back apps for you obviously depend on where you shop, how often you shop, and your preferences for earning rewards. The best way to find your favorite cash back app?
Try them all!
Each of these tools offers a different experience, so don't be afraid to sign up for more than one. You may find that certain apps have better deals on the products you normally buy, or that some of them require more involvement than you prefer.
One thing to keep in mind when choosing your favorite: the best cash back app should make your life easier and reward you for things you already do. The less effort you have to put in, the higher return on your time investment.
That's what cash back rewards are all about.
What are the best cash back apps you've used to save money?
You May Also Like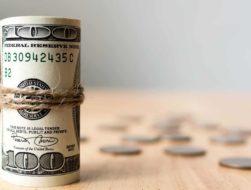 17 Easy Ways to Make $1000 Fast Legally
A 2017 GOBankingRates survey found that over half of Americans have less than $1,000 in savings. If you're in a bind for cash or trying to save money, here are 10+ simple ways you can make $1,000 in a week or less.