Photo Credit © Shutterstock Images
Want to learn new ways to make
extra money

?

Join 1,000,000+ monthly readers in getting updates and cool freebies:
Our number one goal at DollarSprout is to help readers improve their financial lives, and we regularly partner with companies that share that same vision. Some of the links in this post may be from our partners. Here's how we make money.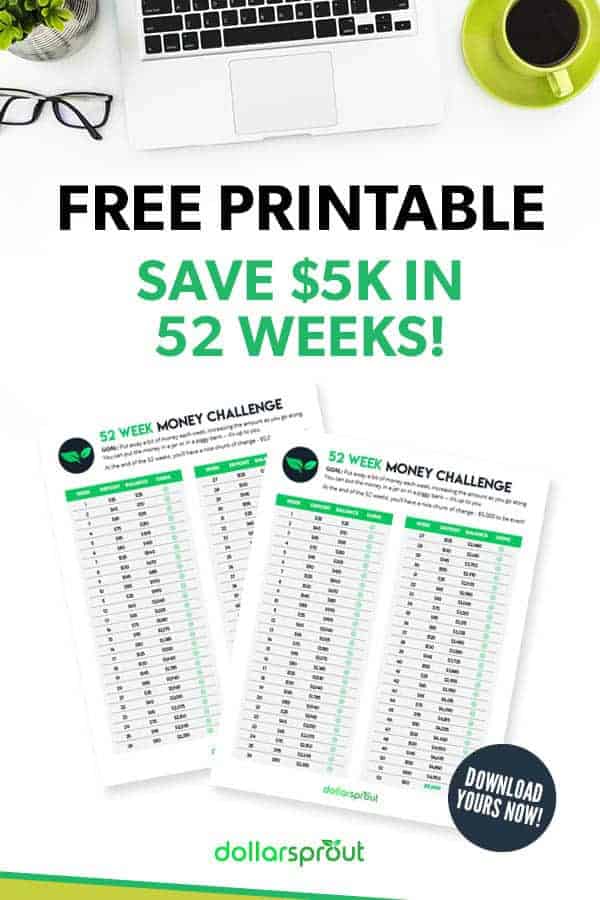 Imagine having $5,000 sitting in your bank account by the end of this year.

That's a lot of money.
Wouldn't it be nice to have that to protect you against life's unexpected events? Think about how much better you'd sleep knowing that you don't have to go into debt if your car breaks down or you have to go to the hospital.
According to a 2016 survey by the American Psychological Association, money is the leading cause of stress among Americans.
Saving money can be a challenge, especially when you're already working so hard just to pay the bills. These days, saving even a couple thousand dollars sounds like a pipe dream. You may even be laughing at the very idea.
If any of this is hitting close to home, I have a money-saving hack I think you're going to like.
Enter: The 52-Week Money Challenge to save $5,000 — complete with a printable template.
What is the 52-Week Money Challenge?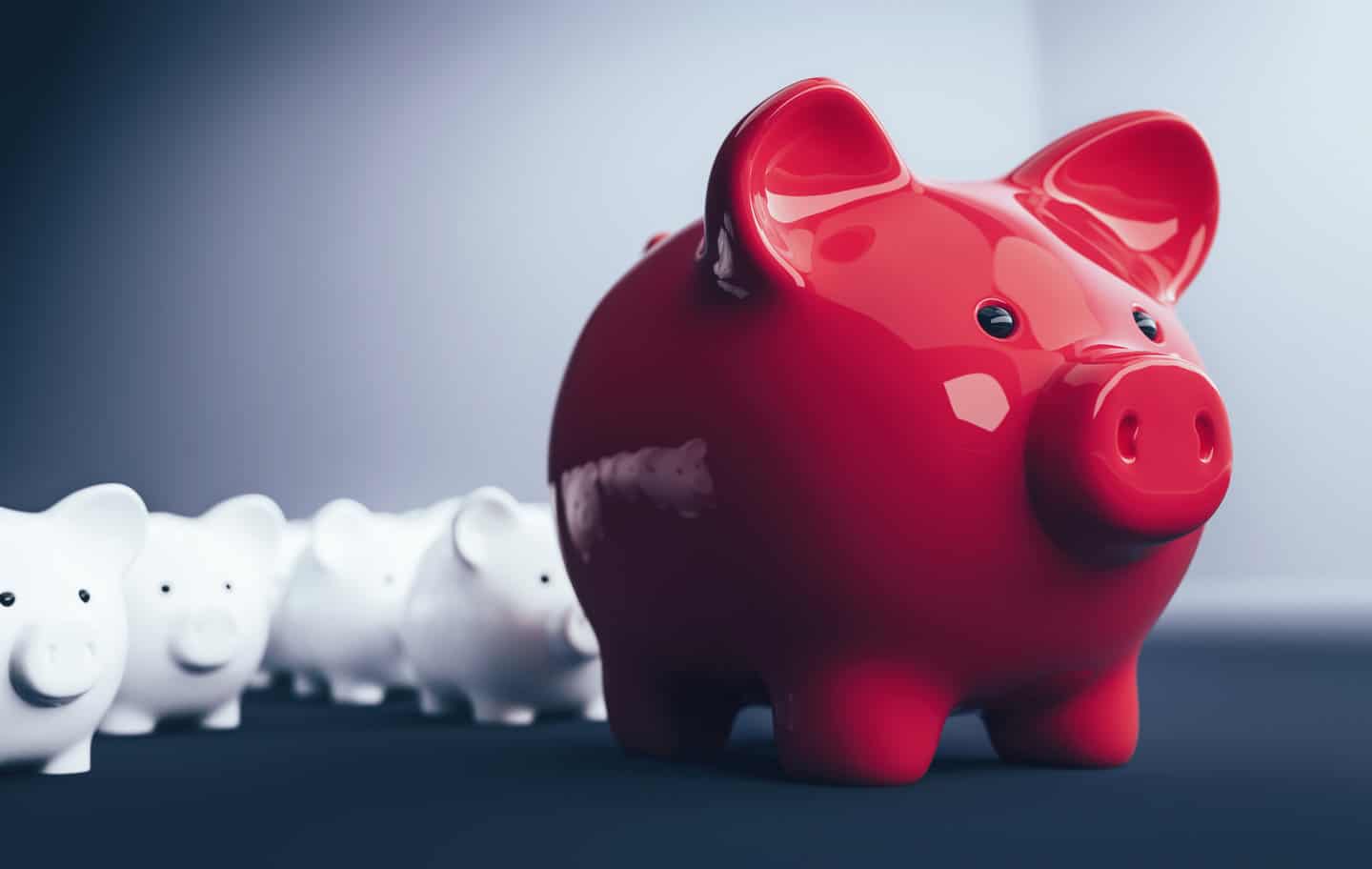 You may have heard of the 52-Week Money Challenge and scoffed at the idea. But this challenge and others like it have helped thousands of people save more money than they ever thought possible.
The 52-Week Money Challenge is an effective savings plan. It's so effective, in fact, that it can help you save up to $5,000 at the end of the year.
The rules are pretty simple. There are 52 weeks in a year, right? Your goal is to put away a bit of money each week, increasing the amount as you go along, then decreasing, then increasing again. You can put the money in a jar or in a piggy bank — it's up to you.
With this challenge, you save up $25 for the first week. The following week you save $45, and then $65 the third week. Your savings goal varies from week to week, with the lowest at $25 and the highest reaching $155.
$155 in one week?!
Don't be discouraged — this is totally doable, even if it sounds like a long shot! By the time you reach your first $155 week, you'll be 10 weeks into the challenge.
By then, you'll have gained enough momentum to where it shouldn't be an issue to increase your savings, even if you don't meet the full $155.
You don't even have to save the entire $5,000 in one year. The goal of the money saving challenge is to help you develop better money behaviors and get in the habit of saving money — something that will benefit you for the rest of your life.
Related: 74 Creative Ways to Save Money
52-Week Money Challenge Printable Chart
To get started, download the 52-Week Money Challenge printable chart and use it as a template to map out your journey to save $5,000 in one year.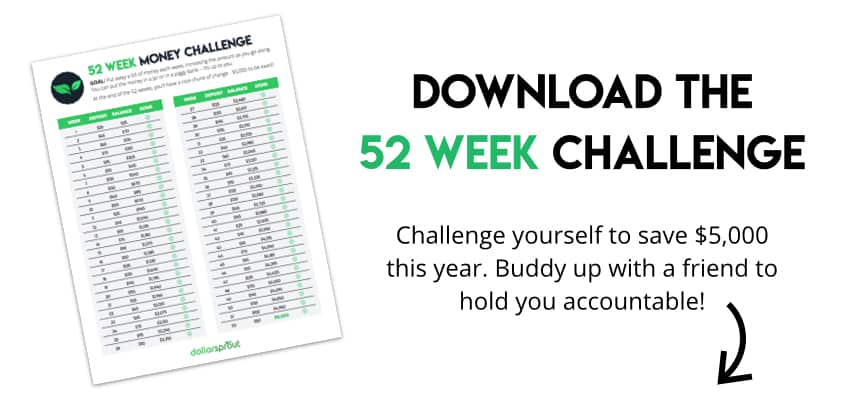 Who is the 52-Week Money Challenge For?
Everyone can benefit from saving some extra money, whether it's for an emergency fund or a fancy vacation. However, there are a few groups of people for whom the Money Saving Challenge can be especially beneficial.
People Saving for a Special Occasion or a Major Goal
Are you planning to throw a surprise birthday party for a loved one? Do you want to take your family for a week-long trip to the Bahamas? How about investing your money to start an online business?
If you have big financial goals in mind, this challenge can help you save the money you need faster.
People Looking To Get Out of Debt
You've fallen behind in your payments and are now officially over your head. In such situations, it's in your best interest to settle that debt as soon as possible, lest you fall into the cycle of never-ending payments and rising interest rates.
Maybe you're not behind on your payments, but you still feel like your debt is weighing you down. This 52-week savings plan can help you pay off your debt faster so you can use your money for the things that matter to you.
Teenagers
Oftentimes, teenagers find themselves spending cash on things they don't really need.
Ironically, there's no better time to save money than during your teenage years. For one, having a few thousand dollars in your stash will help you save up for your college fund. Developing good money habits early on will also set teens up for a safe and secure financial future.
Related: 9 Legit Online Jobs for Teens That Pay Good Money
Other Variations of the 52-Week Challenge
It's one thing to try a savings method. It's quite another thing to stick to it. While the 52-Week Challenge works wonders for many people, there are circumstances unique to each person that will make it difficult for him or her to stick with the program.
If you feel that the standard 52-Week Challenge isn't a good fit for you, bear in mind that there are other variations of the challenge that might offer you a better chance of success.
52-Week Money Challenge Biweekly
If you struggle to save money every week when the paycheck only comes every two weeks, try the 52-Week Money Challenge Biweekly Schedule. By saving money every two weeks you'll need to save a bigger chunk at a time, but it may end up being easier for you in the long run.
Mini 52-Week Savings Challenge
If the standard challenge doesn't work for you, maybe the mini version will do. The rules are the same, but rather than saving the original amount, you save half of that amount every week instead. This way, saving up won't pose much of a financial burden for you and won't compromise your financial needs on a daily basis.
The obvious drawback of doing the mini-challenge, of course, is that you'll only be able to save half of our original $5,000 target. But no need to beat yourself up over it.
Remember, at the end of the day, the important thing is not how you are saving money, but that you are saving money. Besides, saving $2,500 at the end of the year is no small feat!
Money Saving Ideas to Help You "Win" the Challenge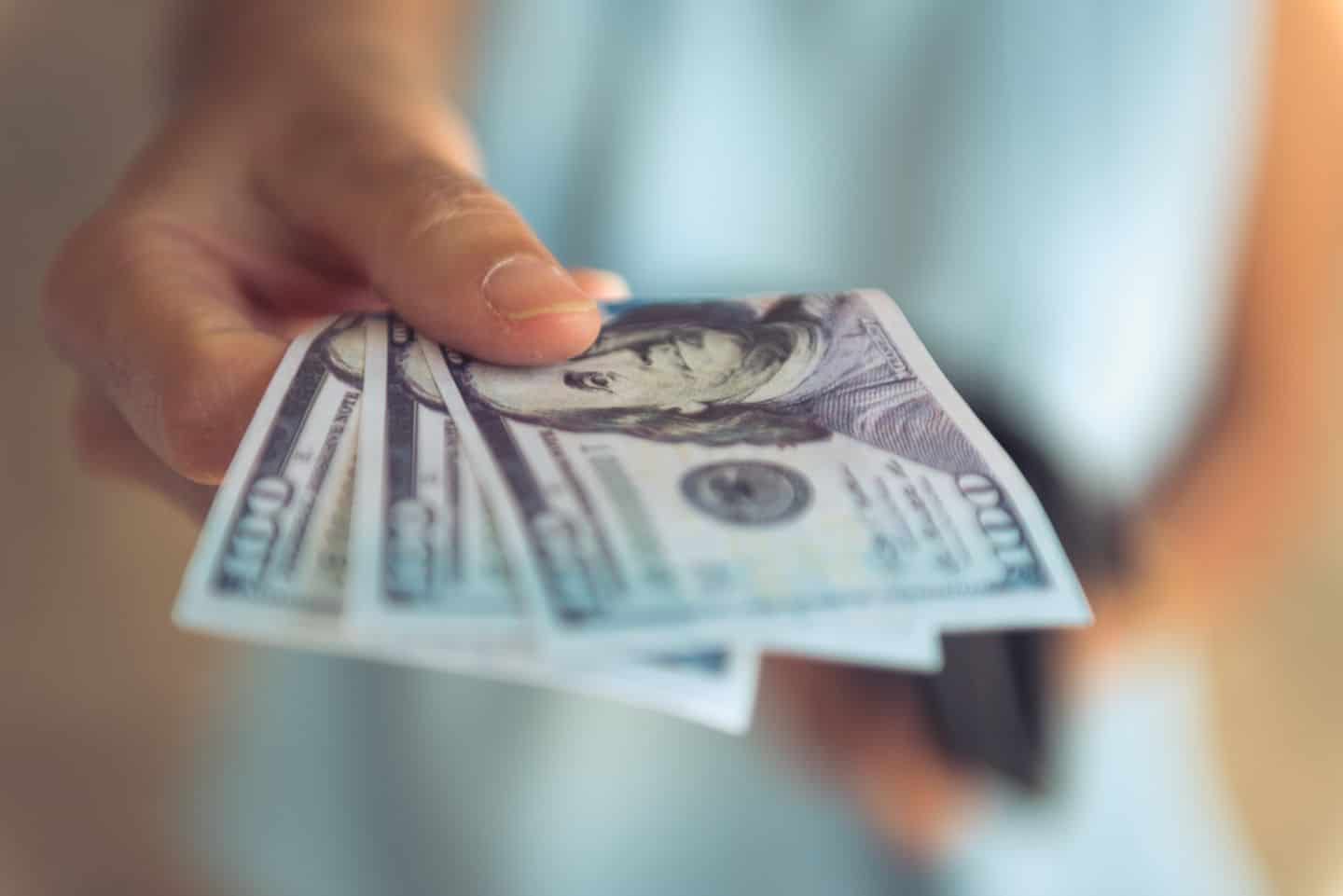 As things become a little tougher throughout the challenge, it's imperative that you follow some of the guiding principles in saving money. Just like with professional athletes who follow specific workout routines or stick to a diet regimen in order to reach their goals, you have to follow some best practices in order to "win."
Here are some money-saving ideas that can help you achieve your $5,000 goal by year-end.
Make It Part of Your Budget
Contrary to popular belief, sticking to a budget does NOT need to be restrictive. The trick is to make your budget work for you, not the other way around.
Because in the final analysis, saving up is all about living within your means and then setting aside the rest for short-term investments.
Creating a budget doesn't have to be difficult. You can use pen and paper, an Excel sheet, or a full-fledged budgeting program — whatever system works for you. The important thing is that you make a plan for your money, then check in frequently to make sure you're sticking to it.
Pick Up a Side Hustle
There are countless ways to make money if you know where to look. I'm not talking about quick money schemes.
I'm talking about legitimate ways to make money — from part-time jobs to jobs you can do online from home.
They won't make you a millionaire overnight. But if you can find the gigs that work for you and stick to them, then you can bring in extra money to put towards your savings goals. To figure out which side hustle you should pursue, take inventory of your skills. What can you offer that someone will pay you for?
From there, it's all about creating your offer and finding the right people who need what you're selling.
Related: 24 Genius Ways to Make Money at Home
Take Online Surveys
Paid online surveys definitely won't make you rich, but they can be a good way to make some extra with minimal effort. You can take paid surveys while watching Netflix, during your work commute, on your lunch break, or any time you have an extra 10-15 minutes in your day.
Companies want to understand consumer behavior, which is why sites like Survey Junkie pay real cash for the simple task of completing short surveys. Most surveys take less than five minutes to complete and pay between $0.50 and $1.25.
Some survey sites pay you for more than just taking surveys. With Swagbucks (includes $10 sign-up bonus), for example, you can also make money by using their search engine to browse the web, shopping online, watching videos, and more.
Become a Lyft Driver
If surveys are not your thing then you might want to consider the potentially lucrative side hustle of driving for Lyft.
Right now they have a promotion going on where any new driver will instantly get a $300 bonus after completing their 100th ride. If you start now and hustle hard on the weekends, you can probably unlock that bonus within a few weeks of driving, in addition to your normal earnings.
Invest in Real Estate
For as little as $500, you can invest in a real estate portfolio and get exposure to a ton of potentially valuable assets.
Fundrise is a new platform that allows you to invest directly in a real estate portfolio that a team of professionals identifies, acquires, and manages on your behalf.
Start a Blog
If you love to write then a blogging business may be the perfect fit for you. Many people think of blogging as a hobby, but don't underestimate this money-making opportunity.
Just to give you an idea, this mom uses her blog to bring in over $3,000 per month.
It can take some time to build a successful blogging business. However, you can get started and have your blog set up in less than 30 minutes.
Related: How We Made $1,500 Our First Month Blogging
Cut out Wasteful Spending
We all have areas of spending where we could probably do better, whether it's eating out or buying a few too many pairs of shoes. Cutting back doesn't mean you can't spend money in these areas. It just means being intentional about putting your money towards the things that matter to you.
Fortunately, this is an area where you can use technology to your advantage.
The Trim app, for instance, analyzes your spending and points out areas where you can save money. It can cancel unused subscriptions, offer practical advice on how you can save more money, and even negotiate your Comcast bills for you, among other cool features.
Invest Your Money
While it may be true that money doesn't grow on trees, that doesn't mean it doesn't grow at all. In order to build wealth, you need to learn how to invest your money.
Acorns
Acorns is an investment app that's perfect for beginner investors.
This app sets aside spare change from each transaction you make and then invests it in a managed portfolio. Considering how many transactions the average person makes on a monthly basis, you can imagine how much you can save up, even in a relatively short period of time.
Acorns is easy to download and requires minimal investment. The app's basic plan costs $1 per month while the Acorns + Acorns Later plan costs $2 per month. If you want a "checking account that works much harder" added into the equation, you can get the Acorns + Acorns Later + Acorns Spend for $3 a month.
Betterment
If you're serious about investing, chances are you've entertained the notion of hiring a financial advisor. However, they're certainly not cheap. In fact, you could be looking at close to $2,000 for a basic financial plan.
This is why so many investors rely on online robo-advisors these days. Betterment, for instance, only requires you to pay one, low annual fee. It doesn't require a minimum investment, making it accessible for the average person.
Not only does Betterment allow you to monitor your finances in one place, but it also offers unlimited rebalancing, an actively managed portfolio, and expert advice tailored to your financial circumstances.
If you're thinking long-term investment, check out our Betterment review.
Open a High Yield Online Savings Account
Most traditional banks offer an interest rate of .01 percent. So if you keep $5,000 in a traditional savings account for a year, you'd be earning a meager half-dollar. I repeat, a half-dollar.
Here's the thing with traditional banks: they don't offer much in the way of yield because they're already burdened by the overhead costs that come with maintaining a brick and mortar presence.
High-yield online savings accounts, however, don't have that same burden because they don't have to maintain branches.
As a result, online banks offer interest rates of 1.50% or more — that's 15 times higher than what is usually offered by traditional banks.
Consistency is Key with the 52-Week Money Saving Challenge
As is the case with most ventures, consistency is key when it comes to saving.
You might be the most enthusiastic person about the idea of saving money at the start of the year, but that enthusiasm will amount to nothing if you don't maintain that consistency throughout the entirety of the 52-Week Money Saving Challenge.
In the end, it's all about developing the right habits and fostering a growth mindset.
To be consistent with your 52-week savings plan, you have to focus on the little things, knowing in your mind and gut that all of these will lead to something bigger. From doing a number of side jobs to putting away a bit of money for a rainy day to stopping yourself from buying that shiny knickknack you don't really need — it all adds up.
By keeping your eye on the prize and preventing as many slip-ups as possible, there will come a time when you don't even have to go through 52-week challenges anymore because saving will come so naturally to you, you won't even have to think about it.
You May Also Like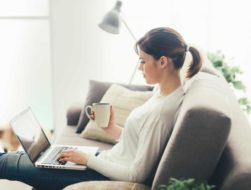 24 Best Work from Home Jobs for 2019
Work from home jobs have exploded in popularity over the past ten years. See why so many people are ditching the traditional 9 to 5 for legitimate, high-paying home-based jobs.