Photo Credit © Shutterstock Images
Want to learn new ways to make
extra money

?

Join the family to get updates from us and tons of cool freebies:
Our number one goal at DollarSprout is to help readers improve their financial lives, and we regularly partner with companies that share that same vision. Some of the links in this post may be from our partners. Here's how we make money.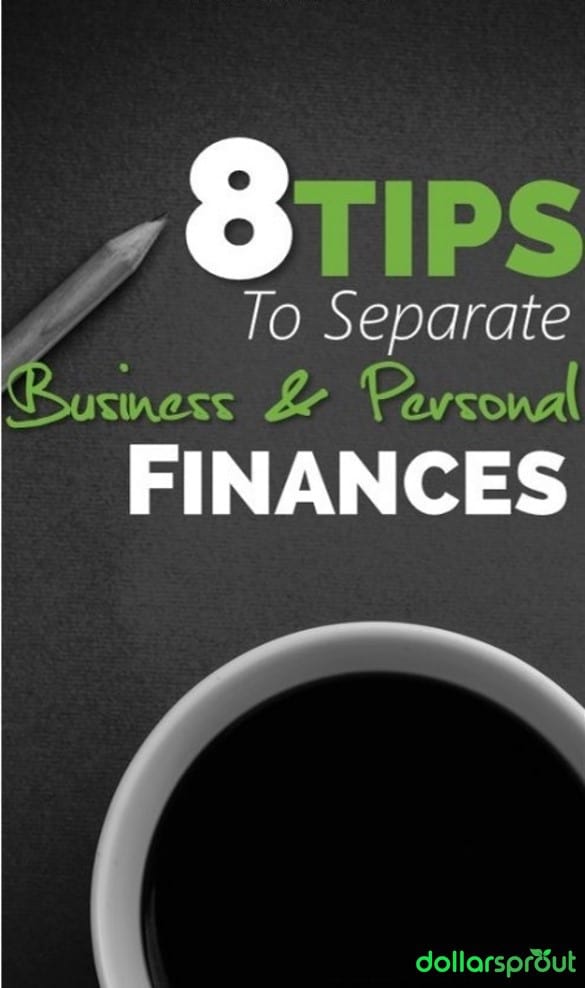 There are some things in life that you don't want to mix. Like your personal and business finances.
For a lot of entrepreneurs in the early days of building their business, it's almost inevitable that mixing the two will happen at some point.
That's just life.
As such, I've compiled a list of 8 work from home tips that'll boost productivity, set the foundation for success, and help you avoid the headache that is mixing business and personal finances.
Related: 10 Easy Ways To Make Money from Home
1. Use separate bank accounts
When working from a home office it's absolutely imperative that money used for business, and money set aside for personal use, be kept separate.
Having separate accounts is an but effective way to track your expenses. When tax season comes around, you'll be happy you kept everything separate- otherwise filing can turn into a nightmare.
Review your bank statements regularly (of both accounts) to get a clear picture of your financial situation. Of all the work from home organization tips I'll share, this one is absolutely the most important.
2. Maintain separate files for receipts
Your business receipts and personal receipts often get mixed up.
*Raise your hand if you've ever done this.*
Well, it's a recurring problem for many entrepreneurs. Here's the most simple solution to your problem: keep your business and personal receipts in separate files the minute you obtain them. It's takes a little discipline to form the habit, but I promise you'll be glad you did.
If you don't have time to sort out both personal and business receipts, at least try to keep your business receipts separate. A tax auditor is going to be more interested in your business expenses rather than your personal expenses, so make sure you're doing this.
Related: Start Managing Your Money Like an Adult [5 Practical Tips]
3. Keep a business credit cardA
You must not use your personal credit cards for business use. If you're doing that, then stop immediately and get a separate credit card for business purposes only. It helps you to draw a sharp and clear line between business expenses and personal expenses.
Maintaining separate credit cards mean your finances won't get muddled anymore.
Plus, there are some more benefits of using a business credit card such as:
You'll get higher credit limits.
It'll boost your business credit rating.
You'll receive discounts and rewards for your business.
You can control employee spending.
It'll never affect your personal credit rating.
4. Draft a separate budget for business
In the same way you would make a budget for personal expenses, try to set up a separate budget for your business expenses as well.
Are you constantly withdrawing money from your personal accounts for your business expenses?
If so, then the day isn't too far when all your savings will get exhausted.
Don't mix up your personal and business expenses. Instead, set up a separate budget for both.
Related: 5 Critical Budgeting Mistakes You Need To Avoid At All Cost
5. Pay yourself a salary
It might sound trivial, but doing this will benefit you in the long run.
You might thinking– if I'm my own boss, then why should I pay myself a set salary?
A salary is important because it tightens your expenses and prevents you from overspending. Without a salary, things are just too wishy-washy; definitely not something that you want as you are starting your business.
6. File taxes separately
Another important thing, you should always file your taxes separately.
As a business owner, you're eligible for various business and personal tax deductions.  Take advantage of those. For instance, you'll get separate tax deductions on your home office or business phone calls, or any miles you drive for business purposes.
Another reason why you should maintain separate financial records, credit cards and checking accounts for your personal and business use!
7. Maintain a separate business emergency fund
Emergencies are sudden, which means you must be prepared beforehand.
Don't use your personal emergency fund to cover your business emergencies.
That's a sure fire way to deplete your personal emergency savings very quickly. Rather, build up a separate emergency fund or open a separate emergency savings account for business purpose only.
8. Avoid personal guarantees for business financing
Providing personal guarantees for commercial loans can put your personal assets and credit at risk. For instance, utilizing a home equity loan to finance business startup expenses is generally a really bad idea.
Sometimes, it becomes difficult to avoid the situation because Small Business Administration loans require personal guarantees. If you come across such scenarios, make sure you explore all other options first.  Using personal collateral should be a last resort!
---
Starting a business and working from home effectively is hard enough. Being sloppy with your money just makes it even harder.  Keeping your business and personal finances separate is absolutely to finding success in your newly minted venture.
Related: 9 Financial Management Tips for Business Owners
Enjoy this article? Pin it!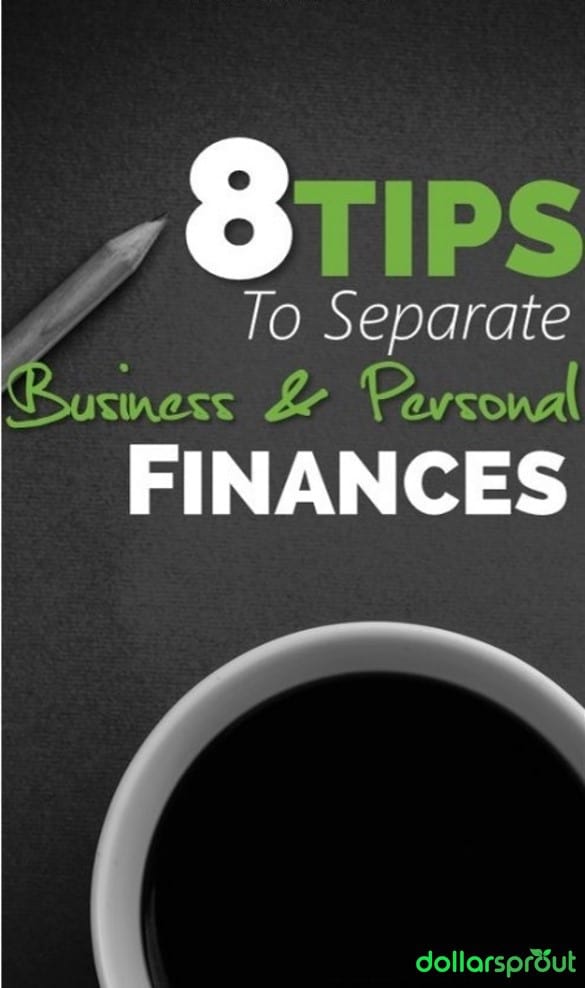 Recommended For You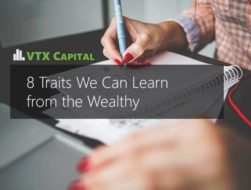 8 Habits of Successful People That You Can Copy (and Become Successful Too)
Sound like a conversation you've had with someone before? Usually that's where the conversation ends. Sure, we might daydream for a minute about being rich and how awesome it would be to not have to worry about money. But then we just go about our lives as usual, doing things the same old way we always have…