Shurkin son | Shutterstock
Want to learn new ways to make
extra money

?

Join 1,000,000+ monthly readers in getting updates and cool freebies:
Our number one goal at DollarSprout is to help readers improve their financial lives, and we regularly partner with companies that share that same vision. Some of the links in this post may be from our partners. Here's how we make money.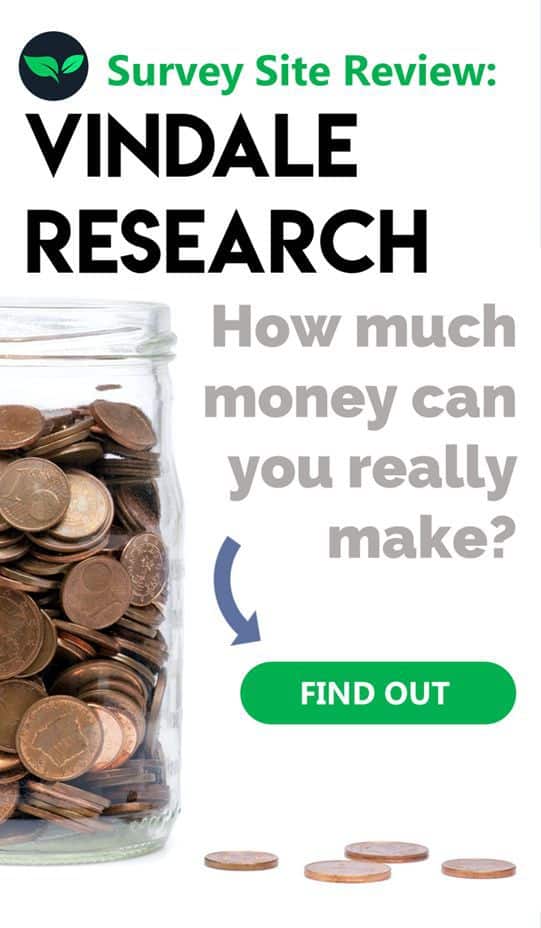 Vindale Research is interested in your opinion as a consumer — and they'll pay you for it. Learn how in our full Vindale Research review.
As a legitimate market research company, Vindale Research is hired by brands you probably know and already buy to gather consumer insight. They use this info to improve their products, marketing efforts, and profitability. And that, friends, is why they pay you the big survey bucks!
Okay, you may not get rich doing surveys, but it's an easy way to make some extra cash on the side. Read on to see how you can join for free in under 2 minutes, how much money you can actually make, and the major pros and cons based on our user experience.
Vindale Research Review
As you may know, we compare lots of different survey sites on DollarSprout since so many of our readers love making extra cash with them. After signing up and using Vindale myself, here's the rundown of my experience — the good, the bad, and the ugly!
First off, is Vindale Research legit?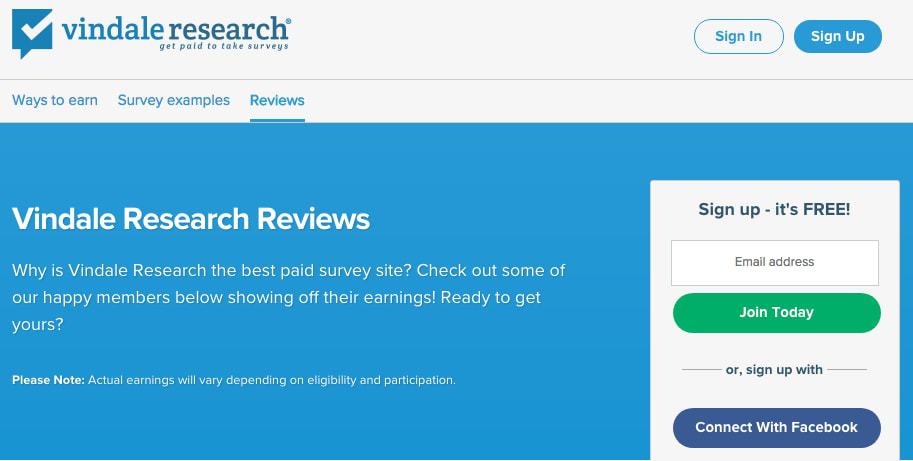 Can I really get paid for my opinion?
Similar to sites like Swagbucks or Survey Junkie (a couple of our favorite paid survey sites), Vindale Research is legitimate (read: not a scam) and pays you for your opinion as a consumer.
In fact, collecting your opinion and putting together crazy-detailed reports about what it all means for their clients is Vindale's specialty. Companies use the findings from Vindale by applying the "lessons learned" to improve their products and sharpen marketing focus. Companies like Coca-Cola, Johnson & Johnson, and General Electric (GE) hire firms like Vindale Research every day.
By better understanding who their customers are, their preferences, needs, habits, and expectations, companies like these can easily save millions in annual marketing costs alone!
Vindale Research login: creating an account was quick and easy for me
It took me less than 2 minutes to join Vindale Research as a free member using my Google login. After that step, I completed my profile. During the Vindale Research login and signup they asked about things like my ZIP code, relationship status, annual household income — the usual.
I was awarded $2 just for filling out my profile. Score! (Get your $2 bonus by signing up here.)
Vindale Research Payment Method
Once you reach the minimum cash-out limit, you can choose to receive your payment via check or PayPal.
See Also: 25 Legit Ways to Make Money Online
Here are the ways to make money with Vindale Research
In our full Vindale Research review, we want to be sure to cover all of the ways to make money with this legitimate paid survey site. This site pays members for completing surveys, watching videos, participating in panels, and more. Let's look at the main ways you can earn.
Get paid cash for participating in studies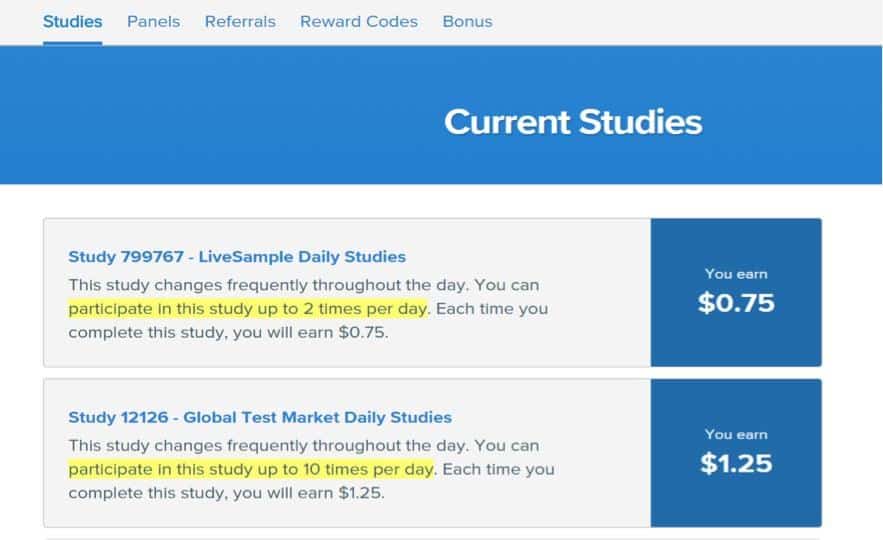 The most popular way to earn money on Vindale Research is through surveys and panels. The majority took me between 5 and 15 minutes to complete and paid $0.50 to $2.00 each. The reward usually showed up instantly in my account, but in some cases, Vindale Research says it can take up to 5 business days to be credited to your account.
Sometimes a study will expire before you can take it. Womp womp.
However, one of the things I like most about Vindale Research is that they use the questions you just answered to suggest another survey — then automatically take you to it. This really cuts down on the number of clicks required to earn with surveys.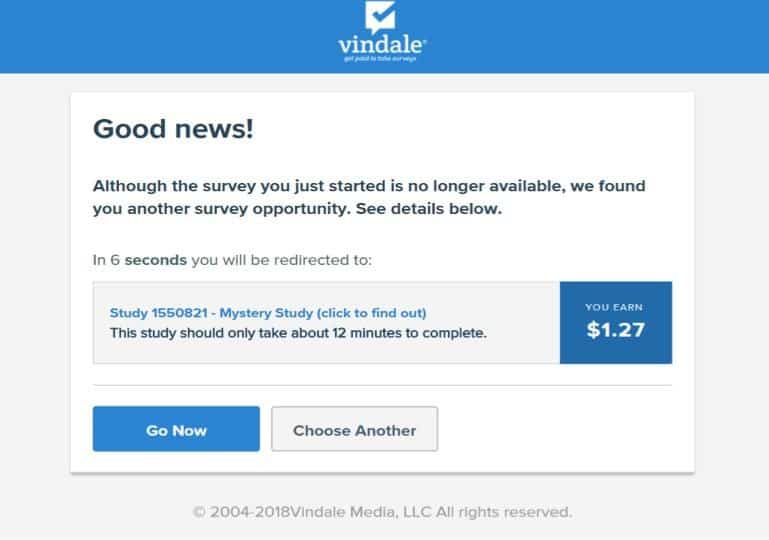 Another thing I want to point out is that they have a browser extension for Google Chrome. This is awesome for getting alerts when new studies come out so you don't miss any!
Earn more by participating in panels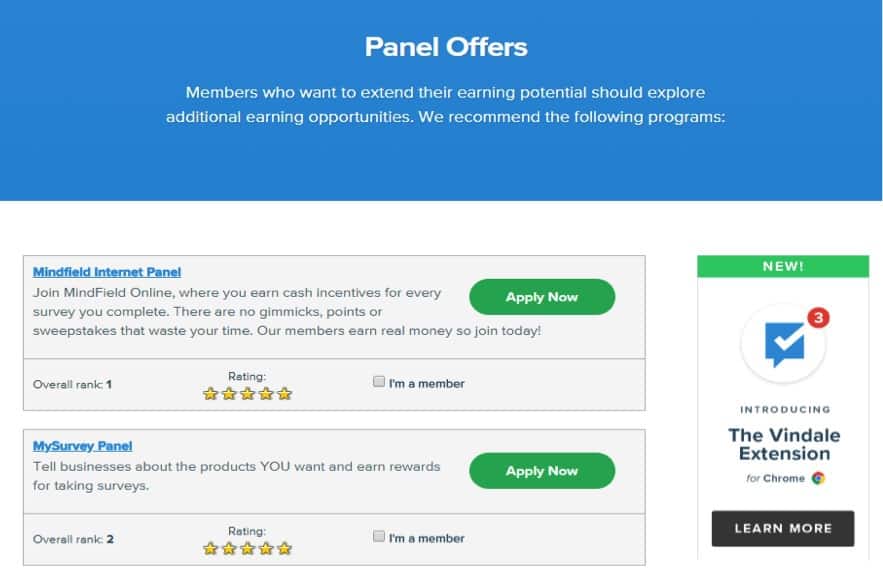 Vindale Research also has a panels section, a somewhat unique feature compared to other survey sites. These differ from the surveys members can take through the site primarily in that these are third-party websites.
In other words, Vindale partners with these panel hosts to provide additional value to you in the form of "additional earning opportunities." I'd never participated in a panel before so I wasn't so sure about it, but I took the leap to check out several of these.
When you click on "Apply Now," another browser opens — typically to a registration page. Here's an example of the page I landed on when I clicked to apply to SpringBoard America's panel: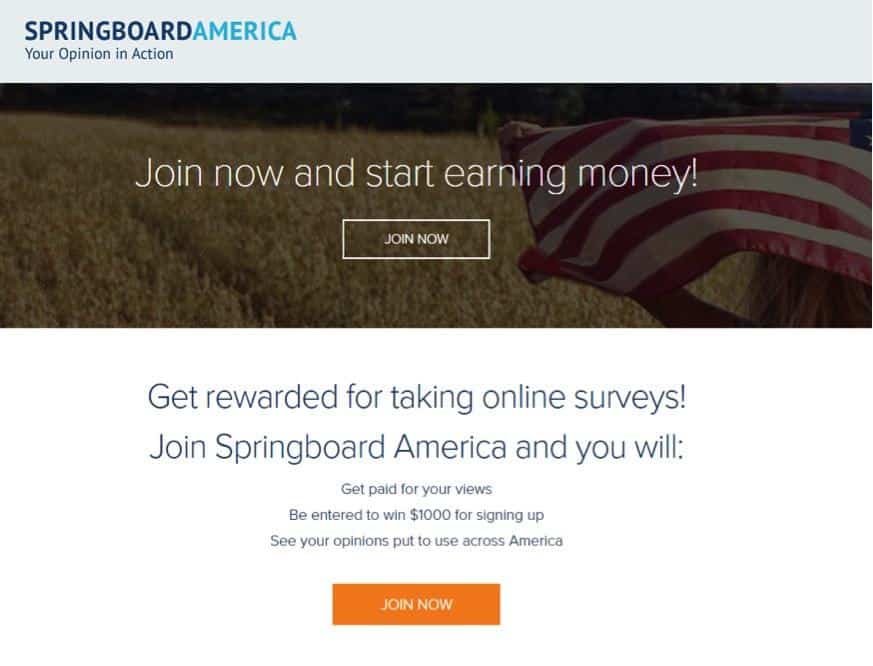 Several panels have sweepstakes or prize drawings and signing up is often rewarded with an entry into such contests. At the writing of this article, SpringBoard America has one for $1,000.
→ Pro tip: Be sure to add the email addresses for these panels to your address book to avoid them potentially getting caught up in your spam filter.
Because panels are not administered by Vindale Research directly, their payment methods differ from one to another. Some offer points, contest entries, or gift cards. The content of the panel questions also covers a wide range, spanning from clothing preferences to Disney vacation planning.
Make money with your testimonial
In addition to surveys and panels, Vindale Research has a few other ways to earn.
They do a great job of getting members back to their website on a daily basis by making it feel like a game. One example of this is their $5.00 "payment photo" bonus.
This is a really simple way to earn. When you get your first payment from them, just snap a photo and submit it with the testimonial form they provide; they'll pay you $5.00 for it. There are lots of smiling faces on their site of folks like you who have made money taking surveys!
Use Vindale Research reward codes for extra cash
Another way Vindale keeps members engaged is with their reward codes, which are like digital mini-scavenger hunts. They post these several times a week, but there is no set schedule so they tell you to "stay on the lookout!"
I earned $0.10 completing my first reward code, but values differ for each code. In total, I probably spent about 60 seconds on this as I went through these steps:
Went to their Facebook page (they also post these on their blog or Twitter)
Found the clue
Looked up the answer (spoiler alert: the answer is stamps)
Entered answer on the site
Here's what the clue looked like on Facebook: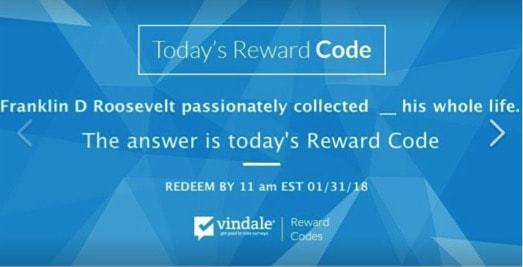 And here's what the code input looks like in the Vindale Research member area: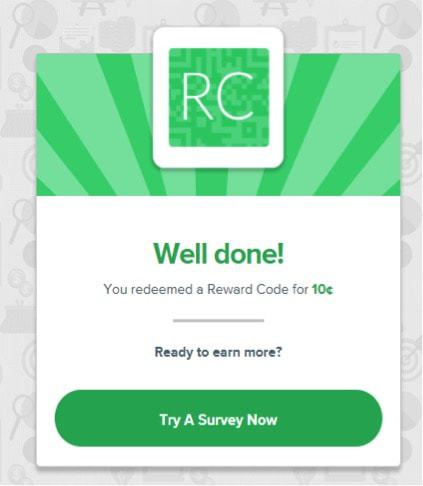 Get paid to watch videos
You know how YouTube and Hulu use ads on their platforms? Or have you ever been asked at an airport to watch a short video clip in exchange for access to free WiFi? (I have and thought it was a totally fair trade. Ha.)
That's what Vindale's videos are like. They just added this section to their site. Videos are typically short advertisements a minute or less in length and pay about $0.05 each.
Refer friends and family for a nice bonus
If you enjoy earning extra cash with Vindale Research, you can make a nice bonus by referring new members to the site. Vindale offers $5 referral bonuses based on activity after signing up using your unique link. The main thing to note here is that the people you refer have to be active in order to reap the benefit of the full $5 referral fee.
Bonus ways to earn
Finally, the Daily Question asks something different each day and requires you to comment on the blog for an easy $0.50. They consider this an entry into a drawing, so there's actually an opportunity to win more with your answer. This is another fun reason to log in each day: they post on the blog the next business day to announce 20 winners to the Daily Question.
Vindale also encourages members to follow their social media pages, including their blog, for spontaneous opportunities to earn outside their typical surveys, panels, and ongoing giveaways.
Vindale Research Review: Pros and Cons
Anything you do online to score cash can have trade-offs. I put together my thoughts on the take-home points after testing out Vindale Research to help you decide if it's right for you!
Vindale Research Pros:
You can always see exactly the dollar amount in your account (versus converting points)
Free to become a member, Vindale Research sign up is quick and simple
Browser extension makes it easy to know when there are new surveys
Variety of ways to earn
Vindale Research Cons:
Surveys seem to expire or fill up quickly
Minimum cash-out limit is $50 (a bit high compared to similar sites)
Website design is a bit clunky and aesthetically unappealing
No mobile app
For new users, the layout and design of Vindale's website may be a turnoff. I have to say, I'm not a huge fan of it myself. However, even though the site is somewhat visually unappealing (at least in my opinion), Vindale Research is still a legitimate paid survey site that pays real cash to its members.
Another issue I came across, and one I've seen in several user reviews, is that on more than one occasion I spent a lot of time answering pre-qualifying questions only to be told I didn't qualify for the survey. In some cases, this resulted in as much as 10 minutes of my time wasted.
Just to be clear, though, that's a common thing I've noticed with several survey sites, which is why you have to be extra diligent with your time in order to maximize your earnings. Fortunately, Vindale Research has plenty of opportunities to earn on top of taking surveys.
Overall, we think Vindale Research is a keeper.
Vindale Research has an interesting array of ways to earn cash. I am not ashamed to admit I really like the reward code challenges because I'm basically being paid to learn a fun fact for cocktail parties (and hey, that random knowledge might come in handy at my local watering hole's trivia night).
Between surveys, panels, bonus sweepstakes, and pop-up earning opportunities, there's a way for everyone to earn money with this survey site. It doesn't promise to make you rich, but it's a fun and easy way to make some extra cash on the side.
Like this article? Pin it!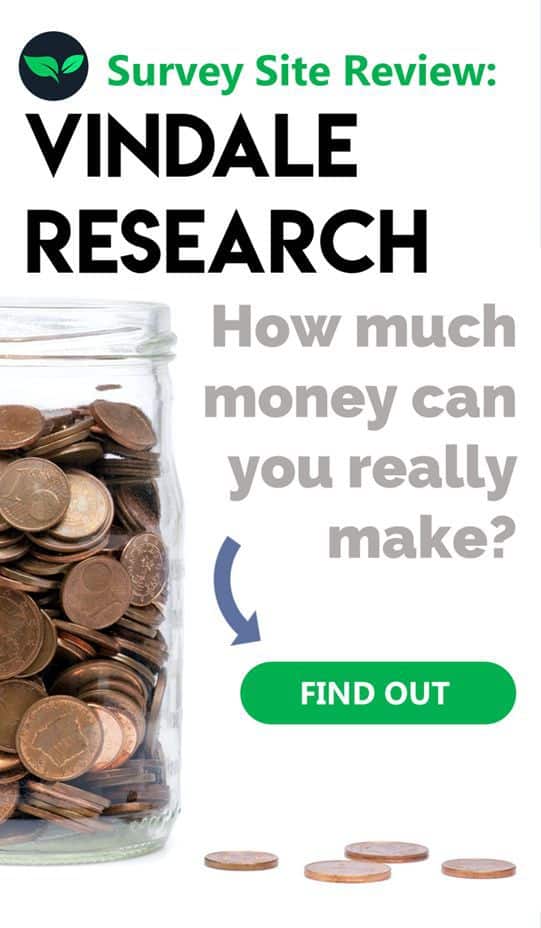 You May Also Like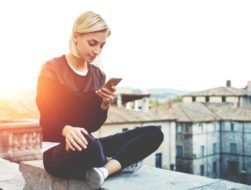 Is Swagbucks Worth It? Here's Our Official Swagbucks Review
We created this detailed Swagbucks review to show you the good, the bad, and the ugly of using this paid online survey platform. Learn how you can earn money watching videos, shopping online, and performing your normal day-to-day activities.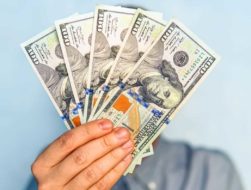 12 Free Ways to Make $500 Fast
If you're smart with your time and resources, you can make $500 fast (as in one day) with some of these gigs. From walking dogs, to driving people around, to working from your laptop, there's money out there waiting to be made. All you have to do is choose your gig and start putting in the work!