Kamil Macniak | Shutterstock
Want to learn new ways to make
extra money

?

Join 1,000,000+ monthly readers in getting updates and cool freebies:
Our number one goal at DollarSprout is to help readers improve their financial lives, and we regularly partner with companies that share that same vision. Some of the links in this post may be from our partners. Here's how we make money.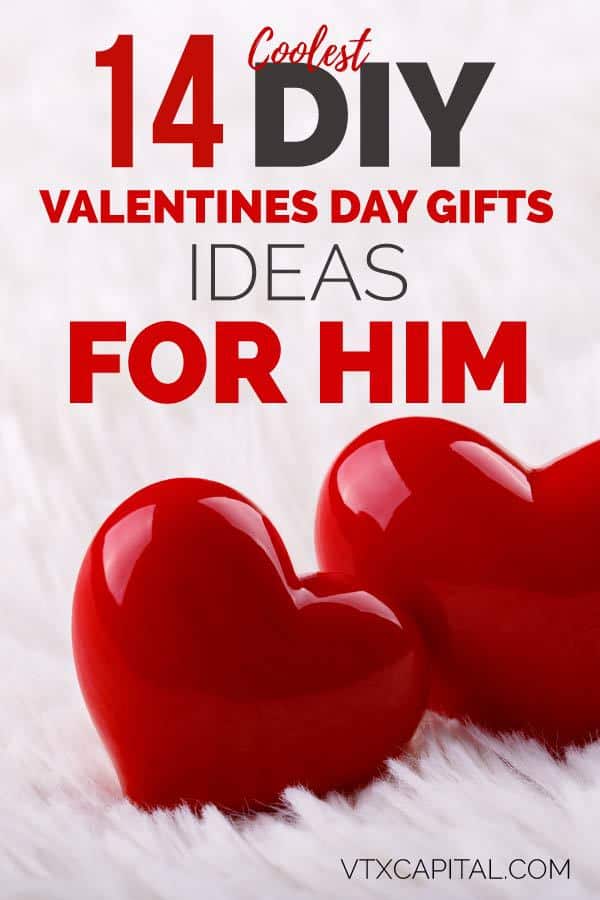 Wondering what to get your boyfriend for Valentine's Day? With the special day right around the corner, now is the perfect time to show your love with one of these Valentine's day gift ideas for him.
Fortunately, giving the perfect gift doesn't have to break the bank.
To help you on this romantic journey, here are 11 budget-friendly DIY Valentine's Day gifts for him that will keep you from doing just that.
Not only will they show you went the extra mile by making something thoughtful, but they're all relatively inexpensive (under $20) and super simple to make.
Need money for gifts?
Check out these 25 ways you can
make money online
before Valentine's Day is officially here!
11 Affordable DIY Valentine's Day Gift Ideas for Him
You can't go wrong with sentimental, easy, and affordable, right?
Say goodbye to the cliche stuffed animal and candy and find the perfect DIY gift to make your man feel loved. Here's a quick list of what to get your boyfriend for Valentine's Day this year.
1. Creative Explosion Gift Box
While this small black gift box may look unexciting at first glance, it's actually a fun surprise for your man. It's made to open or "explode" into a secret album of memories and keepsakes. You can use your imagination to DIY the perfect arrangement of pictures, stickers, and tiny trinkets to show your admiration for him.
2. Romantic Movie Night Date Crate
Create a "date crate" like this one from Joyfully Mad and pop in a favorite movie while snuggled up under a blanket with snacks in hand. What guy doesn't love yummy junk food and a movie night with his favorite girl?
If you need some cheap romantic DVDs to add to your crate, try your local Walmart's $5 movie bin, Dollar Tree, or order a few romantic classics on Amazon.
3. "You Have Me Hooked" Tacklebox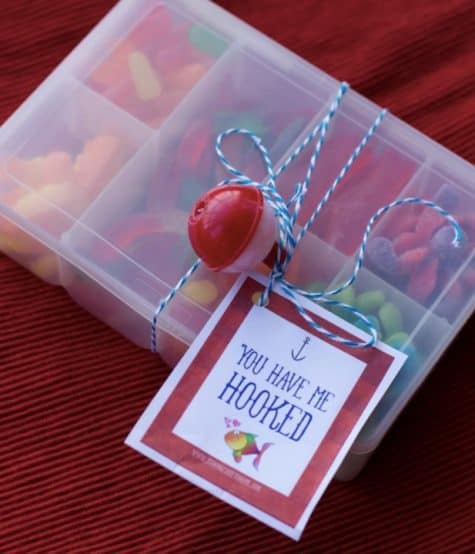 You're going to need to grab some delicious fish candies to create your "You Have Me Hooked" Tacklebox.
If your guy loves fishing, this is the perfect DIY Valentine's Day gift for him. It's inexpensive, clever, a little bit cheesy (the best kind of gift), and shows he's got your heart.
Close To Home provides the tutorial on how to make this cute DIY gift idea.
4. "52 Things I Love About You" Card Flip Book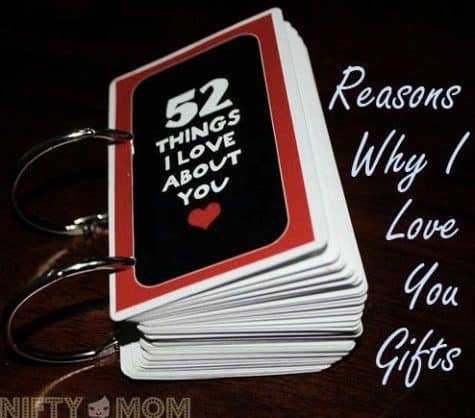 If you want your husband or boyfriend to feel loved, this book from Paper Vine will surely do the trick. 52 times to be exact! Paper Vine's tutorial will show you how to make a deck of cards into a flip book.
If you need more inspiration on 52 things you love about your guy, Samatha's got you covered.
5. Brown Paper Package Tied Up With String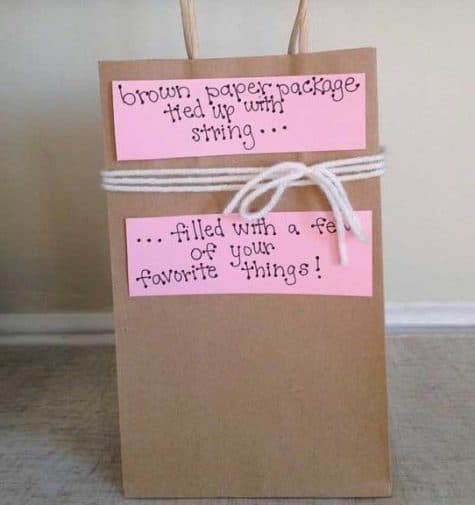 This cute idea will definitely make your man happy because who doesn't love receiving their favorite things? Fill the bag with simple items such as a photo frame of the two of you, his favorite candy or baked good, his favorite snack, his favorite movie, coupons for a date to a baseball game, and more.
Thanks to the newlyweds cookbook for this creative and cute idea!
6. Adventure Fund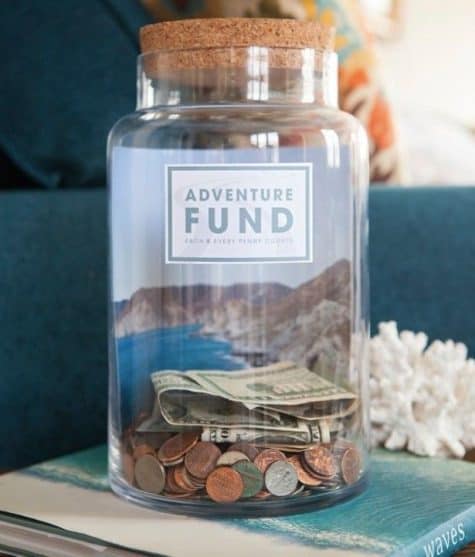 This creative idea (an Adventure Fund) that comes from the movie Up is so cute and a great way to work hard toward something you can enjoy together. Decorate a cute "adventure fund jar" like this one from Something Turquoise and start the fund off with a crisp $20 (or more if you desire).
Then the two of you can decide where you'd like your adventure to be and add to it throughout the year until you've reached your goal. The final result will be an awesome adventure the two of you can enjoy and make tons of memories from.
See Also: 20 Ways to Simplify Your Life and Find True Happiness
7. "I Love You Because _________"
Mara Yeager over at Super Savings nailed it with this DIY Valentine's Day gift for him. Give him this frame with a cute "I love you because _____" and fill in the blank!
Then have your boyfriend or husband hang it somewhere where you can write something new each day. It's the romantic gift that keeps on giving and he'll always know how much you love and appreciate him.
8. A Year Of Dates In A Box For Your Boyfriend (or Husband)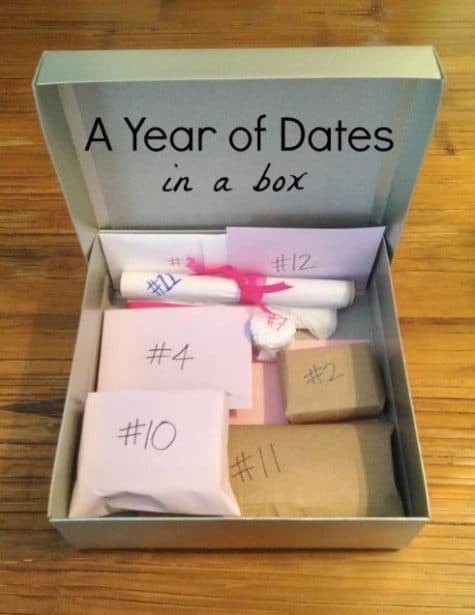 This DIY Valentine's Day gift idea from The Babes Ruth will guarantee you spend quality time with your man for the next year. She provides 12 detailed date ideas with everything you'll need to create the perfect dates that are original and super fun. They are all affordable and outside the box, so you won't have to resort to "dinner and a movie" when you're all out of cute ideas.
See Also: 20 Brilliant Date Ideas Under $20 That Are Sure to Bring Back the Spark
9. Adventure Box Gift Ideas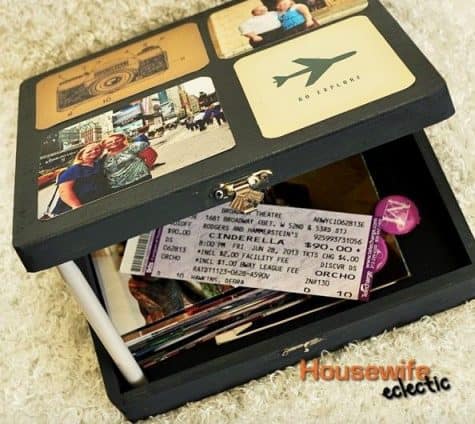 Decorate and fill a shoe box with memories (photos, ticket stubs, mementos) from all your favorite adventures/vacations you've been on with your guy. From last summer's beach vacation to your favorite hike you accomplished together, he'll love reminiscing on all your favorite memories together.
You could even write little notes on the back of the photos about what you loved most from that memory/adventure.
Find inspiration for decorating your adventure box on housewife eclectic.
10. Memory Shadow Box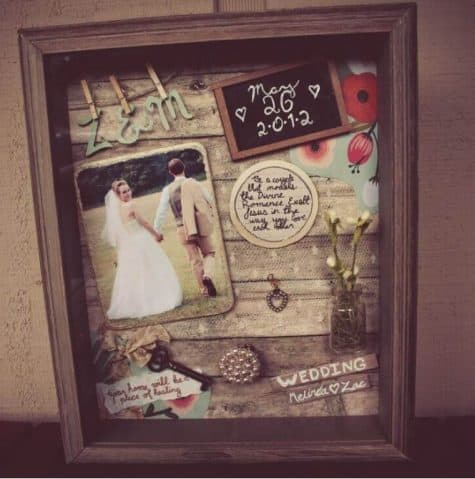 If you like the idea of the adventure box but would rather your man be able to display the memories to see for years to come, make him a romantic memory shadow box like one of these from CueThat.
11. Creative Coupon Book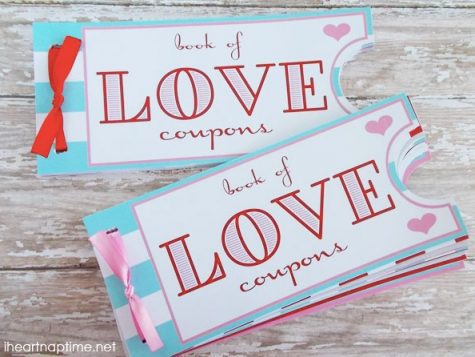 Show your man your affection by giving him a coupon book of things you will lovingly do for him, such as breakfast in bed and a half hour back rub. The best part about these cute coupons by i heart naptime is they're free.
---
See? It's not so hard finding DIY Valentine's day gift ideas for him that are affordable and thoughtful.
If you have any other DIY Valentine's day gifts for him that you know boyfriends and husbands everywhere will love, feel free to share them below!
See Also: How to Find Cheap Christmas Gifts and Save Money This Holiday Season
You May Also Like