ShutterOK | SHUTTERSTOCK
Want to learn new ways to make
extra money

?

Join 1,000,000+ monthly readers in getting updates and cool freebies:
Our number one goal at DollarSprout is to help readers improve their financial lives, and we regularly partner with companies that share that same vision. Some of the links in this post may be from our partners. Here's how we make money.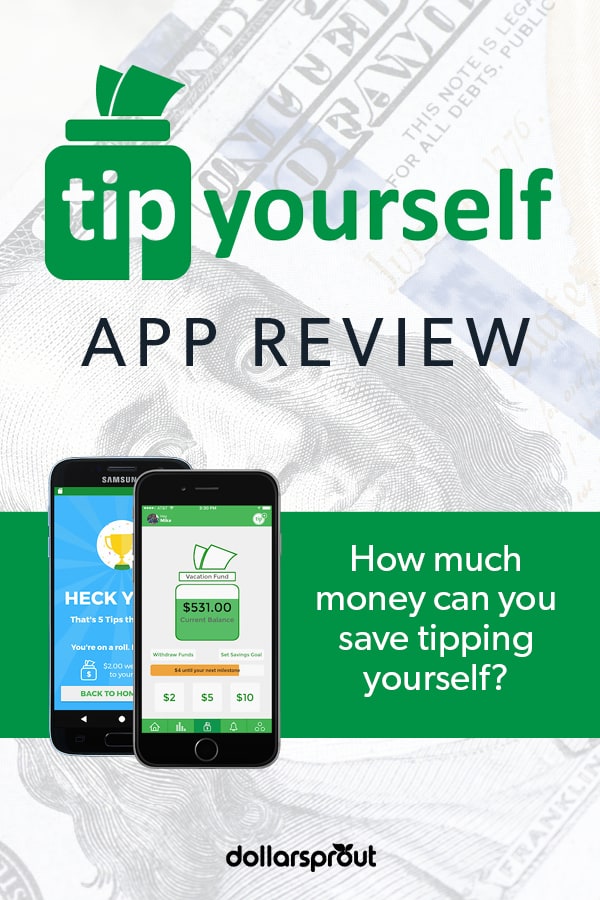 In this review of Tip Yourself, we cover how this savings app works and whether it's the right choice to help you build your nest egg.
Saving money is hard, and not just because sometimes you don't have enough to make ends meet. Remembering to set money aside – and building the habit of saving – can be just as difficult as having the money available to save.
Tip Yourself is an app that aims to make saving fun, helping people get into the habit of saving money regularly.
Tip Yourself Review at a Glance
Pros:
No fees
Easy to transfer money to your "Tip Jar"
Build good savings habits
Save toward multiple goals
Cons:
Money in your Tip Jars don't earn interest
Limit to the number of Tip Jars you can have
Best for: Tip Yourself is designed for people who want to start saving, but have trouble actually setting aside their money. If opening a savings account sounds like too much work, you might enjoy using Tip Yourself.
What is Tip Yourself?
Tip Yourself is a smartphone app, available on both iPhone and Android, designed to help people save more money. Tip Yourself started with the idea that people who don't save money just haven't built the habit of saving yet. It's not about finding the right spreadsheet or earning enough money – it's about consistent, deliberate practice.
Tip Yourself makes it easy to set money aside so people get in the habit of saving. The process relies on the idea that tipping yourself should be a reward for doing something like avoiding an impulse purchase or going to the gym.
Getting Started
Getting started with Tip Yourself is simple. Make an account, link your bank and you're ready to go. There's no need to configure settings or set up automatic transfers like other savings apps.
The only setup required after creating an account is verifying your bank information. Tip Yourself will make two small deposits less than $1 to your checking account, and you verify your account by telling Tip Yourself the amount deposited. After that, you're ready to start transferring funds to and from your Tip Jar.
Saving Money
Once you've set up Tip Yourself, the rest is up to you. The basic version doesn't involve any automatic transfers or other savings rules. You simply add more money to your Tip Jar when you want to.
To add money, just open the app and click the + button to make a deposit of $2, $5, or $10. You can also make a custom deposit of a different amount.
When you make a deposit to your Tip Jar, the money will automatically be moved from your linked checking account. Deposits made before 5 p.m. are usually processed by the next business day. Deposits made after 5 p.m. take two business days. In some cases, it can take up to three days for transactions to clear.
If you have multiple goals you want to save toward, you can create multiple Tip Jars. Each jar can be used to track a different goal, like a vacation, new laptop or down payment. You'll be prompted to choose the Tip Jar you want to add money to when you make a deposit.
So when should you use Tip Yourself to set money aside? The answer is simple – whenever you want. Tip Yourself's goal is to make saving fun and to help encourage good habits. Maybe you want to add some money to your tip jar every week. Maybe you want to give yourself a tip when you skip Postmates in lieu of making dinner.
Tip Yourself offers a few suggestions for when you should add some money to your Tip Jar.
When you go to the gym
When you buy something on sale
When you skip an impulse purchase
When you go under budget

Making Withdrawals
Making withdrawals from your Tip Jar is just as easy as making a deposit. Open the app and choose the Tip Jar you want to take money from. Enter the amount you want to withdraw, and the money will be transferred to your linked checking account.
Just like deposits, most transactions will clear within one to two business days, though some can take as long as three business days to clear.
Tip Yourself Pro
Tip Yourself doesn't charge any fees for its basic service, the company earns its revenue by offering a premium service called Tip Yourself Pro. This service costs $9.99 per year and has a few other features for subscribers.
The first feature is an increase in the number of Tip Jars you can maintain. With Tip Yourself Pro, you can have up to 10 separate Tip Jars, making it easy for you to track a variety of goals.
Tip Yourself Pro also unlocks the ability to use different types of Tip Jar in addition to the standard Tip Jar. The new Tip Jars you can choose from are:
Automated Tip Jar
Hidden Tip Jar
Savings Challenge Tip Jar
The Automated Tip Jar lets you make saving automatic. You can schedule automatic transfers from your checking account to your Tip Jar every week, every other week, every month, or on another schedule that works for you. This can help you save money without thinking about it, but doesn't prevent you from manually adding money to your Tip Jar.
The Hidden Tip Jar hides the amount of money you've deposited to your Tip Jar. When you set up the Hidden Tip Jar, you specify the amount you want to save. You'll get a notification when you hit specific milestones, and a message when you hit your savings goal. The Hidden Tip Jar is designed to help people who are tempted to make withdrawals when they see large balances in their accounts.
The Savings Challenge Tip Jar is designed to help people who want to participate in the 52-week savings challenge. You save $1 in the first week of the year, $2 in the second week of the year, all the way to the last week of the year when you save $52. If you follow through on this plan, you'll have $1,378 in the account. To help you along the way, the Savings Challenge Tip Jar will give you encouragement and savings tips you can use.
Tip Yourself FAQs
Here are the most common questions people have about Tip Yourself.
Does Tip Yourself pay interest?
The money in your Tip Jars does not earn interest. Tip Yourself is designed for people who are just starting to save, or for people who are saving toward small, short-term goals. People who want to earn interest will need to open a savings account.
Is Tip Yourself safe?
Tip Yourself is completely safe to use. It uses bank-level encryption and security software to keep your personal information safe. Tip Yourself also holds your money in FDIC insured accounts. FDIC insurance protects up to $250,000 per depositor, per account type, so you cannot lose money that has been deposited to an FDIC insured account.
Tip Yourself Review Summary
Tip Yourself is a fine way to get into the habit of saving and build up a nest egg for small goals, but it isn't a great long-term plan. Opening a savings account and setting up automatic transfers is a better plan for those looking to save over the long-term.
You May Also Like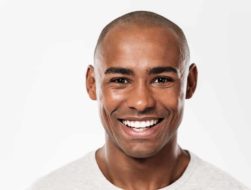 5 Ways One Simple App Boosted My Earning Power
I like to think of myself as a pretty savvy guy.  I'm always looking for the good deals and easy ways to save money. Cash back apps, cash back credit or debit cards. You get the point. When I first started researching for things I should be using, I was overwhelmed with all the options….