Photo Credit © Shutterstock Images
Want to learn new ways to make
extra money

?

Join the family to get updates from us and tons of cool freebies:
Creating a budget isn't all that hard. Sticking to your budget…now, that's a different story.
Overspending is just too easy nowadays.
When you are trying to keep up with friends by going on expensive trips or buying the latest retail fashion, it can be difficult to manage your money successfully.
If you think you have gotten off track, don't feel bad. It happens to all of us at some point or another.
In this article, I'm going to share 6 tips for realistic ways that you can stick to your budget.
How To Make A Budget And Stick To It
Creating a budget these days get increasingly easier by the day with advancements in technology, but sticking to your budget is another story. Let's talk about how how to make a family budget and stick to it once and for all.
1. Use This Free App to Monitor Your Budget
First things first, you need to cover the basics. If you're serious about being smart with your money, you absolutely must be using one of the many free budgeting apps out there on the market.
So, which free budgeting app do I recommend?
Personal Capital offers free financial software service to help users calculate their net worth, set a budget, and manage investments.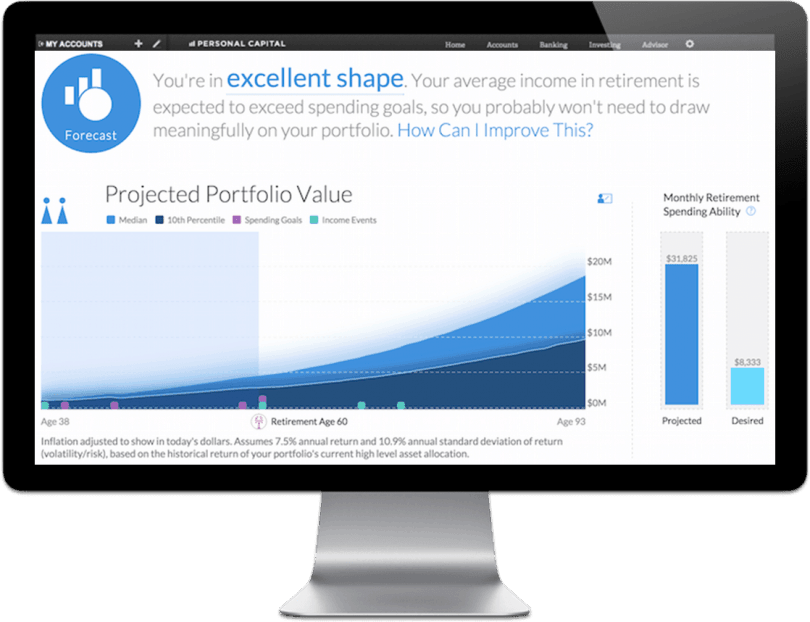 By using the app (it's free), you can do the following:
See all of your financial accounts in one place (this is huge)
Evaluate your spending and saving habits and set retirement goals in real time.
Gain transparency into where your money goes each month, set spending goals and adjust as needed.
Track your investment portfolio allocation
Spot hidden fees in your mutual funds, investment accounts and retirement accounts.
Over 1.3 million people use Personal Capital to track over $312 billion, so they are definitely a very well respected platform.
Related:
Other helpful resources for keeping track of your budget that I recommend:
Mint.com offers an app to manage your income, saving, spending and budgeting. It allows you to combine your bank accounts, mutual funds, IRA and 401(k).
GoodBudget will divide your spending into different categories, and it is a good tool for people that have inconsistent pay schedules (i.e. freelancers).
2. Brown Bag Your Lunch
If you look at your bank statement realizing most of your money is going to restaurants, now is the time to make a change.
Eating out is one of the quickest ways to rack up your spending each month, but the good news is that it's also one of the most fixable things in your budget.
Sticking to your budget means limtiing the number of times that you eat out each month.
Instead of eating out once a week with colleagues, eat out once every two weeks.
And when you do eat out, do yourself a favor and don't order a soda. Drinks are the biggest ripoff, and they aren't even good for you. They're empty calories that also empty your wallet.
On the days that you aren't eating out, bring leftovers from dinner that you made the night before.
And speaking of leftovers, consider joining a service like $5 Meal Plan.
$5 Meal Plan is a weekly meal plan service that can make your meal planning as simple as possible.
Each week, you get a meal plan and a shopping list.
The menu will include:
Five dinner entrees with sides – Each week includes one freezer friendly, one slow cooker, and one 20-minute meal.
Also included is one lunch and one breakfast, plus,
A random goodie each week – sometimes it'll be a dessert, sometimes a beverage, and sometimes it'll be a snack
As the name suggests, each meal is designed to cost under $5. That goes a long way towards helping you stay inside of your budget!
3. Separate Your Bank Accounts
I really like using the "Bucket Approach" to savings and budgeting.
This means actually having multiple bank accounts for various purposes, like entertainment, necessities, education, and long-term savings.
By keeping the accounts separate, you'll be less tempted to take money from one area to cover another part of your budget. It's a great mental tool to help when sticking to your budget!
If you do decide to implement this clever little strategy, I recommend re-evaluating your current bank while you're at it. There are several online banks today that offer interest rates that are substantially higher than the national average.
4. Find Discount Stores In Your Area
You're never too good to shop at Goodwill.
Even if it means driving a little out of your way, it's usually worth it to save 80+% on your clothes.
There are even warehouses in some cities that sell the same merchandise that is sold in retail stores, but at much lower prices.
When sticking to your budget, you can easily stock up on cleaning products and other necessities while you are there and save money on high-quality brands.
If you enjoy eating out at restaurants, find the places that offer low menu prices on certain days of the week. Instead of going to a well-known restaurant franchise, try eating at a smaller establishment, and you will see a difference in food prices.
Will I Need It A Year from Now?
Always ask yourself this question before you pull the trigger on a big purchase.
You'll be surprised at how effective this tactic is for deterring impulse buys.
In order to stick to our budgets, we need to avoid the really costly mistakes. We need to avoid spewing on things that we simply do not need.
That doesn't mean you can't buy fun stuff. I just want you to get in the habit of giving it more thought before you whip out your credit card.
The next time you are window shopping and see a nice dress, ask yourself "will I need this a year from now?"
If the answer is yes, and you have room in your budget, then buy it. The most important thing is to be honest with yourself.
5. Use Creativity While Dating
There is a misconception that dating can be expensive. I'm calling BS on this one.
Here are a few ways to cut down on dating expenses:
Search the internet for free events in your area
Instead of going to the movies make it a Netflix night
Dine in instead of eating out at a restaurant
Groupon offers discounts on entertainment for groups of two or more
6. Sticking to Your Budget
It really all comes down to willpower.
If you care enough about improving your financial health, you will do it.
If you have an addiction to buying retail items, new video games, and tech gadgets, the above tips may help you become a bit smarter with your money. But, ultimately, it's on you to make the right decisions.
Getting on a budget and sticking to it is not too difficult once you've mapped your plan and dedicated yourself to master it.
If you know someone that needs help with staying on a budget, share this post with them.
– By Makeda Waterman. You can follow her on Twitter @YegWriter
More Cool Stuff