Photo Credit © Shutterstock Images
Want to learn new ways to make
extra money

?

Join 1,000,000+ monthly readers in getting updates and cool freebies:
Our number one goal at DollarSprout is to help readers improve their financial lives, and we regularly partner with companies that share that same vision. Some of the links in this post may be from our partners. Here's how we make money.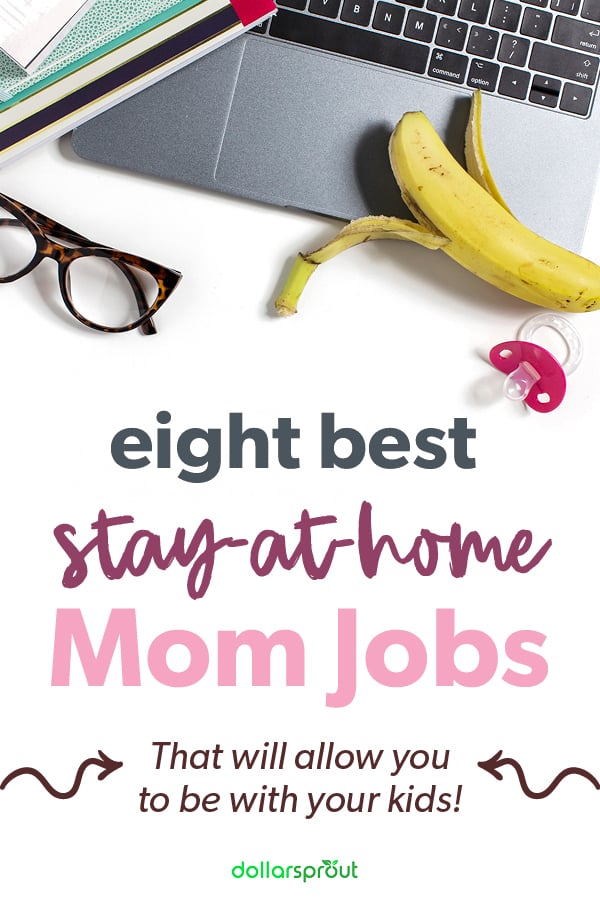 Stay-at-home mom jobs make it easier to be with your kids and still contribute financially to your household.
Being a working mom is hard.
Daycare is expensive, nobody wants to be away from their kids, and finding a job after taking time off to have a baby isn't always easy.
But for many moms, staying home and not working simply isn't an option. That's why more moms are choosing stay-at-home mom jobs, where they can be with their kids and bring in money.
We've compiled a list of the 8 best work-from-home jobs for moms, so you can spend time with your kids and still bring home the bacon.
Why Work from Home?
There are many reasons to work from home. Even people without kids often prefer online jobs that allow them to stay home. Working in your pajamas from the comfort of your couch has obvious benefits. But for mothers, working from home has even more appeal.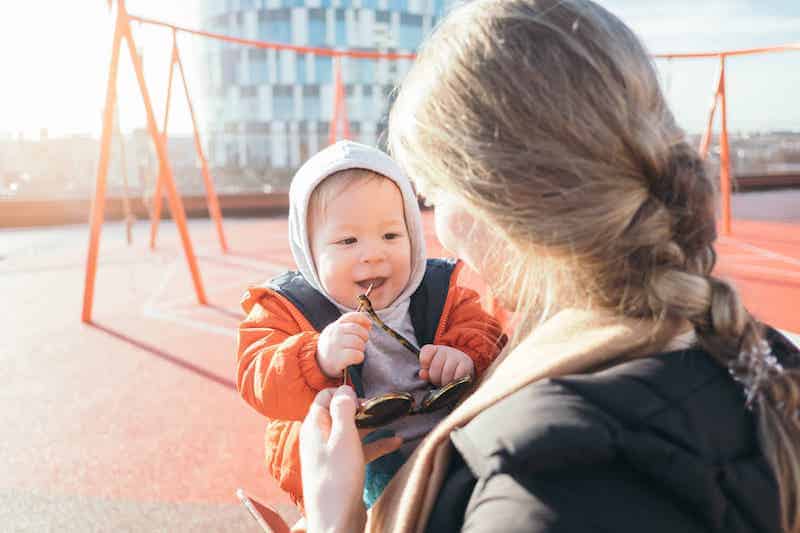 More Time with The Kids
One of the hardest things about being a working mom is spending time away from your kids. Many women choose to quit work and stay home just so they can be with their children.
Of course, that means you lose out on the income you could be making. It's a tough choice that no mom wants to make. But by working from home, you'll be able to spend more time with your kids and still make money.
Flexible Hours
When you have kids, it's hard to work from 9 to 5. Dropping off and picking kids up from school, spending time with them, and driving them to after-school activities can all interfere with a regular work schedule.
Plus, kids' school schedules don't always line up with your work schedule. Finding childcare during summer break, for example, can be tricky.
Working from home allows you to have flexible hours and spend more time with your kids. You'll have the freedom to work when it's convenient for you and your family.
Related: 6 Google Jobs That are Worth Your Time to Apply for Now
No Time Wasted on a Commute
Commuting isn't just annoying, it's also a waste of time. Driving back and forth between work takes up precious time that you could be spending with your kids or just doing other stuff.
The average American worker spends 26 minutes commuting to work. That's nearly an hour a day wasted. Working from home cuts that commute down to nothing and gives you back the time you would otherwise waste sitting in traffic.
Save on Childcare
Childcare is expensive, and according to CNN, the cost is rapidly rising. The average cost for one week of care for just one child is nearly $200. A mom with two kids easily spends over a thousand dollars a month on childcare.
For many moms, it's cheaper to stay home and take care of the kids than to go to work and spend money on daycare. Working from home allows you to avoid pricey childcare while still having a career and making money.
Related: 15 Best Mystery Shopping Companies to Make Extra Money
8 Legitimate Stay-at-Home Mom Jobs
You don't need a college degree or tons of work experience to find a job where you can work from home. There are plenty of career options available that will give you the freedom to stay home with your kids while earning income.
What you choose to do will depend on your talents, interests, and experience. These 8 jobs are all great places for any mom to start, and they don't require any specific education or past work experience.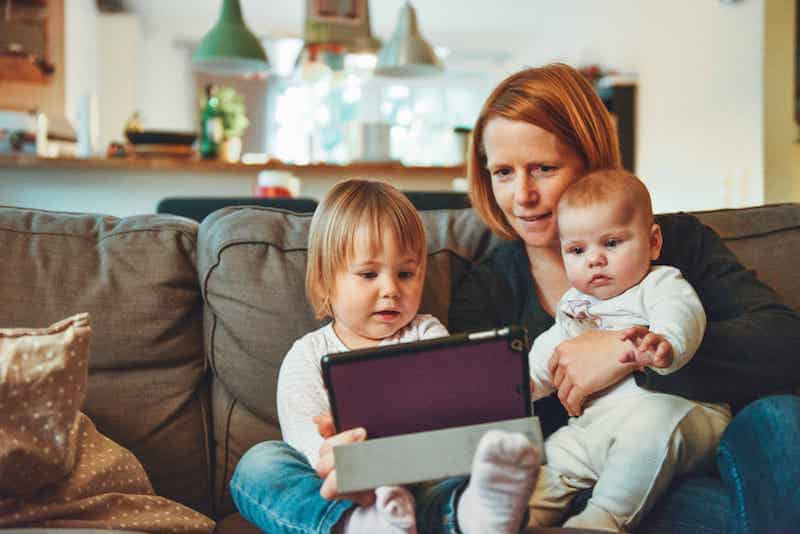 1. Freelance Writing
Freelance writing is a great way to earn money working from home. There are tons of jobs available, and you have the opportunity to use your unique skills and experience to find the right niche for you. This is one of the best jobs for stay-at-home moms.
Some of the best freelance writers earn a six-figure income. That's more than most moms who work outside the home make.
Getting started with freelance writing can be tough. It's hard to find clients and build a portfolio if you don't know where to begin.
Holly Johnson, a six-figure freelance writer with an impressive resume (including Forbes, The Wall Street Journal, and Lifehacker), offers a free workshop for new freelance writers — a great place to start if you're interested in freelance writing as a career.
Creating Blog Content
One way to make money as a freelance writer is to create content for blogs. There are tons of blogs out there who need writers.
Writers for blogs work on a freelance basis to produce articles on various topics. By writing for a blog, you can use your experience and expertise to create content without the hassle of running your own website.
Newsletters
Companies, blogs, and more all need writers to help them craft email newsletters. Newsletters are used to keep in touch with readers or customers. Many sites use weekly newsletters, so there's plenty of writing work to be done.
Email Campaigns
Email marketing campaigns are another way for companies to reach out to customers. In order to capture their attention and make sales, these marketing campaigns have to be well-written. Companies often hire freelance writers for these jobs.
Website Content
Many website owners hire freelance writers to help them fill their sites with content. Website content can take many forms, and there are plenty of opportunities to write in different niches.
Related: How to Get Paid to Write: 10 Websites That Pay for Content
2. Blogging
Blogging is one of the best stay-at-home mom jobs online today. One of the downsides to freelance writing is that you have to search for jobs and write whatever clients request.
By starting your own blog, you control how much work you do and what kind of content you create. Blogging allows you to turn your passions into a source of income.
Of course, blogging requires much more than just writing posts. You'll also need to promote your blog, maintain your website, and deal with the online business side of things.
That said, it can be done! This mom makes some serious money with her blog in as little as 15 hours per week.
Want to see how we built a $1,000,000+/year blog?
In this FREE 7-day email course, you'll join 50,000+ other readers in:
Seeing the exact steps we took to earn our first $1,000 blogging (and beyond).
Starting your own blog (and learning how to write epic, money-making content).
Higher Risk, Higher Reward than Freelancing
Starting a blog is easy, but creating and running a successful blog is tough. It takes time and hard work to get followers and turn your blog into a profitable venture.
Many blogs never make a cent. But those that do make money can make thousands in a single month with very little effort. That's why blogging is riskier than freelancing but offers the potential for greater rewards.
How Do Bloggers Make Money?
On the surface, blogging doesn't seem like a very profitable venture. After all, a blog is just a collection of posts about a topic. Most blogs don't sell products or charge a fee to readers. However, there are several ways you can turn your blog into a source of income.
Affiliate Marketing
Affiliate marketing is one of the best ways to make a full-time income from your blog.
Through affiliate marketing, you promote products to your readers. When they buy a product using a link from your blog, you get paid. It's easy to incorporate affiliate marketing into just about any blog post.
For example, if you have a lifestyle blog where you write about being a stay-at-home mom, you might link to a favorite educational toy that your kids love.
Because your readers trust your opinion, they'll click your link and buy it. Without any extra work on your part, you're making money.
Successful blogger Michelle Schroeder-Gardner of the blog Making Sense of Cents has written extensively about how to make money with affiliate marketing. Her results speak for themselves — she makes about $50,000 per month from affiliate marketing alone.
Display Advertising
Ads are another easy way to make money from your blog. By displaying advertisements on your pages, you can earn money each time someone visits your blog.
To get started, many bloggers use services like Google AdSense. AdSense is easy to use, and you don't need a ton of readers.
Once you've established a large readership, you may want to work with advertisers more directly. Companies will pay big bucks to have their ads displayed on popular blogs where they know tens of thousands of readers will see them.
Sponsorships
Sponsorships may be tougher for new bloggers to find, but they can be a great source of revenue for established blogs. A sponsorship is a little different from advertising.
Instead of just allowing an advertiser to display their ad, bloggers write sponsored posts promoting a product or service for the sponsor.
An established blogger in a particular niche can have a huge influence on their readers, so their testimonial is valuable to companies. Bloggers might be compensated with free products to try out or get paid in cash.
Selling Products
Selling your own products is more labor-intensive than other methods, but many bloggers find that it's a great way to make money blogging. You don't have to make and sell a physical product, either.
Bloggers often sell guides or e-books. This kind of product costs almost nothing to make.
For example, a food blogger might create a recipe book to sell. Once you put it up for sale, you can continue to make money without doing any additional work.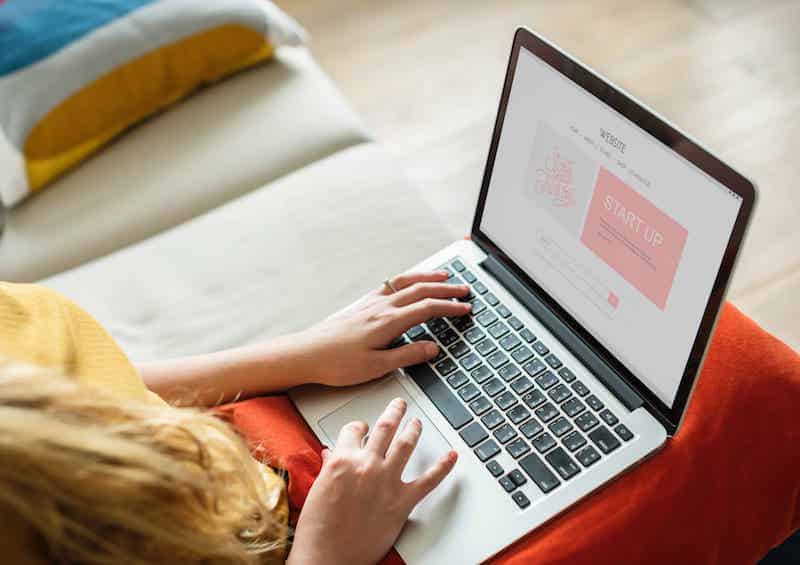 3. Social Media Marketing
Everyone uses social media. That's what makes social media marketing one of the stay-at-home mom jobs with the most opportunity.
If you love posting on Instagram or curating the perfect collection of ideas on Pinterest, you might be pleasantly surprised to know that you can turn this skill into a job that allows you to work from home.
It's more important than ever for brands to have a strong social media presence, and they need people who can help them manage their online appearance.
Many companies hire social media managers to run their social media pages or to help them build their brand online.
Facebook, Instagram, Pinterest Posting
Crafting the perfect post for Facebook, Instagram, or Pinterest is tricky, but it's extremely important for companies looking to get noticed and engage customers.
That's why brands turn to social media experts to create and publish their posts for them. As a social media marketer, you can find work creating content for all kinds of social media pages.
Building Profiles for Brands
In addition to posting online, social media managers help brands create online profiles. There's a lot more to establishing an online presence than just creating a Facebook page.
The job of a social media manager is to ensure brands have up-to-date social media that engages fans and consumers.
Related: How to Become a Virtual Assistant (Earn Up to $25/Hr)
4. Local Marketing Consultant
A local marketing consultant works with small businesses to help them get the word out. Many small local businesses don't have a marketing expert on their staff.
By offering your services on a freelance basis, you can help them improve their marketing while you make money from home on your own time.
Manage Facebook Ads for Local Businesses
Facebook is one of the largest social media sites out there, with over 2 billion active users. That makes it a great platform for businesses looking to advertise.
Even better, Facebook can target users with ads specific to a geographic area, as well as age range, gender, and interests.
But not every local business knows how to take advantage of Facebook ads. Learning how to manage Facebook ads for local businesses can make you a valuable asset.
Bobby Hoyt, who runs the site Millennial Money Man, has an online course that can help you learn how to charge for Facebook ads. His course walks you through everything you need to know to become an expert and start making money.
5. Selling Photos Online
Do you love to take pictures, even just on your phone? Then selling photos online might be a great way for you to stay home with your kids and still make money.
There are websites that will pay you to use your photos as stock photos. It's easy to get started with these sites — just upload your photos. When an individual or company selects your photo for their materials, you get paid.
Shutterstock
Shutterstock is a popular site for stock photography. Anyone can upload their pictures to Shutterstock, even if you're not a professional photographer.
The site makes it easy to get started, with helpful tools like a mobile app. The app lets you upload pictures straight from your phone. Plus, you can browse to see what kinds of pictures clients are searching for.
iStock Photo
iStock is owned by Getty Images, one of the largest stock image companies in the world. With well over a million customers, there's plenty of opportunity to make money.
Unlike Shutterstock, iStock does require you to fill out an application and be approved before you can start selling photos.
6. Freelance Proofreading
Do you have a good eye for detail? Then freelance proofreading might be the perfect work-from-home opportunity for you.
Proofreaders check over documents to ensure there are no mistakes. Many proofreaders work on a freelance basis, so you'll have the freedom to choose when and how much you want to work.
Veteran proofreader and entrepreneur Caitlin Pyle offers a free 76-minute workshop for those considering proofreading as a career. Her workshop covers five signs proofreading could be a good fit for you and how to start booking clients.
Related: How One Woman Made $43,000 as a Part Time Proofreader
7. Online Teaching or Tutoring
Online learning is considered by many to be the future of education. The field is growing quickly and there are tons of jobs available for those looking to teach or tutor online. Even if you don't have a teaching certification, you can still find work as an online teacher.
One way to get started is by teaching English to kids in other countries online. Online English classes are increasingly popular, especially in China.
There are several companies that are always hiring teachers. VIPKID and DaDa are both reputable growing companies that hire English speakers to work with kids in China one-on-one via the internet.
You do need a bachelor's degree to work with either company, but no teaching experience is required.
8. Health Coaching
Health and wellness coaching is a growing industry. With more people than ever looking for ways to get healthy and fit, there is a need for coaches who can help guide them on their fitness journey.
An online health coach gives advice, checks in with clients, and provides encouragement. In most cases, all you need to get started is a passion for health and a desire to help others.
As a health coach, you can choose to work for a company or to work on a freelance basis. There are several companies that offer health coaching services online.
On the other hand, you may want to work as a freelance health coach, so you can enjoy more freedom and set your own hours.
Related: 8 Ways to Improve Your Work Life Balance and Get Your Sanity Back
Other Ways for Stay-at-Home Moms to Make Money
The careers we've listed here are great stay-at-home moms jobs for those who want (or need) a full-time setup. But what about moms who just want to earn a little extra money on the side?
There are plenty of good jobs for stay-at-home moms to make money without the commitment of starting a new career. You won't make as much money, but these ideas can help you get extra cash.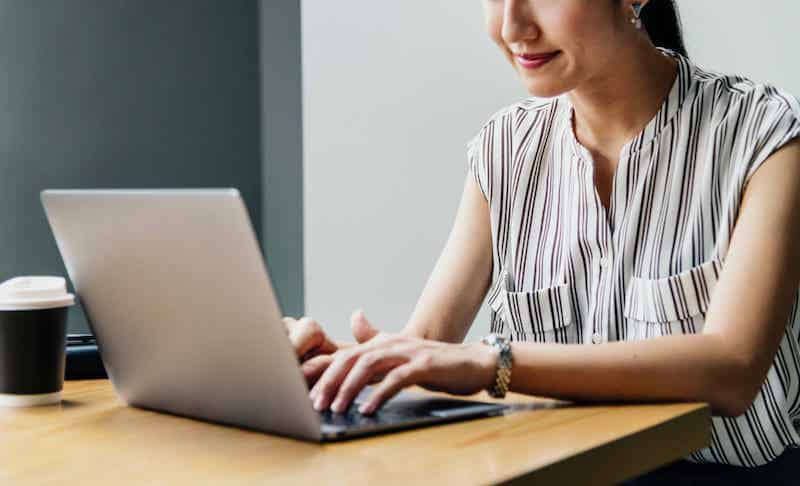 Participate in Market Research
Market research companies need to know what consumers are thinking. To find out, they conduct research through paid online surveys. You can sign up to take these surveys and earn cash and rewards. It's a quick and easy way to make money from home.
There are lots of sites that claim to pay you for taking surveys, but many offer very low pay or are just plain scams. Survey Junkie and Swagbucks are both reliable companies that actually pay you to take surveys.
Swagbucks
Swagbucks offers rewards for taking surveys, watching videos, doing online searches, and even shopping online.
Better yet, they give you a free $10 just for signing up.
Each activity has a predetermined number of points that, once earned, can be redeemed for gift cards or money. (Swagbucks has a large selection of gift cards, and it's easy to rack up points due to the variety of ways to earn). See our legit Swagbucks review for more.
Survey Junkie
Survey Junkie is another of the best survey sites out there. Users sign up and can start taking surveys right away. Sure, it's not one of your typical full-time or even part-time stay-at-home mom jobs that pays all the bills, but you can still make some extra cash on the side this way.
Unlike some survey companies, Survey Junkie pays you for every single survey you take, even if you don't meet the qualifications the company is looking for in that particular survey.
For every survey you take on Survey Junkie, you earn points. The number of points depends on the survey. Every 100 points are worth $1, and you can cash out via PayPal or get gift cards once you've earned 1,000 points, or $10.
Related: Can You Really Make Money from Survey Junkie? Here's Our Review
Drive with Uber or Lyft
Driving with Uber or Lyft is a great way to make extra cash, though you will have to leave the house to do it. Both services offer flexible hours and good pay for drivers.
You can choose how much you want to work and when you work. However, you may find that certain hours are better than others for making the most money. Both services do have some requirements for your vehicle. It has to be under a certain age and it must be able to fit a certain number of passengers, though requirements vary depending on which company you drive for and where you live.
Lyft is currently offering a $1000 sign-up bonus for new drivers who complete their first 125 rides in 30 days.
If you need some extra guidance, read our full manual on how to become a Lyft driver.
Convert a Spare Room into an Airbnb Rental
Airbnb is not only a great way to save money on hotel rooms when vacationing, but it can also be a great way to make money without leaving the house.
If you have a spare room, turn it into an Airbnb rental. Guests will pay to stay there and you get extra income from a room you weren't using anyway.
Earning potential varies widely with Airbnb. Guests will pay more for rooms with added features, like a private entrance or bathroom. You'll also earn more if you live in a place where tourists frequently visit, such as a major city or a resort town.
For more tips on this side hustle, check out our complete guide to making money as an Airbnb host.
How Much Money Can A Stay-at-Home Mom Earn?
As a stay-at-home mom, you can earn more money than plenty of people who work outside the home. Of course, you have to put in the hard work to build a business and make it successful, but there is no shortage of legitimate work-at-home jobs for moms.
As you can see, there are plenty of careers for stay-at-home moms to make a great income. Many moms who work online earn six-figure incomes. Others choose to work only part-time and earn some extra spending money.
The amount you earn depends on your goals and how hard you're willing to work to reach them.
Ready to be a work-from-home mom and land one of your first stay-at-home mom jobs? Do you have any other work from home ideas? Share them in the comments!
You May Also Like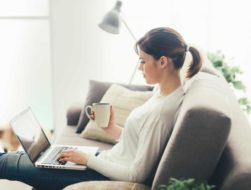 24 Best Work from Home Jobs for 2019
Work from home jobs have exploded in popularity over the past ten years. See why so many people are ditching the traditional 9 to 5 for legitimate, high-paying home-based jobs.