Photo Credit © Shutterstock Images
Want to learn new ways to make
extra money

?

Join 1,000,000+ monthly readers in getting updates and cool freebies:
Our number one goal at DollarSprout is to help readers improve their financial lives, and we regularly partner with companies that share that same vision. Some of the links in this post may be from our partners. Here's how we make money.
Being a smart consumer is about much more than just tucking away a few dollars every month.
It's about arming yourself with the knowledge you need to manage your money wisely, like how to budget, pay off debt, and save money on everyday purchases.
Judging by the data, most Americans are still struggling with the basics.
According to the National Foundation for Credit Counseling:
25% of Americans do not pay their bills on time

38% carry month-to-month credit card debt

8% have debts currently in collections

Millennial women (ages 18-34) in particular are driving the growth in the ranks of those not paying bills on time
However, it's not all doom and gloom when it comes to consumer behavior. The most recent survey turned up some promising trends as well:
29% of adults are saving more now than they did last year

More adults (37% in 2018 vs. 32% in 2017) are using 401k plans to save for retirement

51% of adults are spending the same as last year while 25% are spending less
With wages relatively flat-lined and the job market getting tighter, many consumers are responding by getting smarter with how they save and spend.
We set out to see which states are ahead of the game in terms of consumer savvy.
In our study, we compiled data on the average credit score, credit card debt, and retirement savings for each state. We also looked at Google Trends search data for coupon- and personal-finance related searches.
We then assigned each of these five categories a percentage and calculated the weighted to determine each state's score:
The Top 10 U.S. States with the Savviest Consumers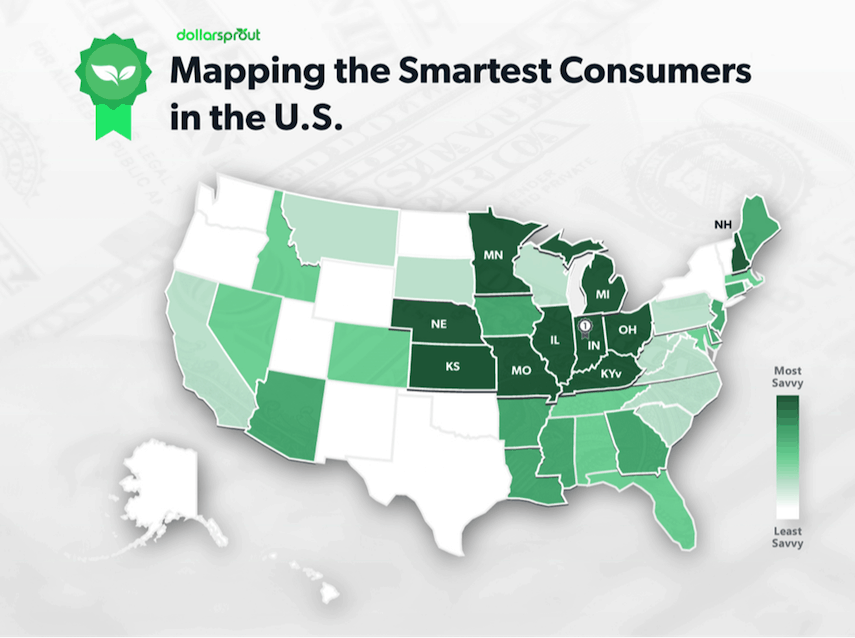 1. Indiana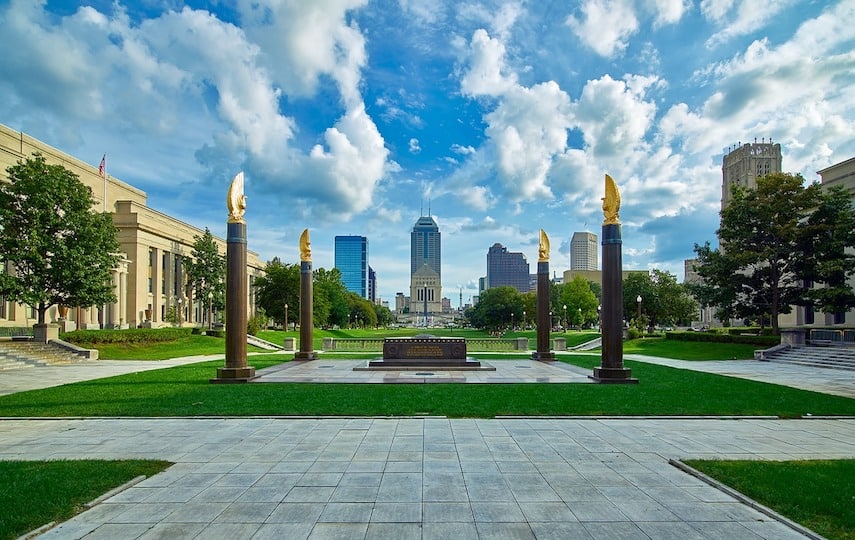 It seems that Hoosiers spend a lot of time beefing up their personal finance knowledge and searching for savings through coupons. Consumers in Indiana also fall on the higher end for credit scores and the lower end for credit debt, a nice one-two punch of consumer know-how.
2. Kentucky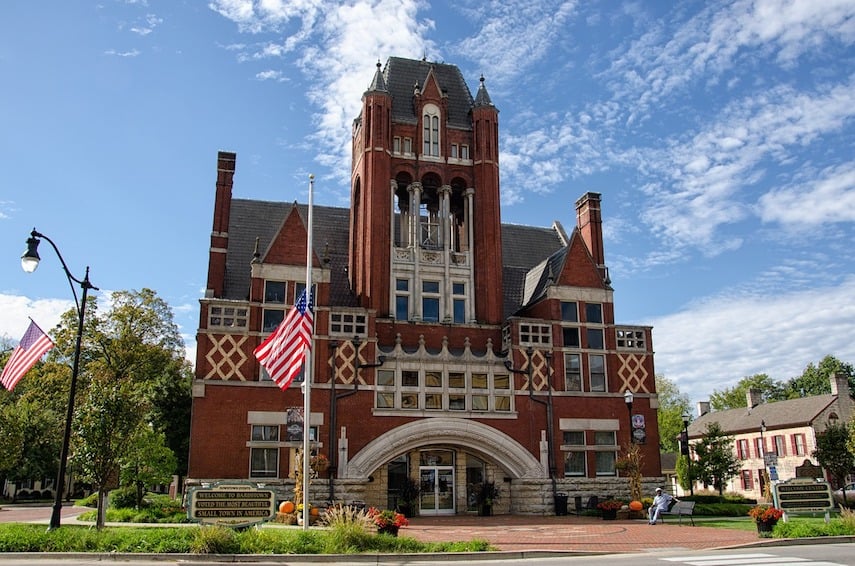 The Bluegrass state claims the second spot. Kentucky shows high search frequency for coupon-related savings and personal finance knowledge. While credit card debt is a bit high, credit scores surpass many other states to even things out for the wise consumers of Kentucky.
3. Minnesota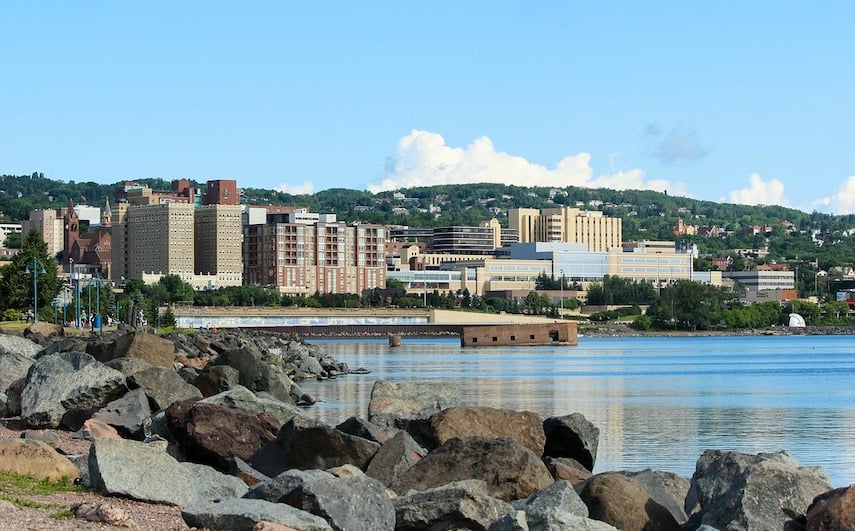 As you might expect, citizens in the state known for their niceness take their credit scores very seriously. In fact, Minnesota boasts the highest average credit score in the country. Minnesotans also enjoy relatively high levels of retirement savings.
4. New Hampshire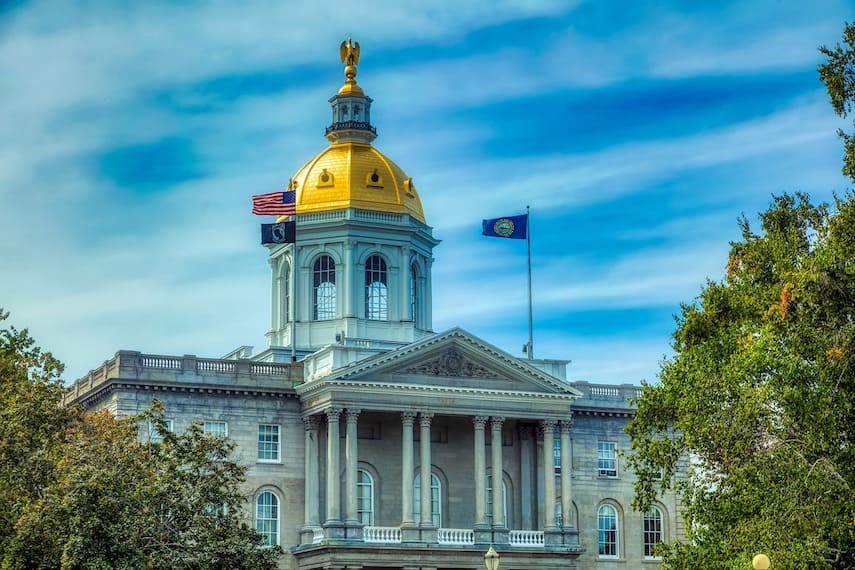 With an average credit score pushing close to 700 and one of the highest rates of retirement savings in the country, consumers in the Granite State are some of the savviest in the country. New Hampshirites are also good at keeping their credit card debt in check with relatively low rates in that department.
5. Missouri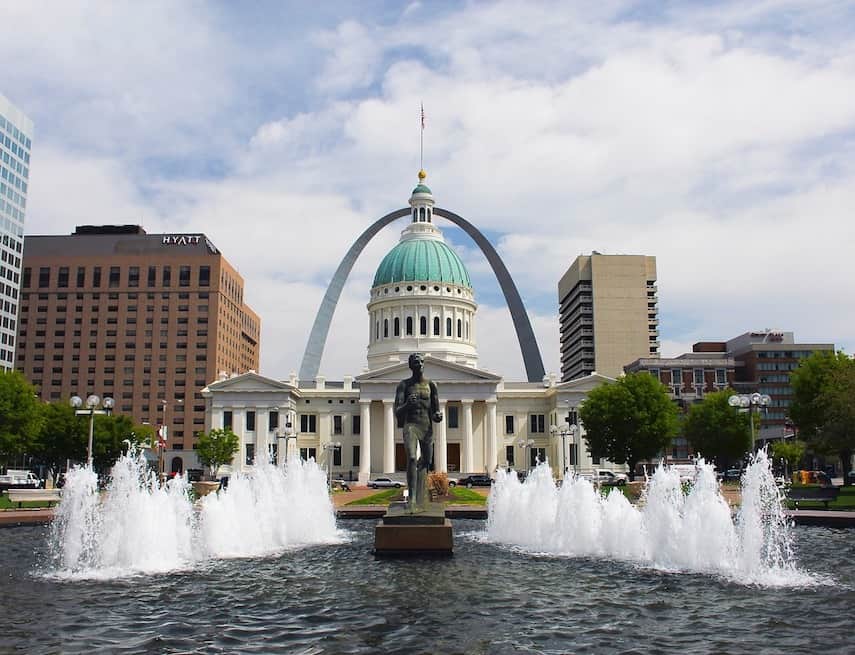 Consumers in this Midwestern bastion of financial freedom are on top of their coupons and personal finance research. They're also adept at keeping their credit card debt remarkably low in comparison to their peers in other states.
6. Ohio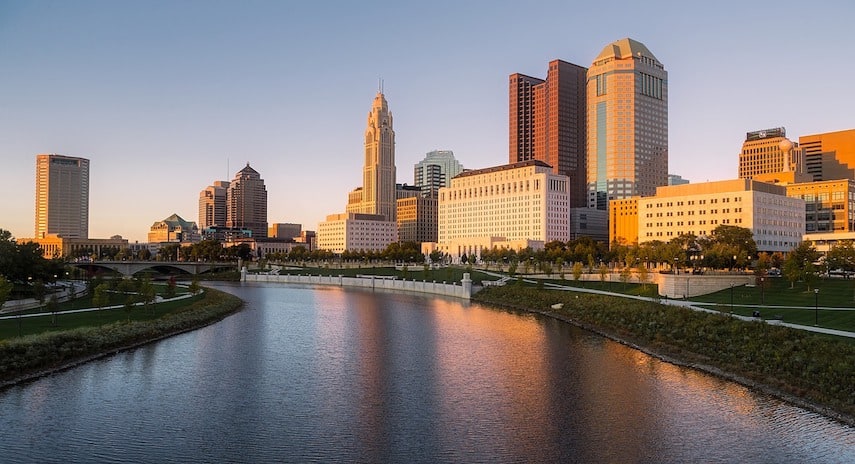 No other state searches for coupons more than consumers from the Buckeye State. They're top of the heap in that department. Paired with tremendously low credit card debt and robust retirement savings, Ohio is a great spot for smart consumers.
7. Nebraska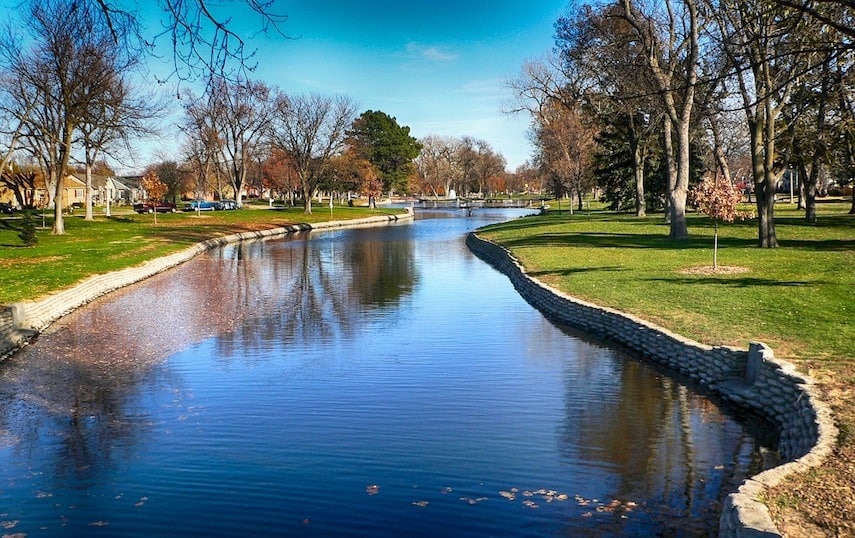 Across the board, consumers in Nebraska are clocking in with high retirement savings, low credit card debt, and high coupon search volume. This state is an example of an overall healthy consumer financial picture.
8. Kansas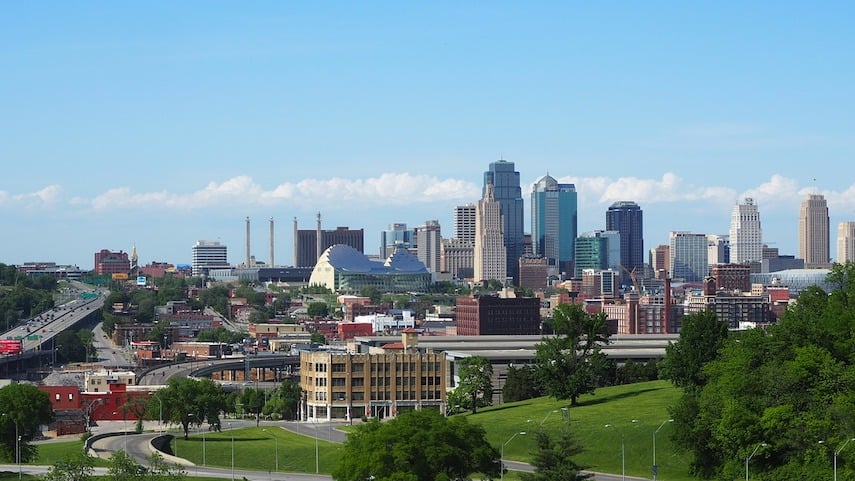 With relatively high coupon search rates and solid average credit scores, Kansas consumers have a steady hand on their finances. Despite higher than average credit card debt, retirement savings are and personal finance-related searches are up.
9. Michigan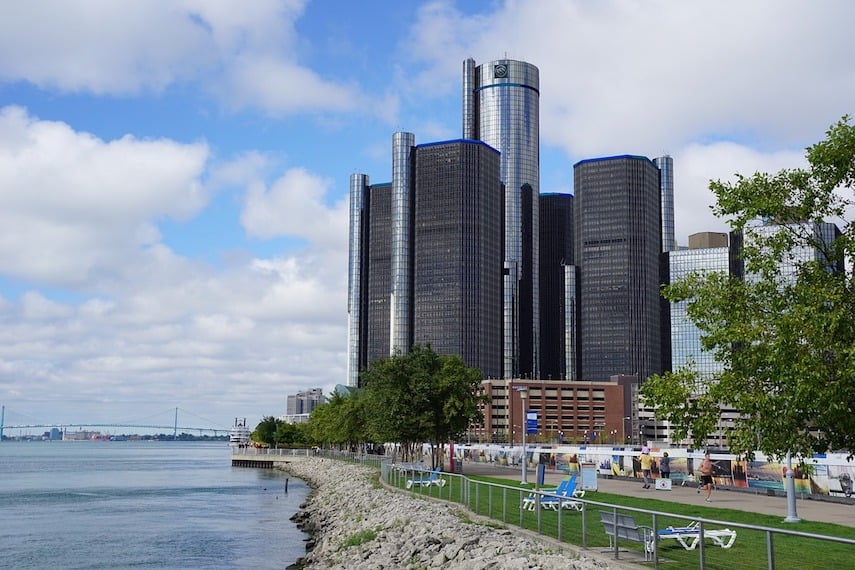 Just behind its neighbor and rival Ohio in coupon searches, Michigan consumers also come through with low credit debt and very robust retirement savings. Consumers in Ohio really know how to handle their wallets.
10. Illinois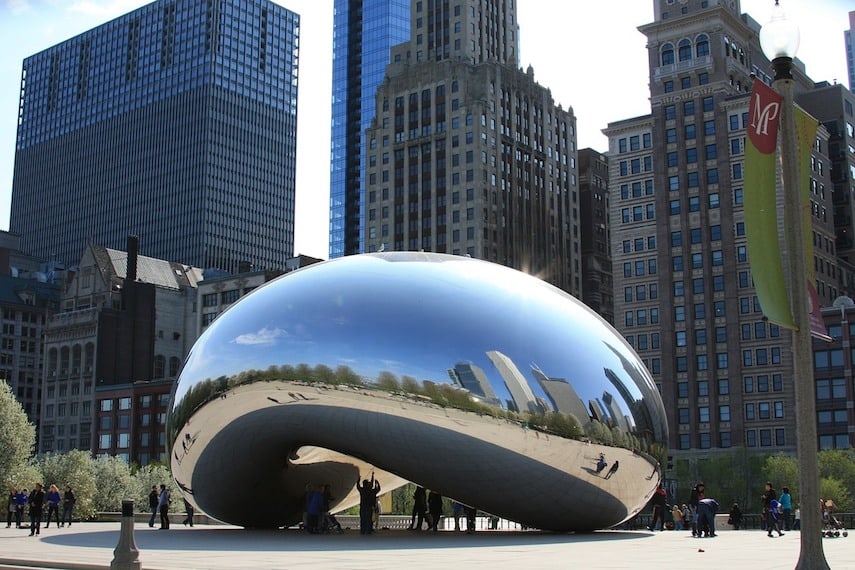 With high coupon search rates, leading average credit scores, and significant retirement savings, the Land of Lincoln makes the top of the list. Consumers in Illinois perform well in a number of categories. Despite higher-than-average credit debt, Illinois is still home to smarter-than-average spenders.
| | | | | | | |
| --- | --- | --- | --- | --- | --- | --- |
| Rank | State | Coupon | Avg Credit Debt | Avg Credit Score | Avg Retirement Savings | Personal Finance Search Volume |
| 1 | Indiana | 91 | $6,958 | 683 | $212,908 | 100 |
| 2 | Kentucky | 84 | $7,190 | 663 | $217,860 | 61 |
| 3 | Minnesota | 68 | $6,761 | 709 | $234,106 | 47 |
| 4 | New Hampshire | 67 | $6,838 | 695 | $264,624 | 41 |
| 5 | Missouri | 80 | $6,491 | 647 | $213,408 | 77 |
| 6 | Ohio | 100 | $5,446 | 678 | $222,700 | 42 |
| 7 | Nebraska | 66 | $6,180 | 666 | $233,910 | 53 |
| 8 | Kansas | 64 | $7,040 | 680 | $202,358 | 50 |
| 9 | Michigan | 95 | $6,082 | 677 | $241,395 | 44 |
| 10 | Illinois | 89 | $7,278 | 681 | $223,238 | 51 |
Related: Top U.S. States for Entrepreneurs and Small Businesses in 2019
More Research Studies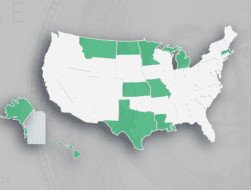 10 Best States for Entrepreneurs & Small Businesses in the U.S.
Location matters when it comes to starting a new business. We analyzed all 50 U.S. states to determine the most entrepreneur-friendly places to start a business. Our research focused on three of the most important considerations for new business owners: cost, opportunity, and viability.