G-Stock Studio | Shutterstock
Want to learn new ways to make
extra money

?

Join 1,000,000+ monthly readers in getting updates and cool freebies: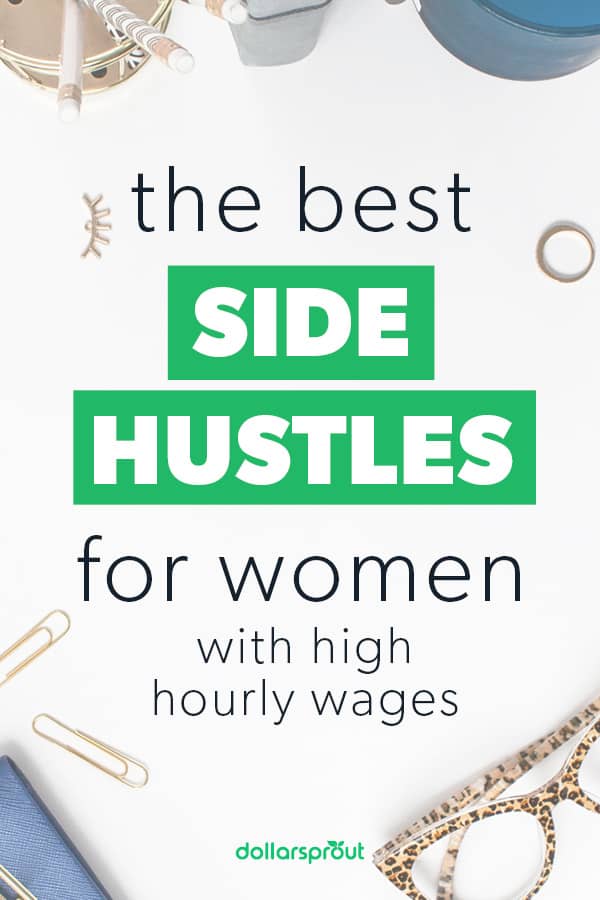 If you're looking for a way to make some extra cash, a side hustle may be right for you.
With a side hustle, you can pay off debt, pad your emergency fund, save for your child's college, or even enjoy some luxuries like regular manicures or designer clothing.
I turned my four-year freelance writing side hustle into a full-time career. Now I work from the comfort of my own home, make a great living, and enjoy a strong work-life balance.
I'm thankful I took a chance and pursued freelance writing on this side because of what it has added to my life.
Even if you're not interested in writing, there are a variety of side hustles for women. Whether you work part time or full time or stay at home with your kids, a side hustle can improve your financial situation.
5 of The Best Side Hustles for Women
The best side hustles for women, and really for anyone, are often the ones that don't require large upfront investments yet have a significant growth and earning potential.
1. Facebook Ad Management
How Much it Pays: $1,000 to $2,000 per month with one or two clients
By advertising on Facebook, businesses of all shapes and sizes can target a specific audience by age, interest, or behavior criteria. If you know how to use the Facebook ad system (or can learn how to), business owners will hire you to implement and manage ad campaigns that capture leads and bring in new business.
2. Freelance Writing
How Much it Pays: $2,000 to $10,000 per month depending on what type of clients you have
Freelance writing involves writing quality content for print or online publications. If you're hired as a freelance writer, you may be asked to produce content that will be used for websites, blog posts, brochures, eBooks, or email campaigns. Your content will be used to attract readers or customers and grow websites or businesses.
3. Blogging
How Much it Pays: $300 to $10,000 per month depending on your blog history, traffic, and monetization strategies
A blog is a website that features written content updated on a regular basis. Most businesses today keep a written blog on their website.
A blog can be your main business if you monetize with ads or affiliate marketing. If you choose to sell your own products and services, such as coaching, writing, or virtual assistant services, then you can use a blog to show your expertise in your niche and reach new clients.
4. Proofreading
How Much it Pays: $500 to $1,000 per month depending on how many clients you have
A blogger, author, or court reporter often requires proofreading services to ensure their documents are error-free and ready to be published or distributed. If you pick up a proofreading side hustle, you'll get paid to carefully read text and correct any spelling, grammar, and style errors you find. Proofread for various clients or choose a niche such as law or education.
5. Virtual Assistant
How Much it Pays: $500 to $10,000 per month depending on how many clients you have
The purpose of virtual assisting is to provide administrative support to clients. If you become a virtual assistant, you may be required to manage databases, book flights and hotels, call customers, or even plan events. With your help, your clients will be able to spend their time on other tasks that bring in more money for their business.
5 Side Hustle Ideas for Moms with Busy Kids
Motherhood is a time-consuming endeavor. The good news is there a number of side hustle ideas for moms you can fit into your busy schedule.
6. Online Consignment
How Much it Pays: $100 to $2,000 depending on what and how much you sell
With an online consignment side hustle, you make money by selling quality used goods at a discounted price. You can sell all types of goods including clothing, furniture, home decor, and books to people in your local area or beyond.
7. Flea Market Flipping
How Much It Pays: $200 to $3,000 depending on what and how much you sell
Flea market flipping is when you find great deals on goods like clothing and electronics and then sell them to someone else at a higher price that you paid. To find these goods, you may browse garage sales, outlet stores, and consignment shops and sell them on various selling apps.
8. Social Media Management
How Much It Pays: $2,000 to $10,000 per month
Just about everyone is on social media these days. Therefore, all types of businesses use Facebook, Instagram, LinkedIn, and other social media platforms to advertise their offerings and build their community. As a social media manager, you'll get paid to create and post engaging content while interacting with fans or followers.
9. Product Testing
How Much It Pays: $100 to $300 depending on how many products you test and what company you work for
Product testing involves a business sending you a sample product and paying you in exchange for your honest feedback. It's a great way for businesses to perform market research and figure out how to improve their products. For example, Tide may send you a sample of their new laundry detergent. Once you test it out and review it, you'll get paid.
10. Housekeeping
How Much It Pays: $1,000 to $10,000 per month depending on location, how many clients you have, and the size of their houses
Whether you live in a house, condo, or apartment, housekeeping takes a lot of time and energy. Many people would rather outsource their housekeeping tasks so they can focus on other things. If vacuuming, dusting, and similar tasks don't bother you, consider offering housekeeping services to people in your local area.
5 More Side Jobs for Moms to Supplement Income
These side hustles are ideal if you don't need to create a full-time income but would like to earn some extra cash.
11. Tutoring
How Much It Pays: $1,000 to $4,000 per month depending on how many students you tutor, the subject you specialize in, and your credentials
The goal of tutoring is to help someone improve their skills and knowledge in a certain subject.
Tutoring isn't just limited to young children and teenagers. You can tutor college students or adults in a subject such as algebra, chemistry, or reading. If you scored high on a standardized test like the ACT or LSAT, you could also offer tutoring services to help others prepare for it.
You can tutor online or in person at a library, coffee shop, your home, or even at the homes of your clients.
12. Transcription
How Much It Pays: $1,000 to $2,000 depending on how often you work
Transcription involves listening to recorded audio and typing it to text format. As a transcriptionist, you'll likely get paid per audio hour, so the amount you earn depends on how quickly and how well you transcribe. Transcription jobs require attention to detail and fast typing skills.
13. Delivering Food
How Much It Pays: $200 to $1,000 per month depending on your location, how often you work, and what company you work for
Since people lead busy lives, they'll gladly pay for someone to grocery shop or pick up food for them. You can help these people out while earning some extra cash by delivering food. You may drive to grocery stores or restaurants, pick up orders, and deliver the food to offices or homes.
14. Sell Stock Photos
How Much It Pays: $0.25 to $0.45 per photo, or $50-$200 per month depending on how many photos you take and sell
Stock photos are professional photos of common people, places, landmarks, or events. Businesses use stock photos for their websites and marketing materials. If you like taking pictures, selling stock photography can be a good side hustle. There are a variety of websites and apps that will pay you for your work.
15. Monetize Your Hobby
How Much It Pays: Depends on your hobby
Your hobby can potentially earn you some extra money. For example, if you love to sew, you can sew blankets and sell them online. If you enjoy playing the drums, you can offer drum lessons to people in your neighborhood. Think about how you like to spend your free time and how you can turn your hobby into a side hustle.
5 Extra Income Ideas for Working Moms
If you're a working mom who already earns an income at a day job, there are a number of extra income ideas you may want to consider.
16. Take Paid Surveys
How Much It Pays: $5 to $50 per month depending on how many surveys you take
Companies and brands depend on honest feedback from others to make smart decisions on their products and services. They pay you for your opinion by sending you surveys you can complete in your spare time. While this isn't the most lucrative side hustle, it can give you a bit of extra spending money.
17. Mystery Shopping
How Much It Pays: $200 to $1,000 per month depending on what mystery shopping company you work for and how often you mystery shop
As a mystery shopper, you get paid to visit a store or restaurant and pretend like you're a regular customer so that you can later report your experience. You may be asked to evaluate things like how clean the store was or how the employees treated you. In most cases, you'll be required to buy something, which you'll later get reimbursed for.
18. Become an Airbnb Host
How Much It Pays: $500 to $3,000 per month depending on the space you're renting and its location
Airbnb is a website that connects people who want to rent out space in their home to travelers in their area. If you travel frequently or don't mind hosting strangers in your home, you can make some money as an Airbnb host. This may also be a good option if you have a room in your home you rarely use such as a private-entrance basement or in-law suite.
19. Pet Sitting
How Much It Pays: $500 to $2,000 per month depending on location, what types of pets you sit for, and how often you do it
Pet owners aren't always available to care for their pets. If they work long hours or are out of town, they may hire a pet sitter for their dog, cat, or other animal. If you love pets, pet sitting in your local area may be a good side hustle for you.
20. Babysitting
How Much It Pays: $1,000 to $4,000 per month depending on location, how often you babysit, and how many clients you have
Parents lead busy lives and aren't always available to watch their kids. Whether they're at work, out of town, or even running errands, most parents could benefit from babysitting services. If you don't mind watching other people's kids, babysitting at their home or your own can be a good way to make some extra money.
The more qualifications and experience you list, the more your profile will stand out, and the more likely clients will want to hire you. You could also advertise your babysitting services in local Facebook groups or on Craigslist.
Why You Should Avoid MLMs
Many people think multi-level marketing (MLM) opportunities are the some of the best side hustles for women. While they may seem like a great option at first, once you learn more about them, you'll likely notice some big drawbacks.
They often require their representatives to buy hundreds of dollars (or more) worth of products right off the bat. When you buy these products, there's no guarantee that you're going to be able to sell all or any of them.
Also, MLMs are known to take a large cut of the proceeds their representatives earn. So you may find that an MLM ends up costing you a great deal of time and money and isn't worth it, especially when there are so many other side hustles you can choose from.
There are Many Side Hustles for Women that Pay Well
Whether you're married or single, have kids or no kids, work full time or stay at home, you're bound to find a side hustle that meets your needs.
Before you choose your side hustle, decide on your goals and how much time you have to dedicate. If your schedule is fairly open and flexible and you're just looking for extra spending money, then pet sitting or food delivery may be a good option.
On the other hand, if your goal is to replace your full-time income so you can quit your day job, then you might try something more lucrative like freelance writing, virtual assistant work, or managing Facebook ads for businesses.
Regardless of your situation, a side hustle can help you thrive financially while pursuing a passion or interest and having some fun in the process.
You May Also Like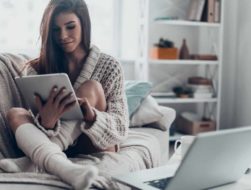 24 Real Ways to Make Money from Home
In a pinch and need a little extra cash? Looking for ways to make money from home? You are not alone. Google logs nearly 250,000,000 (that's 250 million) searches each year by people just like you.