Photo Credit © Shutterstock Images
Want to learn new ways to make
extra money

?

Join the family to get updates from us and tons of cool freebies:
This post may contain affiliate links. Policy Page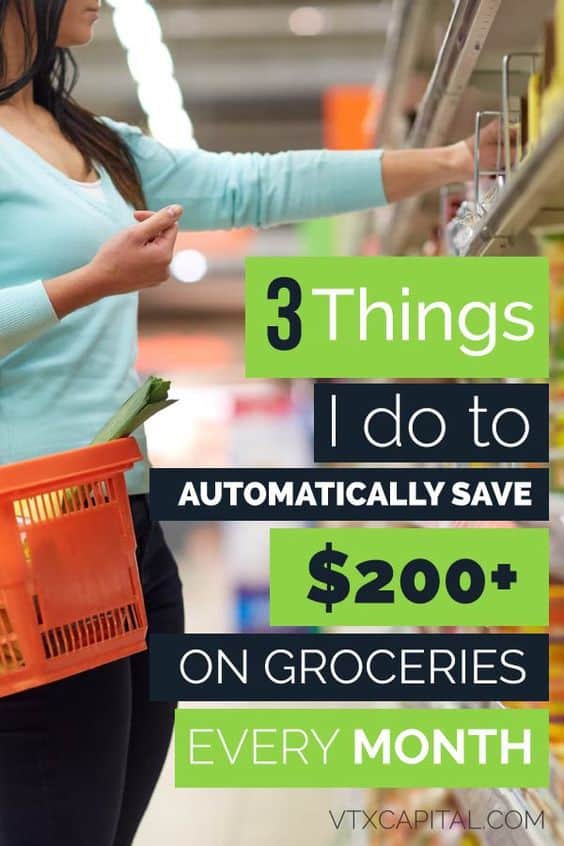 Outside of my rent and car payment, my food bill is always my biggest monthly expense.
As someone who is always looking for ways to make every dollar count, I love learning about new ways to save money on groceries.
As a tech-savvy millennial, I don't have a huge interest in sitting down at the kitchen table and cutting out coupons.
Nor do I really want to sit in line at the grocery store for more than 3 total minutes handing the clerk coupon after coupon as he or she scans them in.
I do however love the fact that I can load up the app store and download a program that automatically helps me save money on groceries each and every time I use it.
If any of this screams "hey, that's so me too!" then read on below to check out my three favorite frugal living tricks to save money on groceries without having to use coupons!
3 Genius Hacks to Save Money on Groceries
1) Know When (and When Not) to Buy Organic
After I graduated college and joined the real world, I started thinking more about the food I was putting into my body. I started making some healthier food choices, including buying organic food.
What I didn't know, is that it's not at all necessary to buy all of your produce organic.
As it turns out, some "non-organic" foods are already being grown with little to no pesticides. That means that there's no need to spend the extra money to buy the organic version- they are virtually the same!
What
not

to buy organic:

Avocados, onions, mango, mushrooms, asparagus, sweet peas, papaya, kiwi, cabbage, watermelon, pineapple, broccoli, and sweet potatoes.
What you

s

hould

buy organic:
Apples, nectarines, celery, grapes, cherries, spinach, strawberries, tomatoes, sweet bell peppers, cherry tomatoes, peaches, and cucumbers.
Also, always be sure to compare prices- sometimes the organic versions are actually cheaper!
2) Use the Ibotta App for Cash Back On Groceries
Ibotta is one of the best money saving apps out there for grocery shoppers and is always being talked about by money saving experts.
The app allows you to save money on groceries by giving you a rebate on virtually any brand of items you buy, including food brands.
To get your cash back, all you have to do is scan the items' barcode, take a photo of your receipt, and the money gets into your account within 48 hours.
You even get $10 just for signing up, and they'll also pay you $10 more for each friend you refer.
Your earnings potential is unlimited. Not bad considering you're helping your friends save money and handing them an extra ten bucks at the same time!
Available On:  iOS | Android | Desktop
---
Another great source for earning cash back on your shopping (plus earning money for taking surveys, playing games, surfing the web, and more), I recommend signing up for Swagbucks. They give you a free $5 signup bonus, and you can start making extra money almost immediately. Definitely worth checking out!

---
3) Save Money on Groceries by Embracing Store Brand Foods
Buying name brand items at the grocery store is right up there with ordering soda at when eating out- it is so bad for your wallet!
By choosing store brand over name brand, I'm able to save up to $50 a week on my groceries.  That comes out to about $200 per month saved, or $2,400 per year. If you were to invest that $2,400 each year and get a 5% return, you will have an extra $304,000 in 40 years. Yeah…give me store brand any day.
What other tips, tricks, or hacks do you know of to save money on groceries?  Let us know in the comments!
Other Articles You May Like: