Photo Credit © Shutterstock Images
Want to learn new ways to make
extra money

?

Join 1,000,000+ monthly readers in getting updates and cool freebies:
Our number one goal at DollarSprout is to help readers improve their financial lives, and we regularly partner with companies that share that same vision. Some of the links in this post may be from our partners. Here's how we make money.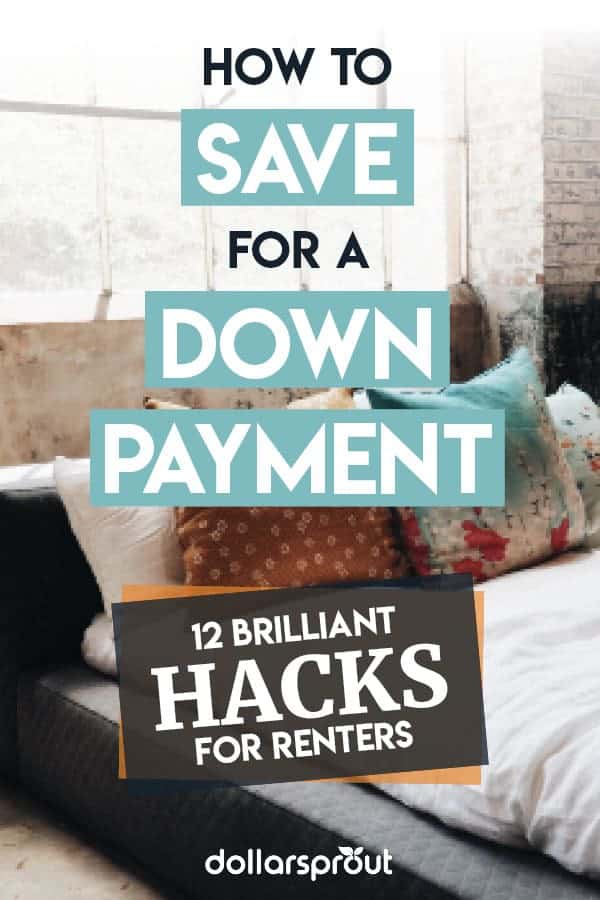 Are you a renter trying to save for a down payment on your first home?
Renters who want to buy a home often find themselves in a difficult catch-22 situation. On one hand, you have to secure somewhere to live for now, and that means spending money on rent. On the other hand, you also need to save money for a down payment on a home. It's hard to do both.
Rising housing costs, especially in urban areas, mean that homeownership among the younger population is on the decline. In fact, 50 percent of renters are putting over 30 percent of their income towards housing.
Paying out so much of your income on rent is a big strain on anyone's budget — but throw in a handful of emergencies and some unexpected expenses, and saving for a down payment seems all but impossible.
However, there are still many who'd love to own their own home.
12 Tips to Help You Save Up For Your Down Payment
Fortunately, even if you're on a tight budget, there are some ways you can build up the funds for the home of your dreams.
Here are 12 tips for saving for a down payment while renting:
1. Figure Out How Much You'll Need
Before setting goals, figure out what the end number is. It takes the average renter six and a half years to save enough for a down payment on a house. Typically, a first-time home buyer needs a 20 percent down payment, although it can range as low as 3.5 percent. Home prices are rising in many areas, so you may want to budget for a bit more than expected in case the price of the type of home you'd like to buy increases.
Once you have a handle on how much you need to save for a down payment, figure out how much flexible spending you have to throw into savings each month. Divide the down payment by the monthly amount you'll save, and you'll have how many months it will take to save your down payment. You can decrease the time by getting a second part-time job or selling things you no longer need. As a bonus, getting rid of clutter by selling it off makes moving easier.
See Also: 9 Steps to Buying Your Own Home (First Time Home Buyer's Guide)
2. Rent an Apartment That Includes Utilities
One way you can predict expenses and budget better is by choosing an apartment that includes utilities in the rent payment. The rent might be a bit more, but you won't have to worry about the fluctuations based on the season. Knowing exactly what your expenses are makes budgeting much easier. Different apartments cover different utilities. Many landlords cover water and sewer for their own benefit. If the renter doesn't pay these bills, a lien may be placed on the property. Some also pay cable, electricity and heating and cooling, although this is rarer.
If you need to repair your credit before buying a home, renting can help with that as well — you won't need excellent credit to secure a rental. A good reference from your last two landlords goes a long way. While you're renting, work on getting your credit score as high as possible and showing you're able to make payments consistently over time. Be very strategic about how you pay your bills.
3. Download a Budget App
Budgeting apps get everyone in the household on the same page and create a category for all expenses. You'll quickly see where you're spending money that you shouldn't, such as on eating out. Cutting these costs allows you to save more quickly for your down payment. If you're unsure how much you've spent out of your entertainment budget for the month, you simply pull up the category on your smartphone, and you'll know if you can go out with your friends that evening or not.
Some of the more popular apps are Every Dollar and Dollarbird. These apps will look at your bank account and track spending. Use that information to set budgets for each spending category. Once you see where your money goes each month, set a goal for saving for a house.
4. Pay Less Down
If you otherwise have excellent credit and are willing to borrow a bit more to cover closing costs, you may be able to qualify for a loan that requires less of a down payment. Saving 10 percent takes less time than 20 percent. However, talk to your lender to see what options this affords you. You may be limited in what houses you can purchase.
Another option is to find a home that is rent-to-own. You'll pay a down payment (usually around 10 percent, but this varies widely) and then make monthly payments toward purchasing the home. This is a good option if you have to rent because you'll be working toward buying something of your own.
5. Relocate
Some areas have more reasonable home costs than others. For example, if you're trying to save a down payment for a house in the Silicon Valley, it could take you as long as 35 years. On the other hand, building up the funds for a home in the Midwest may only take a few years. If your career allows you to move, and you don't mind relocating, seek out job offers in areas where housing prices are lower and incomes higher. This will enable you to achieve the dream of homeownership more quickly.
Before making such a huge decision, though, factor in how often you'll need to visit family in your home state. The costs of flying across the country twice a year might outweigh the savings of home ownership in another area. It is also hard to be away from family, especially if you rely on their help and support often.
6. Pay Off Credit Cards
One of the first things you should do before saving a down payment is pay off credit card debt. The interest rates on credit cards often approach 21 percent. This is only slightly better than borrowing money from a loan shark (perhaps safer, though). The faster you can pay off credit card debt, the better you'll be able to save for a home. Your credit score will improve as well.
If you have one credit card with a $2000 balance on it and an 18% interest rate and you pay a minimum payment of $50 per month, you'll wind up taking 182 months to pay off that card and pay $2,423.19 in interest. What if you could pay that card off quickly and have the money you would have paid in interest to save toward a down payment? Since most people have much more than $2000 in unsecured debt, paying off credit cards is a smart first step before homeownership.
7. Save on Energy Costs
Find smart ways to save on the utilities you do pay. If you are responsible for the electric bill, think of ways to reduce your energy use. Turn off lights when not in use. Install power strips that don't suck energy when devices such as the television or DVD player aren't in use. Make it a goal to save a little more on your energy use each month. Even a difference of $10 is money you can throw toward your down payment on your home.
If you pay the water bill, find ways to reduce your water usage. Take a shorter shower, turn the faucet off while brushing your teeth and reduce the number of loads of laundry. Again, the savings might seem small month-to-month but will add up over time.
8. Ask Family and Friends for Cash Gifts
Share your goals with your family and friends. Tell them you want to own your own home and are saving for the down payment, so you're asking everyone who typically buys you gifts for your birthday and Christmas to instead use that money and donate to the down payment fund. If your parents usually spend $100 or more on you at Christmas, this is a nice addition to your down payment savings.
9. Reduce Your Food Budget
The average family of two adults spends about $625 per month on groceries. This is on a moderate plan that's neither extremely frugal nor extremely luxurious. However, what if you did go extremely frugal for a while? How much could you sock away toward your down payment? What if you ate eggs and toast for one night a week, shopped sale items and used coupons?
Buying items when they are on sale and stockpiling is also a good way to save money on food costs. Probably the most expensive part of most people's food budgets is eating out. If you didn't eat out at all for a year, how much money would you save? You don't even have to be that extreme. You can make simple changes, such as eating out once a week or taking your lunch to work instead of eating lunch out every day. Some people choose to only eat out for their birthday and other special occasions.
How you reduce your food budget is up to you, but since this budget is one of the largest for most families and also one of the easiest to cut down, it's a great place to start when looking for money to save for a down payment on a house.
10. Crowdfund Your Down Payment
Do you have a large group of friends or a large family? They might be willing to help you out if you set up a crowdfunding page. Perhaps you have half of your down payment, but it's taken you forever to save it. The perfect house just went on the market, and you want it now. You won't know if others will help if you don't ask. Go ahead and set up a GoFundMe or other crowdfunding account and explain your situation. Add a photo of the house you'd like to buy. Share the link.
If 100 people give you $20, that's $2000 toward your down payment. While you might not reach your crowdfunding goal, you'll likely be surprised at how many people want to help you achieve your goals.
11. Carpool
Your car probably takes up a lot of your income. If you can get by without one, sell it and carpool or ride your bike to work. You'll save on car payments, maintenance and insurance costs, which can help put you even closer to your dream. However, if you need a car or don't want to be without one, you can still reduce your costs.
Walk or ride your bike to nearby destinations. Find a co-worker who lives near you and take turns driving to work. Cut down on unnecessary trips. Instead of driving to the drug store on Monday and the grocery on Tuesday, wait until Tuesday and go to the drug store and the grocery store. Whenever running errands, plan out your route so you drive in a circle and don't backtrack.
12. Rent Out a Room
Why not purchase your home as an investment property of sorts. If you wind up paying less down and your payment is more than you wanted, rent out a room for extra income. As mentioned before, rent prices are on the rise in most major cities. Young people often can't afford to work, go to school and live on their own. However, they can afford to rent a room in your home.
Another idea is to list an extra room or garage apartment through a site such as Airbnb or HomeAway. You can cash in on big events in your area without having to deal with a renter year-round.
Start Today
Saving for a down payment takes focus and perseverance. The best time to start is now. Figure out what your budget is and how much you can save. Once you have those basic facts laid out, it's much easier to come up with creative ways to bring in additional money and get to your goals faster.
Holly Welles covers finance topics for thrifty renters and homeowners. Want to make the most of your space for less? Learn more by subscribing to her blog over at The Estate Update.