Yuricazac | Shutterstock
Want to learn new ways to make
extra money

?

Join 1,000,000+ monthly readers in getting updates and cool freebies:
Our number one goal at DollarSprout is to help readers improve their financial lives, and we regularly partner with companies that share that same vision. Some of the links in this post may be from our partners. Here's how we make money.
Saving money is not always easy when you're young, but the Rize money app is one of those tools that helps you start saving without noticing a huge difference.
I'm 27.
That's that funny age where you know you need to start saving money like a grown-up, but finding the willpower to do it is… tough.
Maybe you can relate.
But since I have a personal finance blog, sometimes I get the chance to test drive some neat tools designed to help people with their money (and clearly I need all the help I can get, too).
The latest tool I've been playing around with is Rize money.
What is Rize?
Rize money is a new online savings platform that allows you to save automatically each month towards different financial goals. On whatever schedule and pace you choose.
Part of why I've had such a hard time saving over the last few years isn't necessarily a shortage of money — it's not having a good system in place to help me save. So outside of investing for retirement, I'm not really doing a whole lot of saving.
And that's a problem, especially when you start getting texts like this: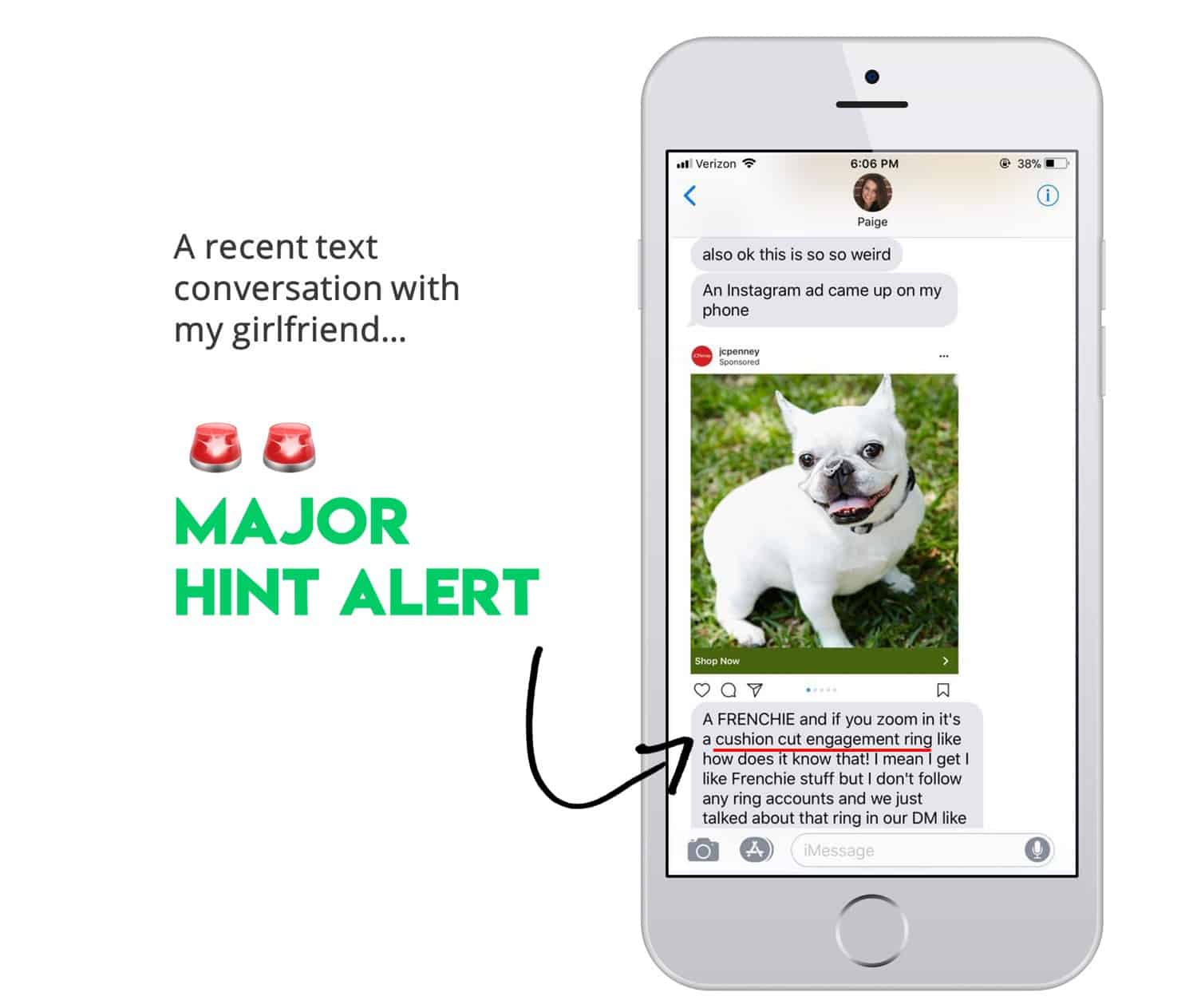 YIKES.
Time to get my act together, right?!
Goal-based savings is where Rize savings comes in
I feel like Rize savings was designed for guys (and girls) like me. I hate saving just for the sake of saving (which is probably why I suck at it). But if I have set goals I want to hit, and I have a way to track them, I might just actually do it.
How Rize money works once you join:
? Choose your goals
? Set your schedule
? Connect your bank
? Automatic, no-stress savings
Not every savings goal has to be a big one, either. One thing I really liked is that you can make as many goals as you want, and everything's easily customized.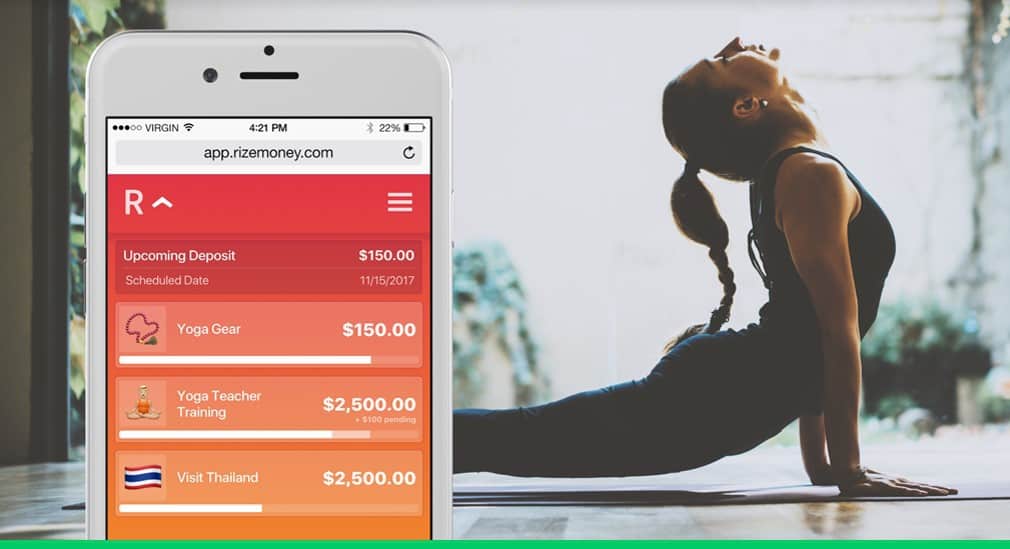 With engagement ring hints being dropped, I decided now was a good time to give Rize a test run and see for myself what it's all about.
How I Started Saving with the Rize Money App
So I'm not kidding when I say this: the entire Rize app registration process literally took me less than 2 minutes.
I actually thought I had missed something; that's how simple it was to get started using the Rize money app. They really do know their target market, haha.
Two things to note:
• Their interest rate is 0.90% APY, which is 15x higher than the national average.
• They will give you a free $5 boost when you open your account.
Opening my Rize money account
I hate paperwork and legal stuff just as much as the next guy, so I was super relieved when I found out I could take care of everything right from my phone. No paperwork and no confusing contracts (who reads those, anyway?!).
Here's how simple it is: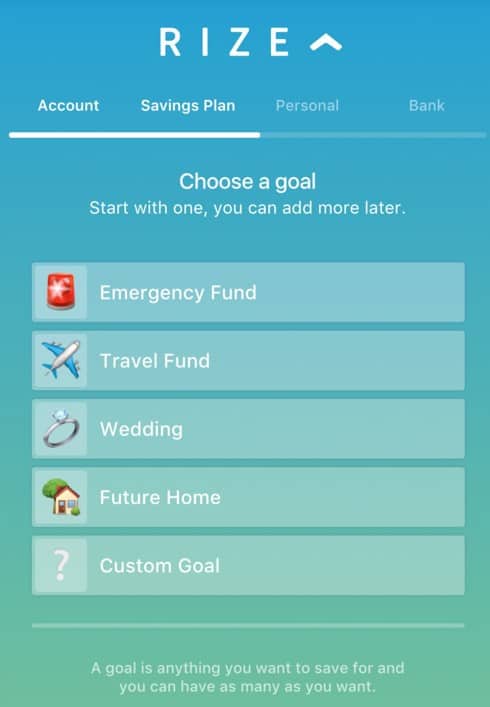 2. I started with just one goal to get a feel for how it works. I like that they didn't demand all my personal info right away.
---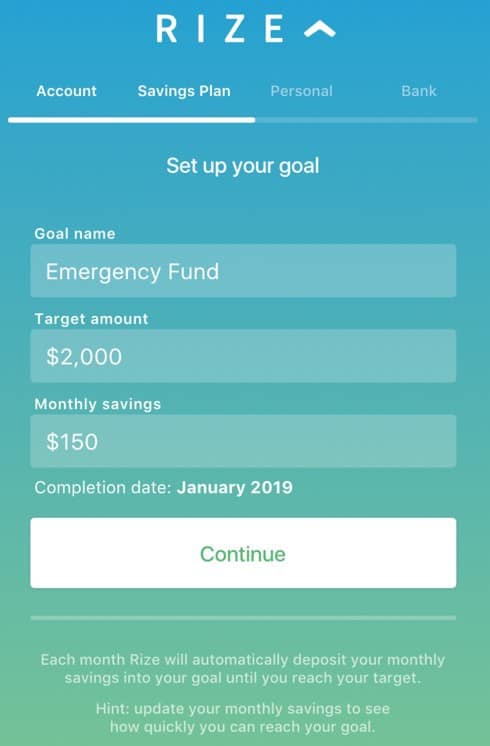 3. More details on your goal. This can be easily edited later.
---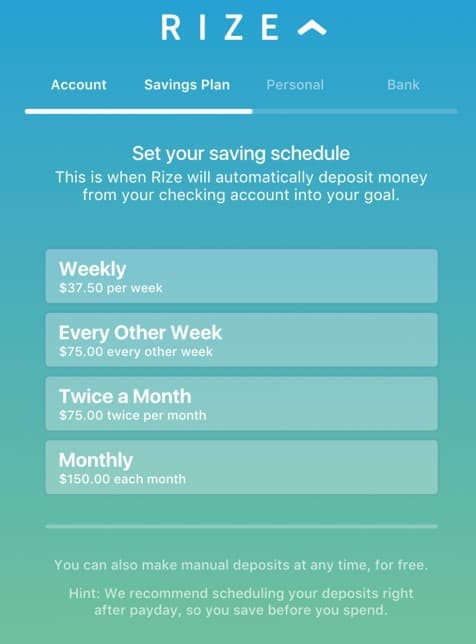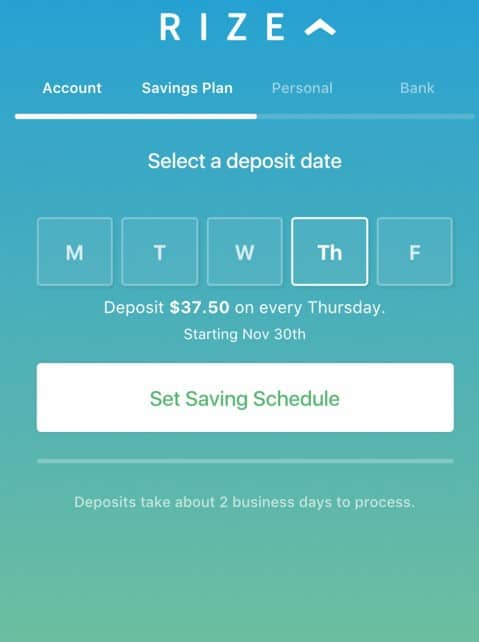 5. Pick the best day of the week for your savings transfers to happen.
---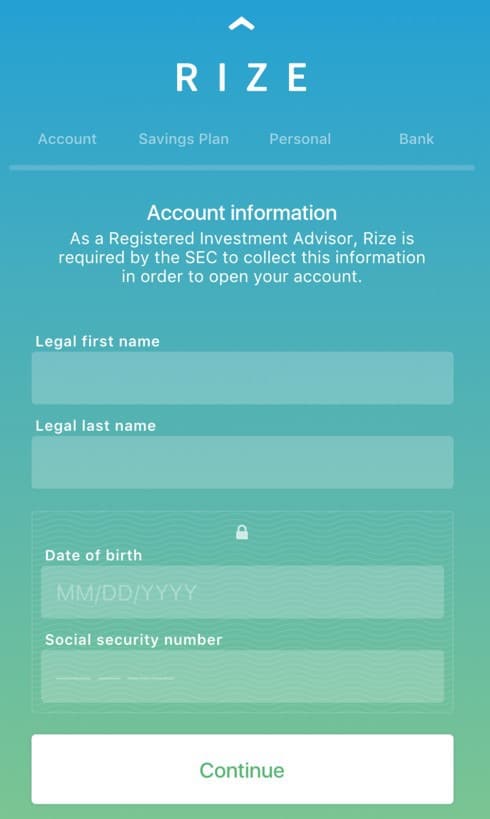 6. Enter personal account information
---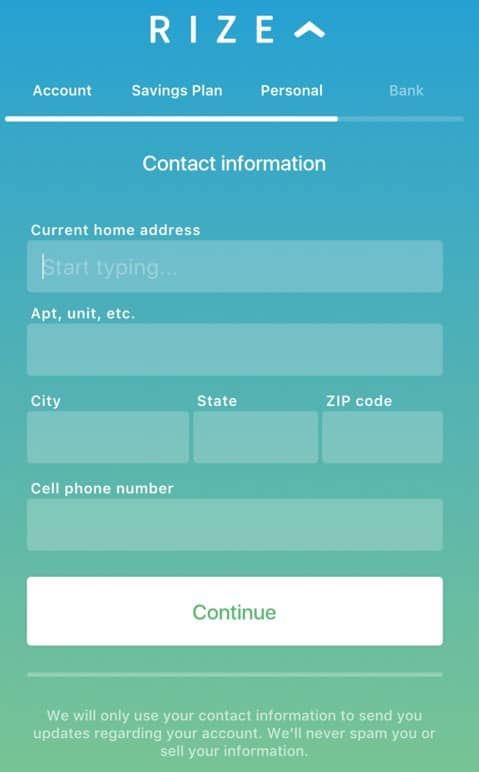 7. More routine info. I think when I got to this screen I was about 70 seconds in, and less than a minute from being totally done.
---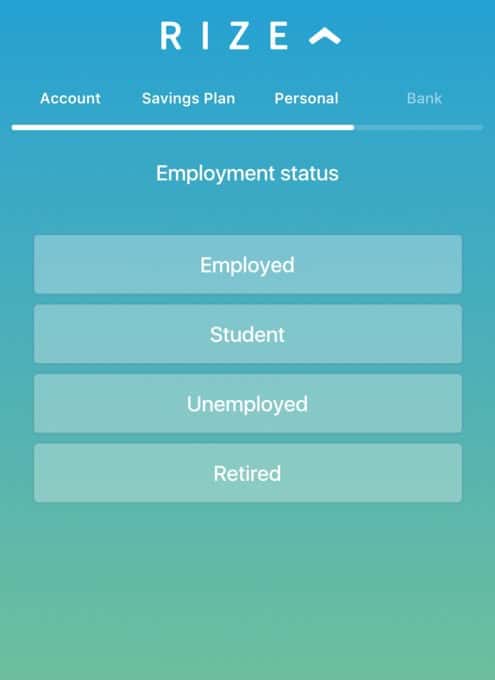 8. They're required to have this info on file. They aren't stalkers, promise.
---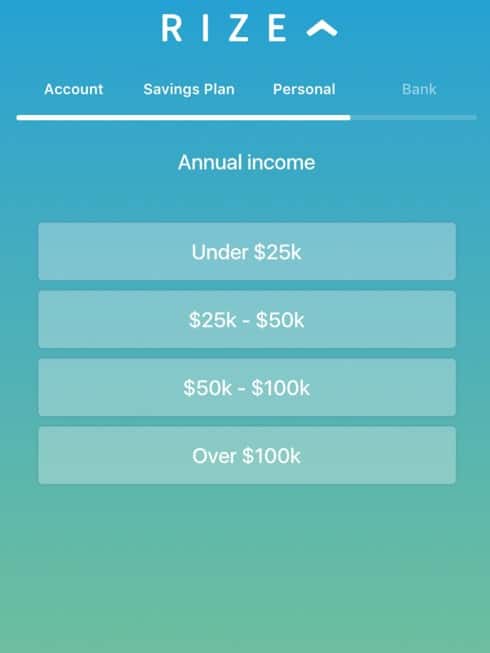 9. They aren't stalkers, I promise. Haha
---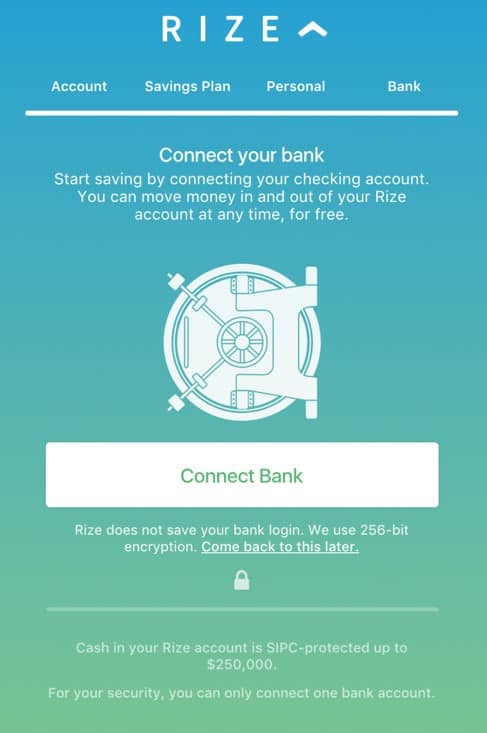 10. I thought this step would be a headache but it was really quick and easy.
---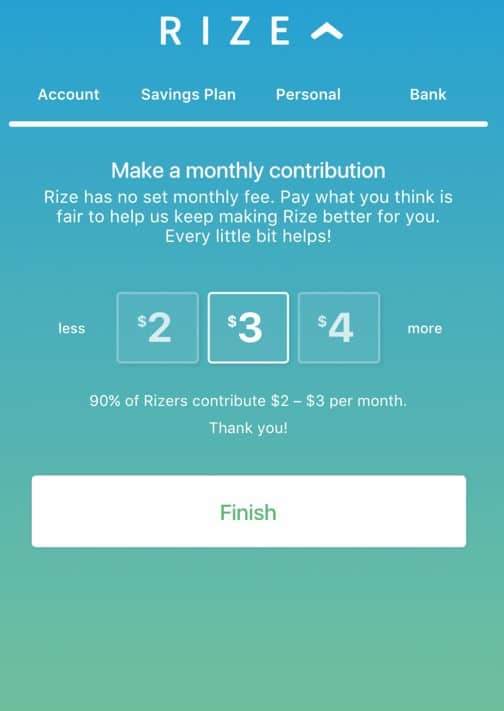 11. As of now, Rize money runs on a "pay what you think is fair" model, which is great. Not gonna lie, I hit $0 just so I could decide if I liked it.
---
How to Use "Power Ups" to Save Faster

After I opened my account and had my first goal set, I started poking around a bit more. That's when I found Power Ups.
The idea behind Power Ups is to take your savings to the next level without really "feeling it". It's actually kinda brilliant.

Power Up #1: Accelerate
Accelerate gradually pushes you to save more by automatically increasing your monthly savings 1% each month. If you're saving $200 this month, next month it will be $202. Do that for a year and you'll be saving almost 13% more than you are today. Those little increases make a big difference!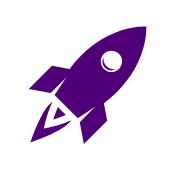 Power Up #2: Boost
You know that feeling when you find an extra $5 in your pocket? That's the feeling you get with Boost. Boost monitors your checking account and pulls out a bit of spare change when it makes sense, usually once or twice a week. Transfers will range from pennies up to $5 or 5% of your monthly savings (whichever is lower). Your scheduled deposits will still be the vast majority of your monthly savings.
The Rize money app helps me get out of my own way, which is why I think I'll keep using it.
Like I said at the beginning, it's not a shortage of income that is making me not save…it's myself. By having something like Rize money working in the background to make sure I save is actually a really big deal to me.
Do you think Rize money could help you save money for the goals in your life that are important to you?
Sign up with Rize to get your $5 bonus.