Photo Credit © Shutterstock Images
Want to learn new ways to make
extra money

?

Join the family to get updates from us and tons of cool freebies:
This post may contain affiliate links. Policy Page
This post was inspired by the Rize #FundMyGoal Campaign — helping you save for what matters.
In order to enter, create your free Rize account. Then Tweet, Instagram, or Facebook what goal you're saving for in 2018, add #FundMyGoal, and tag @Rize (FB and Insta) or @rizesaving (Twitter) for a chance to win $1,000 towards your goal. 💸💰
---
Some backstory
Two years ago, my dream was to become a successful entrepreneur.
I wanted to run my own business, work on my own terms, and not have to rely on someone else to sign my paycheck.
At the time, that was a huge undertaking for me. Even though my day job was in finance, I didn't know the first thing about running my own business.
But what I did know was that I wouldn't stop, I couldn't stop until I made it happen.
And you know what? It's even better than I imagined.
From one dreamer to another, here are some practical tips how to turn your dreams into your reality in 2018 (the $1K giveaway is at the end of this post).
Dream Big
Do you think Warren Buffett became the second richest person in the world by dreaming small?
Well, think again.
I always knew I was going to be rich. I don't think I ever doubted it for a minute. – Warren Buffett
Oprah's rise to fame was no mere stroke of luck, either.
I always knew I'd be a millionaire by age thirty-two. In fact, I am going to be the richest black woman in America. – Oprah Winfrey
I'm not telling you to toss your S.M.A.R.T goals out the window. Those smaller, realistic goals will get you closer to your big audacious ones.
All I'm saying is no one ever achieved greatness who didn't dream of being great.
Stop Making Excuses and DO Something
There is always something you can do to change your circumstances, even when it seems like there isn't.
In order to achieve your goals, big or small, you have to stop placing blame.
On other people.
On outside circumstances.
On luck.
And, most importantly, on yourself.
Excuses won't move you any closer to achieving your goals, but they will hold you back. Because excuses take away your power, your control.
In reality, the only person who can change your life is you.
Don't Give Up
J.K. Rowling was a single mom living off welfare in 1993. She's now known far and wide for the internationally renowned Harry Potter series.
Theodor Seuss Geisel (aka Dr. Seuss) had his first book rejected by 27 different publishers. Since then his children's books have sold over 600 million copies.
Lady Gaga's record label dropped her after 3 months. Today, she's a pop icon worth millions.
Within nine months of starting this business, I had failed and had to return back to the workforce. Now I'm my own boss, and I work whenever and from wherever I choose.
No one said getting there was easy. But trust me – it's worth it.
Never Pass Up Free Money
When I got into college, my parents had me apply to every scholarship known to man. Why?
"Because it's free money," my mom said.
She had a point. When someone offers you free money – no strings attached – you take it.
That's what Rize is doing with their #FundMyGoal Campaign. Rize is a tool that makes saving as easy as spending, or easier. Decide on your goal and when you want to accomplish it; Rize will do the rest.
Here's my full review if you want to learn more.
Here's how you can enter to win a free $1,000 towards your goal.
Create a free Rize account
Tweet, Instagram, or Facebook what goal you're saving for in 2018
Add #FundMyGoal, and tag @Rize (FB and Insta) or @rizesaving (Twitter)
That's it! At the end of January they will have a vote to decide the winner, and that person gets a cool $1,000 put into their account. That person could be you!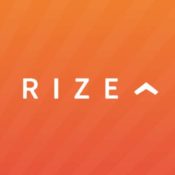 Ready to turn your dream into your reality?
Rize wants to help. Join the #FundMyGoal Campaign for a chance to win $1,000 towards your goal.
Sign Me Up
More Cool Stuff