Photo Credit © Shutterstock Images
Want to learn new ways to make
extra money

?

Join the family to get updates from us and tons of cool freebies:
This post may contain affiliate links. Policy Page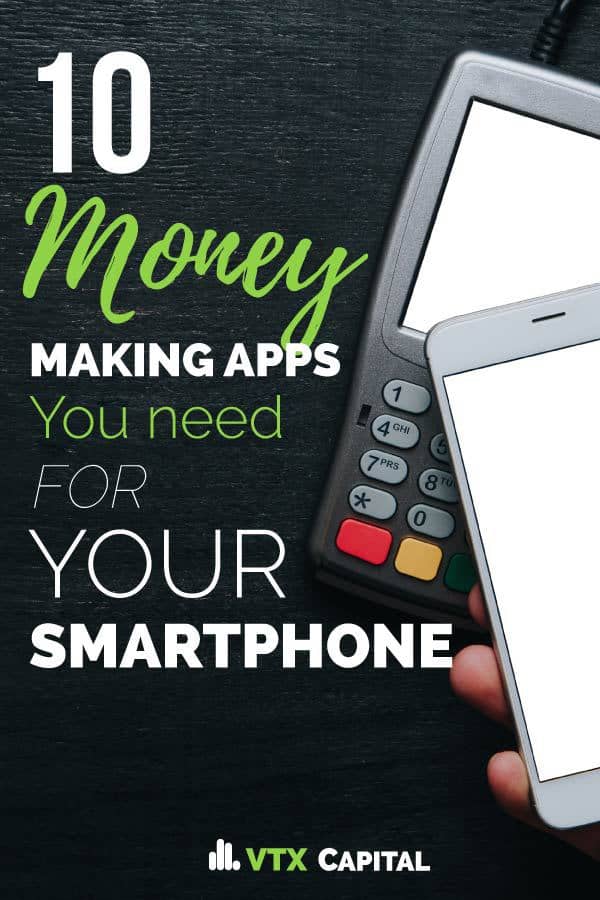 Do you spend a lot of time on your smartphone? I know I do. Seems like I'm not the only one.
The average young adult now spends nearly 5 hours a day on their phone according to a recent study by psychologists at Britain's Nottingham Trent University .
Crazy, right?
But this study merely confirms what we, and companies all over the world, have long since figured out – mobile is the next big thing.
It also comes as no surprise that these companies are desperate for your business. They're literally giving smartphone users cash to try their mobile apps.
Whether its money deposited directly into your PayPal account, a gift card to your favorite retailer, or cashback on all your purchases, companies are giving back a piece of the pie. If you're going to spend one-third of your waking hours on your phone each day, it can't hurt to make a little extra money while you're at it.
And unless you've been living under a rock, you've probably heard that side hustles are becoming all the rage.
People are constantly looking for ways to earn extra money and installing apps on your phone has to be one of the easiest I can possibly think of.
Most are free and they take less than 60 seconds to install. It doesn't matter if you're an Android or iOS (iPhone) user, there are plenty of money making apps on either platform.
Even at a couple bucks an hour you are still padding your pockets with an extra $300 each month.
Not bad.
If you're bored, waiting forever on someone to respond to your latest text, or just idly surfing Facebook, try your hand at making a few bucks with these 10 free money making apps instead.
Note:  Some of these offers are only available in certain areas and on certain platforms. We just wanted to give you a heads up if you were wondering why you can't install a certain app on your phone.
10 Best Money Making Apps for 2018
1) Swagbucks: The Best Money Making App for iPhone
Without a doubt one of the best money making apps out there, Swagbucks allows you earn extra money in 6 different ways. Plus you can get a free $5 just for signing up.
Swagbucks allows users to earn SB Points by watching videos, answering short surveys, playing games, searching the web, or shopping online. You can then redeem your SB points for cash deposited directly in your PayPal account or by claiming gift cards to one of over 1500 retailers (like Walmart or Amazon).
The best part is that there is no limit to how much you can earn. You're not going to replace your full time income from it, but if you use Yahoo! as your browser, play a few games and take a few surveys, there is no reason you can't boost your income by at least $100 each month. With an A+ rating with the BBB and over $166,000,000 paid to members to date, there is no reason not to try one of the highest paying apps out there.
Available On:  iOS | Android | Desktop
2) MyPoints
Want $10 for a few minutes of your time? Yes, yes you do. MyPoints is one of those money making apps that bribes users to sign up by offering $10 cash for completing a few surveys.
But that's not where it ends.
By installing the app, and using on a regular basis, users accumulate points that they can exchange for cash, gift cards or physical gifts.
Its basically a rewards program for your phone…and that is exactly how you should look at it.
These money making apps are not get rich quick schemes. Their purpose is to add a few bucks to your bottom line each month by doing things you're already doing.
And while there are people out there obliterating my earnings, I usually manage to earn just under $50 in gift cards each month (PapPal all the way for me). That's $600 a year I save by letting my phone roll through videos and mindlessly completing surveys while I watch T.V. Think of what you could do with an extra $600. You can sign up here with your email address and then download the mobile app.
Available On:  iOS | Android | Desktop
3) eBates
So if you're going to shop online, why not use one of these money making apps and get rewarded for it? Well technically you're not making money per se, but you are getting money back (cashback) on purchases you would have made anyways. Cool thing is, this is on top of any discounts/coupon codes you already have.
Better yet, eBates is offering new users $10 just for signing up.
There is no reason not to do this. This is probably the single easiest way to make money at home. You need an email address to sign up. That's it. Even if its $100-$200/year, why are you throwing money away for no reason?
That's stupid.
Don't be stupid. Sign up for Ebates.
Available On:  iOS | Android | Desktop
4) Stash
Stash makes investing crazy simple. For most people that's a good thing. If you're a seasoned investor you'll probably find the app too simple for your taste (but that's kind of the point).
Stash does most of the work for you. You pick what you are interested in (like tech, or clean energy, or retail stores) and Stash provides you instantly diversified portfolio options. From there you can setup the app to pull a few bucks a week from your bank account and start to grow your investing principle.
If you're interested in investing, but have no clue to start, try starting with as little as $5 and let Stash do the rest. Better yet, Stash will spot you $5 (iOS only) just to get started. Free money making apps – sign me up.
5) Decluttr
Got CDs, DVDs, games, Blu-Rays or unused electronics piling up in your home? I figured you did. There is no point in letting them collect dust if you're never going to use or watch them again. Get rid of them. Decluttr.
If you have a smartphone then all you have to do is scan the barcode on the item and Decluttr will give you an instant cash price for the item. No auctions or silly listing fees like the likes of eBay. Just instant hard cash for items you don't plan on using again. Stop hoarding. Start selling with DeCluttr.
Available On:  iOS | Android | Desktop
6) LetGo
Think of LetGo as a cross between Craigslist and Pinterest. If you feel more comfortable selling your personal items in person rather than dealing with a stranger over the Internet this is the way to go. But unlike eBay or any of the other online market places out there, LetGo is totally free to use. They don't charge a listing fee and they don't take a cut of the final sale.
By selling on other platforms you often lose 10-20% of the final value of the item in fees. Not cool. But not with LetGo. If you're looking to make a few bucks in the next couple days, this is one of the easiest ways to do it at almost no cost to you.
Available On:  Android | iOS | Desktop
7) HealthyWage
I haven't tried the HealthyWage app yet (as I am scrawny and actually trying to gain muscle), but if you've got a few pounds to lose, why not >get paid $10,000 to do it.
HealthyWage offers a variety of ways to earn money – you can take on a weight loss challenge all on your own or you can enter a team challenge and motivate each other to shed more lbs. Prize payouts are based on a % of body weight lost and if you can manage to shed 10% of your body weight, you're free rolling the competition (at no financial risk to you).
This totally beats those at-work pools where people don't pay up, or worse, the competition never gets started all together.  People are always looking to gym buddies to hold them accountable. But know what does an even better job? Your wallet. Head to HealthyWage and signup to start earning cash for your weight loss today.
Available On:  iOS | Android | Desktop
8) Android Apps that Pay You Money: Slidejoy
Slidejoy belongs on this list because it is without a doubt one of the easiest money making apps out there.  I am not saying this because its going to make you rich. It won't. But it will make you a cool $5-15 per month according to the developers ?.
So how does this money making app work? Per Slidejoy:
Upon turning on your phone, you will view an aesthetically pleasing ad on your lockscreen
You will have a choice to ignore the ad by sliding right and unlocking your phone
You will also have a choice to engage with the ad by sliding left. Upon sliding left, the phone will unlock and you will be directed to a destination specified by the advertiser (YouTube, advertiser website, Google Play, coupon page, etc.)
To prevent bias, you will make an equal amount regardless of whether or not you engage with an ad
Over time, Slidejoy learns your ad preference based off of your behaviors during different times of day and curates a more relevant user experience
You can cash out your earnings via Paypal/several gift cards or choose to donate it to charity
As long as you can put up with your smartphone's lock screen being trending news stories or ads (which disappear when you open your phone), you're looking at $180 a year (or more). Slidejoy says that as the ads get more catered to your interests, the payouts actually go up. They don't say by how much but getting up to $200 a year shouldn't be too hard. Not bad for selling your phones lock screen to the highest bidder (literally).
Available On:  Android
9) BookScouter
Have a local book buy-back store that you frequently use? Stop. You're basically at the mercy of that singular store and their willingness to offer you a decent price on your book. Why settle for a monopoly when you can let the free-market system work for you. Let BookScouter compare book prices across 44 vendors and then choose the one that offers you the best price (much like Expedia does for flights and hotels). With no listing fees, free shipping, and the best price for your book, there is no reason to sell anywhere else.
If you're a college student and the bookstore is no longer buying it back because it isn't the latest and greatest edition still on the market, BookScout is your best friend. Be smart, get the most back out of your education investment.
Available On:  iOS | Android | Desktop
10) Ibotta
Ibotta is yet another of the money making apps you'll see on this list that revolves around cashback shopping.
But unlike some of the others, Ibotta has become immensely popular worldwide because it extends to grocery brands and it has an affiliate program that allows users to invite friends and make even more money.
You get $10 just for signing up, and they'll pay you $5 more for each friend you refer.
Your earnings potential is unlimited. Not bad considering you're helping your friends save money and handing them an extra ten bucks at the same time.
Available On:  iOS | Android | Desktop
---
And that's a wrap! Well not really, there are numerous other money making apps out there. If you're a complete hustler you can make some serious cash on your smartphone. I spend a lot of my free time working on this blog but I still manage about hundred bucks a month by sacrificing my phones lock screen, playing games and watching ads. If you don't mind getting the legwork out of the way and filling out a bunch of registration forms over the next hour, you can get started with many items on the list right now.
If one of these deals expires or you know of a bad ass app that I somehow missed, give me a shout out in the comments below and I'll be happy to amend the list!
Related: