Jacob Lund | Shutterstock
Want to learn new ways to make
extra money

?

Join 1,000,000+ monthly readers in getting updates and cool freebies:
Our number one goal at DollarSprout is to help readers improve their financial lives, and we regularly partner with companies that share that same vision. Some of the links in this post may be from our partners. Here's how we make money.
When I was in college, I was always looking for ways to make money.
While I didn't have a full-time job, I tried to pick up gigs whenever I could. I babysat, tutored, and did a bit of freelance writing so I could earn some extra cash for living expenses and savings.
If you're in college and want to make sure you have enough money to live comfortably, there are plenty of small gigs and jobs that can allow you to do so.
As long as you're willing to put forth the time and effort in between classes, studying, and other obligations, it's possible to make money — even good money — while in school.
Here are but a few of the many ways you can crush the interest on your student loans and pay down debt before you ever leave school.
Easiest Ways to Make Money in College
1. Deliver Food
As a college student, you've probably ordered groceries or restaurant meals from a company like Instacart.
You can work for this type of company and make money delivering food. With a food delivery gig, you'll go to the grocery store or restaurant, pick up orders, and deliver them to homes or offices. This is a great option if you don't mind driving and enjoy meeting new people.
2. Rent Your Car
If you have a car but live on campus and rarely drive it, you can rent it out to earn some cash. People who either don't own a car or are visiting the area will pay to use your car for a few hours or even longer.
You can use Turo, a peer-to-peer car sharing marketplace to connect to people who are looking to rent reliable cars near you.
3. Tutor Your Favorite Subjects
Chances are there's at least one subject you're good at and enjoy. You can help other students succeed in that subject and earn some extra cash by tutoring.
To find a tutoring job, visit your college's tutoring center and find out if they're hiring. You can also post ads at local libraries and schools. If you'd prefer to tutor students online rather than in-person, sign up for Chegg. As a Chegg tutor, you can offer scheduled tutoring services or help students on-demand.
4. Flip Items for a Profit
If you love to find great deals on clothing, accessories, electronics, and other goods, flipping may be a fun way for you to make money.
Me tryin to make money while in college. pic.twitter.com/Rtzzf7h8oa

— Michael Ray (@THEMichaelRay) October 1, 2019
Visit garage sales, discount stores, and consignment shops to find goods at deeply discounted prices and sell them for more than you paid online. There are tons of platforms that can help you do this including Craigslist, eBay, Gazelle, and Decluttr.
5. Walk Other People's Dogs
While you may not have a dog as a college student, there are plenty of people in your local area who do. These dog owners often hire people like you to walk their dogs when they don't have the ability or time to do so.
If you like the idea of getting paid to get some fresh air and spend time with furry friends, dog walking may be the ideal job. Rover can help you find dog-walking gigs close to you.
6. Get Cash Back on Things You Buy
If you shop often, you might as well earn some cashback for the things you buy. Rakuten pays up to 40% cashback for the shopping you do both online and in stores.
There are also a variety of cash-back credit cards that can allow you to earn between 1% and 6% cashback every time you make a transaction. If you want to make money with a cash-back credit card, do you research and compare all the options available to you.
Once you find a card, set up automatic bill payments on it so that you can earn cash every time you pay your bills.
How to Make Money in College Without a "Real" Job
You don't have to take on a part-time or full-time job to make money in college. There are a variety of services you can provide in your spare time to earn cash.
7. Become a Facebook Ads Specialist
Business owners are always on the lookout for Facebook ad specialists who can help them use Facebook to generate leads. If you know how to use the Facebook ad platform or are willing to learn, you can make great money setting up and managing Facebook ad campaigns.
The Facebook Side Hustle Course is a great resource that can help you get your Facebook ad business up and running. In addition, it can give you some meaningful work experience that'll help you succeed in a field like marketing or advertising.
8. Offer Virtual Assistant Services
There are a number of different virtual assistant services you can offer to business owners who want to free up their schedules.
Some of these include making customer phone calls, managing databases, and organizing travel. In addition to administrative services, clients may ask you to assist with creative services like social media management or event planning.
If you'd like more information on how to make money with virtual assisting, check out the $10K VA online course.
9. Manage Social Media for Businesses
To succeed in today's competitive marketplace, businesses need to be on social media, regardless of their size. Many business owners will pay you to manage their social media platforms and connect with their customers or clients.
You'll create interesting content, post it, and interact with fans or followers on platforms like Facebook, Instagram, and LinkedIn. This may be a great gig if you hope to work in digital marketing after graduation.
10. Start a Money-Making Blog
A blog is a website that features your thoughts or expertise on a subject like finance or travel. If you create a blog, update it often, and build traffic to it, you can make some money.
Some of the most common ways to make money via blogging are affiliate marketing, advertising, and selling products like eBooks and online courses. If you're interested in making money with a blog, the Launch Your Blog course is a good place to start.
11. Try Your Hand at Freelance Writing
Becoming a freelance writer may be a good choice if you love to write or hope to pursue a career in journalism or a related field.
Online or print publications will pay you to write quality content in the form of blog posts, landing pages, or white papers for their websites. Your content will help grow their websites and engage with their audience. You can also offer copywriting services to businesses who are in need of content for brochures, ads, and other marketing materials.
A course like Earn More Writing can teach you the ropes and help you earn money faster as a new freelance writer.
12. Sell Your Photos
Businesses use professional photos of places, landmarks, people, and events on their websites, brochures, and advertisements. If you have a quality smartphone or camera and love to take photos, you can sell them to websites that specialize in these types of photos.
There are lots of places that will pay you for your photos. If you want to become a photographer or graphic designer after college, this may be the perfect job.
13. Start a YouTube Channel
If you like to be on video and are particularly knowledgeable or skilled at something, you can start a YouTube channel and eventually monetize it.
Your channel could be about cooking, makeup, fishing, home improvement, or anything else you enjoy or are good at. After you create enough videos and build a steady stream of traffic, you can make money with ads and affiliate marketing.
Eight-year-old Ryan Kaji, whose channel Ryan's World has 22.9 million subscribers, earned $26 million in 2019 — up $4 million from his earnings in 2018, when he also gained the highest-earning YouTuber spot https://t.co/H1RLduaMXP

— CNN Business (@CNNBusiness) December 26, 2019
Remember that making money with a YouTube channel takes time and persistence, so this is not a good option if you need or want to make money quickly. It can, however, prepare you for a job in digital marketing or communications after graduation.
Related: 13 Legit Online Jobs for College Students
On-Campus Jobs to Consider
If you don't have a car and are wondering how to make money in college without one, you're in luck. There are several money-making opportunities available.
14. Apply for Work Study
Work Study is a federal program that can allow you to earn money through a part-time on-campus job.
To apply for it, you'll need to fill out the FAFSA and select the box that states you're interested in Work Study. Whether or not you qualify will depend on the number of available positions, your financial need, and other financial aid you qualify for
15. Work as a Teaching Assistant (TA)
As a TA, you'll perform many of the same tasks professors do. You may help students in labs, grade papers, perform research, and even teach classes.
Your school and the professors will determine the requirements necessary to become a TA. In most cases, however, you'll be asked to submit copies of your transcripts and letters of recommendation.
While some colleges only offer TA positions to graduate students, others make them available to undergraduates in their junior or senior years as well.
16. Become a Resident Assistant (RA)
An RA is an upperclassman who serves as a resource to college students who live in dorms and residence halls.
If you become an RA, you may enforce the rules and policies of the resident life department, conduct regular room checks, hold meetings with residents, and check in visitors. In exchange for your services, you may receive free or discounted room and board and/or stipends or hourly pay.
17. Work at a Dining Hall
There are a variety of jobs available in college dining halls. You may work as a cashier, caterer, dishwasher, or food preparer.
By working in a dining hall, you can save money on food because you'll likely be able to enjoy free meals and snacks during your shifts. If you're looking for a way to reduce your on-campus living expenses, a dining hall position may make sense.
18. Apply at the Recreation or Fitness Center
If your college has a large recreation or fitness center on campus, they likely hire a variety of student employees.
You can get a job as a personal trainer, group fitness instructor, or water safety instructor if you're passionate about health and wellness. There may also be other opportunities in member services, marketing, and event planning.
19. Work at an On-Campus Store or Restaurant
Many college campuses, especially larger ones, offer the convenience of on-campus stores or restaurants.
If you're lucky enough to go to a college with a store or restaurant on campus, you may be able to get a job there. You can wait tables or assist with food preparation and cleaning at a restaurant or work in customer service, shipping and receiving, and online order fulfillment at a store.
20. Become a Brand Ambassador
Big brands often hire students to promote them on college campuses. If you're passionate about a particular brand, you may want to become a brand ambassador.
Check out this awesome step-by-step guide by @thisonlineworld, showing how he was able to make money with paid advertising in college. Definitely a worthy read!https://t.co/94DHx369J3

— Wallet Wise Guy (@WalletWiseGuy) November 19, 2019
Some brands require their ambassadors to perform college outreach where they try to convince students to purchase a certain product. Others ask them to hand out free merchandise at football games and other on-campus events.
As a brand ambassador, you'll gain valuable marketing experience and be able to list a big brand on your resume.
21. Give Campus Tours
If you have an outgoing personality and love your college, a campus tour guide job can be a good option.
You may get hired by your college admissions department to show prospective students and their families around campus. You'll get to share your experience with other students who have shown interest in attending your college.
Related: 25 Online Jobs That Are Legitimate, Easy, and Flexible
Off-Campus Job to Consider
If you have a car and would like a change of scenery from campus, you may want to get an off-campus job.
22. Become a Server
No matter how big or small your college town is, there are likely restaurants in the area that hire college students to serve. If you're a people person and good at multitasking, you can make some great money as a server.
Most places pay an hourly rate plus tips, and you may be able to get discounts on meals. Many college students love to serve because they get to leave every shift with cash and don't have to wait for a bi-weekly paycheck.
23. Work as a Delivery Driver
In addition to companies like Postmates or Amazon Flex, local companies need drivers to deliver orders to customers.
If you like to drive and want a job that allows you to explore new parts of town, you may want to work as a delivery driver. Whether you deliver packages, pizza, or anything else, you'll learn how to effectively manage your time and hone your customer service skills.
24. Be a Barista or Bartender
If you want to get paid to make delicious drinks, visit local coffee shops or bars to inquire about barista or bartender positions.
As a barista or bartender, you'll have to memorize recipes and describe flavors and offerings to customers. If you're a morning person and would like to work in the earlier parts of the day, a barista gig may be right for you. On the other hand, if you're at least 21 and don't mind working with alcoholic drinks at night, you may make better tips as a bartender.
25. Babysit for Professors
Your professors are normal people that have kids they aren't always able to care for. If you like a professor and know they have kids, ask them if they need babysitting services.
They may be looking for someone to watch their kids on a regular basis or every once in a while when they go on a date night or have an evening event.
26. Work in Retail
If you don't mind working nights and weekends, a retail job can be a good option. You'll get to improve your people skills and land some great discounts.
Whether you assist customers, set up product displays, or maintain a stock room, you'll always be busy. If you'd like to pursue a career in an industry like fashion, technology, and beauty, this can be a great way to make some valuable connections. There are no shortage of retail stores out there so you're sure to find one that you want to work at.
27. Work at a Before or After School Program
Daycare centers and elementary schools usually offer before and after school programs. Working parents like to sign their kids up for these programs so they have somewhere to go before and after school.
If you get a job at a before or after school program, you'll be responsible for helping kids with homework, participating in fun activities like crafts or sports, and caring for them until it's time for school or for their parents to pick them up. A job at a before or after school program is a particularly smart move if you're an education major as it can help you find a teaching position once you graduate.
Leverage Your Skills to Earn While in School
College is a great time to explore different money-making opportunities and find out what you enjoy. In addition to reducing the amount of debt you may owe, a college job or gig can prepare you for the working world and help you with your career after graduation.
You can make connections, build your resume, and establish a network of references. You might even find a new career path.
You May Also Like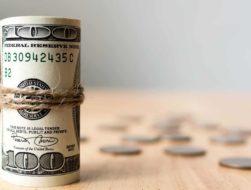 17 Easy Ways to Make $1000 Fast Legally
A 2017 GOBankingRates survey found that over half of Americans have less than $1,000 in savings. If you're in a bind for cash or trying to save money, here are 10+ simple ways you can make $1,000 in a week or less.