Monkey Business Images | Shutterstock
Want to learn new ways to make
extra money

?

Join 1,000,000+ monthly readers in getting updates and cool freebies:
Our number one goal at DollarSprout is to help readers improve their financial lives, and we regularly partner with companies that share that same vision. Some of the links in this post may be from our partners. Here's how we make money.
Car accidents happen when you least expect them.
My family and I were coming home after visiting my parents on Memorial Day weekend when our car was rear-ended.
We were all a bit shaken up, but none of us were injured. We exchanged insurance information with the other drivers and went our separate ways.
Our car, a 2010 Toyota Prius, didn't have any problems on the 35-mile drive home, but we could tell it was struggling. It was still drivable, but the back windshield was shattered, and one of the back doors wouldn't open.
While we worried about how much the accident would cost us, we knew our emergency fund would carry us through.
Using Your Emergency Fund After a Car Accident
If you've had a car accident or faced any other unexpected situation, there are a few ways you can use your emergency fund to offset the expenses.
Related: What is an Emergency Fund? Here's What You Need to Know
1. Explore Your Options
If you've experienced a car accident, take a look at your choices. Can you make do with only one car if you're a two-car family? Will your employer allow you to work from home until your car is fixed? Do you need to cancel any plans, like a vacation with friends?
Look at all the different scenarios and figure out how your emergency fund might help. For instance, if your boss won't let you work from home or you can't take any days off, your emergency fund can cover the cost of an Uber ride or lost wages.
It might help you extend the contract on a rental car so you can still keep your plans or get to work. If your car is totaled but the payout isn't enough to buy a replacement, your emergency fund can help make up the difference.
2. Advocate for Yourself
Even if you have an emergency fund to help with repairs or buying a new car, you still need to advocate for yourself to make sure you're getting the best deal possible.
Go through all of your records to see what work you've had done on your car. Recent oil changes, tire or battery replacement, and updates to alarm or stereo systems can all add value and increase your insurance payout. You should also research Kelley Blue Book for a rough estimate of the car's value.
This information will help you negotiate with your insurance company and could add a thousand dollars to your payout. That could be the difference between paying cash and having to finance a car.
If you choose to get your car repaired, get a few different estimates and make sure you're only authorizing what's absolutely necessary. If it's cosmetic fixes, don't get talked into an expensive tire upgrade. Be firm that you'll only pay for what you've asked for and agreed to. Having the money doesn't mean you need to spend all of it.
3. Stick to a Budget
Whether it's buying a new car, paying for repairs, or having to use your emergency fund to replace lost income, you need to stick to a budget. A budget will help stretch your funds and can save your peace of mind.
You might need to temporarily cut back on a few expenses, but you can add those things back in once you get back on your feet.
Pay attention to deadlines. For instance, if you have a rental car and the insurance company will only pay for seven days, write when you need to return the car. Note the rental company's hours and policies to make sure you're returning the car in accordance with those so you don't get charged extra.
4. Emergency Debt Happens
Having a car loan isn't fun, and some people prefer to pay for their cars in cash. However, depending on the insurance payout, the size of your emergency fund, and what cars are available in your area and price range, you might have to finance a car.
Whether you buy or lease a car is a personal decision, but you can use your emergency fund to help leverage a lower monthly payment. Make sure you keep your car payment affordable while you rebuild your emergency fund. The lower payment might mean you can pay off the car sooner or provide extra room in your budget to help you rebuild your emergency fund.
Your negotiation skills will come in handy here, so stand firm in the price range, features, and type of car you want to buy. Having to take on debt doesn't mean you need to be pressured into buying something that doesn't fit your needs.
5. Rebuild Your Savings
Emergency funds exist for exactly these types of scenarios, and it's OK if you wind up depleting yours because of a car accident. Having safe, reliable transportation is essential. However, you should focus on rebuilding your savings as soon as possible.
There are a few ways you can do this. You can work extra shifts or start a side hustle. Selling items around your house through a yard sale or selling app can be an easy way to earn some extra money to add to your savings account. If you receive any unexpected windfalls like a work bonus or tax refund, you can also bank those to help quickly rebuild your savings.
In addition to earning extra income, you can also cut back on expenses or use a budgeting app to help you find places to save money in the short term.
Use our savings calculator to figure out how much money you need to put away each month. It can take some time to get back up to where you were, but even $500 in savings is helpful, so start where you can.
Having an Emergency Fund Brings Peace of Mind
Even if you buy a brand-new car, there might be problems. You can mitigate these with a warranty, but you may need to pay out of pocket for certain repairs.
Having an emergency fund means you can pay for these repairs without taking on extra debt. And being able to cover minor emergencies without going into debt is important.
When possible, try to prioritize savings in your budget. In the event of an emergency, a combination of savings and good insurance can mean the difference between catastrophe and inconvenience.
Related: 7 Types of Insurance That Will Cover Unforeseen Events
You May Also Like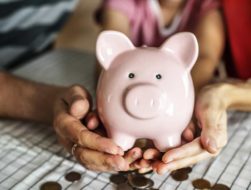 What is an Emergency Fund? Here's What You Need to Know
An emergency fund is a savings account set aside specifically for those "just in case" situations — when your car breaks down, someone gets sick, or when life throws you a curveball. Here's why you need one and how to get started.