Photo Credit © Shutterstock Images
Want to learn new ways to make
extra money

?

Join the family to get updates from us and tons of cool freebies:
Our number one goal at DollarSprout is to help readers improve their financial lives, and we regularly partner with companies that share that same vision. Some of the links in this post may be from our partners. Here's how we make money.
Did you know that having a low credit score can increase the cost of a 5-year $20,000 car loan by over $5,000? It's true, and fewer than 25% of consumers are aware of it, according to a recent survey. Knowing your credit score is the first step to saving money on loan interest rates.
When it comes to saving money and making smarter financial choices, many of us don't fully appreciate the impact our credit score has on our financial well-being.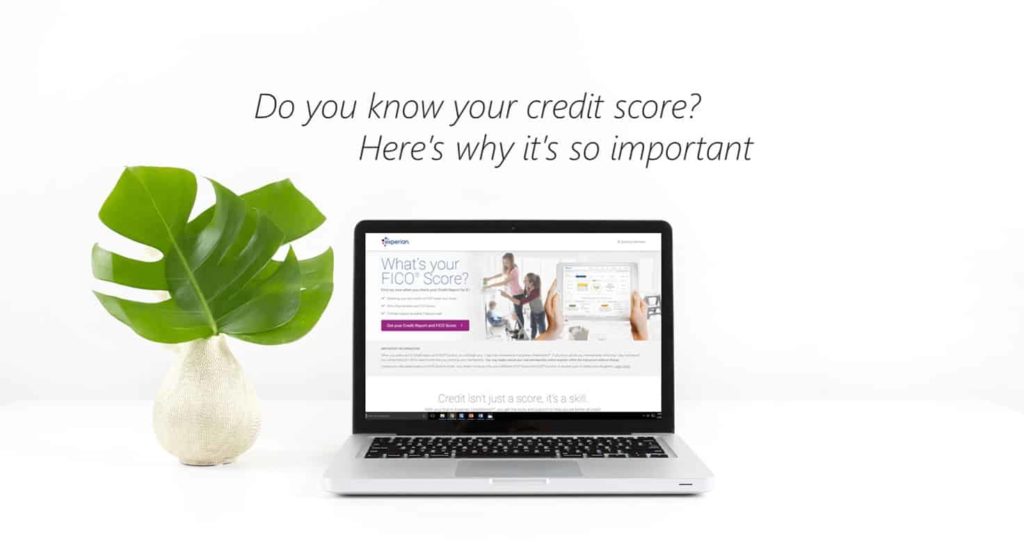 There are a few different credit scores, but FICO® Scores are the most popular among lenders. According to Blaine Lyerla, Managing Editor at Experian, FICO® Scores are developed by the Fair Isaac Corporation as a measure of your creditworthiness. They are considered by many lenders when they consult a scoring model to make their credit decisions.
FICO® Scores are used in 90% of credit decisions, so they're a likely indicator of how your credit may look to a lender or other party.
Knowing your credit score and improving it over time can help you as you apply for loans and credit.
Why Are Credit Scores Important?
Think of your credit score as a representation of how trustworthy you are to repay a loan. If you have any big financial goals in mind like buying a house or getting a new car, then knowing your credit score will certainly come into play.
Are you likely to pay your lenders back on time?
Your credit score looks at how you have managed your debt in the past and predicts the likelihood of you repaying any new debts in the future.
Having A Good Credit Score Is Important Because…
Having a good FICO® Score (around 700 or above) is important for two main reasons. It shows lenders that you're unlikely to default on a loan, and you've got a history of paying people back on time. From a lender's point of view, those two things are a high priority.
In addition to deciding whether or not you are able to get a loan, your credit score also determines how much interest you will pay on your loan. With a low score, you pay more interest (since you are a higher lending risk), and with a high score, you pay a lower rate.
Depending on how much you are borrowing, having a good score could mean the difference between hundreds or even thousands of dollars in savings. With that extra money, you could live in a nicer apartment, save more for your retirement, or put it towards any of your other financial goals!
Knowing Your Credit Score: What Is A Good vs. Bad Credit Score?
Your FICO® Score will fall on a range anywhere from 300-850. The higher your score, the better.
The following table shows a breakdown of each range:
| | | | |
| --- | --- | --- | --- |
| FICO® Credit Score | Rating | % of People | Impact |
| 300-579 | Very Poor | 17% | Credit applicants may be required to pay a fee or deposit, and applicants with this rating may not be approved for credit at all. |
| 580-669 | Fair | 20.2% | Applicants with scores in this range are considered to be subprime borrowers. |
| 670-739 | Good | 21.5% | Only 8% of applicants in this score range are likely to become seriously delinquent in the future. |
| 740-799 | Very Good | 18.2% | Applicants with scores here are likely to receive better than average rates from lenders. |
| 800-850 | Exceptional | 19.9% | Applicants with scores in this range are at the top of the list for the best rates from lenders. |
Based on FICO® Score 8 ranges. Source: Experian
Are you unsure what your credit score is? With Experian you can access your FICO® Score and your Experian Credit Report for just $1 with enrollment in Experian CreditWorksSM.
Knowing your credit score is super important- it's just like knowing your body weight or yearly salary, GPA, etc. You should know where you stand!
So, what goes into calculating your credit score?
There are many variables that go into figuring out your credit score:
Payment history: On time payments always help. If you have any "derogatory marks," like late payments or debt collections, those will hurt your score.
Credit utilization: If you have a $10k limit on your credit card and you've maxed it out, that will hurt your score. Lenders don't like borrowers that look desperate. Having low credit utilization helps.
Credit History Length: How long you have been borrowing money. More history is better since it gives lenders a clearer picture of your past credit.
Recent Credit Applications: Again, don't look desperate. If you are applying for a bunch of new credit cards or are always taking out loans, your score will suffer.
Type of credit: Credit card debt is obviously the worst, but lenders like to look at the total composition of your outstanding debts… mortgage, student debts, auto loans, etc.
How can I get a higher credit score?
If you've looked at your credit report and have seen that your credit scores aren't quite where you thought they would be- you are not alone. The good news is that you can improve your credit score.
The two biggest factors in your credit score are your payment history and credit utilization.
If you want to improve your credit score, it is best to focus on those two areas:
Pay all of your bills on time. Late payments and collections attempts kill your score, so do everything you can to avoid them! One strategy I like to use is automating monthly payments for all of my bills, that way I never miss a payment.
Do everything you can to reduce your outstanding debts. If you are able, keep the balance on each of your credit cards to 30% or less of your maximum available credit.
If you find any errors on your credit report you can challenge them and get them fixed. Cleaning up any errors is a great way to get a few extra points added back to your credit score.
Even if you don't borrow, your credit score matters
Credit scores are often used by parties other than lenders. For instance, landlords may use your credit score to determine if they want you as a tenant. Your car insurance prices may be higher, and your utilities may require deposits if you have a poor credit score.
There's No Quick Fix for a Bad Credit Score
Increasing your credit score takes time.
If you have negative information on your credit report, you are best off to pay your bills on time and simply wait, as hard as that is. Late payments, a high number of inquiries, collections, etc. can take a while to disappear from your report.
Start adopting healthy money habits now, and your credit scores will strengthen over time as a byproduct of your hard work. Keep at it and it will all be worth it! Knowing your credit score and improving it is the first step to a healthy credit history.
Access Your Experian Credit Report & FICO® Score for $1 with Enrollment in Experian CreditWorkSM