Photo Credit © Shutterstock Images
Want to learn new ways to make
extra money

?

Join the family to get updates from us and tons of cool freebies:
Some of the links in this post may be from our sponsors. Policy Page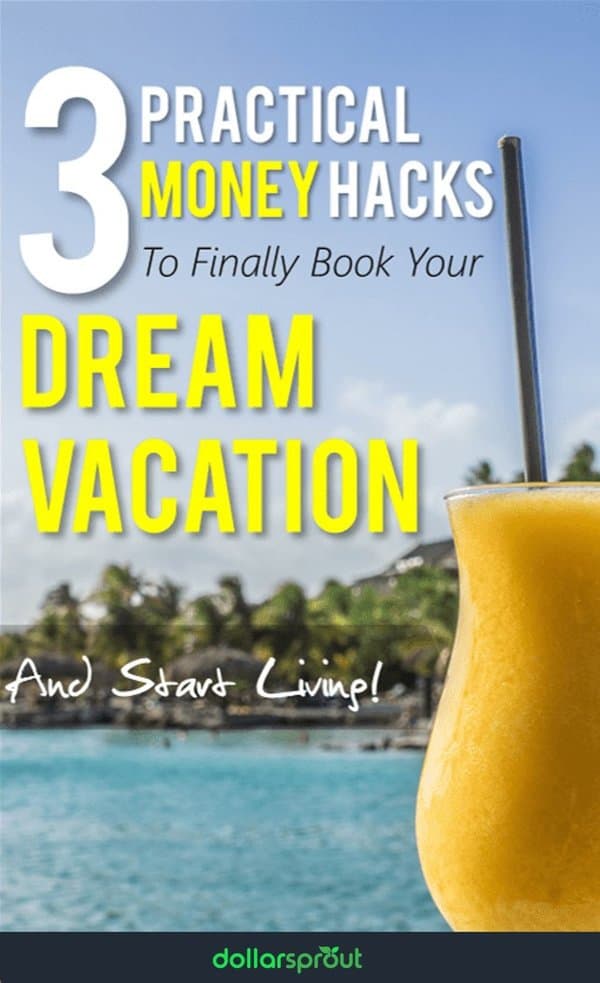 We all need a vacation.
But the biggest reason why most people don't take a vacation is because of the expense…it isn't exactly cheap to get away for a few days.
In this post we're going to help you learn how to travel on a budget and start vacationing the smart way.
Forbes estimates $4,580 is the average cost of a vacation for a family of four.
That is absurd.
With the 3 tips below, you can easily reduce that total cost of your vacation (or at least be able to afford a few more add-ons!).
1. Don't Overspend on Flights
The most important thing about learning how to travel on a budget?
Stop traveling during peak seasons.
If you live in the U.S. try to travel to warm places during the spring, summer, and fall. Avoid traveling to warm climates during the winter months, and vice versa. You'll end up paying higher prices for your flights.
Try: Booking your flight 7 weeks in advance if you're flying only a short distance or 18 weeks if you're going somewhere far away.
The prevailing thought used to be, "buy flights right before you're about to leave." That isn't the case anymore.  Many airlines put up their best deals 2 months (or more) ahead of time.
Use: CheapOAir – You can compare prices across most airlines and major hotel chains to find the best rates. Try our link and the coupon code "FLIGHT30" and save $30 on your next flight.
Try: Sign up for email alerts from your favorite airlines.
They'll send you deals and online coupons you can use to reduce the price of your flight even more.
Many of these deals come on Tuesday afternoons.
Airlines often know by Tuesday if their weekend flights are going to have extra seats available. They'll cut prices and send notifications to their customers if they need to fill seats. This is an easy way to get the best deals and travel on a budget.
2. Save on Hotels
Try: Calling hotels before you book.
Some hotels will price match rooms if you find a more competitive price for a comparable room.  Many hotels will also throw in extras (free wifi, breakfast, or late checkout) to entice you to come stay at their hotel instead of a competitor's.
Try: Looking for smaller hotels and motels that do not list their business on the major search sites.  Many smaller establishments don't want to pay the fees to advertise online and therefore will not show up when searched for.
You can try and find these small hotels on sites like TripAdvisor, but call the hotels directly to make reservations.
Also Try: Sometimes it's cheaper to reserve a house or condo.
Many people buy houses and condos in vacation spots and then list them online for people to use them when they aren't there.  Many of these houses and condos have very affordable rates and most will be larger than a hotel room.
Checking deal sites like Groupon and LivingSocial can help you pick up valuable deals for hotel rooms in major chains.
Use: Hotels.com – Compare all the major hotels in your destination area all at once.
3. Take Advantage of Package Deals
Finding package vacation deals can be a great thing to help reduce the cost of your vacation and travel on a budget.  It's much of a less hassle than trying to book everything separately and piece the whole trip together.
Consider: Sometimes packages aren't the way to go, though.  Package vacations are based around what the prices of flights, hotels, and attractions are during the tourist season in that particular destination. Like we said earlier, try to travel outside of the typical busy season to truly optimize travel on a budget.
Some travel agencies who offer package deals will allow you to substitute in cheaper hotels or flights, and others don't.
Do your research when it comes to packages.
Look up the individual prices of each aspect of the vacation. You could get a much better deal if you do everything yourself. It might be inconvenient and take a little time, but you'll be ahead financially.
Use: OneTravel.com – Similar to CheapOAir except I find they have better package deals if you're interested in all-inclusive deals/hotel + flight packages.
You Still Need to Save Money in Order to Travel
Saving for your dream vacation is just like saving for anything else.  Set aside a certain amount of money every month that you want to dedicate to your vacation fund.
My suggestion is to wait until you have all of the money set aside before you start making reservations or buying plane tickets.
If you buy some of the pieces to the vacation, but can't afford the rest, you'll have to cancel and you might incur a fee. Always read the fine print!
Putting raises and overtime into your vacation fund is an easy way to quickly reach your goal.  Working hard and watching your sweet vacation get closer and closer is an amazing feeling.
Try: Look into staying in hostels.
Many places in Europe and South America have hostels which are much cheaper than hotels but provide less services. Many people are turning towards hostels to reduce the cost of vacations.  Instead of sleeping in a cushy king sized bed, you might be sleeping on a twin in an older building, but you'll still be able to enjoy your destination.
Overall, vacationing doesn't have to be a big ordeal and you don't have to spend lots of money.  The point is to get away and not worry about everyday life for a little while. Put some of our tips to use and see how much you can save while learning to travel on a budget.
Know of any other travel hacks to help save money? Share them in the comments below.