Photo Credit © Shutterstock Images
Want to learn new ways to make
extra money

?

Join the family to get updates from us and tons of cool freebies:
Our number one goal at DollarSprout is to help readers improve their financial lives, and we regularly partner with companies that share that same vision. Some of the links in this post may be from our partners. Here's how we make money.
So, you finally decided that you want to make more money and start saving for retirement, and you're wondering how to open a traditional IRA?
There's no better time than now to start thinking ahead and mapping out your financial future. Once you begin to harness the power of having your money work for you, opportunities start to open up.
This step-by-step tutorial will show you exactly how to open a traditional IRA, and where we believe is the best place to open an IRA.
The amazing power that saving and investing can have on your life is truly incredible.
Related: How to Earn an Extra $1,000 This Month
Should I Open an IRA?
How You Can Grow $2,500 into $222,180 Starting Today
Let's go over exactly how money grows in an IRA. Then you can decide if you should open an IRA.
Investment calculators are eye-opening, and they're insanely addicting to play with.
Below is the screenshot of a made-up scenario to show how you really can start with just a small amount of money and turn it into something big: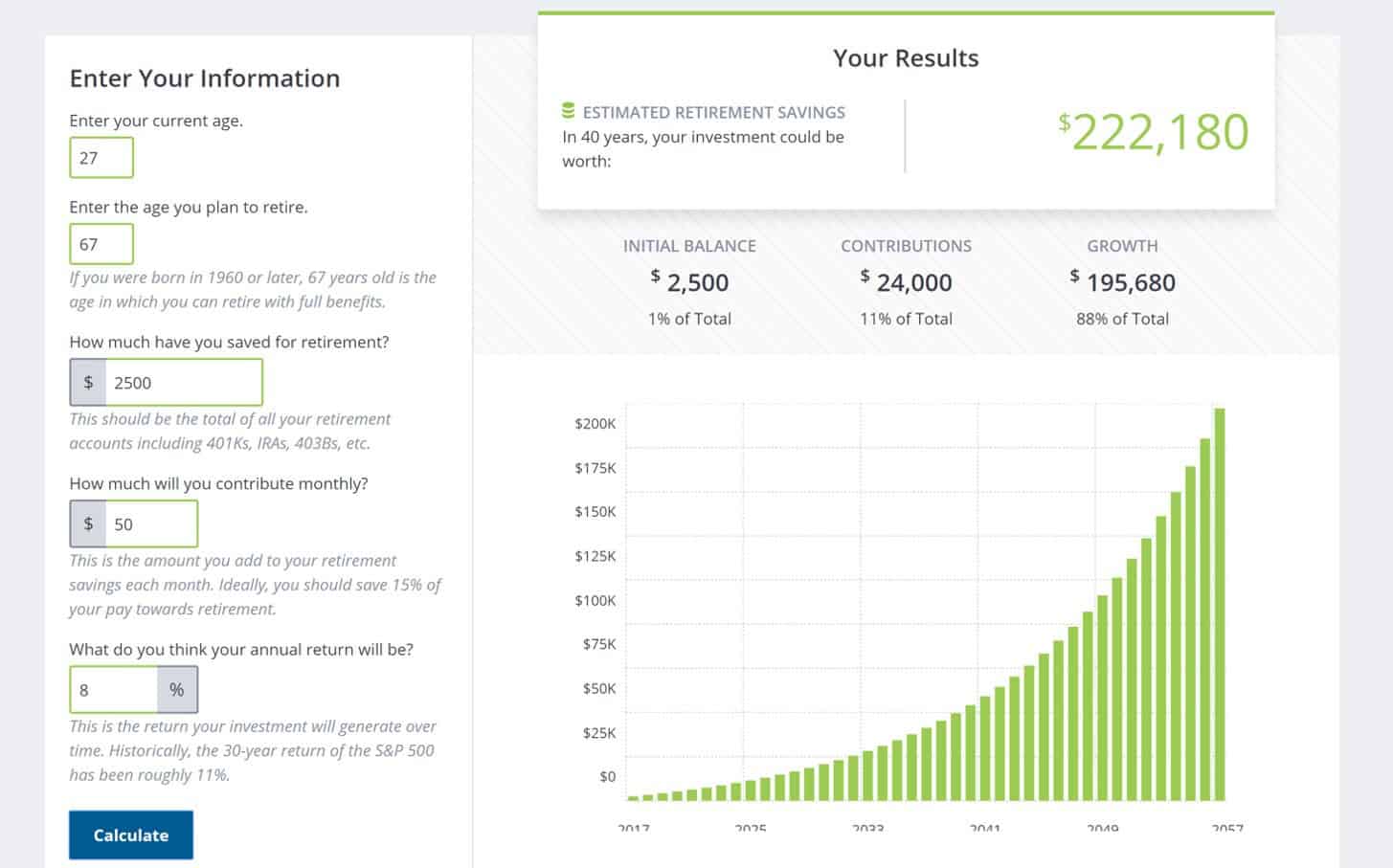 Source: DaveRamsey.com
By starting with only $2,500 dollars and saving $50 a month (something that almost anyone can find room in the budget to do), you can grow it to over $220k. Think about what you could do with all of that extra money.
And that's just the beginning…
If you're able to put more money to work at the beginning, or able to contribute more each month, or invest for a longer period of time, your end amount increases immensely.
By tweaking the calculator inputs just a little bit to a starting balance of $5k; $200 monthly contribution; and a 40-year time span, the end amount you could have is $780,097.05.
This is a life-changing amount of money, and it all starts by investing only $200 per month.
The most important part of this process, though, is getting started.
To take full advantage of compounding growth, the earlier you start the better. If you decide to put it off (even for just a couple years), your potential earnings go down significantly.
If you haven't started investing for your future yet, today is the best day that you can do it.
Here are the exact steps you need to open a traditional IRA and start investing from home, right now.
Open a Traditional IRA (Step-by-Step)
In this guide, you'll learn how to open up an Individual Retirement Account (IRA) with Ally Invest.
Best Place to Open an IRA
There are many companies you can choose from to open an IRA account, but we'll consider Ally Invest in particular because we think they have the most user-friendly platform for new investors.
GuidedChoice is another great option if you like to have comparisons.
How Much does it Cost to Open an IRA?
Ally definitely offers the best value (opening an account is free, and trades are only $4.95 each; well under the industry average).
They also offer many free resources for you to use, too, which is great for new investors.
Ally Invest has 2 Main Options for Investors:
Ally Invest Managed Portfolios– $100 account minimum. Their team recommends and manages a professionally designed portfolio based on your personal goals, time horizon, and risk tolerance. The annual fee for this account is 0.30% of assets managed.
Self Directed Trading– No account minimums. You're on your own to figure it all out. No ongoing fees; you only pay trading costs ($4.95 per stock or ETF trade).
So which one do should you choose?
Well, it depends on your situation. If you have never invested in your life and you can meet the $100 account minimum, the annual fee for the Managed Portfolio option is well worth the cost.
If you are more of a Do-It-Yourselfer (or you can't meet the account minimum for Managed), the Self Directed option will work perfectly fine, and it will also most likely cost you less over the long run.
Here's how to get started with each option.
Related: Swell Investing Review: A Socially Conscious Way to Invest Your Money in 2018
Option 1: Ally Invest Managed Portfolio
If you meet the $100 account minimum and need some help building and managing your investment portfolio, visit Ally's website and scroll about halfway down to open a traditional IRA. You should see two options- the option on the right is for the Managed Portfolio product.

After clicking on the open account button, you'll be directed to a basic form to get started: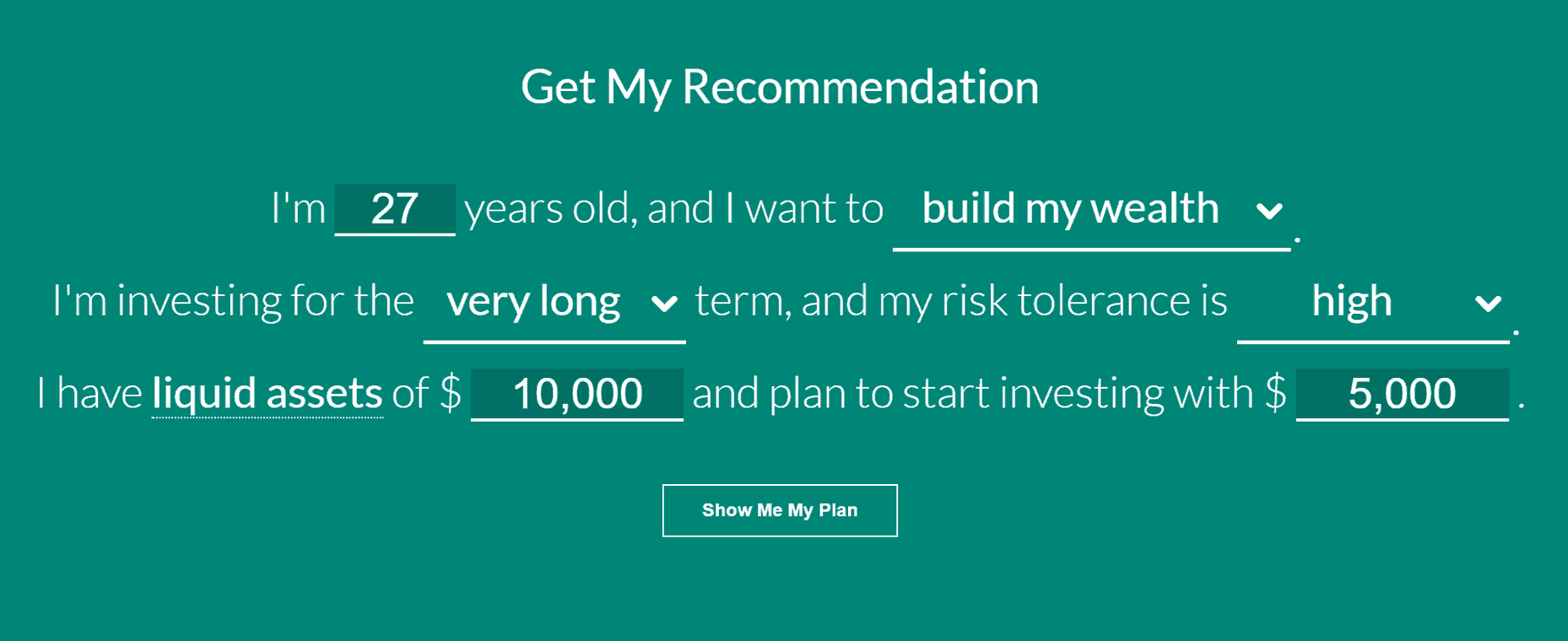 After selecting the "Show Me My Plan" button, you should see something similar to this: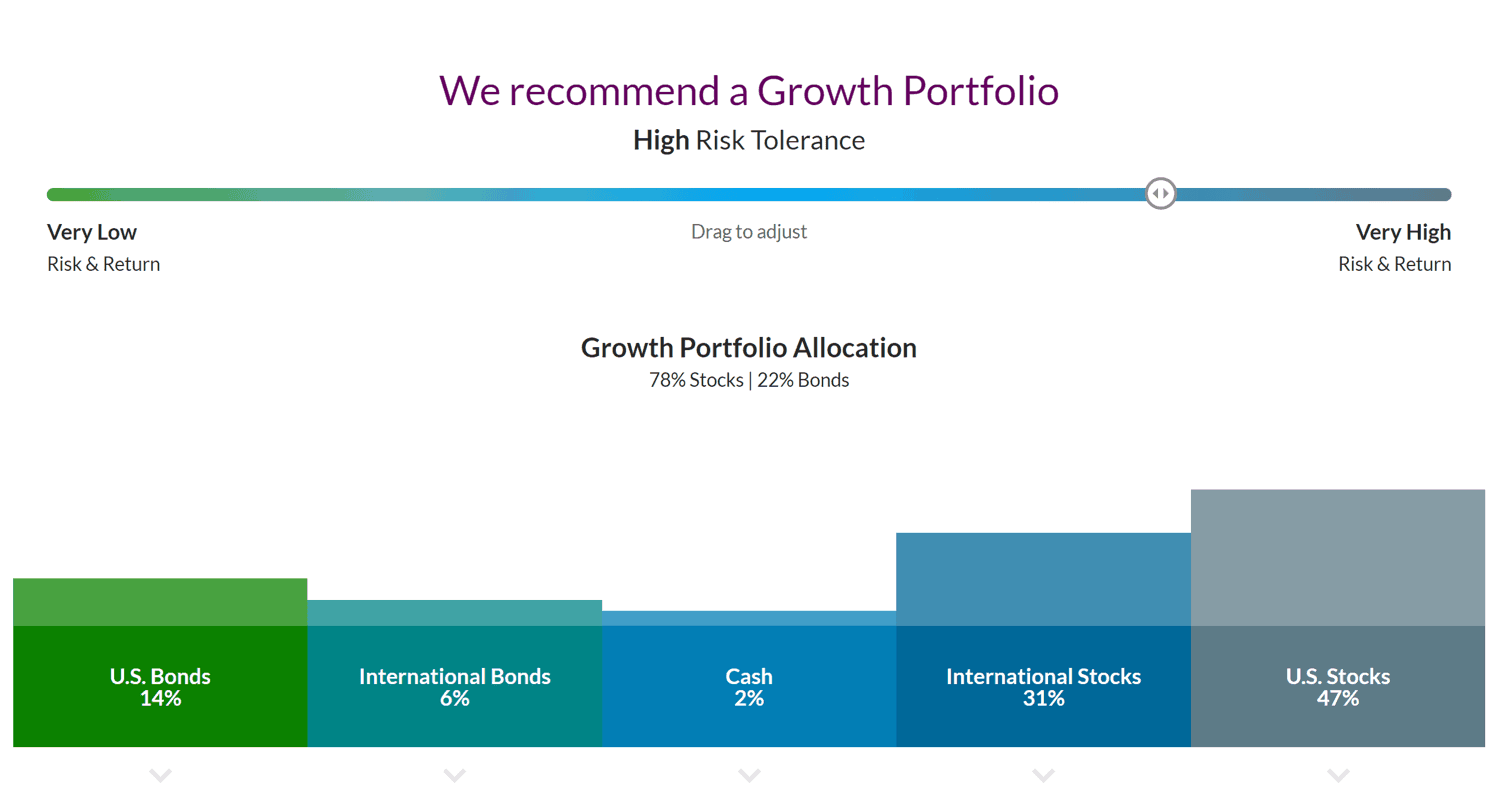 If your eyes glaze over when you look at asset allocations and you have no clue what anything means, then the Managed Portfolio option (this option) is probably best for you– let the pros handle it for a very reasonable cost.
After this step, you simply answer a few more questions to open your account and then you're well on your way to opening a traditional IRA and becoming an investor!
Some highlights of the Ally Invest Managed Portfolio program:
Goal-oriented investing
Their team recommends professionally designed, personalized portfolios tailored to your financial needs, risk tolerance, goals and investment horizons. Basically, you've got someone looking after you to guide you along.
Low cost
Advisory fees are low (0.30% of your account value per year) and there are no trade fees when they buy or sell investments on your behalf.
Note: Some companies in wealth management charge upwards of 1.75% per year, which is ludicrous. 0.30% for this level of service is a very reasonable fee and well worth it.
Expert support
They've have 24/7 phone support, and you can always speak to a real human about your portfolio.
Automatic rebalancing
They regularly update your asset allocation based on your investment profile, including your risk tolerance, the projected length of investment and wealth outlook. So basically, you don't need to stress about your investments.
Option 2: Self Directed Trading
Despite the Managed Portfolio account being a really great option for new investors, the truth is, even a 0.30% annual fee does add up over time.
The best way to get rid of that annual fee is to choose and watch over your investments yourself.
Don't worry, this does not have to be hard. With just a little bit of learning, you can build a super lean and simple portfolio that doesn't need a ton on maintenance.
If you're up to the task, consider Ally Invest's Self Directed Trading Platform for building your own portfolio.
To get your account set up, simply go to Ally's website and select the left-hand option to open a traditional IRA (about halfway down the page):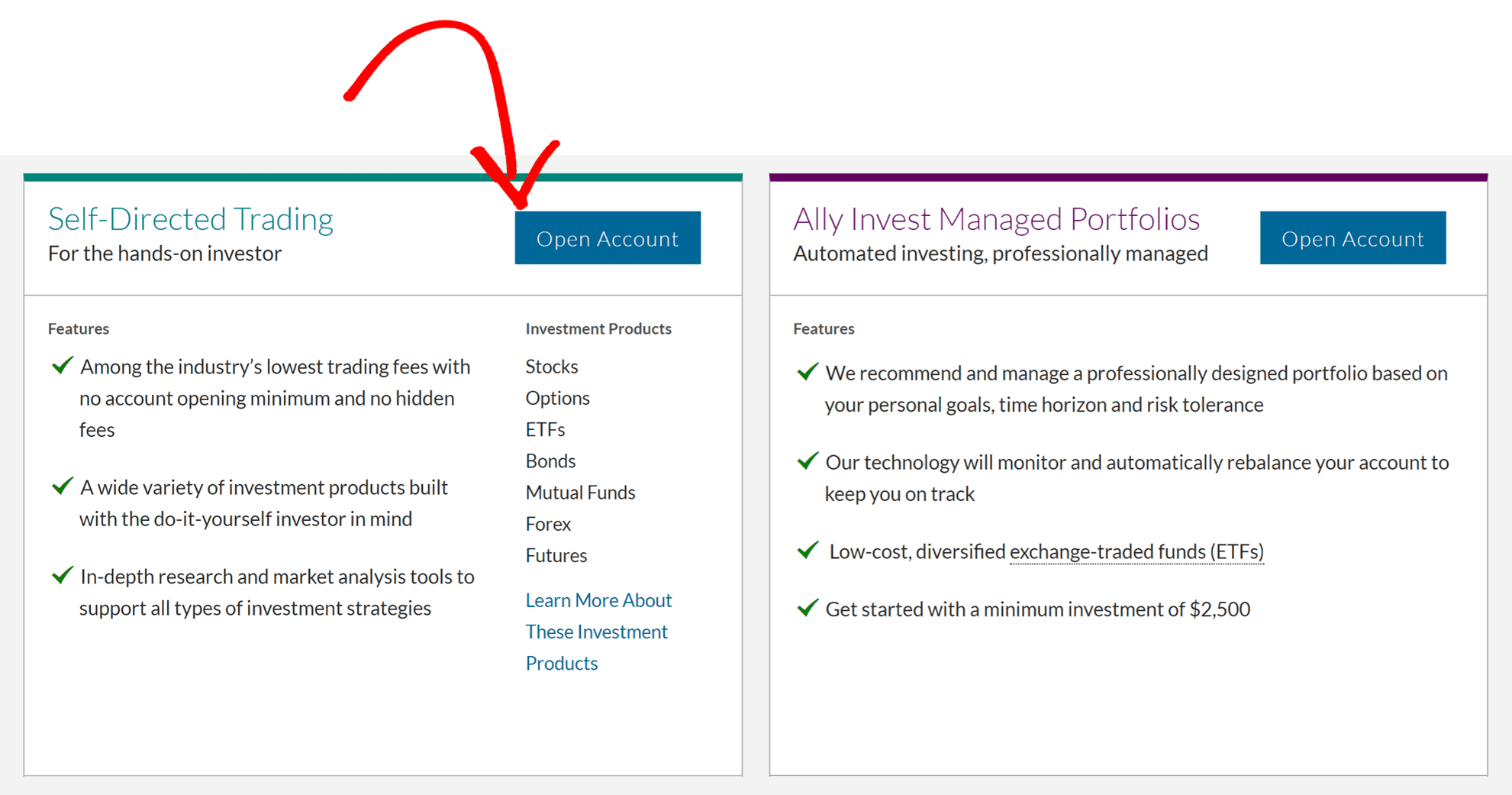 Since this type of account is self-directed, it's quite a bit quicker to get started opening a traditional IRA.
Here's the kind of information that they need in order to open your account:

Basic personal information

Employment information

Financial information – net worth information, liquid assets, etc.

Investment objectives – risk tolerance, time horizon, etc. Even though you will be managing your own account, they still need to have this information on file.

Beneficiary information – how your account will be handled should you pass away.
Once you have your traditional IRA opened, the next step is to fund your account and start investing. There are many resources out there to help you learn the ropes.
See Also: How to Invest: A Beginner's Guide to Investing in the Stock Market
Most Importantly – Get Your IRA Opened
As mentioned at the beginning of this article, the most important part of this whole equation is getting started now. If you want to really get the most out of your money, you owe it to yourself to do it the right way.
Whether you're a stock market veteran or a total newbie, it's usually a good idea to keep your portfolio simple. You don't need to complicate things!
Now that you know exactly how to open a traditional IRA, it's your move. What will you do?
More Cool Stuff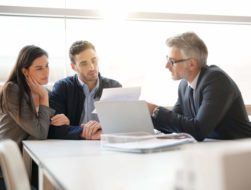 How Much Money Do I Need to Retire?
Many people worry whether or not they're saving enough money for retirement. To make matters more complicated, there is a lot of conflicting information out there when it comes to retirement savings goals, the ideal withdrawal rate, and more.