Undrey | Shutterstock
Want to learn new ways to make
extra money

?

Join the family to get updates from us and tons of cool freebies:
Some of the links in this post may be from our sponsors. Policy Page
If you are reading this article and you are in your twenties (or even your thirties), you are in the golden years for setting yourself up to retire with a lot of money.
A lot.
I'm talking a million or more.
But in order to make that happen, you need to make investing a regular part of your financial life and start to invest in your 20s.
The problem for a lot of young people is that learning how to invest hangs pretty low on their priority list.
If this sounds like you, don't fret.
Related:  Learn How to Invest for Beginners (How to Manage Your Own Portfolio)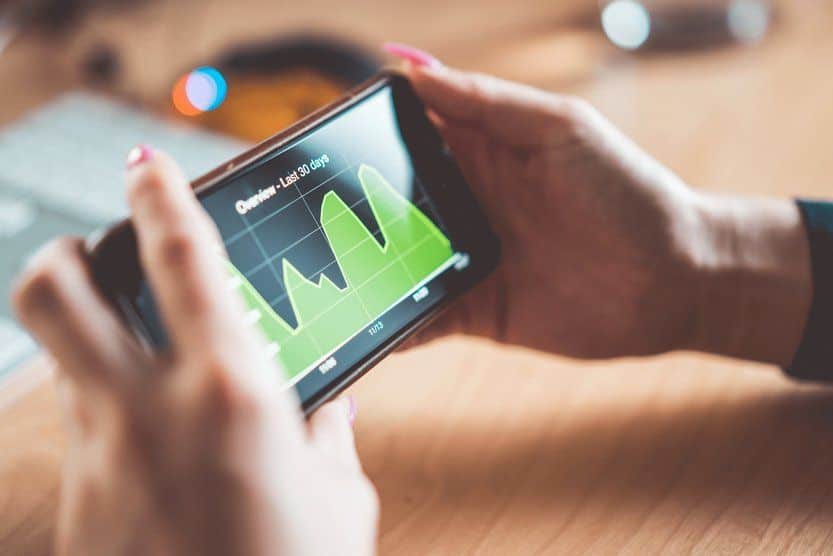 The first step is to recognize the two major mental barriers that affect many millennials when it comes to investing in your 20s:
1) Overcoming the idea that you can't afford to save a lot of money at this point in your life.
The simple truth is that you probably have more control over your cash flow now than you ever will.
Once you have a family, kids, a mortgage, etc., the game changes.
Big time.
With some discipline and planning, you can actually save a lot more than you think.
Even if you start out small as you invest in your 20s, getting started is the most important step!
Related: 10 Money Lessons New College Grads Need to Know
2) If your parents didn't teach you (or you didn't study finance in college), then investing is probably a foreign concept to you.
We don't crawl out of the womb knowing that maximizing your 401(k) contribution is a smart idea.
We aren't born knowing how the stock market works.
But there is good news.
With today's technology, it's actually easier than ever for anyone to get started with investing. Yes, anyone. Even if you don't know the first thing about it, you can still invest in your 20s.
Let's take a look at the best ways to take advantage of these important years.
Related: Betterment Review: Are Robo-Advisors a Safe Way to Invest in 2018?
Best Ways To Invest Money in Your 20s
Step 1: Understand that time is on your side
And it won't always be that way.  The power of compounding becomes much stronger the longer you can let it work for you.
Consider this:  If you start saving $100 bucks a month at 25 years old (just $1,200 a year!) you'll have $187,500 by the time you're 65, assuming a 6% annual return.
However, let's say you waited ten years and didn't start saving until 35 years old.  Keeping everything else exactly the same, you'd end up with only $94,800.  Barely half of what you would have had before!
That's why it is so critically important to get started now.
(I love going through all the hypotheticals– check out this nifty investment calculator if you have numbers you want to crunch).
Related: Swell Investing Review: A Socially Conscious Way to Invest Your Money in 2018
Step 2: Automate your savings
Part of being a successful investor that makes a lot of money over the long term is to be continually investing.
The best way to make sure you keep up with regular contributions to your investments is to set up an automatic bank draft each month that goes straight to your brokerage account(s).
By automating your savings, you won't be tempted to spend that extra money each month on stuff you don't need, since the money just goes straight to your investments.
Don't underestimate the value of setting this process up- getting out of your own way is so important here.
If you have a 401(k) at work, make sure you are contributing the maximum for each pay period that your employer will match.  This is basically free money for you, don't pass it up!
Related:  The Best High Yield Savings Account with a High Interest Rate
Step 3: Keep your fees low
Step 1 showed you the power of compound interest.  Unfortunately, it also works just as potently in the opposite direction.
Yep, I'm talking about fees.
You are likely best off using low-cost index funds that mirror the stock market (for example, an S&P 500 index fund).  This also takes away your excuse of not being a stock market wizard; index funds are a great way for beginners to invest.
Index funds have extremely low fees which have made them quite popular among both new and experienced investors.
Assuming you'll be building your portfolio using exchange traded funds, or ETFs (I don't recommend buying individual stocks until you are much more familiar with the ins and outs of investing), you'll be paying a small annual fee for each of those funds.  This isn't a bad thing, as long as you keep yourself in check.
As a general rule of thumb, you should only invest in funds that have annual expense ratios under 0.50%.  There are plenty of funds that are even under 0.20% per year.  If you're paying any more than .5%, you're being ripped off.
Step 4: Be Aggressive Investing in 20s
In order to achieve higher returns, often times it means taking on more risk with your investments.  Remember, stock prices fluctuate every day with the market, some more than others.
Because you have time on your side, you can afford to be more aggressive with your investments in order to possibly earn more money.
This means favoring stocks over bonds, and buying companies that have higher growth potential (and more risk).
If you choose to be conservative while you're young, you risk losing out on market gains and compromising your long term savings and retirement goals.
Here's a really helpful article on building an all-ETF portfolio, which I highly recommend for new investors (heck, even experienced ones).
How to Invest Money in Your 20s
If you're wondering how to invest in your 20s, I recommend opening an account with Ally Invest (formerly called TradeKing). Their platform is very easy to use, and it's one of the least expensive online brokers out there. For those two reasons alone, I think they're the best bet for any investor looking to get their feet wet in the stock market world.
Plus, they've got all sorts of really helpful educational stuff, if you're into that sort of thing 😉
Oh, and opening an account is free!
$4.95 stock trades and no account opening minimums.
If you're not quite ready to take the DIY approach to investing, using a robo advisor might be a better fit!
Invest in Your 20s: Start Today
There are many things we all want to do in our 20s, and no, investing isn't typically high on the list. But consider the benefits ahead if you get started today and invest in your 20s – especially if you decide to take an aggressive approach.