Photo Credit © Shutterstock Images
Want to learn new ways to make
extra money

?

Join 1,000,000+ monthly readers in getting updates and cool freebies:
Our number one goal at DollarSprout is to help readers improve their financial lives, and we regularly partner with companies that share that same vision. Some of the links in this post may be from our partners. Here's how we make money.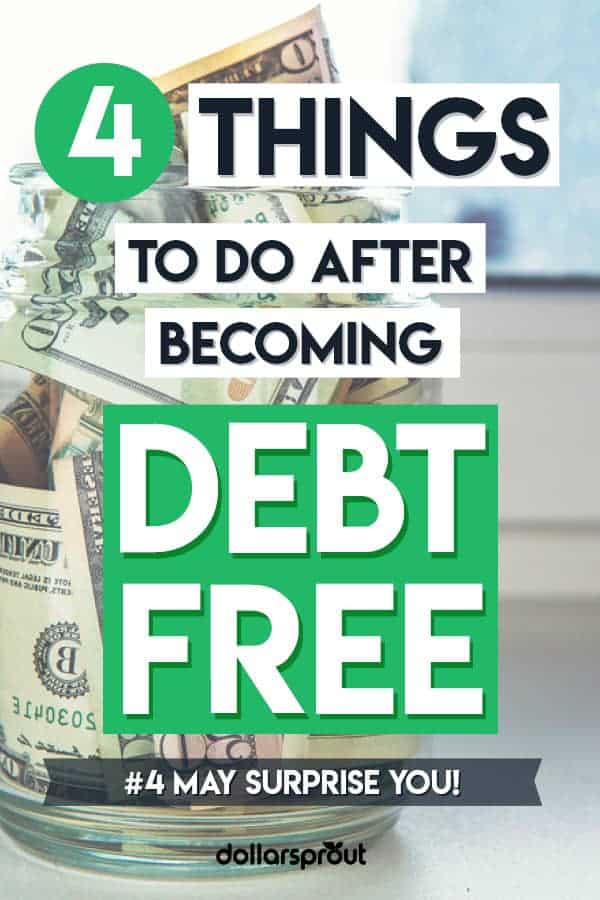 Everyone talks about getting out of debt and the many ways to become debt free.
But why does the conversation end there?
People rarely mention the next steps, which explains why 20% of Americans think they'll never become debt free.
Use the same discipline it took to get out of debt and apply it to saving and investing your money.
4 Things to Do When You're Debt Free
Now that you've paid off your debt, take the necessary steps to rebuild your life and set yourself up for financial success.
Consider the following four things you must do now that you've finally become debt free.
1. Prioritize Saving for Retirement Immediately
No one wants to work until the day they die. At least not when health issues or aches and pains due to old age kick in.
Retirement is expensive and without an income, you will need to have money to live. Paying off debt comes first, but now it's time to focus on retirement.
Set aside a percentage of each paycheck. If your employer offers a matched 401k plan, start there. The rate of growth on this type of account is quicker than most because of the money your employer contributes.
Additionally, you can peruse a list of investment apps to find other ways to grow your retirement funds.
2. Set Aside Money to Offset Education Costs
After making a plan for your own future, plan for your kid's education. A 529 plan ensures that your child will have a shot at college without having to pay off student loans.
You may not have children yet, but if you plan to, you can start this fund any time.
Related: SoFi Review 2019: How to Save Money with Student Loan Refinancing
3. Building Your Credit
If you'd like to see an improvement in your credit score, you can work on improving your credit by using a secured credit card and an unsecured credit card. You don't want to have too many credit accounts, but it's good to have one or two minimum.
Always make sure to pay the balance in full each month to avoid paying high interest rates or missing a payment. Decide on an amount that you're willing to put on a credit card each month and stick to it. That way you won't fall into credit card debt.
Related: Do You Know Your Credit Score? You Should. Here's Why It's Important. 
4. Create an Emergency Fund
Open an online savings account to cover unforeseen circumstances.
You may have a small amount in savings, but it needs to be enough to cover real problems. A car malfunction, pet emergency, or loss of job could put you back into debt without proper savings.
Here's a great video by Marissa that explains what an emergency fund is and how to use one:
Take these steps to protect your financial future and plan for it. It does not take long to do and you will be thankful that you stuck to your budget and set goals for yourself, especially once you start to see the payoffs of your efforts.
You May Also Like