Gorodenkoff | Shutterstock
Want to learn new ways to make
extra money

?

Join 1,000,000+ monthly readers in getting updates and cool freebies:
Our number one goal at DollarSprout is to help readers improve their financial lives, and we regularly partner with companies that share that same vision. Some of the links in this post may be from our partners. Here's how we make money.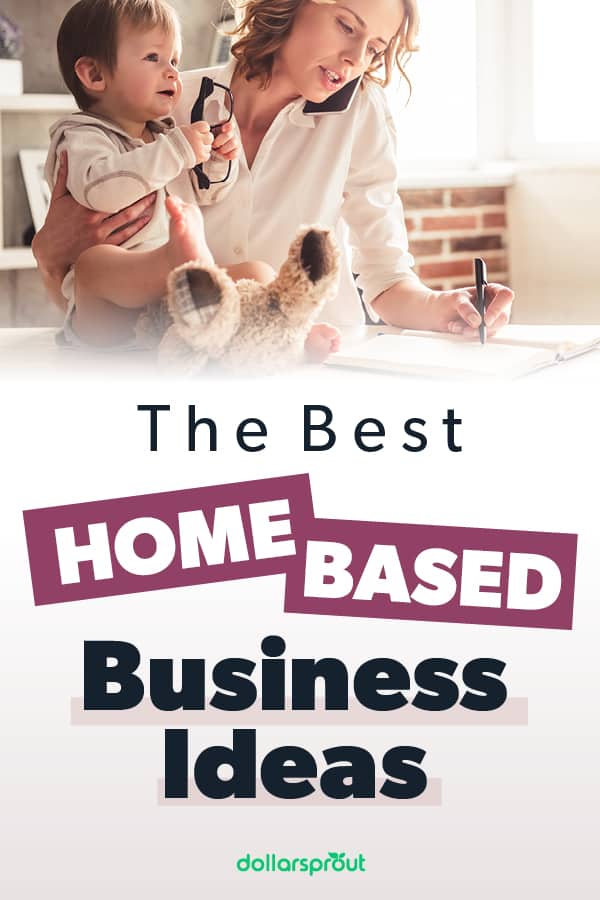 In October 2018, I left the 8 to 5 office life to pursue my freelance writing business from home.
I can now do laundry and clean my house on Tuesday mornings, stay in my comfy leggings all day long, and take breaks whenever my heart desires. Gone are the days of long commutes, business professional clothing, and co-worker distractions.
Working from home has given me the freedom and flexibility I need to live on my own terms. My quality of life has improved in ways that I can't even describe, and I'll do practically anything to make sure I can keep this work from home life going for as long as possible.
If you like the idea of being able to earn money at home in your PJs, you may want to consider starting a home-based business. There are a wide variety of home business ideas that yield high hourly rates with minimal start-up costs. And no, they have nothing to do with multi-level marketing.
If you're self-motivated and hard-working, starting one of these business ideas from home may be just what you need to enjoy a flexible schedule, save time and money on a daily commute, and make a great living doing what you love.
15
Internet

Based Home Business Ideas
1. Blogging
If you enjoy sharing your thoughts with others or are passionate about topics like fashion, travel, or personal finance, you can make money blogging. Display ads, affiliate marketing, consulting, or products like eBooks and courses can help you earn money through a blog.
To start a blog, you can use HostGator, a hosting company that can accommodate your needs as your blog grows. Once you choose a HostGator hosting plan, you'll need to buy a domain name to get your site up and running. The cost of yearly hosting and a domain name will likely be less than $50. Even if you get sick of blogging, you won't be out a ton of money.
Monetizing your blog takes time and persistence, so don't expect to make money overnight. You'll need to consistently publish useful and entertaining content and build your traffic before you can really make serious cash. As long as you put in the effort, you can start making a few hundred or even a few thousand dollars per month within a few years of starting.
Related: How to Start a Profitable Blog (Step-by-Step Guide for Beginners)
Want to see how we built a profitable blog?
In this FREE 7-day email course, you'll join 50,000+ other readers in:
Seeing the exact steps we took to earn our first $1,000 blogging (and beyond).
Starting your own blog (and learning how to write epic, money-making content).
2. Virtual Assisting
Becoming a virtual assistant can give you the opportunity to help entrepreneurs or businesses with various tasks without leaving your home. As a virtual assistant, you may answer phone calls, schedule appointments, manage special events, update social media posts, or take care of personal errands.
To find virtual assistant jobs, try advertising your services on your social media network, reach out to local business owners, or explore freelancing websites like Upwork and People Per Hour. You can expect to make anywhere from $20 to $50 an hour. After a few successful gigs and good testimonials, you can start to increase your rates.
Use this list of 150+ services to decide what types of services you want to offer.
3. Freelance Writing
If you love to write but don't want a 9 to 5 gig, a freelance writing business may be a great option. You can create content for online publications, start-ups, small and medium-sized businesses, and Fortune 500 companies.
While some of the content will be informative and technical, other content may be promotional or driven by search engine optimization (SEO). You may be given an outline or asked to start a writing project from scratch. It just depends on the client and their goals.
If you're interested in freelance writing and don't know where to start, Holly Johnson's Earn More Writing course is well worth the investment. Johnson earns more than $200,000 a year as a freelance writer and includes tips and tricks you need to thrive.
4. Facebook Ads Managing
Facebook ads are invaluable for all businesses because they allow them to target their marketing messages to specific locations, demographics, interests, and behaviors. But many businesses don't know how to plan and execute a successful Facebook ad campaign.
That's where you come in. You can get paid to manage Facebook ads for these businesses. Bobby Hoyt's Facebook side hustle course shows you the ins and outs of Facebook advertising to make a decent hourly wage.
Facebook ads are popular digital marketing services, and there's not much ongoing work to do after you onboard a client and do the initial heavy lifting.
You can make anywhere from $1,000 to $2,000 a month per client and can get started without any website or marketing experience. If you're a pro at other forms of digital marketing such as Google AdWords or SEO, you can turn your Facebook ad business into a full-blown digital marketing agency.
5. Proofreading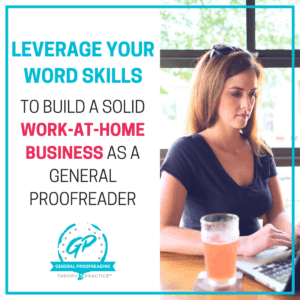 If you have an eye for spotting typos, you may be a great fit for a proofreading business. Unlike an editor who often makes significant changes to written work, a proofreader checks documents for typos, misspellings, grammar issues, and inconsistencies.
As a work-from-home proofreader, your work may involve reading pages of transcripts, books, or blogs. You can make anywhere between $25 to $44 per hour while sitting on your couch.
If you're interested in proofreading, enroll in Proofread Anywhere, a proofreading course by Caitlin Pyle, a proofreader who made $43,000 doing this part-time. Her course can give you the mindset and skills you need to become a successful proofreader.
6. Transcribing
Transcribing something means converting speech into written text. While it may seem like transcription is just typing words very quickly, it does take skill to translate the technical words that a doctor, lawyer, or other professional uses. You'll also have to decipher any accents and write sentences with proper grammar and punctuation.
If you're a fast typer, are detailed-oriented, and have above-average grammar and punctuation skills, you can build a thriving transcription business out of your home, as long as you don't have a problem with sitting for long periods of time.
You should also be okay transcribing topics that you may not be particularly interested in. For example, you may have to transcribe doctor's notes when they're describing a patient's diagnosis or a lawyer's questions during a deposition.
With Transcription Anywhere, a course by the owner of Zoom Transcription Services, you can become an expert transcriber in no-time. You should expect to start at about $15 an hour, and can eventually increase your rates to anywhere between $25 and $30 per hour.
Related: 17 Online Typing Jobs You Can Do From Home
7. Dropshipping
A dropshipping business is where you sell merchandise without keeping any inventory yourself. Here's how it works: A customer buys an item from your online store at the retail price. You then forward their order to your supplier and pay them the wholesale price. As soon as your supplier receives the order, they'll ship the item to your customer, and you'll keep the profit.
You can start your dropshipping business through Shopify, Etsy, and eBay. It's easier to use big platforms like these because customers already trust these sites, and they already have huge amounts of traffic.
Think about what you'd like to sell. Are there certain products that you're particularly knowledgeable about?
Whether you sell Bluetooth speakers, fitness trackers, or eyelash extensions, you can make good money without spending a great deal of cash on inventory that you may or may not sell. The amount of money you make depends on how much product you sell, but many drop shippers make thousands of dollars each month.
8. Social Media Manager
If you're social media savvy, you can put those skills to use while working at home. You can become a freelance social media manager and handle social media accounts for small businesses and entrepreneurs that don't have the time or knowledge to do it on their own.
It's a good idea to target a specific type of client. For example, you may want to handle social media management for contractors or doctor's offices. Once you figure out your niche, you can create monthly social media packages and start marketing your services. The course, Social Media Management – The Complete 2019 Manager Bootcamp, can help you get started on the right foot.
Although the average salary of a social media manager is $49,000 a year, you can set your own rates as a freelancer. As you grow your business, you can always hire social media assistants to take care of the day-to-day work while you handle business development and try to land more clients.
9. Online Chatting / Chat Agent
To make life easier for their customers, many businesses offer an online chat feature on their websites. This allows customers to connect to customer service representatives online and get the support they need without picking up the phone. ModCloth, Warby Parker, and WayFair are a few examples of big brands with online chat support on their sites.
You can make money from home as a chat agent by using special chat software to communicate with customers and address their concerns. You can look for clients on FlexJobs and Fiverr and grow your business through referrals once you're up and running.
The amount you'll earn online chatting will likely depend on how much time you spend with customers. On average, most online chat agents make anywhere between $10 and $50 per hour.
Related: 19 Online Chat Jobs You Can Do from Home (No Phone Required)
10. Children's Book Writing and Illustrating
If you're the creative type, you may like the idea of making money by writing and illustrating children's books. We won't lie; this is a competitive niche. But if you're willing to work hard and think out-of-the-box, you're bound to succeed.
The How To Write a GREAT Children's Book course was created by two bestselling-authors and can help you create quality children's fiction, submit to book publishers with confidence, and self-publish your stories through Amazon and other outlets.
You can also join the Society of Children's Book Writers and Illustrators and participate in marketing and outreach programs, apply for grants and awards, and attend local events such as meetups and conferences.
11. eBook Writing
An eBook is an electronic version of a book that can be read on a computer, phone, or tablet. eBooks are widely used, especially by people who have long commutes or while doing mindless chores. If eBook writing can be a great way to earn money from home if you love to write and are knowledgeable about certain topics.
Once you write your eBook, your main job will be to try to sell it online. You can set up your own website and sell your eBook directly or work with a third-party like Amazon Kindle Direct Publishing. To find out how to write a sellable eBook, check out Michelle Jackson's Make Money with eBooks course.
Michelle will teach you how to choose a niche that converts and sell your eBook passively while you're spending time with your kids, traveling, or even sleeping.
12. Web Designing
Do you have a knack for designing websites? If so, you can start a successful web design business from home. All types of businesses depend on quality websites to thrive so finding clients shouldn't be too difficult.
Most web designers charge around $75 per hour and make anywhere between $500 and $5,000 per website. You can always charge more by offering extra services like content creation and search engine optimization.
You don't have to be an expert web designer to get into this field as there are many good courses for beginners. If you're new to web design, try Web Design for Beginners: Real World Coding in HTML & CSS and learn how to create any web design layout, support mobile devices with responsive design, and add animations and effects.
13. Graphic Designing
Graphic design has a huge impact on our daily lives. Every billboard, product label and t-shirt was created by a graphic designer. Big and small brands use graphics like logos, ads, and infographics to capture an audience and promote their products or services.
If you're passionate about graphic design and want to help businesses succeed with your creativity, you may want to launch an at-home graphic design business. While you'll need to invest in graphic design software like Adobe Photoshop or InDesign that will cost about $20 to $50 per month, you can expect to make an average of $45 per hour.
Before you start your business, it's essential to gather your work samples and create an online portfolio. This way, you can show potential clients your work and unique style. You could also take a free Graphic Design Basics course on Skillshare to further your skills.
14. Social Media Influencing
Since 74% of consumers rely on social media to influence their purchasing decisions, it's a great time to become a social media influencer. As a social media influencer, you'll get paid to use social media platforms to express your opinions on specific brands or products. Your goal will be to influence what social media users buy.
An example of a social media influencer is fashion blogger, Julie Sariñana. She loved H&M's fall clothing line so much that she decided to promote it from her own Instagram account. Julie linked to H&M's fall clothing pieces and encouraged her followers to buy them, helping H&M take its business to new heights.
To start your influencer business, you'll need to find your niche. Are there certain brands or product lines you're particularly interested in reviewing like makeup, skincare or home appliances? Once you build your social media following and position yourself as an influencer in a certain niche, you can network with business owners and entrepreneurs to promote your services.
15. Handmade Etsy Business
If you're the crafty type, you can sell jewelry, artwork, leather goods, or cards from home.
Etsy is full of handmade products so it's a good idea to do your research and make sure that the items you'd like to create are unique. The more unique your item is, the more likely you are to break through the competition and make a good living on Etsy.
You'll pay a 5% transaction fee on each item you sell. Also, if you accept payments via Etsy Payments, the site will collect 3% and a $0.25 payment processing fee.
Don't let these fees discourage you. If you keep your material expenses low and are able to sell most of your items, your handmade Etsy business can become profitable.
Related: 16 Online Business Ideas That Anyone Can Start (with Little or No Cost)
7
Local

Home Business Opportunities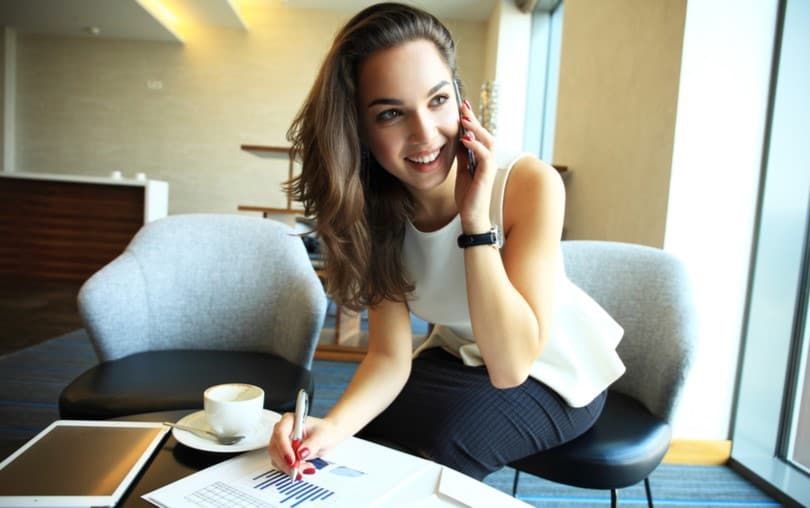 If you don't mind leaving your house, there are a number of local home-based business opportunities that you can consider.
Related: 10 Best Business Books to Add to Your Reading List
16. Pet Grooming and Boarding
Pet grooming and boarding lets you spend time with furry friends while making money. Rover is an online marketplace that can connect you to pet owners who are in need of pet grooming and boarding services.
With Rover, you can manage your business through a convenient mobile app and get 24/7 support including vet assistance. Best of all, the Rover Guarantee protects your services for up to $1 million.
Once you build an online profile with Rover, you can accept job requests and collect the money two days after you've completed the service. Although Rover is free to use, you'll have to pay for a required background check and a 20% service fee every time you complete a job. If you use Rover consistently, you can earn a couple hundred dollars or more every month.
17. Housekeeping
Many people don't have the time or desire to clean their own homes, so they look for housekeepers to make their life easier. If you don't mind working a physical job and like the idea of traveling from home to home, a housecleaning business may be a great idea.
You can advertise your services on social media, hand out flyers at community events, or create a profile on Care.com. Care.com can connect you to people in your area looking for housekeeping services and can help you find regular clients for monthly or weekly appointments.
On your profile, you can state whether or not you'll bring your own cleaning supplies and if you're open to providing additional services like shopping for groceries, running errands, or doing laundry. The average rate for housekeepers on Care.com is $13.50 an hour.
18. Nannying
Parents are always on the lookout for trustworthy nannies, especially if they have busy careers and can't always be home. You can make excellent money nannying if you love kids.
Care.com can help you find parents in your area who are searching for nannies. Whether you're in search of a regular nanny gig or want to be an occasional babysitter, you can find what you're looking for by creating a profile on Care.com.
How much you can earn depends on your experience level and the number of kids you'll be watching. The average rate for childcare on Care.com is $12.50 an hour.
19. Consigning
Do you own clothes, shoes, jewelry, furniture, kitchen appliances, and other items that you no longer use or need? You can clear your clutter and make money at the same time by starting a consigning business. There are countless selling apps that can give you the chance to advertise your items and sell them with ease.
There's letgo, which is a great option if you want to avoid shipping items and don't mind selling in person. If you have lots of clothes, ThredUp may be a better way to go. You can also use old standards like Craigslist or Facebook Marketplace.
The types of items you sell and how many of them you sell will dictate how much money you earn. Of course, you'll make more selling a Gucci handbag than you would selling a toaster that's been sitting in your kitchen cabinets for years.
20. Flea Market Flipping
While you can make money flipping houses, you can also earn big by flipping items that you find at places like flea markets and yard sales.
Here's an example of a flea market flip: You go to a yard sale and buy a brand new patio table for $50. Then, you go home and list it on a site like eBay, Craigslist, or Facebook Marketplace for $150. Someone buys the table, giving you a profit of $100.
If you're intrigued by the idea of flea market flipping, consider signing up for Rob and Melissa's Flipper University. Rob and Melissa are expert flea market flippers willing to share some of their tips and tricks so you can succeed in this business.
21. Handyman
If you consider yourself a DIY-er, you can make money helping others with various handyman tasks. You can support people in your neighborhood with home projects and repairs that they may have been putting off because they don't have the time or skill set to complete them.
TaskRabbit can connect you to locals who need help with tasks like lifting heavy items, mounting a mirror on the wall, or assembling furniture. To become a "Tasker," you can create a profile, select the jobs you want to complete, and submit your invoice. It's really that simple.
Each task pays a different rate so the amount you can earn depends on the types of tasks you complete and how often you sign up for new tasks. While assembling a table may pay you anywhere between $52 and $141, a task like moving boxes with a truck may be in the $53 to $141 range.
22. Taking Photos
If you love photography, consider turning your hobby into a successful business. You don't have to be a professionally trained photographer to make money taking photos. There are plenty of apps and websites that will pay you for your pictures.
EyeEm will pay you for quality photos you may already have on your phone. You can also upload your photos to stock photo sites like Shutterstock and Adobe Stock. In most cases, you can earn anywhere from $0.25 to $0.45 per photo.
Related: 37 Small Scale Business Ideas You Can Start Today
3 Tips for Running a Successful Home Business
Running a successful home business takes time and dedication. But it can pay off by giving you the freedom, flexibility, and cash flow you've always wanted.
Value Your Time
When you're running your own business, time is money. The more time you dedicate to your business, the more you'll earn. So, if you have to watch your kids five days a week, you may not be able to make as much money as someone who has free childcare and more time to spend on their business.
Before starting a home business, ask yourself how much time you have to commit to it. If you feel like your time is limited, try to figure out how you can free up your schedule and give yourself a greater chance to succeed.
Don't be Afraid to Invest in Your Home Business
In a perfect world, you'd earn a ton of money without spending a cent on your business, thus keeping more of your profit.
But most home businesses require some type of financial investment. Whether you spend money on inventory, gear, or courses, investing in your home business can pay off.
The good news is that you can deduct these expenses from your business income. Track what you buy on your business and even use a separate credit card to make it easy.
Keep Your Personal and Business Finances Separate
It's a good idea to keep your personal and business finances separate. Doing so will help you avoid confusion and know exactly how your business is doing. Set up a separate bank account for your business and track your business expenses separately from your personal expenses.
Running a Profitable Home Business Requires Planning
Running a home business isn't always rainbows and sunshine. It requires a lot of time, dedication, and planning. If you're up for the challenge, we encourage you to take that leap of faith.
Working for yourself at home can help you live the life you've always dreamed about. A life where you do what you love, set your own hours, and reap all of the benefits of your hard work. You can spend more time with your family and make time for the activities you care about. With a home business, you can put your long commute behind you and become your own boss.
You May Also Like