eggeegg | Shutterstock
Want to learn new ways to make
extra money

?

Join 1,000,000+ monthly readers in getting updates and cool freebies:
Our number one goal at DollarSprout is to help readers improve their financial lives, and we regularly partner with companies that share that same vision. Some of the links in this post may be from our partners. Here's how we make money.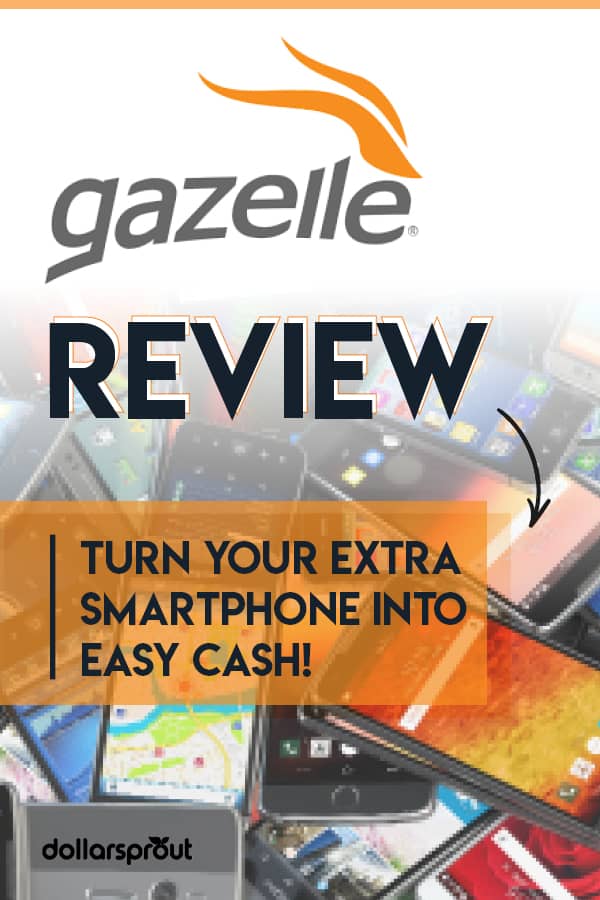 Everyone has a smartphone these days.
It's practically a requirement to participate in modern life. In fact, many jobs require that you have one.
Even though they're commonplace, smartphones are still expensive. The average cost of a smartphone in 2019 was $528, according to Statista. The latest iPhone, the iPhone 11, costs $699.
It's no wonder that smartphones cost the same as a new laptop or almost double a desktop computer. Smartphones themselves are computers that you can carry in your pocket. Still, just because the price of a smartphone is understandable doesn't mean it's affordable for the average consumer. About 35% of Americans finance their smartphone purchase with a payment plan. This doesn't include people who put the phone on a credit, which they take months to pay off.
Some people get a new phone every year, even if their old phone still works. When you spend so much on your phone, you don't want to just throw out the old one, so what should you do when you buy a new smartphone?
Online services like Gazelle sell pre-used smartphones for hundreds off the retail price. They also buy your old phone, even if it doesn't work perfectly or has a few scratches.
Gazelle Review at a Glance
Pros
Sell almost any major smartphone model produced in the past few years
Free shipping label provided
Cons
Gazelle may only purchase phones for specific carriers
Gazelle only pays about half of what it charges for each device
Best for: Gazelle is a great service for someone who has an extra smartphone or tablet, and who wants to sell it without using a site like Craigslist. The sale process is very easy. Just enter your device information online, print out a shipping label, and mail it in. Gazelle will take care of the rest and send you your money.
What is Gazelle?
Gazelle specializes in refurbishing and selling old tech devices, including smartphones, tablets, and Apple computers.
Gazelle gets its inventory by purchasing old devices from consumers. You can find a list of the devices they're interested in on their website. Once you select what kind of phone or device you have, the company makes you an offer. Once Gazelle receives the device, they test it to make sure that everything works and is in the condition the seller said it was. If it passes inspection, Gazelle refurbishes and resells the device on their website.
How Does Gazelle Work?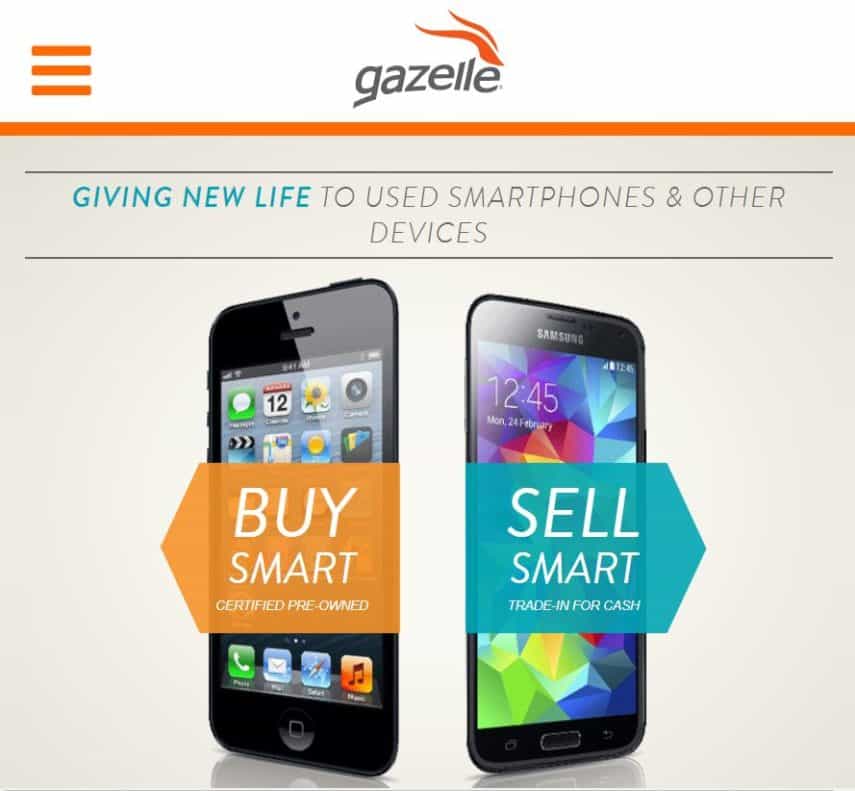 Selling a device to Gazelle is very easy, even for people who aren't comfortable selling things online.
Selling With Gazelle
To get started, visit Gazelle's website. You'll see a list of the devices that Gazelle currently purchases. Gazelle purchases iPhones, Android phones, tablets, MacBooks, and iMacs.
Click on the device you're selling, and it will bring you to a new page where they ask you to choose your device's model. Gazelle purchases most models of major phones sold in the past few years. But if you have a really old phone, Gazelle may not buy it.
Once you've chosen the model, they ask you to choose the phone's carrier. Many phone carriers tie your phone to their network, making it difficult or impossible to activate the phone on a different network. Make sure you answer this question accurately. Gazelle will then ask for the storage capacity of your phone.
Finally, they will ask you to indicate the condition of your phone. Gazelle offers four options: broken, fair, good, and flawless. If you select broken, you'll also have to note whether the phone powers on.
Once you've answered all of the questions, Gazelle will give you an immediate quote for your device. Click the "Get Paid" button and enter your e-mail address to confirm, and you'll be ready to ship the device.
Gazelle provides a free shipping label to send your phone to their location. You can also ask Gazelle to ship you a box to use, which they will do for free.
Getting Paid
Once you've mailed your phone to Gazelle, all you have to do is wait. Upon receipt, they will verify that the information you entered about the device is accurate.
If everything is as expected, Gazelle will pay you immediately. You can select to receive payment by check, Paypal, or Amazon gift card.
If Gazelle looks at your phone and finds it to be in a different condition than described, Gazelle will contact you with an updated offer. You'll have five days to decide whether to accept or decline this new offer. If you accept, Gazelle will pay you right away. If you decline, Gazelle will ship the phone back to you, but you'll have to pay for shipping due to the error. This is why it pays to be accurate with your phone's description.
Buying from Gazelle
Buying from Gazelle is just as easy as buying from any other online store. Find the device that you'd like to buy, and pay for it using a credit card or Paypal. Gazelle will ship the device to your home. All you have to do after that is contact your cell phone carrier to activate the device.
Alternatives to Gazelle
Gazelle isn't the only service that can help you sell your old electronics. Before selling your phone to Gazelle, check out some of the alternatives to get the most value from your old phone or tablet.
ecoATM
ecoATM is a unique phone selling service because you don't have to mail your phone anywhere. Instead, ecoATM operates physical kiosks where you can turn in your old device.
Use the panel on the kiosk to provide information about your device, and you'll get an instant quote. Deposit the device into the ATM, and it will immediately test it. If it works, you'll get cash immediately. This makes ecoATM a great choice if you need cash fast.
Decluttr
Decluttr is a website that lets you sell more than just old tech devices, including CDs, video games, books, and more.
Just like Gazelle, you provide basic information on the Decluttr app, ship your stuff to Decluttr, and they pay you. This service is good for people who want to get rid of a lot of stuff without holding a yard sale. You can also buy items through Decluttr.
Best Buy Trade-In
If you're looking to upgrade to a new phone, you can bring your old electronics to Best Buy. Best Buy runs a trade-in program that pays you in Best Buy gift cards. The company regularly runs promotions offering extra credit for certain devices or gives a discount on products that you buy during a trade-in. This makes it a good choice for people who live near a Best Buy and prefer not to ship anything.
Gazelle FAQs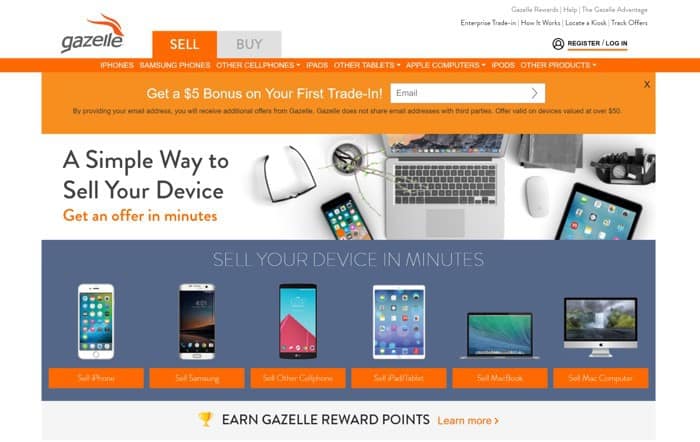 Buying or selling a phone with Gazelle can seem confusing if you've never done it before, so do your research. It's a mostly simple process, even for the least tech-savvy person.
What site pays the most for a used cell phone?
Who pays the most for a cell phone depends on a variety of factors, including the type of device, storage capacity, condition, and which cellular network, if any, it's tied to.
Most websites will change their prices somewhat based on their inventory. For example, if Gazelle already has 1,000 iPhone 7s on the AT&T network in its inventory, it might not be willing to pay as much as a competitor that only has a few dozen for sale.
If selling your smartphone for the best price is your priority, get quotes from multiple sites. Getting a quote is quick and free, so don't delay.
Are all phones carrier-locked?
Not every phone is locked to a specific carrier. As a rule of thumb, purchasing a device directly from a carrier often ties it to that carrier. A device bought directly from the manufacturer, such as an iPhone from the Apple store, typically comes unlocked. You'll need to check with your carrier for details about your specific device.
Who Should Use Gazelle?
Gazelle is a great choice for anyone who has an old cell phone they want to get rid of. Getting a quote is quick and easy, and there's no obligation to follow through with the sale if you're not happy with the offer.
If you've been hanging onto your old phone, consider selling it on Gazelle. It's better to get some value out of it is better than recycling it or tossing it in the trash.
Gazelle Review Summary
Gazelle is an easy to use online service that helps you sell your phone or other old electronics for cash. You can also use Gazelle to buy refurbished phones at a discount. Getting a quote is easy and free, so if you have old devices around, check what they're worth. You might be able to get some extra cash without doing much work.
It's also a great place to buy a refurbished phone and save money off the retail price.
You May Also Like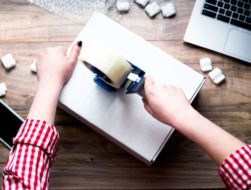 18 Best Selling Apps to Sell Stuff Online (and Locally)
If you're looking for the best selling apps to get rid of your used stuff, look no further. In the spirit of making money the easy way (aka without leaving home), we've put together this list of the best apps to sell stuff you no longer need.