Photo Credit © Shutterstock Images
Want to learn new ways to make
extra money

?

Join the family to get updates from us and tons of cool freebies:
Our number one goal at DollarSprout is to help readers improve their financial lives, and we regularly partner with companies that share that same vision. Some of the links in this post may be from our partners. Here's how we make money.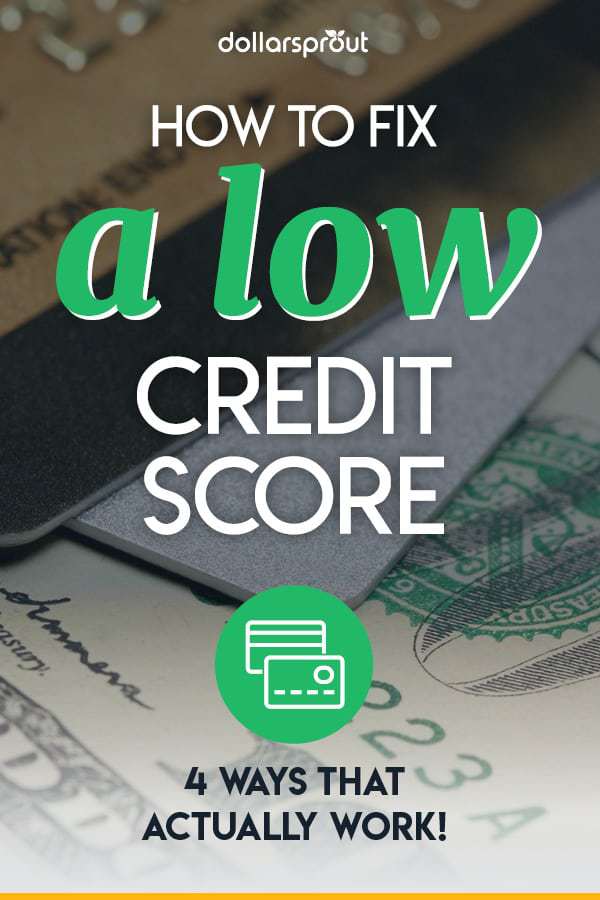 Fixing your credit score really matters.
Did you know that having a low credit score can increase the cost of a 5 year $20,000 car loan by over $5,000? It's true, and less than 25% of consumers are aware of it, according to a recent survey.
Auto loans aren't the only thing affected by your credit score. Having a low score can mean higher interest rates on your mortgage and having reduced borrowing limits on credit cards.
Even if you don't borrow, your credit score still matters.
Credit scores are often used by parties other than lenders. For instance, landlords may use your credit score to determine if they want you as a tenant. Your car insurance prices may be higher, and your utilities may require deposits if you have a poor credit score.
So what do you do if you find out your credit score has taken a hit?
Is all hope lost? It is time to pack it in and accept financial despair forever?
No! Fixing your credit score is possible. There are four things you need to do.
See Also: When It's Time to Get Help With Your Credit
How To Fix Your Credit Score Yourself In 4 Easy Steps
1. Find out why it dropped
The first step towards fixing any problem is to find out what caused it in the first place.
There are many possible reasons why your credit score may have fallen — some are more obvious than others.
If you forgot to pay your car payment earlier in the year or you were over 30 days late on a credit card payment, your score can easily drop 100 points in a hurry. Those are no-brainers.
Some other reasons for a drop in your credit score are a little less obvious. For example, have you closed out a credit card recently?
Canceling a credit card sounds like it would be a smart move, right? After all, you don't want to run up its balance again. As it turns out, closing a credit card can adversely affect your credit utilization ratio, which measures how much of your credit you are using at any one time. If that ratio moves in the wrong direction, your credit score will move with it!
Your score may also drop after having multiple "credit inquiries", which happens whenever you apply for a new credit card or apply for a new loan.
2. Prevent things from getting worse (free credit repair)
Once you have some insight into why your credit score dropped, the next step is pretty obvious:
You need to stop the bleeding.
Late on payments? Make sure you are up to date on EVERYTHING. This is the best free credit repair step you can take.
Applied for 14 new credit cards in the past month? Stop!
Nearing the credit limit on your cards? Take your credit cards out of your wallet. Do whatever you can to stop yourself from using them.
Fixing your credit situation isn't always easy, but doing whatever you can to stop things from getting worse is extremely important.
3. Consider credit repair services
Sometimes there are items on your credit report that bring your score down that you can actually have removed from your report.
The problem is, those opportunities are not always obvious. Luckily, there are credit repair services out there who specifically help people with "repairing" their credit. Websites like CreditRepair.com are great for this type of service.
These credit repair services start by pulling your credit report. Then they'll organize the information in a way where you can decide what items, if any, you'd like to "challenge," and which items you'd like to focus most on improving. From there, they create a custom made plan to improve your credit score.
The nice thing about using a service like this is that they deal directly the different credit bureaus themselves, so you don't have to handle it yourself. Here is more information about how the process works.
Between using a credit repair service and making personal changes to how you manage your credit, you will be well on your way to improving your credit score.
4. Stay patient. Fixing your credit score takes time.
Many people ask how to improve credit score immediately.
If your credit has taken a beating lately or your score isn't quite where you think it can be, don't get down on yourself. The good news is that fixing your credit score is still possible.
The two biggest factors in your credit score are your payment history and credit utilization.
If you want to improve your credit score, keep your main focus on those two areas:
Pay all of your bills on time. Late payments and collections attempts kill your score, so do everything you can to avoid them! Try automating the payments for as many of your bills as you can, that way you never miss a payment.
Do everything you can to reduce your outstanding debts. If you are able, keep the balance on each of your credit cards to 30% or less of your maximum available credit.
If you have negative information on your credit report, you are best off to pay your bills on time and simply wait, as hard as that is. Late payments, a high number of inquiries, collections, etc. can take a while to disappear from your report.
And of course, be sure to have someone check over your credit report for any errors and get them fixed. Cleaning up any mistakes on your report is a great way to get a few extra points added back to your credit score.
Do you have any questions about fixing your credit score? Be sure to comment below!