g-stockstudio | SHUTTERSTOCK
Want to learn new ways to make
extra money

?

Join the family to get updates from us and tons of cool freebies:
Our number one goal at DollarSprout is to help readers improve their financial lives, and we regularly partner with companies that share that same vision. Some of the links in this post may be from our partners. Here's how we make money.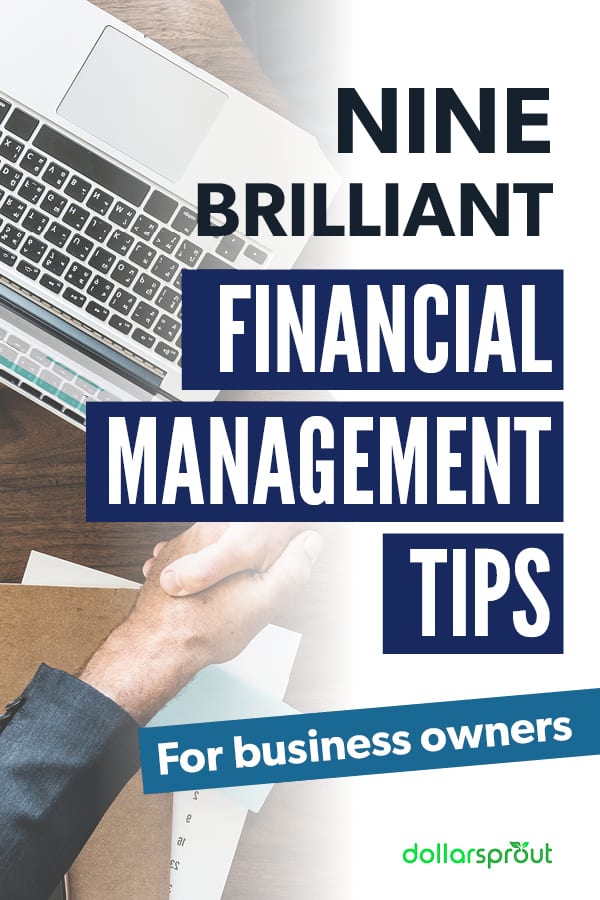 Whether you're a designer with a boutique, a chef with a restaurant, a doctor with a clinic or any other type of budding entrepreneur, learning the basics of accounting and business financial management are essential if you want your business to thrive.
Luckily, the basics of business finance are all but set in stone. Here are some business financial management tips that work across multiple industries.
Why Financial Management Is Important
Proper financial management sets a plan and structure for your business. Without a measured approach, you could find your business in a bind.
9 Business Financial Management Tips that have Stood the Test of Time
1. Realistic Budgeting
A realistic budget is almost as important as your business plan itself. A few hundred dollars here or there adds up, and if you haven't accounted for those expenditures, your working capital will quickly run dry.
Approach expense management with your eyes wide open. Know what your fixed costs are like payroll, rent, utilities and keep your variable costs such as production supplies, commissions, travel expenditures as low as possible.
2. Separate Personal and Business Finances
While it may be easy to muddle personal and business finances, especially for sole proprietors or small businesses, you should avoid it at all costs. Even if you're spending from the same account, record the transactions separately. That way, if you need business financial records to apply for a loan or entice an investor, the relevant details are easy to find.
You'll also save money on taxes because you won't accidentally overlook a business expense because it was buried in your personal records.
3. Organization
Separating your personal and business finances is just the first step. The next step is organization.
You should know where your invoices, credit card statements and other financial documents are. The records tracking your inventory supply and payroll projections should be organized and complete. If needed, you can leverage these records to take out loans against your inventory or to fund your payroll.
4. Wise Use of Credit
Whether you're borrowing against your inventory, taking out a line of credit or accepting capital from a silent partner, utilize credit wisely.
Are the funds helping your business grow?
Do the interest rate and terms promote repayment, or will the loan lock your business into debt?
Do a risk-reward analysis on every type of debt your business incurs. Ideally, any line of credit should be part of a strategic initiative to grow your business.

5. Tracking Direction
Well-organized financial documents help you compare where your business is going to where it's been.
Track your growth, losses, successes and failures so that you always have a sense of how your business is doing. When you project future revenue, expenses and cash flow, use financial records to assess what's working, what you need to change and where you need to focus for future projections.
6. Tight Accounts Receivables Management
When focusing on your core business, and especially when it's growing, it can become tempting to overlook accounts receivables management.
However, if you get overly comfortable with the idea that clients will pay sooner or later, your net 30 accounts receivables can easily grow to net 60 or 90. That stymies your cash flow and makes it hard to maintain your budget. Don't set the precedent of loosening your AR management.
Stay on top of accounts receivables and keep the turnaround time as consistent as possible, which makes financial planning easier across the board.
7. Tempered Staffing Growth
Bringing on new talent to help shoulder the work is exciting, but you have to account for salary costs as well as indirect costs like office supplies, extra utilities, payroll taxes, benefit expectations, and more. Ultimately, if you cannot sustain these costs, you may have to let someone go – one of the worst aspects of being a boss.
Temper your staff growth. Don't hire people until you have a sustainable, long-term position for them. If you need help, outsource some processes, reach out to the gig economy or hire a consultant.
8. Rainy Day Funds
Even with the most carefully-crafted plan, unexpected expenses can pop up. To prevent turbulence from halting your momentum, have a rainy day fund in place.
This could be cash savings, access to a line of credit or even well-organized documents that boost your ability to access emergency financing.
This is one of those business management tips that no one talks about until the inevitable happens.
9. Risk Management
Use your imagination and well as stories from others in your industry to assess your level of risk in various situations.
What will you do if your computers crash? What will you do if your data's breached, if your supply chain fails, if your manager quits or if there's a robbery?
Identifying, analyzing and planning for relevant risks isn't just quality financial management – it's quality business management.
Regardless of what your business does, it cannot succeed without a sound approach to financial management. Track every dime that comes in the door, have a purpose for it and know where it's going. Simply knowing the basics can go a long way to helping your endeavour thrive.
More Cool Stuff