Syda Productions | SHUTTERSTOCK
Want to learn new ways to make
extra money

?

Join 1,000,000+ monthly readers in getting updates and cool freebies:
Our number one goal at DollarSprout is to help readers improve their financial lives, and we regularly partner with companies that share that same vision. Some of the links in this post may be from our partners. Here's how we make money.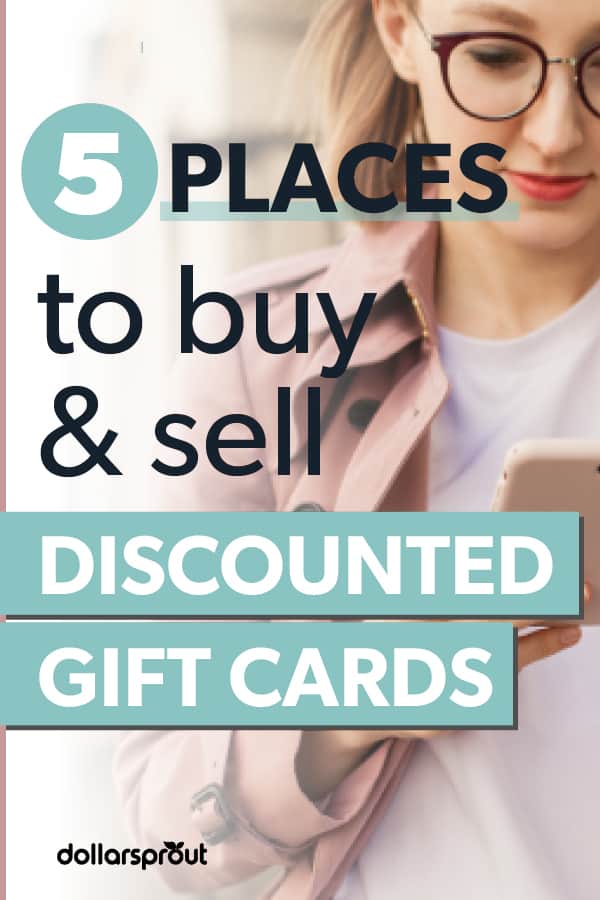 What's better than receiving a discount on something you were already going to buy?
What if there's a way to receive discounts on nearly everything you purchase from your favorite stores, including high-ticket items, without spending a lot of time or energy?
There is – that's where discounted gift cards come into play.
Why Buy Discounted Gift Cards?
You may wonder why you should purchase gift cards when you're trying to save money. Your goal is to save money, not spend it, right?
Most people think gift cards are for birthdays or Christmas gifts but you can use them to save money on everyday items at stores you already shop at.
Here's an example: When it's time to shop for a few pairs of jeans for the next semester, the prices are always going to be highest toward the end of the summer. But you can still get discounts at your favorite stores when you purchase a discounted gift card to places you love to shop most.
Buying a $40 valued gift card for $30 saves you an immediate 25% on your next purchase. You can couple these discounts with in-store sales to maximize your savings.
5 Places to Purchase Discounted Gift Cards
Now that you know why you might want to buy discounted gift cards, check out the best places to purchase them. Each website is a selling platform, so prices and discounts can change at any time.
Search multiple sites before purchasing a gift card because one site might be offering a higher discount on the card that you want.
1. Raise Marketplace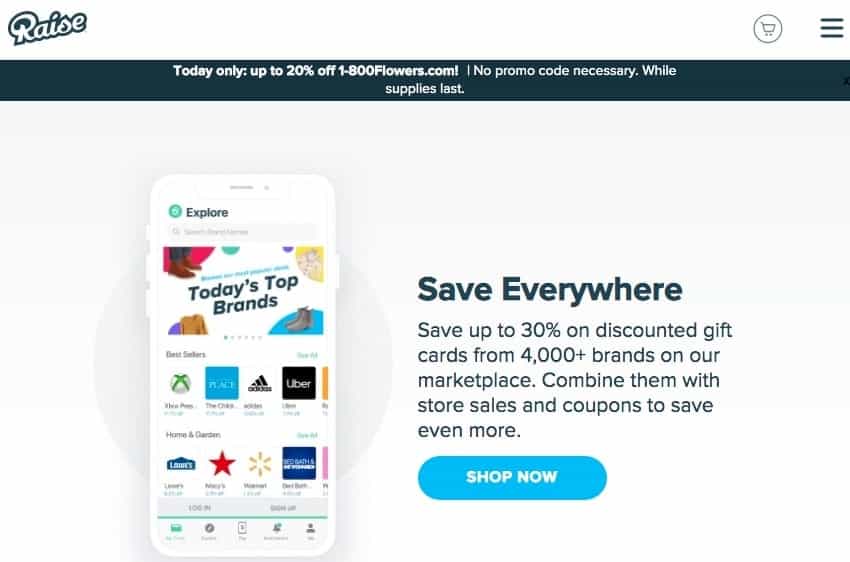 Raise is one of the largest discount gift card websites, with over 2 million buyers and sellers using the platform. Since 2013, card buyers have saved over $150 million. That's a lot of money that one company put back into customers' pockets.
The company also provides a different selling experience by allowing sellers to set their own discount percentages, which keeps discounts competitive and gives gift card buyers a chance to grab steep discounts.
However, Raise is still a competitive market; you'll need to actively search the platform so you can be the buyer to snag the half-price or better gift cards. Raise charges a 15% commission to sellers for every gift card sold on the platform.
If the gift card sold is a physical card, Raise charges an additional $1 or 1% of the balance to the seller (whichever amount is greater). While Raise can help you save money as a discounted gift card buyer, you would have an extremely difficult time making good money as a seller on the platform.
Rather than selling your gift card on Raise, you'd probably score the highest value by spending the gift card yourself or selling it to local friends or family. The 1 Year Money-Back Guarantee helps buyers purchase discounted gift cards with ease, knowing that their purchase is covered.
Should the card be invalid or the balance be wiped before you use it, Raise promises to return your money for the card in full. The guarantee does not, however, cover buyer's remorse or cards purchased mistakenly.
See Also: Raise Review: These Raise Gift Cards Can Save You Tons of Money
2. Gift Card Granny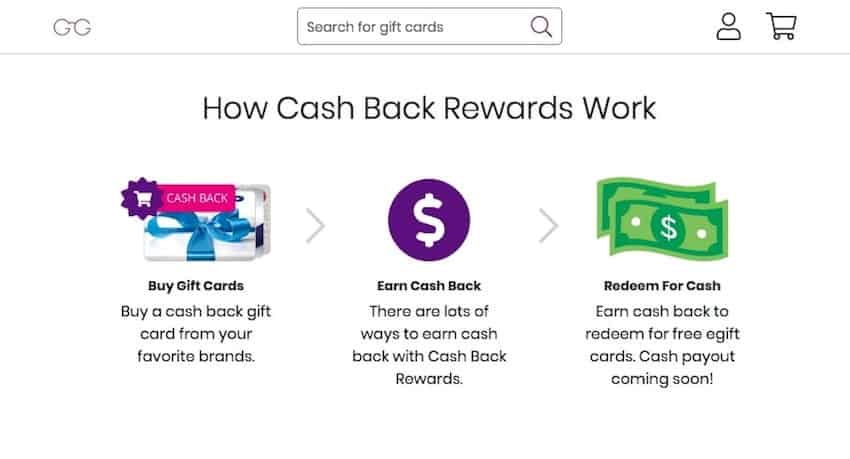 On Gift Card Granny, you can find some half-price gift cards to various stores and brands. This discounted gift card website is different from the others because, instead of selling cards to you through their platform, they collect information from other sources and direct you to purchase there.
For example, at the time of this writing, when you search a card like Netflix, you'll find a list of card amounts, discount percentages, and vendors. Gift Card Granny compiles data from other gift card websites and redirects you to other vendors to purchase, such as eBay, CardFlip, or CardKangaroo.
Sometimes, certain gift cards will not be available for sale from one of Gift Card Granny's preferred vendors, but you can still purchase it and earn cash back into your account.
Currently, you cannot redeem your earnings in the form of cash, but you can redeem them for e-gift cards to use online or print. If you play your cards right, Gift Card Granny's cash back program can still help you save money when you apply your cash back rewards to something that you need or would have purchased anyway.
See Also: How to Get Free Gift Cards for Things You Already Do
3. Cardpool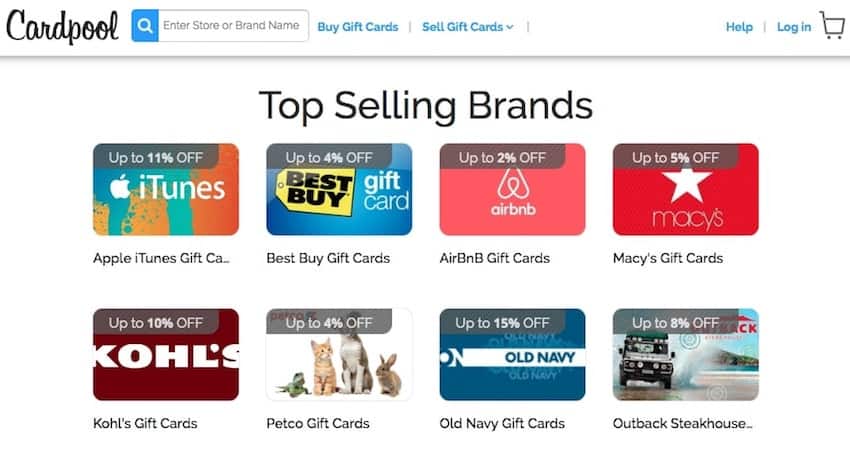 Buying discounted gift cards on Cardpool works the same as most other sites. Browse the trending brands right on the website's homepage, or search for your favorite store directly.
Filter results by type (online or in-store), dollar value, discount percent, or purchase price. While you'll save the most money by selecting the card with the highest dollar amount, you might prefer to forgo a couple of percentage points in order to buy a card with a lower balance.
Cardpool's 1 Year Purchase Guarantee ensures customers receive their gift cards at the expected value. It's possible that a gift card could arrive with a different dollar value than specified or with a faulty magnetic strip.
You don't have to worry about losing money. As long as you contact Cardpool within a year from the original purchase date, they will refund your money for the faulty card.
There's another benefit when it comes to selling discounted gift cards if you choose to work with Cardpool. While you won't make money when you sell gift cards at a discount, it's a better option than holding onto gift cards to stores you never visit.
Of the five popular discounted gift card websites discussed, Cardpool is the only one that has local options where you can get an instant cash offer. Take your gift card to the nearest Kiosk or official partnering store for a quick sale.
See Also: 20+ Things to Sell Online (and Locally) to Make Extra Money
4. CardCash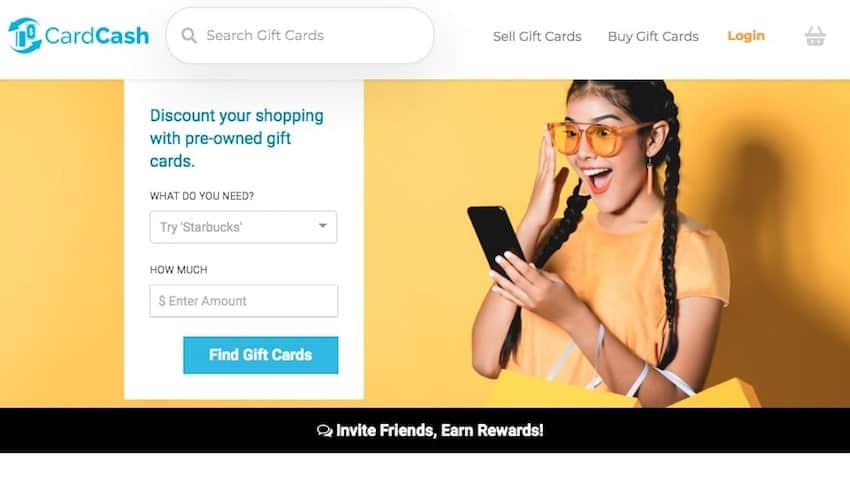 CardCash allows you to do three things: buy, sell, or trade gift cards. As a buyer, you can filter gift cards to specific stores or brands by type, value, discount percentage, or price. Narrowing your options this way can help you pick the card that works for your budget.
Simply add the gift card to your cart and check out online. Depending on the type of card purchased, you'll either receive an email with your card information or a physical gift card in the mail.
Trading your gift cards gives you the opportunity to get more value out for your unneeded gift cards. When you have a gift card to Hooters but never plan to eat there, you may get the best deal by trading it for a card to a restaurant you will visit.
You won't receive a lateral amount when trading, but at least your new gift card's value will be higher than the cash offer you'll receive. Selling gift cards to CardCash is easy, but it's impossible to set your own price. Because CardCash sells gift cards to customers from their own stash, they set the rules when it comes to how much you can earn.
You can visit their website to get an instant cash offer for your gift card. There's no obligation to accept the offer, and you don't need to sign up for anything to learn how much your card is worth.
See Also: The Top 10 Best Shopping Apps to Save Money on Everything
5. Gift Card Spread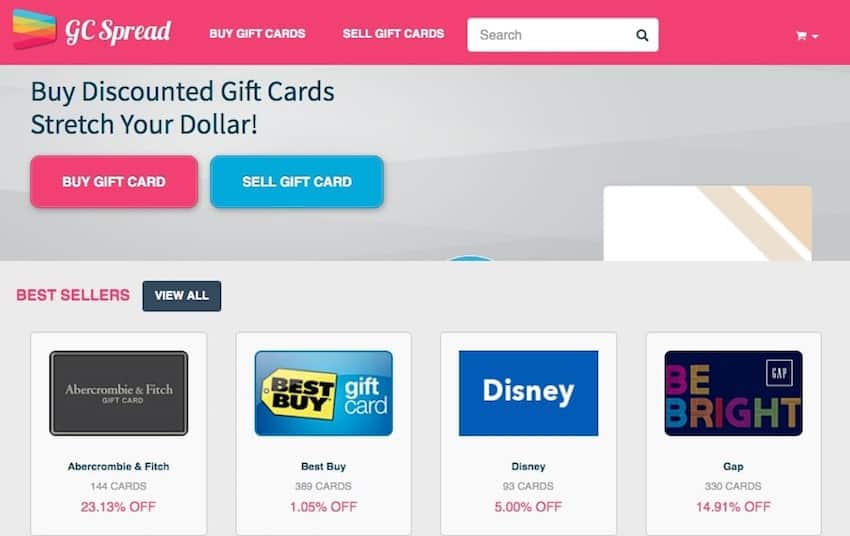 Gift Card Spread is the simplest discounted gift card website. You can only buy and sell gift cards on the site. They don't offer confusing trade-in deals, cash-back opportunities, or local kiosks to sift through.
They do have a unique feature when it comes to selling your gift cards to them. Instead of listing your card on their platform and having to pay listing fees or commissions, you'll just submit a form with your card balance information and the price you'd like to receive for the card.
Gift Card Spread will reply within 24 hours to let you know if your offer is accepted. If not, they will send a counter offer for you to consider. The company offers a 60-day return policy so that you can check your gift card balance upon receipt.
If anything seems wrong with your purchase, you can return the card to them, and they will refund your money. You're fully covered as long as you haven't used the card, it's in the same condition as when you received it, and the information in your claim matches the original card.
See Also: 20+ Side Hustle Apps to Make Extra Money in Your Spare Time
Discount Gift Card Website Comparison
The following chart is a snapshot of five discount gift card websites at the time of this writing. While prices change daily based on demand, you can use this table as a quick example of how to compare discounts between companies.
Discount Percentages
| | | | | | |
| --- | --- | --- | --- | --- | --- |
| Store/Brand | Raise | Gift Card Granny | Cardpool | CardCash | Gift Card Spread |
| Target | 3.1% | 2% | 10% | 9.4% | 9.10% |
| Walmart | .4% | 2% | Unavailable | 2.5% | .05% |
| TJ Maxx | 6.6% | .5% | Unavailable | 6.46% | 5.50% |
| Netflix | Unavailable | 54% | 10% | Unavailable | 4% |
| AutoZone | 7.8% | 28.2% | 3.1% | 29.04% | Unavailable |
| Victoria's Secret | 16% | 24.61% | 12% | 15.5% | 12% |
| Hollister | 25.7% | 26.04% | 15% | 37.89% | 26% |
| Starbucks | 10.1% | Unavailable | 9% | 9.6% | 9% |
It's still best to search multiple sites before purchasing, but if you're low on time and want to see which websites tend to offer the highest discounts on gift cards, this sample size may help.
Using the compiled sample data, you can see that markdown totals vary at each discounted gift card website. The way to find the best deal at any given time is to visit multiple websites to search for a card.
If you're planning a trip to Target in the next couple of weeks, check out each website's Target gift card discount percentage. Then you can purchase the one that will give you the highest value for your money.
Be sure to note the difference between cards that specify online or in-store only use. If you know that you'll be visiting your local store, then you need to purchase an in-store discounted card and vice versa if you're shopping online.
Website Features
Terms and conditions are different for each website. Also, be sure to check things like estimated time of arrival. Some card will ship to your address, while others will be sent to your email.
| | | | | | |
| --- | --- | --- | --- | --- | --- |
| | Raise | Gift Card Granny | Cardpool | CardCash | Gift Card Spread |
| Sign up Bonus | $10 | None | None | None | None |
| Cash Back Offers | Yes | Yes | No | No | No |
| Seller Payout Options | ACH, PayPal, or physical check | ACH, PayPal, or physical check | Amazon eGift card or physical check | ACH, PayPal, or physical check | Unspecified |
| Refer a Friend | $5 | $5 | $5 | $5 | None |
| Guarantee | 1 Year | 100% Full-Guarantee New Gift Cards | 1 Year | 100% Risk-Free 45 Day Money Back Guarantee | 60 Day Return Policy |
| Physical Locations | No | No | Yes | No | No |
| App | Android, iOS | Android, iOS | iOS | Android, iOS | None |
Discounted Gift Cards Can Save You Money on Things You Already Buy
Don't limit your savings by viewing gift cards as just gifts. You can save a fair amount of money when you purchase gift cards for yourself at a discount. But not everyone will benefit from buying discounted gift cards.
Some people will purchase cards they don't need or will end up losing cards before they can use them. You'll spend more money than you'll save if you fall into the trap of buying unneeded gift cards. But if you're wise about purchasing discounted gift cards, you can save money using any of these websites.
You May Also Like