Photo Credit © Shutterstock Images
Want to learn new ways to make
extra money

?

Join the family to get updates from us and tons of cool freebies:
Our number one goal at DollarSprout is to help readers improve their financial lives, and we regularly partner with companies that share that same vision. Some of the links in this post may be from our partners. Here's how we make money.
So you've decided to finally get serious about taking the steps towards achieving financial freedom? Congrats! Today I want to talk about some common budgeting mistakes, and, more importantly, show you how to fix them.
The first part, as you're probably aware, is budgeting like a pro. A typical budget includes a list of your income, expenses, and savings. Even though you may already have those areas covered, chances are your budget still has some flaws that you might not even realize. Let's talk about how to avoid these common budgeting mistakes starting today.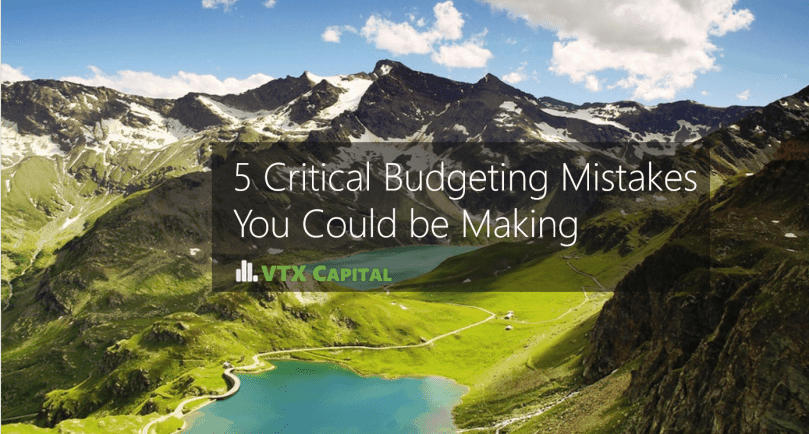 5 Budgeting Mistakes You Must Avoid
1. Not Prioritizing Saving
Nine times out of then, finding money for saving or investing is the last line item on your budget. That means it often doesn't end up happening. You need to change that and make saving one of the first things listed on your budget. Saving should be like any other mandatory item in your budget, such as car payments and utility bills. If you establish your monthly savings amount from the get-go, the rest of your finances will still fall into place.
An easy way to ensure that saving is first is to automate your savings plan. That way you don't have a chance to spend that money. There are awesome apps to automate your savings or you can start an automatic transfer to your savings account through your bank.
Recommendation: One of the best banks out there I've found for savings accounts is Discover Bank. You may want to check them out if you have time- it's essentially free money to you for moving your cash to a better, higher paying bank.
2. Overpaying for Monthly Expenses
Budgeting mistakes come in all shapes and sizes. When is the last time you evaluated your regular monthly expenses? You know, your cell phone, cable television, and internet service bills?  Chances are you signed up for those services during a promotional period.  After the promotional period ends, the price tends to skyrocket.  Your cell phone, cable television, and internet service may not be the only services that you are overpaying for. Check out these 6 monthly bills that you need to negotiate.
Overpaying for monthly expenses leaves less money to save, invest or trade with. The next step in correcting your current budget is to give your providers a call and ensure you have the best rate and that the services match up with your needs.
3. Forgetting Annual Expenses
It is easy to budget for ongoing monthly expenses but it gets tricky when you have to factor in annual expenses. Annual expenses include things you can't avoid like car registration fees, dental and medical copays, annual scheduled car maintenance, and credit card annual fees. By budgeting for annual expenses all year long, you won't be shocked when they come up.
In order to be prepared when an annual expense comes up, you budget for those expenses monthly. Now, I'm not saying that you need 50 different line items in your budget to cover all the different annual expenses that you may incur, but you should be aware of those expenses.
Budgeting mistakes like forgetting annual expenses are costly in the long run. A few minutes spent setting a remind or putting together a budget could make all the difference.
Related: How to Open a Traditional IRA in Less than 10 Minutes
4. Budgeting with Unrealistic Expectations
Trimming the fat from your budget is a must but don't forget to be realistic. I know you created an awesome budget and whipped your finances into shape!  However, is your budget realistic? Your co-workers will ask you to go to happy hour.  Your friends will ask you to go to the movies.  You will be invited to weddings.  It is great to cut back but don't eliminate all additional spending to the point that it affects your livelihood.
Include a line item for entertainment in your budget that is realistic.
5. No Long-Term Financial Goals
The last major budgeting mistake is that you haven't outlined any solid financial goals.  Sure you want to invest more, buy a house eventually, and grow your retirement account. However, your budget doesn't reflect these financial goals.  For example, you know you want to buy a house in the next few years but are you regularly saving for that large purchase?  A down payment for a house is 20% of the home value. It's going to take you a while to get there, so you better be planning for it.
The last step in correcting your budget is to sit down and think about your short term and long term financial goals. Once you have those goals in mind, it is time to make a plan to reach them.
Another thing you may want to look into: Personal Capital offers free financial software service to help users calculate their net worth, set a budget, and manage investments. I really like this app and recommend it to VTX readers.
By using the app (it's free), you can do the following:
See all of your financial accounts in one place (this is huge)
Evaluate your spending and saving habits and set retirement goals in real time.
Gain transparency into where your money goes each month, set spending goals and adjust as needed.
Track your investment portfolio allocation
Spot hidden fees in your mutual funds, investment accounts and retirement accounts.
Over 1.3 million people use Personal Capital to track over $312 billion, so they are definitely a very well respected platform.

See all of your financial accounts in one place & set your budget.
Now that you know the 5 major budgeting mistakes, its time to make changes!