Dean Drobot | Shutterstock
Want to learn new ways to make
extra money

?

Join the family to get updates from us and tons of cool freebies:
Our number one goal at DollarSprout is to help readers improve their financial lives, and we regularly partner with companies that share that same vision. Some of the links in this post may be from our partners. Here's how we make money.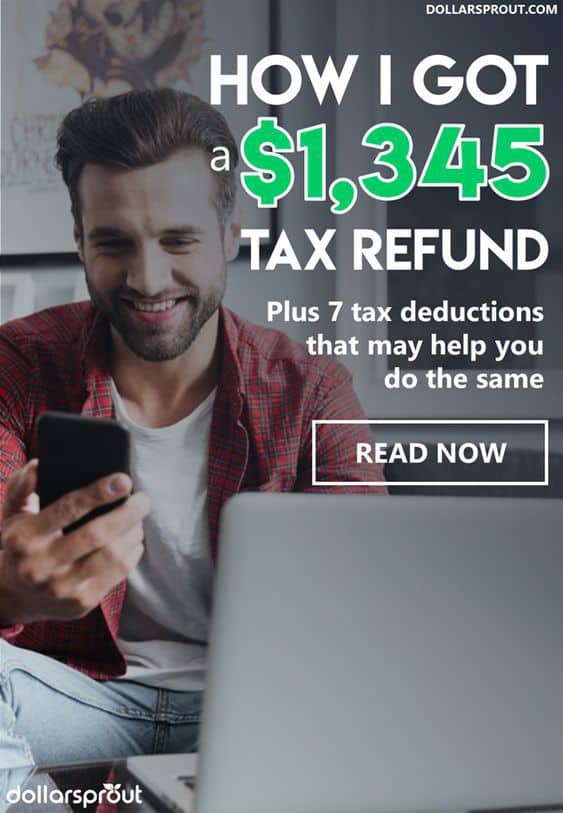 Tax season is here. If you are looking to increase the size of your tax refund this year, this common tax deductions list might help you.
Hopefully, a little cash infusion comes your way after you file your taxes. Of course, there will always be the naysayers that like to point out "You shouldn't be excited about getting a refund! That just means you overpaid this whole time!"  Fair enough. Still, it feels better to receive a nice refund than to pay a big tax bill.
First things first, though…
What are Tax Deductions and How do They Help Me?
Tax deductions are common expenses you pay throughout the year that you can subtract from your income and therefore lower your tax bill.
Imagine you have $30,000 in taxable income this year.
What a tax deduction does is it reduces your taxable income, which therefore lowers your tax liability (a.k.a. how much tax you owe).
For instance, if you can claim $2,000 in tax deductions, your new taxable income is $28,000 instead of $30,000.
You still made the same amount of money, but after subtracting tax deductions, you'll pay taxes on a smaller amount of it.
7 Common Tax Deductions List
This list of common itemized deductions plays a big part in helping people increase their tax refund amount.
But how do you know which tax deductions you can use? If you're not an accountant or tax expert, consider using tax software to help guide you along or hiring a tax preparer to make sure you get every deduction available.
Even missing one deduction is money left on the table.
TurboTax is a reputible tax software that guides you through every step of preparing your taxes. they help you file your taxes online or print a completed packet to mail to the IRS. You can get started with them for free. FitSmallBusiness.com also chose this software as the best small business tax software for 2018.
So without further ado, here is a list of 7 common tax deductions that may help you increase your tax refund.
1. Contributions to a Traditional IRA are tax-deductible
There are quite a few rules on this deduction depending on your income, filing status, etc. (which is why programs like TurboTax are a lifesaver — they won't let you screw up).
As a general rule, as long as you are not contributing to a retirement account through your employer, you can deduct any money you put into a Traditional IRA, up to your yearly contribution limit of $5,500 ($6,500 if you're age 50 or older).
What this means for you: If you have extra cash on hand and want to start investing for retirement, now is the time to do it. Assuming you meet the criteria for this deduction, if you put $1,000 in a Traditional IRA, for instance, you can reduce your taxable income by the same amount. Keep in mind that you will need to pay income taxes on future IRA disbursements during retirement.
2. Student loan interest deduction
If you're still paying down your pesky student loans, you can use the student loan interest tax deduction to reduce your taxable income each year.
You can deduct up to $2,500 of student loan interest paid in a given year. Your student loan interest may only be a few hundred dollars per year, but still, every little tax deduction adds up.
3. Health insurance premiums, deductibles, copays, and coinsurance
If all of these common medical expenses together account for more than 10% of your adjusted gross income, you can deduct the amount that is in excess of 10%. Here is more information on deducting medical expenses on your income tax return.
4. Health Savings Account (HSA) contributions are tax deductible
Health Savings Accounts are becoming quite popular as health care costs continue to increase.
Your HSA contributions are tax-deductible (that's the whole point of using them). In addition to using the money in your HSA to reduce your tax liability, the money inside the account can grow tax-free!
Other Common Tax Deductions for Small Business Owners, Homeowners, Couples and Singles
The above list has only started to scratch the surface on all the possible common tax deductions that may apply to you. Here are a few more that are also common for small business owners, homeowners, couples and singles.
5. Mortgage interest tax deduction for homeowners
If you're a homeowner or small business owner and you itemize your tax deductions, this may be the biggest deduction you claim every year. If you are paying interest on your mortgage, you can deduct the amount paid in interest from your taxable income.
You can also deduct costs from other aspects of home ownership, like property taxes.
6. Ride-share driver tax deductions for small business owners
A lot of DollarSprout readers drive with companies like Lyft as a way to make extra money.
Since there are expenses involved with a ride-share side hustle, that means there's an opportunity for tax deductions as well. As a driver, you can deduct actual expenses of operating your vehicle for business, including gas, oil, repairs, insurance, maintenance, and depreciation or lease payments.
7. Charitable donations for couples and singles
The biggest thing here is to be sure to document everything!
As long as you play by the rules, charitable donations can do some good for the world while lowering your tax burden at the same time.
Here are some things to keep in mind:
Want even more tax deductions?
If you want to see even more available tax deductibles, here is the IRS's complete list plus all the rules associated with each. There's a lot there — you've been warned!
If you are looking for an alternative to doing all this yourself, you are much better off leaving this to the experts (ie, tax software). If you want to preserve your sanity, save a lot of time, and get the biggest tax refund possible, consider starting with the free version of TurboTax.
Legal Note: This article is for informational purposes only, and is not intended to provide, and should not be relied on for, tax, legal or accounting advice. You should consult your own tax, legal and accounting advisors before engaging in any transaction!
More Cool Stuff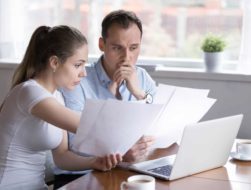 Do I Have to Pay Taxes on Bank Account Interest?
The amount you owe in taxes will depend on two factors: how much interest you earned and your tax bracket. We'll break down how to find out how much you owe and how to reduce your tax bill.
Lindsay VanSomeren
07 Mar