Roman Samborskyi | Shutterstock
Want to learn new ways to make
extra money

?

Join 1,000,000+ monthly readers in getting updates and cool freebies: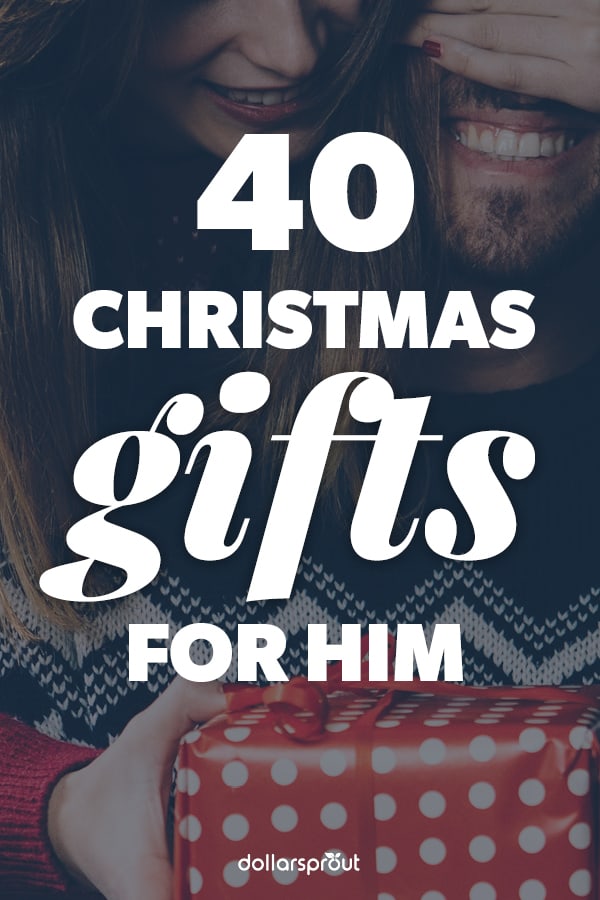 Finding the perfect Christmas gift for the man in your life is no easy task, especially if he's extra picky or seems to have it all.
You want to surprise him with something he'll truly love and appreciate, but just can't quite put your finger on what that is.
With some thought and creativity, you can treat your husband, boyfriend, friend, or dad to a gift he'll enjoy and remember for years to come.
Whether he's a tech junkie, hopeless romantic, adventure seeker, or anything in between, here are some Christmas gift ideas for men of all types.
10 Christmas Gifts for Men that Cost Under $20
You don't have to break the bank to give the men in your life a gift that'll make them smile. There is a slew of exciting gifts for men that are $20 and under.
1. Bluetooth Radio Transmitter
2. YETI Rambler Stainless Steel Tumbler
3. Magnet Telescope Flashlights Set
4. Electronics and Cord Storage Container
5. Desktop Punching Ball
6. Clock Fan with Real-Time Display
7. New Pair of Sunglasses
8. Emoji Golf Balls
9. Beard Care Kit
10. Tie Organizer
10 Tech Christmas Gifts for Men
If the tech-savvy guy on your list can't get enough of the latest gadgets, finding the perfect gift just got easier. There are countless tech tools and accessories out there that anyman will appreciate.
11. Fire Kindle HD
12. Echo Dot (Alexa)
13. Drone
14. Gaming Headset
15. Upgraded Smartphone
16. Bose Speakers
17. Power Tools
18. Nintendo Switch Console (or Accessories)
19. Apple Watch
20. Bluetooth Headphones (Bose, Beat, Airpods, etc.)
See Also: Christmas on a Budget: How to Save and Still Enjoy Your Holiday
10 Romantic Christmas Gifts for Him
Men need romance in their life too. Fortunately, there are plenty of romantic Christmas gifts for men you can buy to keep the sparks alive this Christmas and beyond. Of course, you can also gift any of these to parents or other couples on your list.
21. Couple's Massage
22. Reservation at a Fancy Restaurant
23. His Favorite DVD and Popcorn
24. A Romantic Overnight Stay for Two
25. Date Night Box Set Game
26. Customized Poetry with Picture
27. Message in a Bottle Gift Set
28. A Customized or Handmade Gift
29. Coupons for Him
30. Wine Tasting
10 Fun, Unique, and Creative Christmas Gifts for Men
If your man appreciates out-of-the-box gifts, there are many ways you can please him. Consider a gift that he may not expect but will absolutely adore.
31. Bucket List Journal for Couples
32. Subscription to His Favorite Magazine
33. Tickets to a Game
34. Golf for Two
35. LEGO® Ideas Ship in a Bottle
36. Sound Wave Art
37. Tattoo Voucher
38. Whiskey Ice Cube Set
39. Dress Wear (Tie Bar, Cufflinks, Socks)
40. Kabob Grilling Baskets
Choosing the Right Christmas Gifts for Men Isn't Impossible
While choosing the right gift for your man may be a challenge, it's not impossible. Hopefully, one or a few of these Christmas gifts for him will make the man on your list feel special and loved.
Since most of these gifts can be ordered online, you don't have to spend hours driving around for his perfect Christmas gift. Whatever gift you choose, remember that it's the thought -- not the price tag -- that counts.
You May Also Like
40 Cheap Christmas Gift Ideas for People On a Budget
If you have a lot of people to buy for this Christmas, then you need some go-to cheap Christmas gifts that your friends, family, and coworkers will actually like. Check out these 40+ ideas for the pet lovers, coworkers, and friends on your list.