Photo Credit | Pexels.com
Want to learn new ways to make
extra money

?

Join the family to get updates from us and tons of cool freebies:
Our number one goal at DollarSprout is to help readers improve their financial lives, and we regularly partner with companies that share that same vision. Some of the links in this post may be from our partners. Here's how we make money.
When you're living on a low income, the question of how to save money on Christmas gifts tends to surface this time of year. The truth is, cheap Christmas gifts are everywhere and can make your life much easier this holiday season!
All you need to do is understand that it's okay to have fewer bells and whistles at Christmas time. That's not what Christmas is all about anyway.
Children quickly adapt to a frugal lifestyle and it's okay that Christmas will be more family-focused this year. You have not failed! So do not let that thought slip your mind.
All pep talks aside, you can still have fun and enjoy cheap Christmas gifts this year as you save money by avoiding unnecessary things.
Whether you need cheap gift ideas for friends, coworkers, couples or kids, these 10 cheap Christmas gift ideas are perfect for you.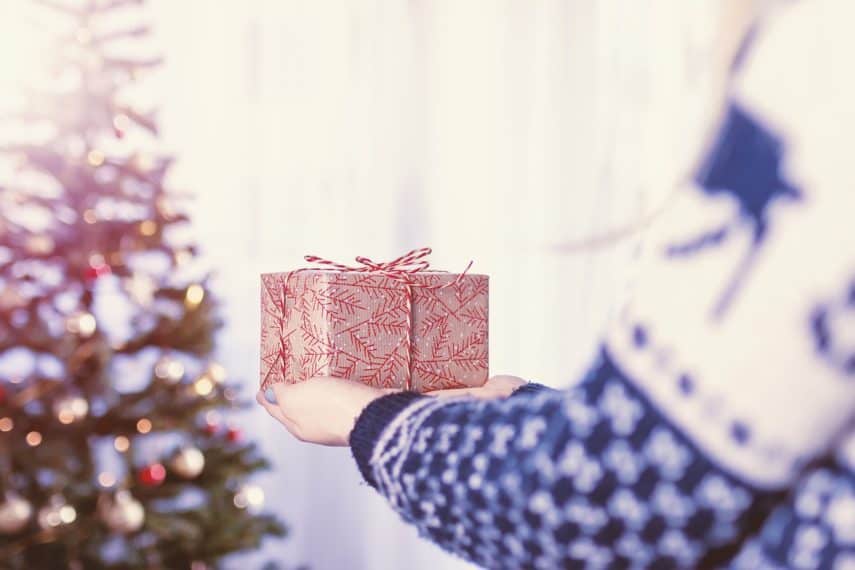 Related: Christmas on a Budget: How to Save and Still Enjoy Your Holiday
10 Ways to Find Cheap Christmas Gifts for Family, Friends and Coworkers
1. Earn cash back on your online purchase (real cash, not points)
If you're determined to purchase Christmas gifts for your loved ones no matter your financial situation, you can absolutely do so without breaking the bank. You don't need to walk into the most convenient store and purchase the highest priced items. It's just not the best way to get the most value for your hard earned money.
Just sign up for Ebates and earn cash back on all of your online purchases from major retailers. That means if you shop at Walmart, Target, Amazon, Kohl's and so many other popular stores, you can earn cash back for your purchases simply by clicking through to your favorite store on Ebates. Plus, just for signing up and completing your first online shopping trip, you get a $10 cash bonus.
So for example, if you find the perfect Christmas gift for someone on your list, make sure to check the same/similar items at various stores and then reference the percentage that Ebates will refund in cash. You may find that one store is far cheaper than another at the end of the day when you factor in Ebates' cash back amounts.
2. Purchase discounted gifts cards to your favorite stores
So you've chosen an item at Kohl's that someone on your Christmas list would just love. You place the item in your cart and checkout, right? Almost. Anytime you are shopping online or in store, make sure to check for a discounted gift card on Raise.
Here's a good example of finding cheap Christmas gifts by using Raise. If you've already signed up for Ebates (go do it here) then clicking through a link on Ebates over to Raise to purchase a discounted gift card will earn you 1% cash back. You'll receive $10 cash back for signing up for Ebates and a $5 credit on Raise to purchase your first gift card. You then locate a discounted gift card to your favorite store on Raise (from 0% to 30%+ off) and purchase it. Then click from Ebates to your favorite store to get even more cash back when you complete the final purchase online using your discounted gift card!
Related: Raise Review: These Raise Gift Cards Can Save You Tons of Money!
A little confusing? Let's take a look at the math.
Keep in mind that the discounted rates on gift cards, cash back percentages and store promotions change all the time.
$100 – cost of Christmas gifts
– $10 – cash back for signing up for Ebates
– $6 – cash back for clicking through to Kohl's from Ebates
– $5 – credit for signing up for Raise
– $1 – cash back for clicking through to Raise from Ebates
– $3 – savings for using Raise to purchase a discounted Kohl's gift card
– $25 – additional Kohl's holiday discount
– $20 – additional Kohl's cash holiday bonus (to grab just a few more cheap Christmas gifts!)
$30 – total spent on your $100 online shopping trip at Kohl's!
The total savings/cash back earned on this shopping trip is $70!
So let's go over the instructions on how to get cheap Christmas gifts with Ebates and Raise one more time.
Sign up for Ebates.
Open Ebates in your browser or phone (yes there's an app for that!) and type "Kohl's" in the search box.
Click on any Kohl's link to open a Kohl's shopping trip.*
Sign up for Raise.
Open Ebates in your browser or phone again and type "Raise" in the search box.
Click on any Raise link to open a Raise shopping trip.
In Raise, type "Kohl's" in the search box.
Purchase a discounted Kohl's gift card from Raise.
Return to your Kohl's shopping trip previously opened via Ebates and checkout using your discounted gift card purchased from Raise.
*Note that you are actually shopping and paying through Kohl's and not Ebates. Ebates is simply providing the special link that secures your cash back.
You can do this sequence of steps for any store (not just Kohl's). There are many other options! And you can always stack these discounts and cash back amounts on top of the promotions currently offered in the store to get cheap Christmas gifts.
3. Celebrate Christmas for 12 days
Christmas gifts do not need to be something that is fancily wrapped and placed under the Christmas tree. In fact, spending quality, fun time together as a family, couple or friends can be even more meaningful than presents.
I know, it might sound counterintuitive for me to suggest celebrating Christmas for 12 days rather than 1 day, but hear me out. If you plan free family gatherings, events, movie and game nights and celebrate the magic of Christmas each day, everyone will feel like Christmas is much more than 1 day out of 365.
Spend time together as a family, go Christmas caroling, drink hot cocoa and tell Christmas stories in front of the fireplace. Christmas is far more than opening a few presents on one morning of the year.
Cheap/free gift ideas to spread over 12 days of Christmas:
Make and decorate Christmas cookies together
Drive around neighboring towns and enjoy Christmas lights
Go window shopping at the mall
Make DIY crafts and gifts for family and friends
Make and eat sweetened snow cones
Decorate your house for Christmas
Read Christmas stories
Watch Christmas movies
Go Christmas caroling at the nursing home
Write letters to Santa or visit him at the mall
Have Christmas themed family game night
Watch for other local free Christmas events in your area
4. Purchase cheap gifts under $5 that meet immediate needs
If money is tight, then purchasing needed items for each person on your list will allow you to put something under the Christmas tree while still respecting the budget. Children first and foremost should have their needs met. Unwrapping a new toothbrush, gloves or slippers can be just as exciting as unwrapping a new toy. It's the surprise element and the love behind the gifts that most children truly appreciate.
"Needs" that make great cheap gifts under $5:
Gloves
Slippers
Socks
Scarves
Clothing
Personal care items
Shoes
Fruit
Snacks
Educational books
5. DIY the gift wrapping so that more can go toward gifts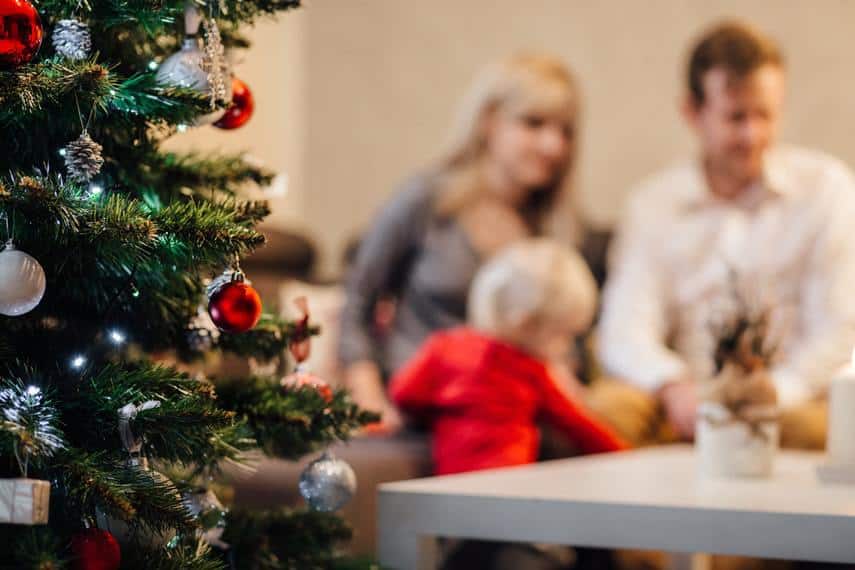 Have you ever noticed how expensive wrapping paper and gift bags can be?! Instead of purchasing new gift wrapping this year, try reusing gift bags from previous years (if you've saved them).
Another option to really save on gift wrapping is to decorate newspapers with bright markers or paint to wrap gifts. Have the family help and make this one of your 12 days of Christmas activities!
If you've run out of time, you can even go with the black and white look of plain newspaper or use the comics section. Try to add a fun bow or ribbon if you have something around the house.
More ideas for gift wrapping substitutes:
Construction paper
Paper bags
Decorated scrap paper
Fun patterned scraps of fabric
Layered plastic tablecloths
Blankets or sheets (as part of the gift!)
Unwrapped gifts placed in decorative baskets from thrifts stores
6. Buy cheap Christmas gifts for coworkers and friends in bulk
If you have a lot of people to buy presents for, try buying items in bulk to save some extra money on Christmas gifts. If you prefer to shop in local stores, make sure to look for gifts sold in multiples since those are often priced best per item.
Food or snacks are often a crowd pleaser when purchasing cheap Christmas gifts for larger groups of people. Whether you have a large family, a crowded office or a lot of friends on your Christmas list this year, food items are very reasonably priced when purchased in bulk.
Ideas of items you can purchase in bulk to save money:
Food/snacks
Candy
Fun socks
Bath bombs
Soaps
Art supplies
7. DIY Cheap Christmas gifts this year
It might be time to get creative – like – really creative. If you're pressed for gifts but just can't come up with the funds to make it happen, a small DIY gift could be the answer. Typically anything DIY can appear elaborate while not costing much at all. You can even have the kids help brainstorm gift ideas and make things for each other and for extended family and friends.
Here are a few cheap DIY Christmas gift ideas to research and create:
Mason jar recipes (cookies, bread, trail mix, etc.)
Personalized gifts
Homemade candles
Home or office decorations
Knitted scarves
Fragrant soaps
Homemade snack boxes
Bath bombs
Movie night gift basket
Homemade board games
Handwritten or printed coupon book
8. Visit more than one store and price shop for cheap gifts
If you're a bit old fashioned and prefer to shop in store this Christmas season rather than online, that's okay! You don't need to shop online in order to get the best deals (although with Ebates, it just might be worth it this year).
Be sure to visit a few stores and price shop for the cheapest options. Saving $5 on gifts here and there really adds up when you have multiple people to shop for this Christmas. You might find that one toy is $40 at Kohl's while only $35 at Walmart. But if you take a look at additional store promotions coupled with a discounted gift card from Raise, you may find that Kohl's is still the better option in the end!
9. Shop second-hand for cheap Christmas gifts
There have been years that I've been able to purchase many second-hand gifts for family and friends. When you think of thrift store items, you probably imagine broken toys, games with missing pieces, clothes with holes in them, etc. But the truth is, many people donate new or slightly used items to thrift stores!
Browse your local second-hand shops and look for items that your loved ones would appreciate. If something is nice quality but doesn't have a tag on it or shrink wrap around it, that doesn't mean it's a bad gift. Think of ways to wrap the item that makes it presentable and fun. Shopping for second-hand gifts is an amazing way to put presents under the Christmas tree without spending exorbitant amounts of money on the newest items on the market.
Affordable gift ideas that can be purchased second-hand:
Puzzles
Games
Books
Shoes
Clothes
Scarves & Gloves
Kitchenware
Home decor
Electronics
10. Be honest with extended family and friends
If it comes down to purchasing gifts for extended family and friends or feeding your family, you know what I'm going to say next. Christmas gifts need to be skipped this year.
If you're able to purchase cheap gifts for your immediate family that double as "needs" this year, then that is great. But simply tell your extended family, friends and coworkers that you would prefer not to be included in gift exchanges this year.
Don't let gifts put you into debt. Your loved ones will understand!
Bonus: Make extra money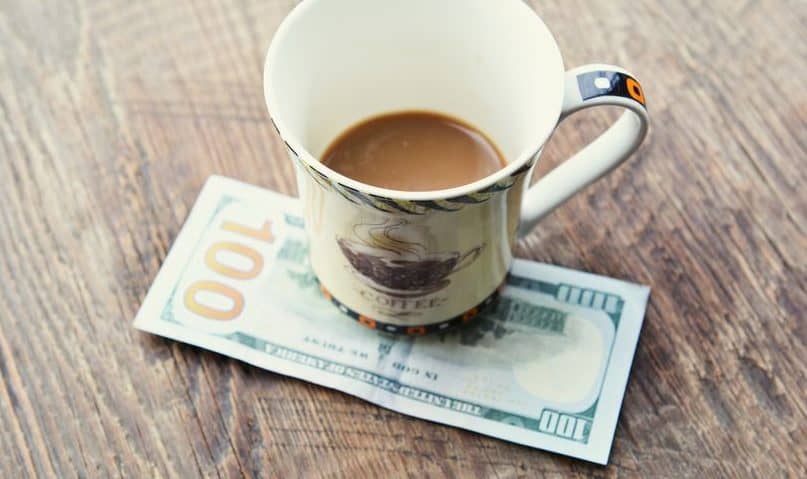 If you're struggling to find the best deals on items you feel are essential to having a great family Christmas, then consider spending a little extra time this season making extra money. There are so many ways to earn more money during the holidays.
From signing up for Lyft to drive locals to their appointments to picking up a seasonal job, you can make money in time for Christmas.
Here are a few more ideas that will help you earn the money you need:
Cheap Gifts Are Not Bad Gifts
Whatever season in life you may be going through, know that it's okay to cut back on spending. Christmas will come and go this year as it always has before and spending time with your loved ones is all you need to make it wonderful.
Follow as many of these ways to get cheap Christmas gifts as possible and it will help make it through the season. Do as much as you can for your family but always remember that saving money on Christmas gifts can be done without making a dent in the joy that comes with the Christmas season.