Minerva Studio | Shutterstock
Want to learn new ways to make
extra money

?

Join 1,000,000+ monthly readers in getting updates and cool freebies:
Our number one goal at DollarSprout is to help readers improve their financial lives, and we regularly partner with companies that share that same vision. Some of the links in this post may be from our partners. Here's how we make money.
Chances are high that you pay bills for internet, cable, cell phone, home security, and other subscription services.
These bills can add up quickly and take a huge chunk out of your monthly paychecks.
The good news is that recurring payments can be negotiated down so you can stop spending unnecessary money. If the idea of saving money on bills excites you, then you may love Billshark, a bill negotiating service.
What is Billshark?
Launched in 2016 by entrepreneur Steve McKean, Billshark helps people in the United States and Canada reduce the amount of money they spend on their bills. Its mission is to empower consumers by lowering their monthly bills and leveling the playing field with their providers.
The company states that they have an 85% success rate negotiating bills for subscription-based services like cable television, wireless phone, satellite television, internet access, satellite radio, and home security. Since its launch, Billshark has saved its clients more than $10 million.
According to Billshark, if you have monthly recurring bills that you haven't recently negotiated, you're overpaying. Although the amount you may be able to save depends on a variety of factors such as where you live and your longevity with your providers, the average customer saves close to $300 to $500 per bill.
Depends
Price
Fee is 40% of annual savings. If you don't save money, then you don't pay.
DollarSprout Rating
Higher service fee than competitors.
BillShark at a Glance:
BillShark is a bill negotiation service. They have an 85% success rate in lowering bills for cable, internet, wireless phone services, satellite, home security, and more. If BillShark is successful at negotiating a lower rate for you, they keep 40% of your savings. If they're not able to save you money, then you don't pay for anything.
Show

Hide

more
Pros
Quick and easy process to upload your bills
Save time you would have spent negotiating bills yourself
Risk-free since you only pay if BillShark saves you money
A chance to help children in need through BillShark's "One-One Child" program where the company donates one hour of financial literacy instruction to one child for every one bill they negotiate.
$10 discount on your fee and a $10 Amazon gift card for every friend you refer who saves money with BillShark
Cons
No guarantee you'll save money
40% of your yearly savings is a higher fee than some competitors
Billshark Review: How Does It Work?
Using Billshark is a fairly simple, straightforward process. Here's a brief overview of what you can expect if you decide to proceed with Billshark.
Sign Up for an Account
To sign up for Billshark, create an account using your email address and password or by logging in with your Facebook or Google profile.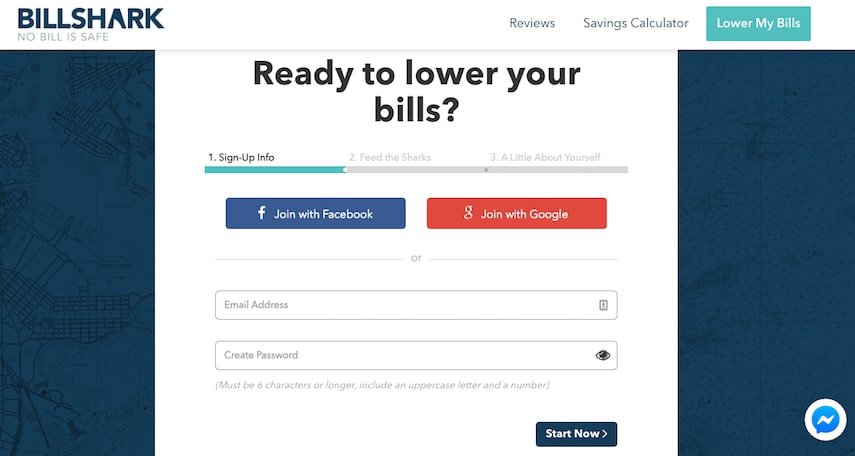 Next, select the types of subscription-based services you'd like to save money on and choose your providers.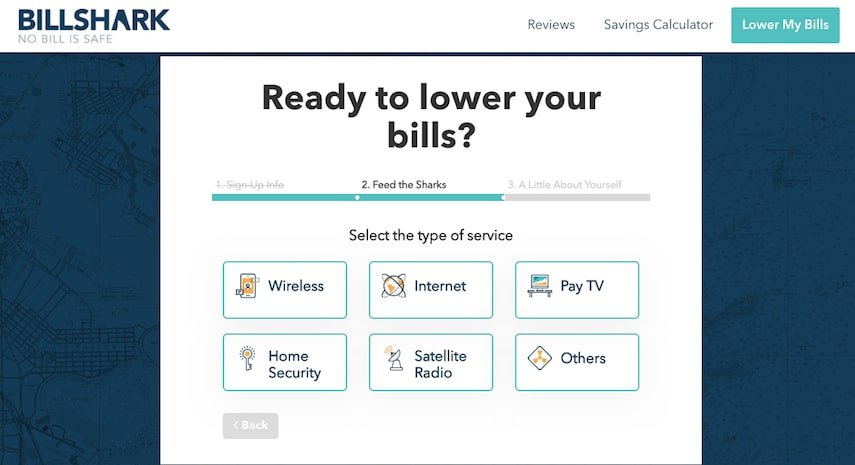 Send Your Bills to Billshark
After signing up for Billshark and choosing the types of bills you'd like to save on, you'll upload your bills for services such as cable, wireless phone, satellite television, internet, satellite radio, and home security. Then, send the images to Billshark through its secure website or app.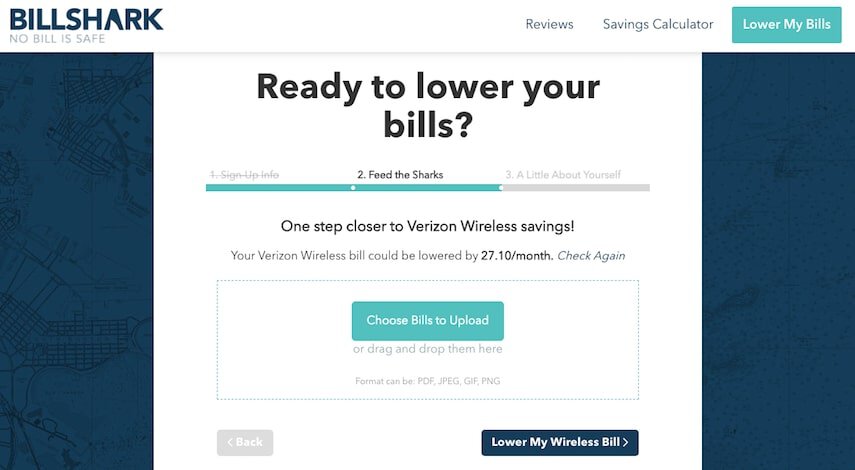 When you send your bills, try to provide the most recent statements as well as the first few pages that include both their summaries and detailed information.
Let Billshark Review and Negotiate Your Bills
Once Billshark receives your bills, expert bill negotiators investigate them and negotiate with service providers on your behalf. During the negotiation phase, expect regular updates as the negotiators quickly work their magic and uncover savings in your next round of bills.
You Save Money in the End
You have nothing to lose by sending your bills to Billshark for review. If the company fails to save you money, then you pay nothing and get the peace of mind of knowing that you are already paying the lowest rates. In the event Billshark saves you money on your bills, you'll share 40% of your yearly savings with them.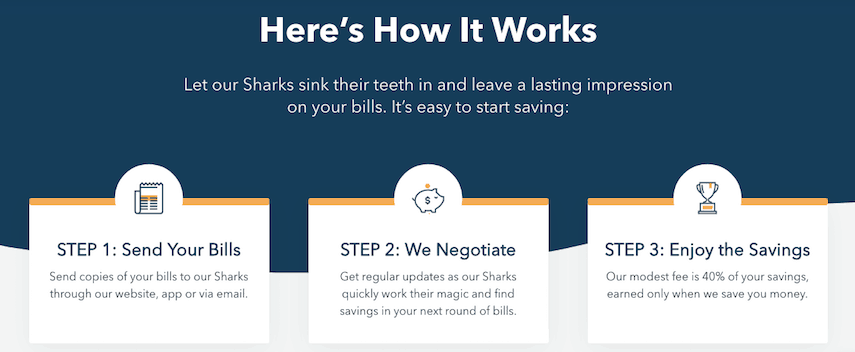 Billshark for Businesses
If you own or manage a business, you can also use Billshark to save on corporate expenses. Its business bill reduction service can help save your company money and add to your bottom line. You can send Billshark your mobility, telecom, waste management, payroll, SaaS subscriptions, and document services bills so they can work on finding savings. The company has more than a 90% success rate in reducing business bills.
In addition, Billshark can make sure you are reimbursing your employees only for the lowest-cost wireless and internet plans. Big-name companies like MGM Resorts, Delta Airlines, and Gannett have already jumped on the Billshark bandwagon.
Billshark Review FAQs
Before signing up for Billshark's negotiation services, there are a few questions you'll want to consider.
Can I Estimate How Much I'll Save with Billshark?
Thanks to the handy savings calculator on Billshark's website, you can find out how much you may be able to save with their services. Simply select your total monthly bill amount and bill type and receive an estimate of yearly savings.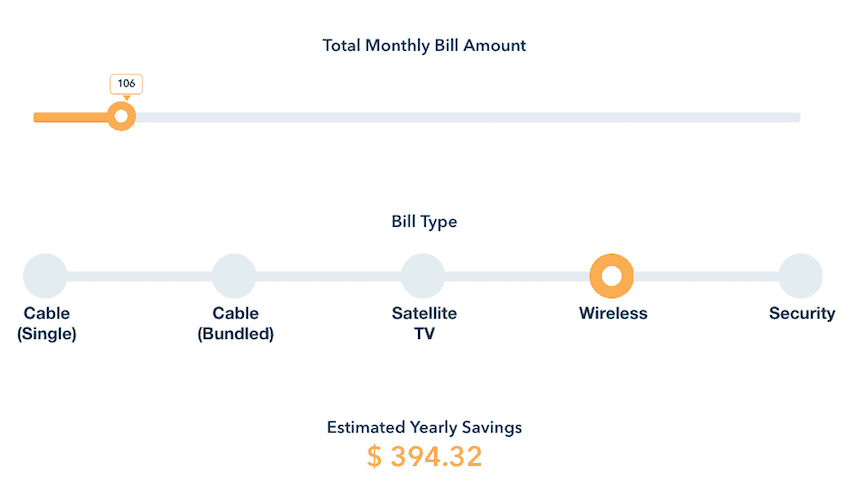 Is Billshark's Service Reliable and Safe to Use?
Billshark's service is safe and reliable. The company uses the same technology that banks use when submitting your payments and provides their expert negotiators with very limited personal information on their customers. In addition, Billshark will not give your information out to anyone without your permission.
What Other Services Does Billshark Provide?
In addition to negotiating better rates on your subscription-based services, Billshark can provide service changes and cancellations on your behalf for a flat rate of $25 per subscription.
Billshark vs. Trim: What's the Difference?
Trim is another bill negotiation service that helps people make the most out of their money. Although Billshark and Trim are similar, there is a noteworthy difference between them. While Billshark charges 40% of your first-year bill savings, Trim only charges 33%.
For more information, check out DollarSprout's complete Trim review.
Is the Cost of Billshark Worth It?
As stated, Billshark charges a fee of 40% of the money they save for you in a year. If they save you $100, you'll pay them $40. You can pay your fee in full or set up a payment plan that's comfortable for your budget and lifestyle needs. Since Billshark won't charge you if they can't lower your bills, many people find Billshark to be well worth it.
Does Billshark Automatically Switch Service Providers?
Billshark will never automatically switch your service providers. The company's goal is to save you as much money as possible while keeping you with the providers you already have. However, the only time they may change your service provider without your consent is if they're able to get you more services for less money than you're currently paying.
Why Would I Choose Billshark if I Can Negotiate Bills Myself?
Although you may be aware that you could save money with your service providers, the process of negotiating a subscription can be daunting. You may face long hold times or "dead-end" conversations with customer service representatives. With Billshark, you can leave negotiation to the experts and sit back and relax while they do all the work on your behalf.
Billshark Review Summary
If you don't have the time or desire to negotiate your bills but are looking for an easy and affordable way to save on them, Billshark may meet your needs. However, as with any financial service, it's important to consider the pros and cons as well as alternative options before taking the plunge and using Billshark.
You May Also Like