Photo Credit © Shutterstock Images
Want to learn new ways to make
extra money

?

Join the family to get updates from us and tons of cool freebies:
Our number one goal at DollarSprout is to help readers improve their financial lives, and we regularly partner with companies that share that same vision. Some of the links in this post may be from our partners. Here's how we make money.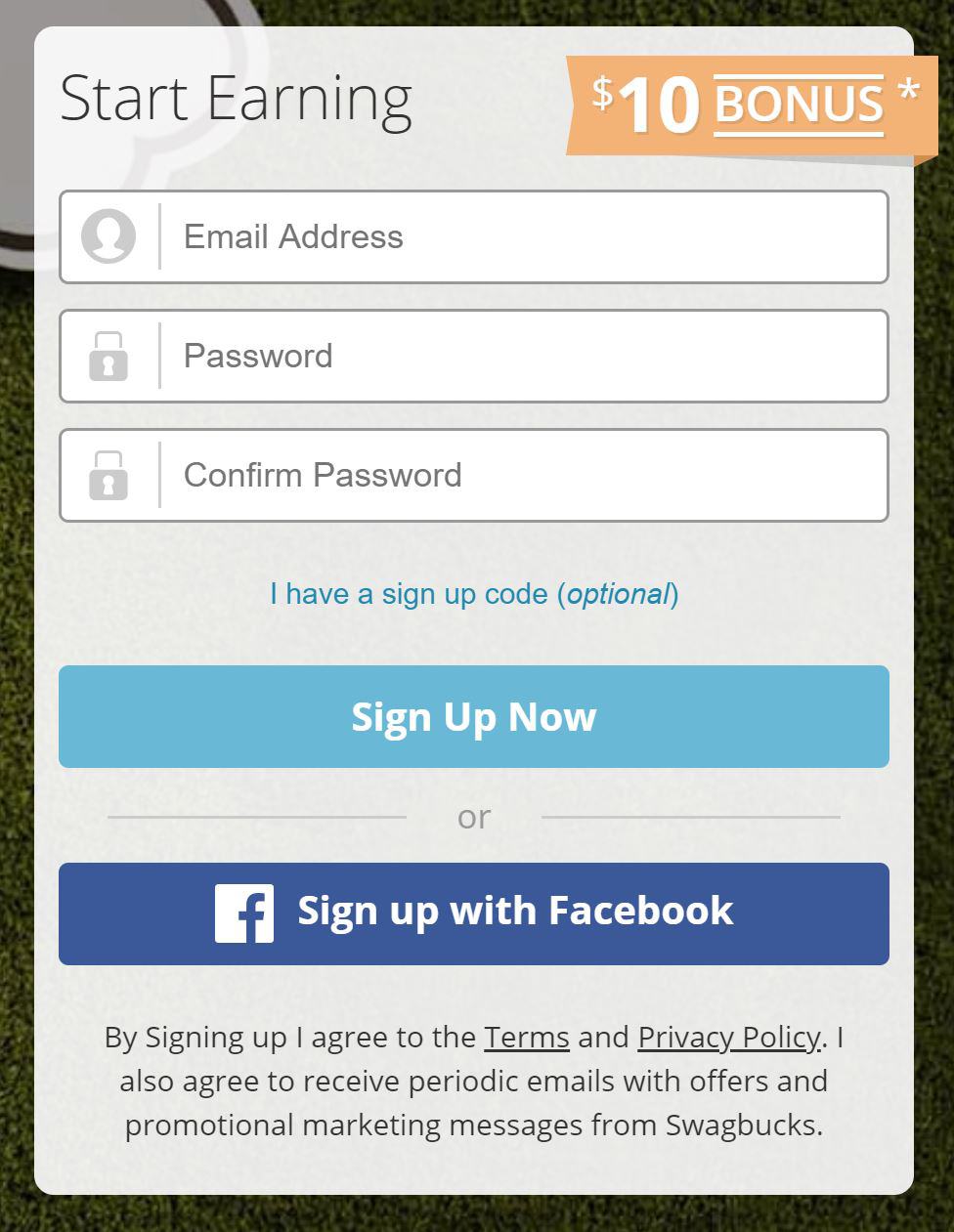 I like to think of myself as a pretty savvy guy. 
I'm always looking for the good deals and easy ways to save money. Cash back apps, cash back credit or debit cards. You get the point.
When I first started researching for things I should be using, I was overwhelmed with all the options. I wanted something truly easy. Something automatic.
Then I discovered one app (with a free $10 sign up bonus) that offered not 1, not 2, but over 5 ways to earn with little to no effort. I've been hooked ever since.
Introducing Swagbucks.
A free rewards program and smartphone app that, after downloading, pays you for things you already do online — watching videos, searching the web, buying stuff etc.
In a nutshell, you earn points (aka Swagbucks) for everything you do in your Swagbucks account. Then you can turn around and redeem those points for cash or gift cards.
To date they've paid members over $325,000,000 and they give away over 7,000 free gift cards every day.
Now, there are several ways to earn money, but these five strategies will give you the best return on your time.
1. Surf the Web
If you browse the web every day and aren't using Swagbucks as your default search engine, then you're missing out on an extremely passive way to extra money.
The Swagbucks search engine is powered by Yahoo!, so you still get quality search results. The only action you need to take is to download Swagbucks Search extension and use it every time you search for something online.
There's no clear answer as to how much or how often Swagbucks pays for searches. All I know is that the more I use Swagbucks Search, the more I seem to earn.
You won't get rich, and you can't just endlessly search for things, but it's an easy way to earn a few bucks here and there.
2. Vote Daily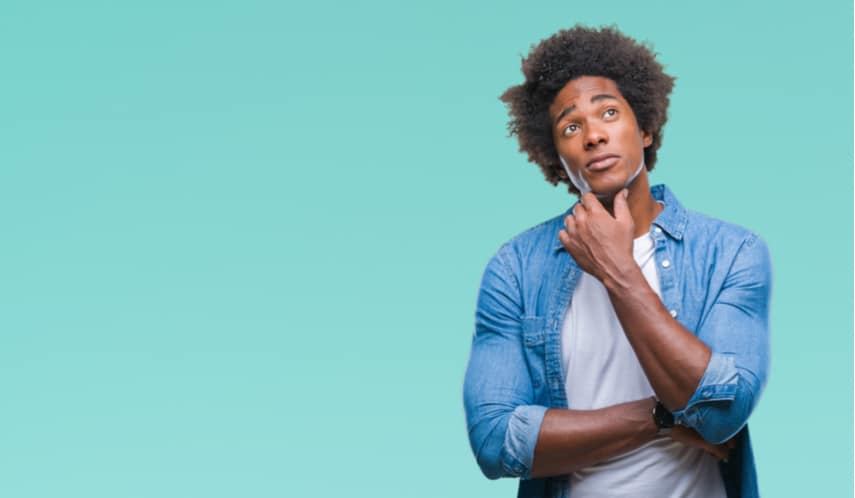 As a member, one of the ways to earn is by participating in their daily polls and taking online surveys.
Swagbucks creates surveys, sends them out, and ask for feedback on products that pertain specifically to men. You answer a few short questions and collect a payout for your time.
With the survey results, companies can move forward on creating or refining whatever the product is. On the other hand, the idea was a bust, they've likely saved themselves from thousands of wasted dollars, time, and the resources used to create something that no one wants.
In effect, you sharing your opinion directly impacts the products and services offered by your favorite brands.
3. Watch Short Videos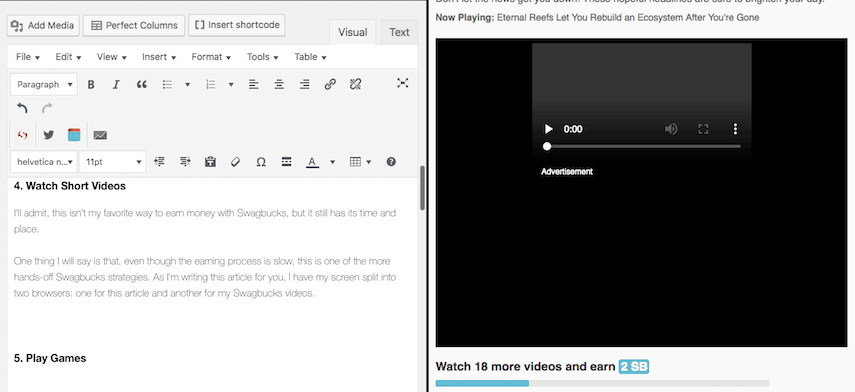 This isn't my personal favorite way to earning with Swagbucks, but it still has its time and place.
Even though the earning process is slower than some of the other methods, this is one of the more hands-off Swagbucks earning strategies.
The good news is that the effort involved is very minimal. Just load up your videos and let them run.
You do have to keep an eye on the videos. If they're in a separate tab while you're working, then they might pause until you go back and revisit the tab.
So you may think you've run through 25 videos, but you go back and see that it stopped at video 2. (I keep mine in a split screen so I can make sure the videos keep playing, and I keep earning.)
It's worth noting that the video player is a little slow. If you already have a poor internet connection, then running Swagbucks videos in the background could bog down your browser even more.
To avoid this, I'll often pull them up on my phone and set it by me while I'm working on another device, like my laptop. That way I can peek down at it from time to time to make sure things are still running without distracting me from whatever else I'm doing.
4. Buy Gift Cards
By far one of the easiest ways to earn with Swagbucks is to grab gift cards through their online portal.
This may sound like a "spend money to make money" type of deal, and in a way, it is.
The key to earning cash back with this method is to only purchase gift cards for things you're going to spend money on anyway. Before making a purchase, check out Swagbucks to see if you can earn cash back with a gift card.
For example, let's say you need to buy some paint supplies from Lowe's that you think will cost around $100. First, hop on Swagbucks' gift card platform to see if you can snag a deal. It turns out you can get 2% cash back by purchasing a Lowe's gift card through Swagbucks.
You buy your gift card, receive a $2 credit to your Swagbucks account, and use your gift card to purchase your paint supplies. You've now earned a $2 bonus with minimal effort. If you've got a cash back credit or debit card that gets a certain percentage off, you can save even more.
I know what you're thinking — "but $2 is nothing!"
Let's say you also eat out at Panera a few times a week for lunch. Instead of using cash, you purchase one $25 Panera gift card through Swagbucks each week. At 4% cash back, that's another $1 per week bonus you've earned essentially for free.
That's $3 in week one. If you make a habit of checking the Swagbucks gift card portal before each purchase, you could easily earn an additional $3-$5 per week on top of the other ways you're earning through the app.
That's a possible $20 per month (or $240 per year) just with this one Swagbucks strategy.
5. Get Cash Back on Everything
Cash back shopping with Swagbucks is similar to purchasing gift cards, except with more options to choose from.
If I don't find a gift card for whatever I'm looking for on Swagbucks, I head to the cash back portal.
For example, Amazon is one of my favorite places grab stuff online. If I can't find an Amazon gift card available, I just head to the Swagbucks cash back portal, I can see that they do offer up to 10% cash back on Amazon purchases.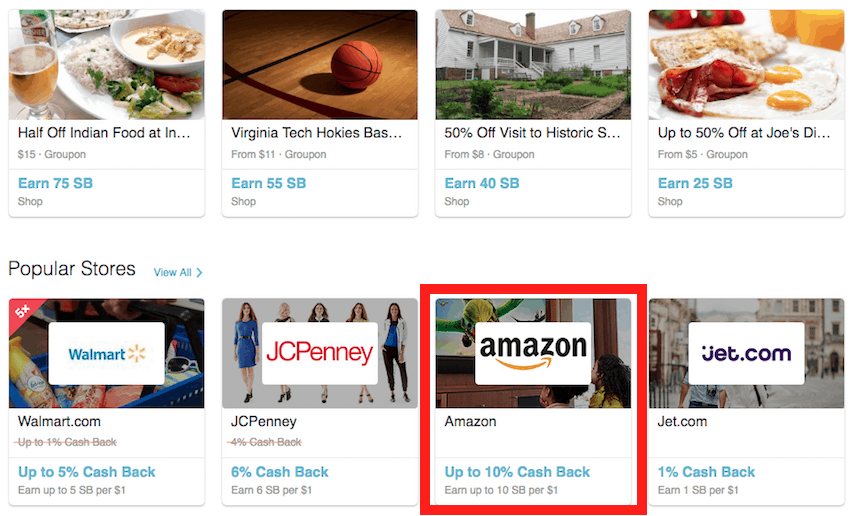 When I click through, I can check out the specifics of the deal and choose "Shop Now" to earn cash back on my Amazon shopping trip.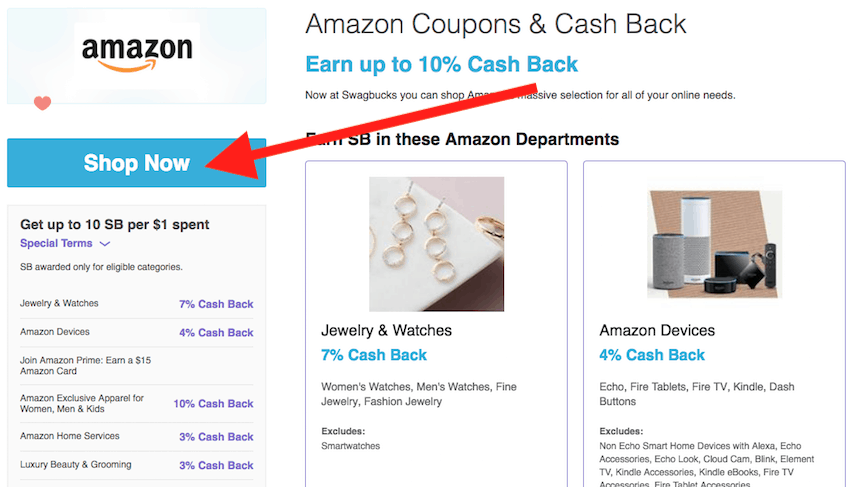 Again, it is technically a "spend money to make money" situation, but if you're already going to spend that money anyway, then why not get paid for it?
Swagbucks also offers a $10 sign-up bonus to new members who join and spend at least $25.
Bonus: Earn Money by Playing Games
I've included this Swagbucks strategy as a bonus for good reason — it's not the most effective or efficient way to spend your time but it's yet another method for earning if you've maxed out the others or want to switch things up.
For lesser known games, you can earn up to 10 Swagbucks per game for playing and watching in-app advertisements. Once you reach your 10-point limit, you can continue to play, but you won't earn any additional rewards.
The only way to earn with Swagbucks' more popular games (Bejeweled, Deal or No Deal, Angry Birds Champions, etc.) is to make in-app purchases. If you decide to go that route, you can earn up to 12% cash back.
Swagbucks is a No Brainer Download
All in all, Swagbucks is one of my favorite, semi-passive ways to earn rewards.
Without a doubt, the easiest ways to earn with Swagbucks — from my personal experience — are using it as my search engine, doubling up on gift cards and cashback, and taking the short surveys. That said, watching some videos while you work, and occasionally playing some of the games, can help boost your earnings even more.
Whatever way you prefer to earn, Swagbucks has the tools for the job. One thing I can say for certain — my wallet is a lot happier since I got Swagbucks savvy.