Jacob Lund | Shutterstock
Want to learn new ways to make
extra money

?

Join the family to get updates from us and tons of cool freebies:
Our number one goal at DollarSprout is to help readers improve their financial lives, and we regularly partner with companies that share that same vision. Some of the links in this post may be from our partners. Here's how we make money.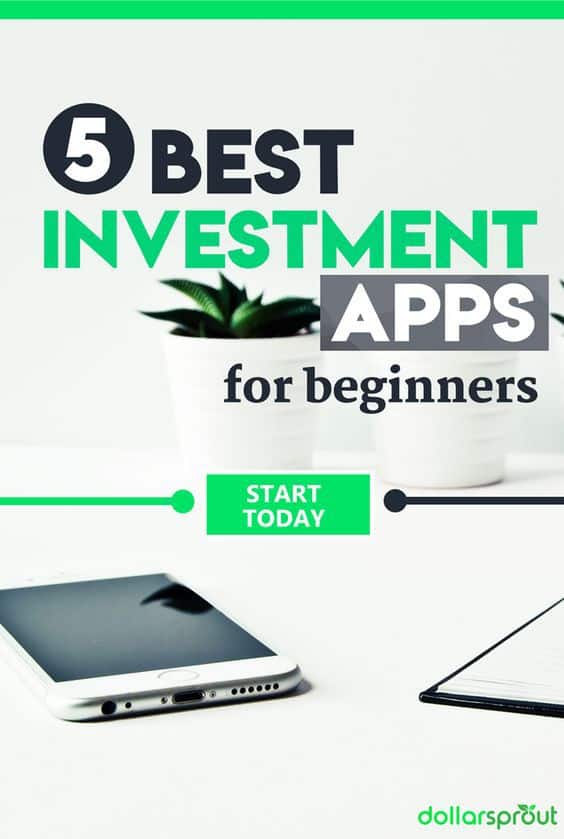 With dozens of stock trading apps currently on the market, it can be tricky to separate the good from the bad.
To help you find the right one for you, we put together this list of the best investment apps for beginners in 2019.
Our Editorial Team has researched all of the top investing apps available, and evaluated each one in several different areas in order narrow this list down to the five that we think will help you the most.
Everyone's financial situation is different. We all have different goals, amounts to invest, tolerance for risk and knowledge about investing.
At DollarSprout we know what we like, but we've also asked around to see what other apps people in the personal finance community are using to invest their money online.
Whether you have lots of extra money to invest, or just want to get started with a small amount of money, you should be able to find something useful for you on this list.
Note: Before you start investing, you should already have a monthly household budget and a plan in place to pay off your debt, if you have any.
1. Acorns
Acorns is an investing app similar to Stash, with a few extra bells and whistles. You can read our full Acorns Review here.
How does Acorns work?
Open an account in under 5 minutes, with no minimum investment required.
Answer a few questions about your age, risk tolerance, etc.
There are several ways to add to your account, including depositing your "spare change" (the app will round up your debit card purchases to the nearest dollar and move the extra few cents into your Acorns account).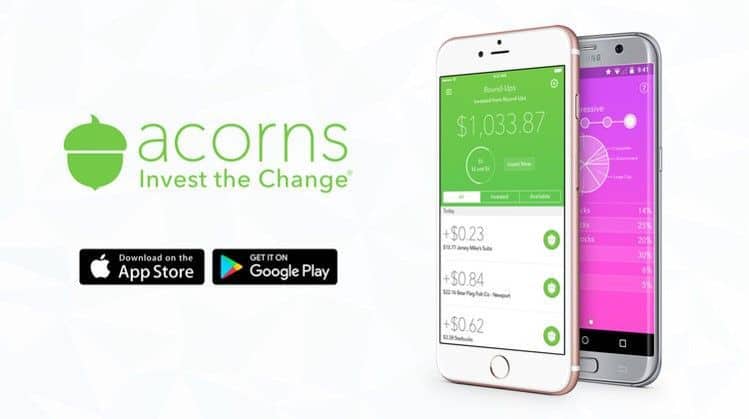 Pros and Cons of Acorns
Pros:
Free $5 Signup Bonus for all new accounts
Automatically invests spare change (this adds up over time)
Free for college students
Dividends can be reinvested
Built in cash back program that funnels into investments
Cons:
On small account balances, the fees can be a high percentage
For meaningful results, you'll need to invest more than just your spare change
High ETF expense ratios
2. Betterment
Betterment is more than just an investment app — it's designed to be a one stop shop for all of your investing needs. It's focused primarily on long term investing, and the platform caters to a "set it and forget it" investing style (which is perfect for beginners). You can read our full Betterment Review here.
How does Betterment work?
Open an account in under 5 minutes, with no minimum investment required.
Answer a few questions about your age, risk tolerance, etc. You'll be asked about your goals and what you are investing for.
Based on your answers, Betterment will put together a portfolio that suits your needs. As time goes on, Betterment handles portfolio rebalancing so your asset allocation stays in line with your goals.
If you have investment accounts outside of Betterment, you can still use the app to track all of your assets in one place.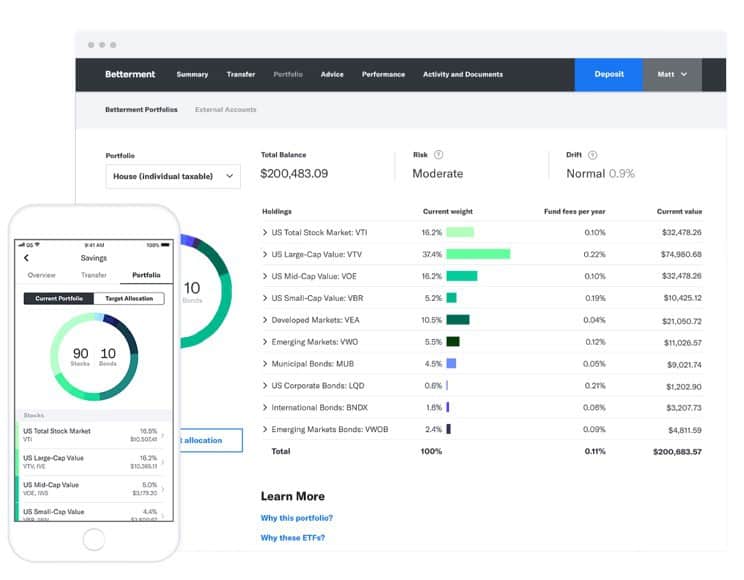 Pros and Cons of Betterment
Pros:
Comprehensive, low maintenance investing
Access to financial experts (humans) for personalized advice
Low management fees
Automatic rebalancing
Helpful retirement calculators and tracking tools
Cons:
No REITs or commodities
Not meant for hands-on, analytical investors
Cannot asset allocate with external accounts, even though it can track external accounts
3. Ally Invest
If you want a more hands-on way to invest your money, we really like Ally Invest (formerly known as TradeKing).
How does Ally Invest work?
You choose each individual investment (stocks, bonds, ETFs, etc). There are no pre-made themes like Stash has. This means you have much more flexibility.
You enter each individual trade and are responsible for rebalancing your portfolio on your own.
A huge collection of educational resources.
A word of caution: If you are completely new to investing, this may not be the best investment app for you. If, however, you are excited to research investments and learn more about the stock market in general, Ally Invest is a high quality platform.
Where Ally shines the most is the low cost of trades: only $4.95 per stock or ETF trade. This puts them at the top of their class among their competitors (think E-trade, Charles Schwab, TD Ameritrade, etc).
Clients have access to Ally Invest's browser-based platform which offers quick trading capabilities, real-time streaming quotes and data, a customizable dashboard, and access to all of their tools.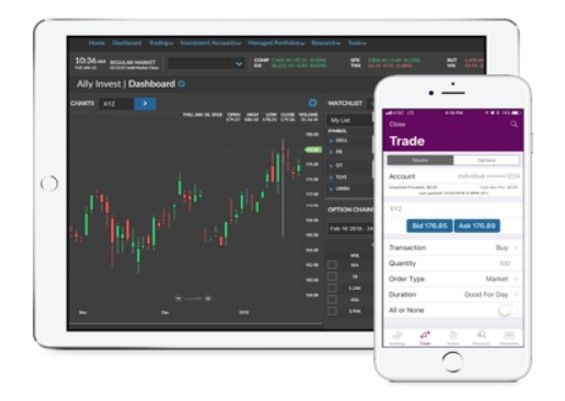 Pros and Cons of Ally Invest
Pros:
Largest number of investment options
Low trading commissions
High quality trading platform
Customer service
Cons:
No automatic investing or rebalancing
Completely self-directed
4. Swell Investing
Swell takes a unique approach to investing. According to their website, they are "an impact investing platform that helps you invest in high-growth companies solving global challenges." You can read our full Swell Investing Review here.
Despite the higher than average fees, we included Swell in our list of best investment apps because of the philosophy behind their investment strategy.
How does Swell work?
Set up your account: Select either a traditional brokerage account or a retirement account (IRA).
Pick your portfolios: Choose from six thematic portfolios and create your Swell investment mix.

Green Technology
Renewable Energy
Zero Waste
Clean Water
Healthy Living
Disease Eradication

Link your bank and fund your account.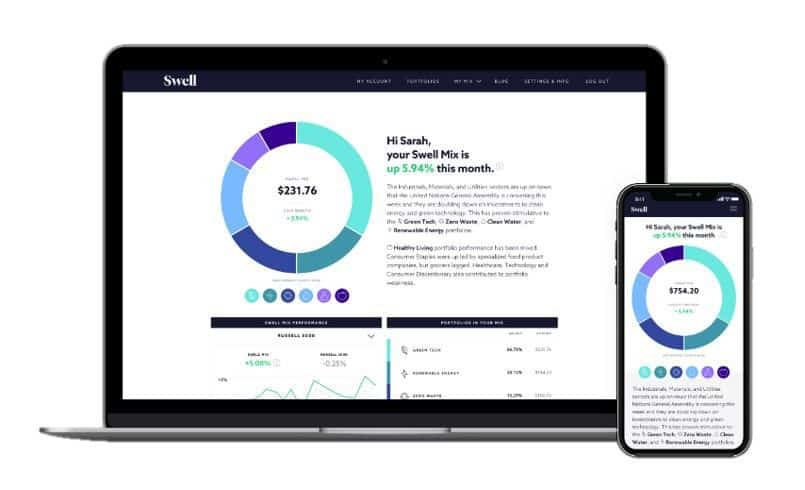 Pros and Cons of Swell
Pros:
Socially and morally responsible investing
Straightforward fee structure
Direct stock ownership; no extra expense ratios
No trading costs
Cons:
Management fee is higher than competitors, but not unbearable. On a $500 balance, you will pay $3.75 a year in fees.
Primary focus is on US small cap stocks, so volatility can be high
Quarterly rebalancing might not be most tax efficient strategy
5.

 

Stash Invest
Don't know the first thing about investing? No worries — we all have to start somewhere.
Stash is a simple investing app that makes it easy to start putting money to work, even if you're only looking to invest small amounts of money.
The Stash app explains investing in a way that you can actually understand. You won't need a college degree in finance to understand what's happening with your money.
How does Stash work?
You open your account with as little as $5.
Stash allows you to invest money online by letting you choose from 150+ stocks or investment "themes"; pick from the best options for your goals, interests, and beliefs.
Each theme includes a group of companies to invest in rather than just one.
Each week you can make a small automatic deposit into your Stash account to invest (even just $5 a week).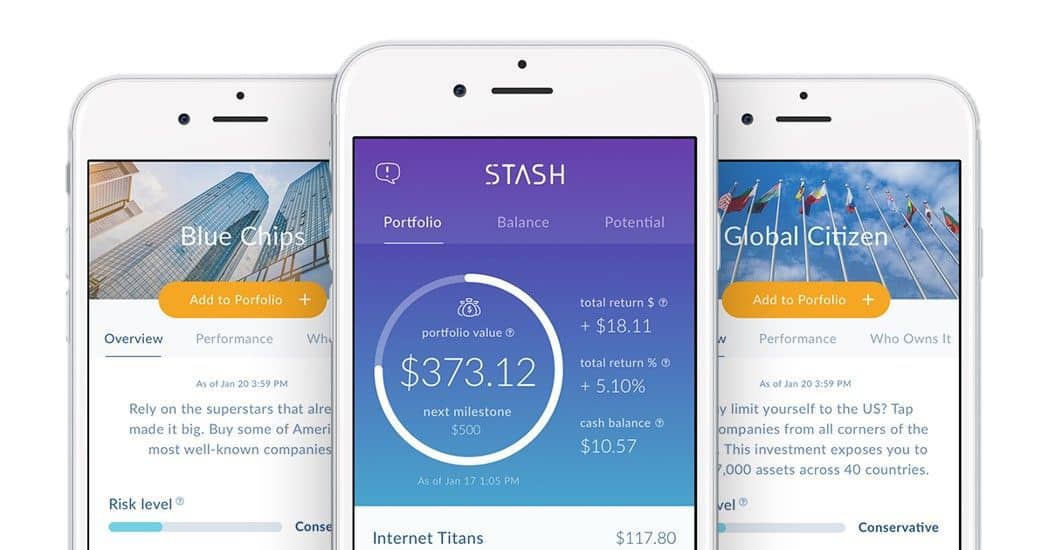 Pros and Cons of Stash
Pros:
Low account minimum
Ability to buy fractional shares
Unique investments based on values & beliefs
Cons:
Fees can be high (percentage wise) on low balances
No management option
High ETF expense ratios
*DollarSprout is a paid Affiliate/ partner of Stash. Investment advisory services offered by Stash Investments LLC, an SEC registered investment adviser. This material has been distributed for informational and educational purposes only, and is not intended as investment, legal, accounting, or tax advice. Investing involves risk.
Time is on your side
If you haven't started investing yet, don't fret, it's not entirely your fault.
It's not like we crawl out of the womb knowing what a 401(k) is or how you should start saving for retirement.
We aren't born knowing the ins and outs of trading stocks, and basic personal finance still isn't being taught in schools.
But to make this work, you need to start tucking away some of your money into the stock market as soon as possible. You need to start now while time is still on your side.
With any one of the investment apps listed above, it's easier than ever to get started with investing. Even if you are a complete beginner!
The more time your investments have to grow, the more money you will end up having in retirement. That means that you need to start doing this now, even if you start small. The rise of mobile has made tracking and growing your money easier than ever.
This list has, in our opinion, the best investment apps that will allow you to realistically and responsibly invest money online.
You May Also Like