yougoigo | Shutterstock
Want to learn new ways to make
extra money

?

Join 1,000,000+ monthly readers in getting updates and cool freebies:
Our number one goal at DollarSprout is to help readers improve their financial lives, and we regularly partner with companies that share that same vision. Some of the links in this post may be from our partners. Here's how we make money.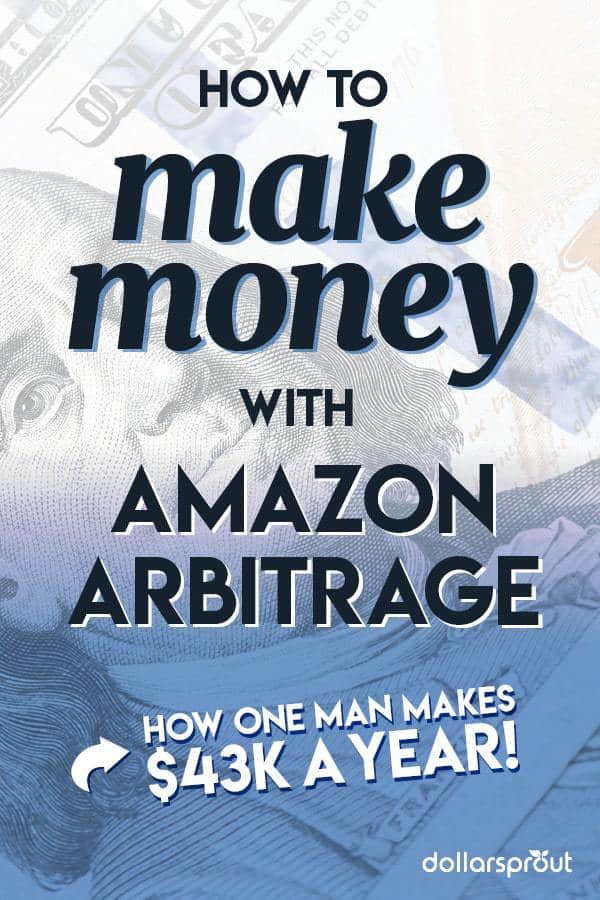 Amazon arbitrage is a great way to make money online! This complete guide shows you exactly how to start your own business in retail arbitrage.
Over the last several years, retail arbitrage has become a popular business model for individuals and families looking to make money online.
Considering that Amazon basically owns the e-commerce world, it doesn't come as a huge surprise that it's a great place for sourcing product.
Some people even take their Amazon business from a side hustle all the way to a six-figure income. How is that possible?!
Introducing: Amazon arbitrage or retail arbitrage.
Retail Arbitrage Definition
Retail arbitrage is the process of purchasing discounted items in retail (physical stores) and listing them on Amazon, or other sites similar to Amazon, for a higher price to earn a profit.
Amazon to Amazon arbitrage is similar only the retail arbitrage sourcing is from Amazon rather than a local store.
How Does Amazon Arbitrage (aka Retail Arbitrage Sourcing) Work?
Amazon arbitrage has two main steps.
Find discounted products at local stores (retail arbitrage sourcing)
Resell them on Amazon at a higher price (Amazon arbitrage)
Simple, right? Just visit the clearance aisle of your local Target (or Walmart or sporting goods store) and check all of the items that are on clearance.
A good rule of thumb is to look for anything that's 75% off or more. That leaves you enough profit margin to cover the Amazon fees they charge on every sale.
In order to start selling on Amazon, sign up for an Amazon Seller Account.
How to Find Cheap Products for Your Amazon Arbitrage Side Hustle
The key to reselling on Amazon is finding products that have a big enough discount to make them profitable.
Amazon takes roughly a 30% cut of the sale price. Therefore, you need to buy at a significant discount in order to make money.
Finding cheap products is straightforward but sometimes very time-consuming. One option is to manually look up every item on Amazon and do the calculations using the Amazon FBA revenue calculator.
This method is free but requires a significant time investment. If you spend too much time here, your profit begins to dwindle.
Amazon Arbitrage Software
The most efficient method is to use Amazon arbitrage software in the form of a user-friendly smartphone app like Profit Bandit. This app does all of the calculations for you behind the scenes and gives you a straightforward way to see your potential profit on each item.
After you have Profit Bandit ready to go, start scanning! The secret to Amazon arbitrage is that it's a numbers game.
The more you scan, the more profitable items you'll likely find to sell.
Related: 25 Legitimate Online Jobs
If at First You Don't Succeed in Retail Arbitrage…
There are people making six-figure incomes solely from Amazon arbitrage. If you ask any of them what their secret is, it comes in two phases.
The first phase is sticking with it. When you first start with retail arbitrage it's difficult to find good deals that will turn a profit.
Don't let this discourage you, though! Persistence pays off. Over time, you start to learn what items and discounts are profitable. It's almost like a sixth sense for online selling. Your instinct will guide you toward profitable products and you'll start to find more and more deals.
The second phase is scaling up your operation by building relationships with the workers and managers in your brick and mortar stores.
If you ever want to get away from scanning items one at a time and create something bigger, you have to build relationships with the people who work in the stores. These relationships will pay off big time because you'll get early alerts about upcoming product discounts.
Buy in bulk when you can
The reason things end up on the discount rack is that either the store is no longer selling them or they're slow movers. Slow-moving products tie up valuable shelf space. Replacing them with faster moving items means more profit for the store.
The key here is to build up enough rapport with the store manager/stockers that they notify you of upcoming clearance sales and give you the first crack at them. Oftentimes this will be entire pallets of overstocked items that the store needs to move out, and if you take everything at once, it makes the store manager's job that much easier.
Instead of paying someone to stock the shelf and waiting for the items to sell one at a time, unloading an entire pallet with hundreds of items to one person is much easier and efficient.
How Much Money Can You Make With Amazon Arbitrage?
Your profitability in retail arbitrage depends on a few different factors.
Competition
The first one is competition. If you live in a large city with a lot of other people employing a similar strategy, you'll be in constant competition with them for the best deals.
However, if you live in a smaller city with less competition, you may be the only player in the game, and you'll quickly build up a monopoly on flipping from all your local stores.
Location
The next factor is your location. If you go to your local Target store and clear out all of the profitable items, you're now out of inventory until that store discounts more goods or until you find deals at another store.
But if you live in an area with several brick and mortar stores, you'll possibly hit higher profit numbers before depleting all the deals.
Once you do run out of items to source, you'll need to look in surrounding cities to keep growing your business.
Full-time business or part-time side hustle?
It's difficult to give an actual dollar amount or estimate earnings in retail arbitrage since it depends on the number of hours you put in. Some people work 40 hours per week on this venture and make over $100,000 per year.
Many people hate shopping. But your wife insists on your going to the store with her you can spend your time there scouting out deals and looking for anything to flip on Amazon to make some extra money.
Turning a dreaded shopping trip into a $100 per hour side hustle is the online equivalent of taking lemons and making sweet, sweet lemonade.
The next time you go shopping, visit the clearance aisle and check the price of a couple of items on Amazon. If you buy an item and sell it for 4x that price online, you will make money.
Once you've done this a few times and have made some money, invest in Profit Bandit to grow your retail arbitrage business.
Related: How to Become a Virtual Assistant (And Make $19-$25 Per Hour)
What's Next After Amazon Arbitrage?
Amazon arbitrage isn't going anywhere. Stores will continue to discount items and people will continue to buy them at retail price on Amazon.
While this is a sustainable business model, it has two flaws: 1) It's directly tied to the number of hours you put in, and 2) You may face profitability caps due to geographic constraints.
The next step after Amazon arbitrage is to create a brand and manufacture your own products. This strategy is known as private labeling. AcceleratedFI details this process with examples.
In order to start private labeling, you'll need to find an existing product for sale and have a factory customize the product and the packaging.
When I first started, I decided to sell garlic presses. Unfortunately, the $1,600 I spent on my initial order of 250 garlic presses was a total loss. I ended up selling them for less than I had paid and I was losing money on every single one!
Persistence is the key to success
My first 6 months in retail arbitrage showed a $1,600 loss, but my next 6 months turned a $2,000 profit. Then in 2016 I did about $170,000 in sales and had a $20,000 profit.
In 2017, I kept reinvesting in my business and hit $236,580 in sales and a $43,000 profit.
Private labeling is much more complicated than retail arbitrage since you need a factory to produce products for you. But your profit margins will be much higher and you'll have total control over your supply chain. This means when you find an item that starts selling well and making money, you have the ability to increase your order from your manufacturer to 1,000 or even 100,000 units.
The ability to quickly pour more money into manufacturing and advertising means the ceiling for your profits is practically unlimited. You also have the ability to completely separate yourself from the business. The ultimate goal is to build a cash flowing asset that will sell for a multiple of the profit. The typical sales price of a private label business is 25-35x monthly profit.
Unlike Amazon arbitrage, which depends on manual input and is not scalable, private labeling is easy to scale and you can transfer it to another person to continue to run the business and collect the cash flow.
Amazon arbitrage is a great side hustle for e-commerce beginners
It's an easy way to get acclimated to the world of e-commerce before moving on to something a bit more challenging, like private labeling. With no major upfront costs, it's also relatively easy to turn a profit or even start a full-time business reselling on Amazon.
Have you tried retail arbitrage using Amazon? How did it go?
You May Also Like