Photo Credit © Shutterstock Images
Want to learn new ways to make
extra money

?

Join the family to get updates from us and tons of cool freebies:
Our number one goal at DollarSprout is to help readers improve their financial lives, and we regularly partner with companies that share that same vision. Some of the links in this post may be from our partners. Here's how we make money.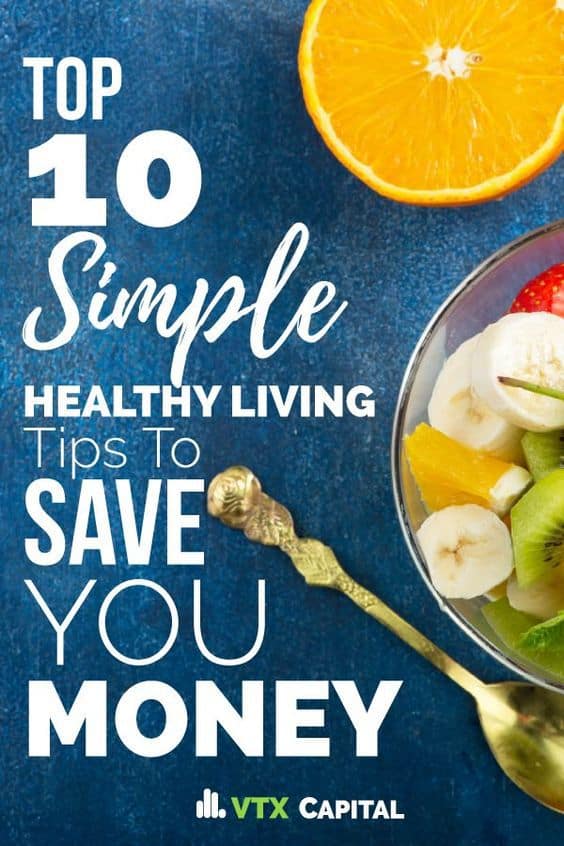 Check out these 10 healthy living tips that are both great for your health and for your wallet.
Nothing can burden a budget more than an unforeseen medical expense. Healthcare is extremely expensive – even if you're insured. According to HealthCare.gov, a 3-day hospital day averages around $30,000.
Depending on your insurance, you're likely to see a bill between $4,000 and $13,000.
How many of you have that kind of cash laying around? The answer is not many (73% of Americans don't even have $1,000 saved).
Notice how I said depending on your insurance. That assumes you even have insurance. Otherwise you are looking at the entire cost of care.
Even a simple doctors visit will cost you your co-pay plus the cost of any medications you're prescribed.
What does this all add up to? Staying healthy saves you money.
Healthy Lifestyle Tips For Adults (Especially In The Winter Season)
Many of us cannot afford to get sick. We're adults which means bills to pay, family to provide for and so muhch more. As such, it is important to consider how the time of year (and the weather it brings) can impact our health. The winter season – and the cold dry air that surrounds us – can exacerbate preexisting conditions and bring about new ones entirely.
If you always find yourself sick this time of year chances are you may benefit from simple healthy living tips that keep you out of the doctors office and away from a hospital.
10 Tips For A Healthy Lifestyle
These 10 tips for good health will help you in many ways – because let's face it. No one enjoys being sick! Commit to taking care of yourself this year and follow these healthy living tips.
1. Get a New Water Bottle
As the weather cools down your body's natural thirst-creating mechanisms are blunted. As a result your body doesn't urge you to search for those 2 liters of water that you need each day (about 8 cups).
Water is crucial to many of life's most basic functions and helps promote normal organ function.
It also keeps your skin and other protective barriers operating effectively (which in turn prevent germs from entering your body).
If you don't want to get sick, drink water.
Of all the healthy living tips to follow, committing to drinking more water is the easiest to maintain. If you're struggling to hydrate with just plain water you can try herbal teas (there are many types of tea available but try to pick one with a lower caffeine content; caffeine can act as a diuretic and dehydrate you further).
You can also try toting around a new water bottle or something that will constantly remind you to stay hydrated even when you don't notice your body's subtle reminders.
2. Commit to Watching Your Weight
As the cold sets in it can be tempting to throw on a few extra layers and hide those winter bodies. Poor exercise habits and throwing back a few extra calories during the holidays can often lead to us packing on a few extra pounds (faster than we realize). And while it may only be a small weight gain, it begins to add up as you get more and more winters under your belt.
It may be tempting to hide behind those bulky winter clothes but by sticking to a healthy diet and exercise routine year round you'll help prevent the cyclical nature of dieting and then putting weight back on.
If you're struggling to find a gym buddy you can try something like HealthyWage to help jump start that gym habit. They'll pay you money for each pound you lose and you stand to win as much as $10,000 through their individual or team weight loss competitions. If you plan on losing weight you may as well get paid to do it.
3. Make an Effort to Eat Better
Perhaps one of the most important aspects of weight management is simply learning to eat better.
As winter sets in it can be tempting to start eating more of those warm comfort foods. Those warm yummy meals that fill our bellies but are also high in fat, salt and processed sugars.
Instead, find comfort in foods such as warm homemade stews full of slimming seasonings and healthy vegetables. Make an effort to ensure your diet includes winter fruits and vegetables such as sweet potatoes, green leafy vegetables, beetroot, kiwis, mandarins, bananas, garlic and ginger root. The natural composition of these foods ensures that you're body has everything it needs to ward off illness.
Related: 10 Tasty Meals Under 500 Calories That'll Make You Forget You're on a Diet
4. Crush Germs
Although we can do a lot to support our health and immunity during the winter months it is not always possible to avoid catching a cold or the flu. The viruses that cause colds are spread by sneezing, coughing and contact with objects that are contaminated with these bugs.
Wash or sanitize your hands regularly and do your best to avoid close contact with someone who has a cold. Keep household surfaces and kids toys clean when someone in the family has a cold.
If you are ill be sure to consume plenty of fluids including water, hot tea and soup. Avoid alcohol and caffeine and get plenty of sleep.
Supplements such as Vitamin C, Zinc, and Echinacea may help relieve the symptoms and reduce the duration of a cold.
5. Keep Moving
While it's a little harder to find the motivation to exercise when its cold outside, one of the best healthy living tips is that keeping active during winter is essential to support your overall health and even mental well-being.
Exercise releases endorphins which interact with receptors in your brain creating a positive or euphoric feeling.
Moving your exercise indoors during the winter may be a necessary move to keep you warm (as well as happy, fit and healthy). Be sure to spend ample time stretching and warming up before you start exercising as it can take a little longer for your joints to loosen up in the cold weather.
6. Eliminate Sources of Stress
Promoting a health moody is one of the most underestimated healthy living tips out there. While stress is a part of everyday life, and some stress helps us to overcome challenging situations, excessive amounts of stress are linked to negative effects across a range of areas.
Stress can lower the resistance to nasty bugs by depressing the immune system. In addition, stress increases your bodies need for dietary magnesium which is important for muscle and nerve function.
Many naturally occurring vitamins are beneficial in helping the body deal with stress. The B vitamins (i.e. B1, B5, B6, and B12) specifically have been shown to aid in maintaining a healthy nervous system. The herb St Johns Wort may help to relieve nervousness, irritability and help support emotional balance. As a result it may be beneficial in promoting a healthy mood balance (it is best if you speak to your doctor or healthcare provider before starting any supplement).
7. Promote Circulation
Winter means one terrifying fact.
Cold hands and feet.
Our hands and feet are at the extremities of our bodies which means they are the furthest from our hearts. The heart pumps blood warmed by our core to help with thermoregulation and keeping our bodies the correct temperature.
Vitamin E and the herb Ginkgo help to support peripheral blood circulation thereby alleviating that cold hand and foot feeling. Try to keep moving with gentle exercise to help improve circulation to the extremities of the body and don't forget your socks and gloves!
8. Practice Good Sleep Hygiene
Proper sleep (approximately 8 hours per night for an adult) can help keep the body's immune system health and help fight off colds.
Avoid alcohol, caffeine, and nicotine near bed time as these substances can affect the quality of your sleep (they speed up your heart rate when your body is actually trying to slow it down!).
Regular moderate exercise, relaxation techniques and establishing a regular sleep routine (instead of napping frequently) all help to promote improved sleep.
Consider:  Blackout curtains and ditching the TV in your room as other ways to get more rest before you wake in the morning.
9. Take Care of Your Skin
Guys, that means you too.
The cold weather can be especially harsh on your skin and can contribute to conditions such as excessive dryness, pruritis (itchy skin), chilblains and eczema.
Reduced humidity causes decreased skin turgor and decreased circulation means decreased nutrient flow to important organs such as your skin. Try using moisturizers daily that will help keep skin moist. Supplements containing Vitamin E or garlic help assist with blood circulation.
If any of you or a family member suffers from psoriasis or eczema you can also try starting fish oil. Fish oil contains Omega-3 fatty acids which can help manage these itchy skin conditions.
Lastly, one of the most easily forgotten winter healthy living tips of all- don't forget to wear sunscreen! Stop getting sunburned when the weather is cold.
10. Pickup a New Hobby
Staying active and engaged helps promote your sense of self-worth and gives your life purpose. Your mental health and general mood has a direct correlation to your physical health. Get off that couch and be proactive about participating in something that will better you as a person.
Set goals and go out and crush them. Go out and learn to:
---
Share Your Healthy Living Tips
Know of other healthy living tips? Share yours in the comments!
Like this article? Pin it!